Had to do an H&R intro. While we have reviewed other models we have never covered background. We found a number of inconsistencies in other Internet pieces appearing elsewhere, so we thought we would do a little original hardcopy research. Original sources footnoted as applicable.
The origins of H&R date back to 1871 when Frank Wesson partnered with his nephew Gilbert Harrington to produce firearms of an original design. Three years later Harrington bought out his uncle's shares and one year later partnered with a co-worker, Frank Richardson. It wasn't until 1888 that the company Harrington & Richardson was formed. Both Harrington and Richardson died in 1897, willing ownership to their respective heirs. The company's products most high prized by collectors are those that were manufactured between 1894 and 19111).
A declining Harrington & Richardson was purchased by the Rowe family in the early 1960's and out of business by 1986 when the company's manufacturing facilities went on the block, were sold and demolished. It's products were resurrected in 1991 as the H&R 1871 company, an effort that ended as an asset sale to Marlin in the year 2000. In 2007, H&R 1871 went to become a member of the Freedom Group as part of their acquisition of Marlin and production was moved to Remington's Ilion, NY facility.
Over the years, H&R has produced many varieties of revolvers, autoloading pistols, single shot shotguns and rifles, bolt action rifles, and pump and autoloading shotguns. During war time, from World War II to Vietnam, H&R was a leading producer of the M1 Garand, M14 and M16 type firearm. In fact, I encountered H&R firearms during my ancient Air Force B-52 days in the form of their little wire stock, take down, bolt action M-4 22 Hornet survival rifles that were tucked away with other survival gear into crew ejection seat packs.
Handy-Guns and Handi-Rifles
At some point in my life, when devoid of common sense and not viewing coming mature years with deference, I concurrently owned and rode two very fast, hard cornering, Japanese sport bikes. One was named Chuck, the other Ralph, which pretty much defined what they did to passengers. Sometimes names are of descriptive substance.
In 1921, someone at H&R lobbed the end of one of their break action, single shot, smooth bore Single-Guns and it became the Handy-Gun. Available with shoulder stock and in barrel lengths of 8", 12.5" and 18" it truly was handy. Successful in that first effort, H&R did it again in 1930 with a rifled version of the shorter barrel lengths, and again called it the Handy-Gun 2). Clearly with better gun laws than we have in the United States today, purchase of either with a shoulder stock did not lead to a federal penitentiary.
Today, H&R Handy flag is still flying in the form of the Handi-Rifle® Series. Models are available in a multitude of configurations, chambered for centerfire rifle cartridges from the 22 Hornet to the 45-70 Government and pistol cartridges from 357 Magnum to the 500 S&W Magnum we recently reviewed. There are also 22 LR, 22 WMR and 17 HMR version and a 12 gauge and 20 gauge rifled, single barrel slug guns and single barrel, smooth bore shot guns sold under the Topper name. A Handi-Rifle by any other name...
Handi-Rifle SB2-44S
This particular black on black Handi-Rifle differentiates itself from other Handi-Rifles with an absence of metallic sights, the presence of a Monte Carlo comb and solid recoil pad, the inclusion of a scope rail mount, and the fact it is chambered for the large and... ambitious 444 Marlin.
H&R Handi-Rifle

Manufactured

Ilion, NY

Model

SB2-44S

Type

Break Action Single Shot

Caliber

444 Marlin

Magazine Capacity

1

Barrel Length

22"

Rifling

1:20"

Weight

7.00 Lbs

Overall Length

38.00"

Stock

High Density Poly

Hardware

Blued

Length of Pull

14.25"

Drop at comb

0.50"

Drop at heel

1.25"

Rear Sight

Clean

Front Sight

Clean

Scope

Scope Mount Rail

Trigger Pull

4 lbs. 5 oz.

Safety

Hammer Down - Transfer Bar

MSRP

$322

Online Retail

$271

-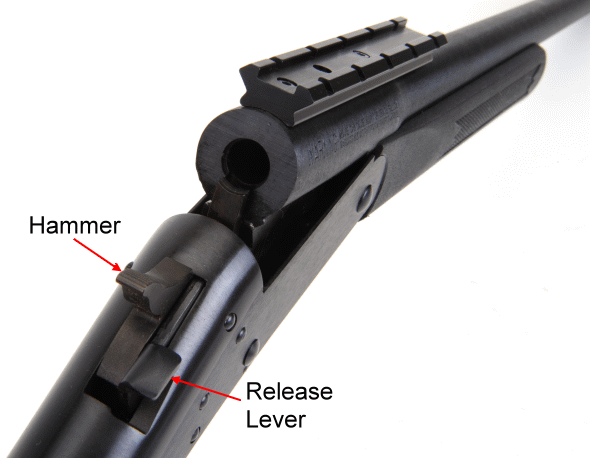 There just isn't a lot of controls to present or explain. Outside of the rifle's trigger, there is the release lever that is depressed to break the action to load or empty the rifle. The hammer is cocked manually when there is a desire to fire the rifle. The Handi-Rifle can be safely carried with a loaded round in the chamber by simply not cocking the hammer. a steel transfer bar separates the hammer from the firing pin when the hammer is lowered, which prevents accidental discharge from a jolt to the rifle.
This Handi-Rifle's personality... The 444 Marlin
Thomas Robinson, Marlin's director of Research and Development and Marlin metallurgist Arthur Burns. It was fashioned from an unfinished 30-06 Springfield case drawn straight and its unformed rim was turned to a semi-rimmed form. The 444 Marlin is 0.470" in diameter above the rim, like the 30-06 Springfield, not 0.457" like the 44 Remington Magnum. The only thing the 444 Marlin and 44 Magnum have in common is the 0.429 bullet diameter... sort of like the 30-06 Springfield and 308 Winchester both have 0.308" diameter bullets.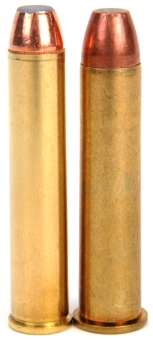 Burns presented the cartridge to Remington and Remington's Earl Larson carried the project through to completion. When? I don't know for certain, however, I do know that Hornady had a 265 grain bullet available for the 444 Marlin in 1961. The Marlin rifle chambered for the cartridge went into production in 1965. The cartridge's appeal might have been dampened by the use of a light 240 grain bullet. A tough 265 grain bullet was not offered by Remington load until 1980 and when it was, it was again with the shepherding of Earl Larson3).
The relatively modern 444 Marlin is often compared to the 45-70 Government. In comparison to the standard pressure 45-70 Government, the 444 Marlin's MAP of 51,488 PSI wins hands down. In comparison to what the industry refers to a 45-70 +P ammo, the results are reversed, even when adjusting for bullet sectional density. Buffalo Bore maximum 300 grain loads yield 2150 fps/3078 ft-lbs for the 444 Marlin and 2350 fps/3678 ft-lbs for the 45-70 Government. If the 45-70 Government is bumped to a 350 grain bullet with a sectional density very similar to the 300 grain 444 Marlin bullet, the 45-70 Government can still produce 2150 fps/3427 ft-lbs. The real separation between the two cartridges is maximum bullet weight where the 444 Marlin taps out at approximately 335 grain and the 45-70 Government tops 500 grains.
The 444 Marlin is a powerful round for use in lever action and single shot firearms... like the subject Handi-Rifle. It has enough steam for the largest North American game, except perhaps big bear where the issue isn't one of inadequacy as it is margin of safety. Yes, there are folks who will write to tell me how they have effectively used the 444 Marlin for culling dinosaurs, but looking at the external ballistic numbers, bullet construction and weights available, as well as bullet manufacturers recommendations, leads me to conclude that the 444 Marlin is an excellent big game cartridge with an effective range within that application of approximately 200 - 250 yards. Why would you say that Joe? Why?
Hornady 300 grain - 158 Yard Point Blank on 3" Ordinate
Yards
0
50
100
150
200
250
300
Velocity - fps
2150
1994
1845
1703
1571
1449
1338
Energy - ft.-lbs.
3079
2649
2268
1932
1643
1398
1192
Momentum - lbs-sec
2.85
2.65
2.45
2.26
2.08
1.92
1.78
Path - in.
-1.5
1.0
1.3
-0.9
-6.1
-14.9
-27.8
The 300 grain load carries more than enough energy out to 300 yards to drop big game convincingly, unfortunately, even with best zero for that range, the hunter must deal with almost 28" of drop. Moving down the weight scale to 270 grain heavy jacketed bullets adds only 1 yard of point blank range and the degree of drop, cause by lightweight bullet low velocity retention, actually increases. Drawing from gun forum claims, most deer are shot at 1,000 yards... then dividing by the Internet fudge factor of 8x... yup, 125 yards is about the average of all deer killed, non-vehicularly, during hunting season. Which means the 444 Marlin and the H&R Handi-Rifle are an ideal combination. Both less punishing and less expensive to shoot than the 45-70. Like the 45-70 better, the Handi Rifle is available in that chamber as well. In fact, you can have both...
Handi Rifles are like buses....
But what if you bag your dream Bullwinkle with that big 444 Marlin and need to tone it down a bit for long range coyote or gophers? Simple barrel removal... One screw out of the forearm, forearm removed, release lever depressed and the barrel is rotated down and off. The barrel is located to the breech by the hook on the barrel lug and the stout cross pin at the front of the receiver.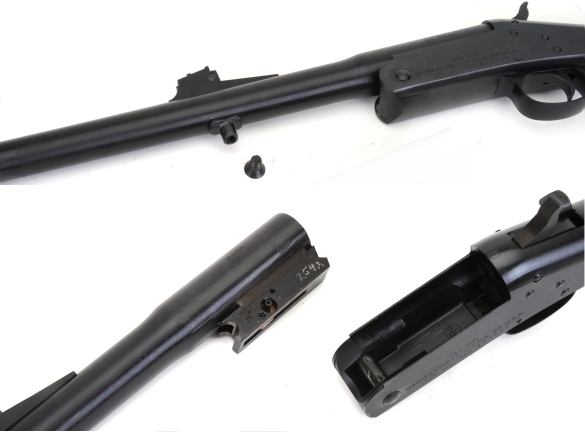 For owners of Handi-Rifles produced after 2000, the rifle can be sent into H&R to have additional barrels fitted. Barrels are not sold separately for owner installation. Best explanation of the Barrel Accessory Program. is right there on the H&R sight, including prices and procedures. Optional barrels?
Yeah, Joe, blah, blah blah... Did you ever actually shoot this rifle?
Yes I did, and significantly more than once. Even though this particular Handi-Rifle is supplied without metallic sights, I wanted to set it up for Maine deer hunting... a spooked deer inside 50 yards, through pine boughs or birch... in three feet of snow.... at -20ºF. So I borrowed the Burris FastFire III from the Picatinny rail of my AR something or other and it mounted right on to the Handi-Rifle's rail.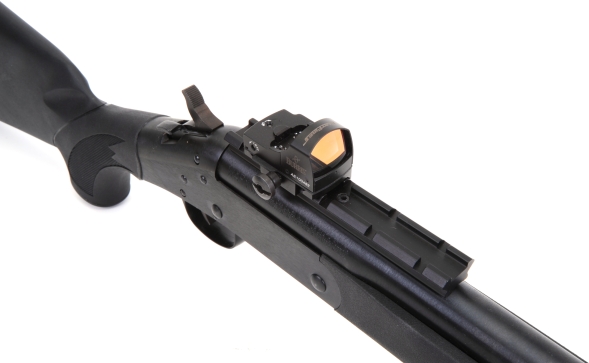 The combination made for an extremely fast, compact combination that could do anything I needed it to do out to 50 yards. It took me a long time to become a believer in reflex sights and to learn how to use them without attempting to align two points, but it eventually sank in. This one has a 4 MOA dot at full brightness so it is pretty easy to put on a target without obscuring it. The FastFire III has a 3 MOA dot and some other worthwhile improvements.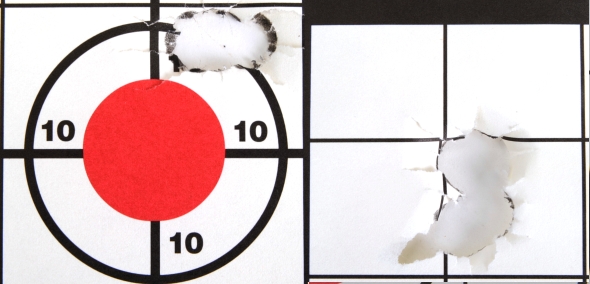 Two three shot groups shot from a steady rest, both Buffalo Bore 270 grain ammo. The left is 1/2", the right is 3/4", both shot at 50 yards. The Handi-Rifle actually has a pretty decent trigger for a hunting rifle which helped. This one broke cleanly at 4 lbs 14 oz.
Impressions?
Because of the compactness of the Handi-Rifle's action, it is easy to forget the rifle has a 22" barrel. The Buffalo Bore 270 grain ammo is rated at 2,250fps/M.E.3,034 ft-lbs, but actually clocked 2,310 fps which yielded 3,200 ft-lbs of kinetic energy.

Shooting from a standing position, recoil is noticeable, but not traumatic at approximately 33 ft-lbs. Which is OK for most shooters, but not a gun for the recoil sensitive or small framed folks. It's a lot of power and heavy bullets so recoil is to be expected. For context, however, I can easily produce loads for my 45-70 that generate 10 ft-lbs more than the 444 Marlin.
No, no slick walnut or glossy blued finish. However, it is an accurate rifle, simple to the point of being near failsafe, super low price... nifty. We'll take a break, mount a scope and try some handloads of different weights.
1) A Short Illustrated History of Harrington & Richardson - Vorisek
2) Standard Catalog of Firearms - Schwing
3) Marlin Firearms - A history of the guns and the company that made them - Brophy