The Winchester Model 1885 was invented by John M. Browning in 1878 and patented in 1879 as a generic Browning Brothers single shot rifle. Approximately six hundred rifles were produced by the Browning Brothers of Ogden, Utah Territory between 1880 and 1883 before the manufacturing and sales rights were sold to Winchester and it became that company's Model 18851).
Chambered for cartridges from the .22 Short to the .50-90 Sharps and a limited number in 20 gauge, the Model 1885 was produced in low and high wall versions and as sporters, carbines, muskets, and Schützen rifles. In Winchester production from 1885 to 1920, approximately 140,000 units were manufactured2). Under the current Browning - Winchester associated business structure, the Model 1885 has been back in production to varying degrees since 1985. The current Winchester line up is:
As of this writing, there are three versions of the Winchester Model 1885 offered by Winchester Repeating Arms. They are:
Model 1885 High Wall Traditional Hunter:
38-55 WCF and 45-70 Gov't
Model 1885 Low Wall:
22 Hornet , 222 Rem, 223 Rem, 22-250 Rem, 6.5 X 55 Swede, and 204 Ruger
Model 1885 Low Wall Hunter Octagon:
22 LR, 22 WMR, 17 HMR, and 17 WSM
Model 1885 High Wall Model Summary
General Specs
High Wall Hunter
Low Wall
Low Wall
Hunter

Caliber

38-55 WCF
45-70 Gov't
22 Hornet
222 Rem
223 Rem
22-250 Rem
243 Win
204 Ruger
6.5x55 Swede
22 LR
22 WMR
17 HMR
17 WSM
Barrel Length
28"
24"
24"
Overall Length
44"
40"
40"
Length of Pull
13.50"
13.50"
13.50"
Drop at Comb
0.75"
0.75"
0.75"
Drop at Heel
1.50"
1.25"
1.125"
Nominal Weight
9 lbs. 0 oz
7 lbs 8 oz
7 lbs 8 oz
MSRP
$1,669.99
$1,399.99
$1,469.99
More specific details of the subject rifle...
Winchester Model 1885 Low Wall Hunter

Manufacturer

Miroku, Japan

Item Number

524100170

Type

Lever Action, Falling Block

Caliber

17 HMR

Magazine Capacity

Single shot

Barrel Length

24"

Rifling

1:9"

Weight

7.0 Lbs 8 Oz.

Overall Length

40.00"

Stock

Walnut

Hardware

Blued Brushed Polished

Length of Pull

13.50"

Drop at comb

0.75"

Drop at heel

1.25"

Rear Sight

Semi-Buckhorn

Front Sight

Blade Mounted Bead

Scope

Drilled & Tapped

Trigger

Adjustable

Safety

Hammer - Half Cock

MSRP

$1,469.99

Online Retail

$644

-
This information will allow you to cite gun facts on those long rides to a hunting location... at least until your buddies stop the truck and toss you out on the side of the road on I-95.
Yes, the breechblock is falling. Thank you for noticing...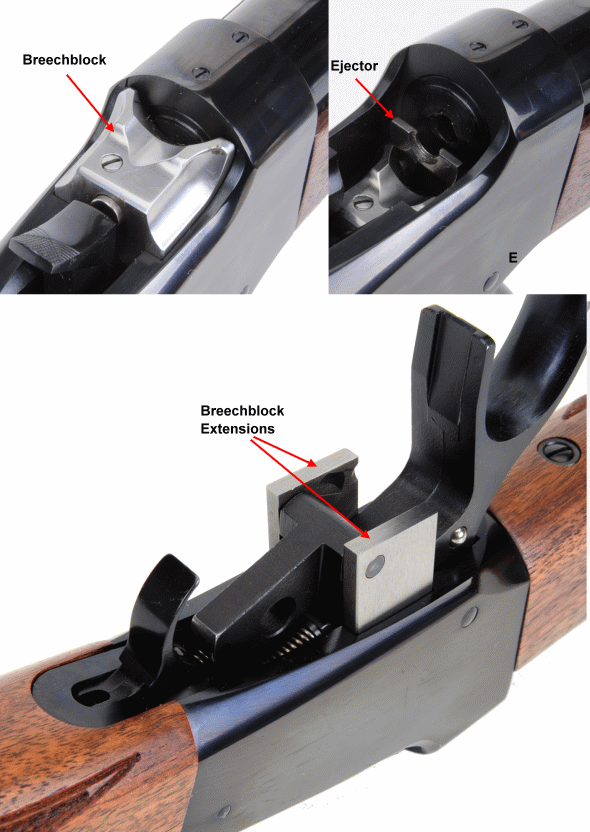 The Model 1885, in any variety, has a truly stout action. A forward canted, formed chunk of steel, measuring approximately 0.980" x 0.840" rides in the grasp of its solid steel receiver. It is moved from closed to open breech positions under the control of a simple under lever and link. Subsequently, low wall versions can handle everything from 22 rimfire to 6.5x55 Swede and high wall versions can handle everything from the big .50-90 Spencer to the modern WSM series of cartridges.
The right sights for this rifle
The Model 1885's rear sight is a small aperture, Semi-Buckhorn, sliding elevator arrangement. The front sight is a dovetail mounted, gold beaded post type with a serrated face to cut reflected light from hazing it's silhouette. The Winchester Model 1885 was often used in competitive shooting situations and the current model's long sight radius makes even metallic sight shooting accurate.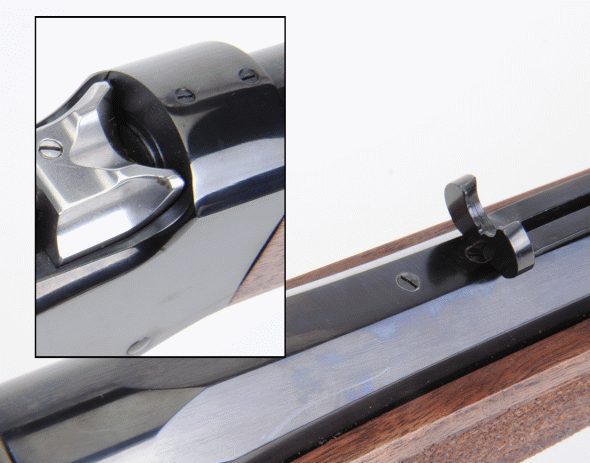 The combination of the .17 HMR cartridge and the Winchester Model 1885's 24" barrel make it a natural as a scoped application. Pictured above, the aft mount placement on the receiver (inset) and the forward mount point at the rear right. The rear sight is drifted out when a scope is in place. One and two piece bases are available from Talley, Leupold and others.
Ejector or ejection...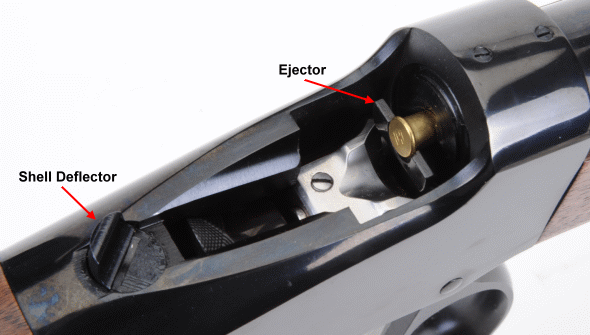 The last bit of lever travel ejects a cartridge with... conviction and that is a good thing. The Model 1885 has a shell deflector, located just after of the hammer slot in the receiver, that can be rotated center, left and right to accommodate each individual shooter. A very considerate feature.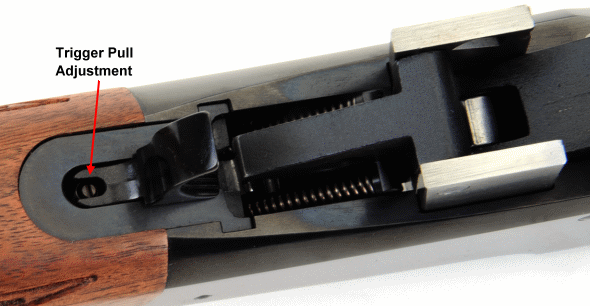 The Model 1885's trigger is very crisp and pull is adjustable from 3.5 to 5 lbs. Just by opening the lever, the trigger is externally adjustable with a small common screw driver.
No, I almost never zero a rifle to shoot for group size...
Parked on a rest, and shot from under cover at rained upon targets, the little 1885 turned in more than respectable performance. Compared to what I normally shoot with open sights, the Winchester's sight radius seemed to go on for 10 feet... maybe 12 feet. The first group is Hornady 17 grain ammo, the second is 17 grain CCI and the third is 20 grain Hornady. They are all 50 yard groups.

The first measures 1.5", the second 0.6" and the third measures 0.5". Those are the first nine shots fired from a new barrel with no other preparation then running a couple of patched through the bore. Of course, the round and rifle have a lot more range in them as a combination, but time constraints and lousy weather limited the range session.
I can add that the rifle is fairly quiet. Something I'd chalk up to the longish barrel and diminished muzzle pressure. No recoil, good balance and I really liked the sights. The bead is small, the aperture is small, so aiming was with some precision.
And it is good looking too...
The Winchester Model 1885 is nicely done. Certainly not a low cost firearm, I doubt that would come as a surprise to anyone who has been around firearms. The satin finish walnut is not fancy, but it is not plain Jane either, The grain is tight, there are no checks or knots and the checkering patterns are proportionally correct and clean. The metal pieces are all well finished. The receiver is a deep black bluing, the barrel has a little tooth, referred to by Winchester as brushed polished.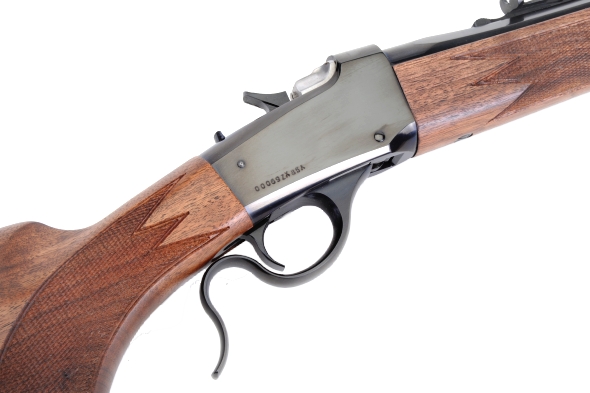 Nice change of pace from the routine of rimfire bolt, autoloader, pump and lever action repeaters. For more information on current models within the 1885 product line, stop by the
Winchester
site or, better yet, drop into a local gun store and check it out first hand.
1) Browning, American Gunmaker - Browning and Gentry 2) The History of browning Firearms - Miller