Mention the Winchester Model 1895 and folks often slide into a discussion of the 405 Winchester and Teddy Roosevelt. Unfortunately, that does a bit of a disservice to the rifle, and its substantial sporting and military rifle history, beyond that cartridge or association with this noteworthy person.
The Winchester Model 1895 was designed as a sporting rifle that could utilize modern cartridges loaded with spire tipped bullets and charged with high pressure producing smokeless powder. With a significantly stronger breechblock, the Model 1895 is stronger than previous Winchester lever action models. Ammunition is fed through a non-detachable box magazine, rather than tubular magazine to keep pointed bullet tips away from primers.
The first production Model 1895 rifles were shipped in February 1896, chambered for the 30-40 Krag, 38-72 WCF and 40-72 WCF. The original product announcement additionally listed the 6mm Navy, however, this version was never actually manufactured. As production continued, additional chambers were added:
| | |
| --- | --- |
| Chamber | Year Added |
| 30-40 Krag | 1896 |
| 38-72 WCF | 1896 |
| 40-72 WCF | 1896 |
| 303 British | 1898 |
| 35 WCF | 1903 |
| 405 WCF | 1904 |
| 30 Government M/03 | 1905 |
| 30 Government M/06 | 1908 |
| 7.62 Russian | 1915 |
The Model 1895 was produced in seven major configurations. The first 5,000 had flat sided receivers, one piece levers and two piece magazines. Following a design changes, subsequent models had a strengthened scalloped receiver, a two piece lever and a one piece magazine1). Versions were produced with and without pistol grips, in rifle, musket, take-down and carbine form. Round, octagon and half octagon barrels were fitted in lengths up to 36". Between the years 1986 and 1931, 425,881 units were produced, however, inventories of parts and firearms kept the sale of Model 1895 rifles and parts active through 19382).
In regard to U.S. military applications, the Winchester Model 1895 came too late to significantly challenge the transition from single shot to bolt action firearms. The Springfield Model 1892 Krag-Jorgensen designed bolt action rifles had become the standard issue rifle for the U.S. Army and the Model 1895 Lee Rifle had become the standard for the U.S. Navy. Still, in 1898 the American Secretary of War ordered 10,000 Winchester Model 1895 muskets for the Spanish American War effort
3)
. They were intended for the rearming of voluntary forces and state militias, replacing black powder, 45-70 Gov't Trapdoor Springfield rifles. As the war lasted only eight months, few Model 1895s were actually deployed to the front lines.
Officers of Theodore Roosevelt's "Rough Riders", the 1st United States Volunteer Cavalry, were issued Model 1895 Winchesters chambered for the 30 Caliber U.S. Army. Was Roosevelt armed with a Model 1895 during the battle of San Juan Hill in Cuba? In Roosevelt's 1899 book, "The Rough Riders", he wrote that while training at Montauk Point, Long Island, he gave his Model 1895 to one of his soldiers prior to Roosevelt leaving for Cuba. More specifically, Roosevelt stated, "Bob Wrenn nearly died. He had joined us very late and we could not get him a Krag carbine; so I had given him my Winchester, which carried the government cartridge; and when he was mustered out, he carried it home in triumph, to the envy of his fellows, who themselves had to surrender their beloved rifles". The 10,000 purchased by the U.S. Government were eventually sold to foreign governments and police organizations.
While perhaps technologically too late for U.S. service, other countries saw the Winchester Model 1895's value. Between 1915 and 1916, 216,816 Model 1895 muskets were shipped to Russia in support of the Great War. Chambered for the 7.62x54R Russian cartridge, they were highly valued by Russian troops.
The Winchester, in civilian applications, saw service all over the world. Probably the most famous chronicled use of the Winchester Model 1895 appeared within Roosevelt's book "African Game Trails: An Account of the African Wanderings of an American Hunter-Naturalist", the story of the 1909 - 1910 Theodore and son Kermit Roosevelt East African Safari. Four Winchester Model 1895 rifles were brought along, three chambered for the 405 Winchester and one for the 30-40 Krag. Each proved to be extremely popular with the hunting party and each received a glowing post safari review4).

Modern Winchester Model 1895 production
Winchester Model 1895 Saddle Ring Carbine

Manufacturer

Miroku, Japan

Reintroduced

2007

Caliber

30-40 Krag

Action

Lever

Hardware

Deep Blued Alloy Steel

Stock

Checkered Walnut

Box Magazine Capacity

4

Barrel Length

22.00"

Twist

1:10

Sights - Rear

Ladder 200 - 1,800 Yards

Sights - Front

Interchangeable Blade

Length of Pull

13.25"

Overall Length

40.50"

Drop at Comb / Heel

2 7/7" / 3 5/8"

Weight

8 lb. 6 oz.

Trigger Pull

5 lbs. 6 oz.

MSRP Last Listed

$1399

-
Winchester has done an excellent job of reviving historically significant firearms, like the Model 1895 which was put back into production in 1995. Some new production is sold through all Winchester resellers, while some limited edition models are sold exclusively through specific outlets. The Model 1895 Saddle Ring Carbine was a standard Winchester catalog firearm in 2007, chambered for the 30-06 Springfield, however Davidson's, a large Winchester distributor, offered a limited edition version of this model, chambered for the 30-40 Krag.
Winchester and Browning brand lever action rifles are manufactured by Miroku, a Japanese company that has been in the firearms business since 1893. The quality of their product is flawless. Bluing is a very deep, almost black gloss blue. Wood finish is always uniform satin with the look and feel of a rubbed oil finish. Firearms are tight assemblies that function smoothly with the feel of a hand fitted firearm. Even the packaging and instruction booklets that accompany each firearm is high grade. As a team, all associated companies have done a terrific job of perpetuating very traditional and historical product.
Standard features and a little modern revision
The modern Winchester Model 1895 is true to the original, with only very minor tweaks to benefit owners. Poly based finished rather than lacquer based finished make the stock impervious to humidity and much more durable in regard to wear. Modern oxide finishing process looks better and wears better. The old half cock safety mechanism has been replaces with a rebounding hammer and sliding tang safety replaces the old hammer at half cock safety.
Lock up for the Winchester Model 1895 is substantial. Closing the lever drives the breechbolt forward on its guide rails and raises the large one piece locking bolt until it comes to rest in the recess at the end of the closed breechbolt. The breechbolt is then located vertically, horizontally and longitudinally.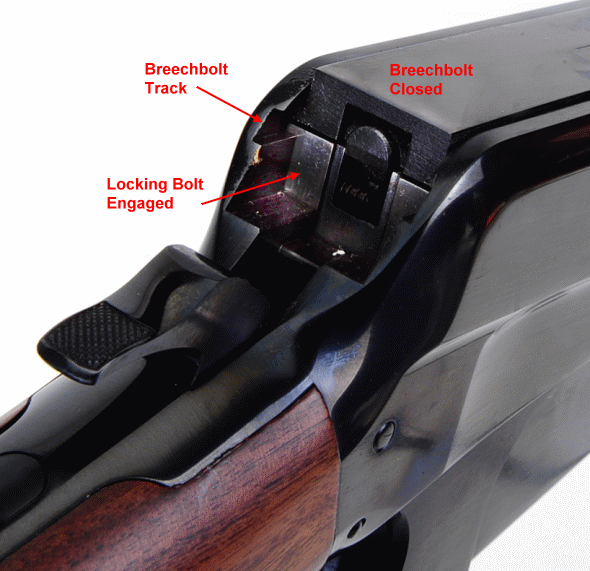 As seen above, the breechbolt is fully closed, locking bolt is up in position, secured by the close fitting grooves in the receiver. Where the Model 1886, a more conventional lever action is chambered to accept round with maximum pressure in the 47,000 PSI range, the Model 1895 has been chambered for rounds like the 30-06 Springfield with maximum pressure in the 60,000 PSI range. That puts the Model 1895 on par with strong falling block rifles and military bolt action rifles.
A sight for the pragmatist and the optimist
Rarely required for any ammo adjustment, however, the Winchester's brass front sight is pinned and can be changed easily to a higher replacement or trimmed to make it lower. Made of 0.075" brass stock, a coping saw, a file and $8 can get you about a dozen front sight blades.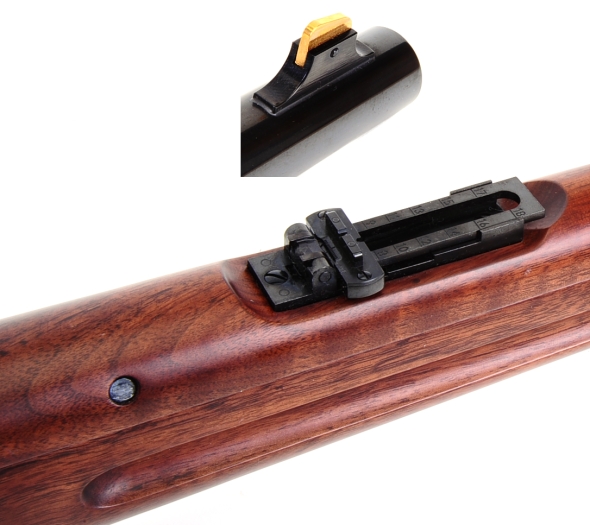 The rear sight is a pop up ladder type; down flat as pictured for ranges 0 to 200 yards, flipped up for 200 - 1,800 yards. The rear sight is also adjustable for windage. Another option, the Winchester is factory drilled and tapped for receiver mounted peep sights like William's Foolproof Receiver sight, Brownells # 962-200-072WB FP-71.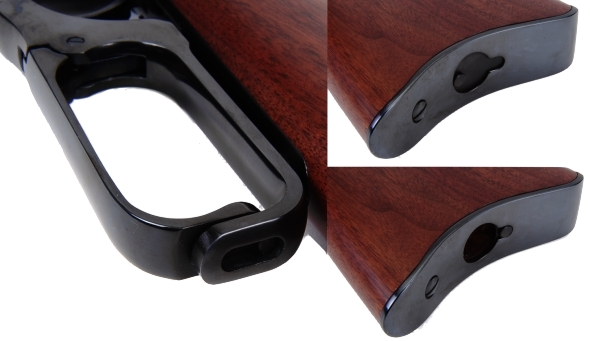 The lever is held in the closed position with a cocking lever catch when the action is closed. Pushing down on the lower hinged portion of the lever releases the catch and allow the lever to be opened and the action to be cycled. The sliding trap door in the buttplate is access to some storage space; cleaning kits, sight adjustment screwdriver... stuff.
The 30-40 Krag

Beginning in 1888, the U.S. government was searching for a small bore, smokeless powder cartridge as a replacement for the 45-70 Government. After several iterations of designs at both Springfield Armory and Frankford Arsenal, with Winchester support, the result was the 1892 .30 U.S. Army, or .30-40 Krag 5). The first sporting rifle to use the cartridge was in 1893 when Winchester added the chamber option to their Model 1885 High Wall single shot. This chamber followed through to the Model 1895 lever action.
While the 30-40 Krag made for a terrific transitional cartridge for military and consumer markets, it quickly yielded to more powerful 30 calibers in the form of the 30-03 and 30-06 Springfield cartridges and stronger bolt action rifles than the various Krag-Jorgensen military contract rifles. Brief as a military standard, it lost steam as a sporting cartridge, causing the 30-40 Krag to be out of standard firearms' catalogues by 1936.
The tall guy pictured next to the younger upstart 30-30 WCF, the Krag offers 14 more grains of capacity, 7,000 psi greater operating pressure and the ability to safely use pointed bullets in Model 1885 and model 1895 rifles. The Krag has more than enough power for larger game, such as moose and elk, and the round has decent reach. Currently there are two factory loads for the 30-40 Krag, both 180 grain; Winchester Super X Power point 2430 fps 2360 ft.lbs. and Remington Express Core Lokt with the same velocity and energy.
Live fire
The Winchester Model 1895 is a well behaved firearm. It speak a good deal more authority than a 30-30 WCF lever gun, however, significantly milder in recoil than the 30-06 Springfield in rifles of similar weight. The steel butt plate is not uncomfortable, its conforms to the shoulder and does a good job of spreading recoil energy over a relatively large area.
The saddle carbine is very compact, despite the rifle's 22" barrel. The drop at the comb and heel make for natural sight / target alignment with comfortable cheek to stock contact. No, I won't call it cheek weld... sounds like someone sat on their TIG welder.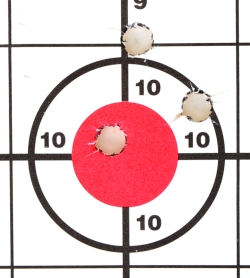 From a rest, the very precise metallic sights yielded 1" 3 shot groups at 50 yards. Is the rifle capable of better groups? Probably. I struggled a bit with a heavy trigger pull that is common to most lever action rifles. Winchester Super X Power point, rated at 2,430 fps with a 24" standard spec barrel, yielded a very consistent 2,310 fps out of the Winchester 22" barrel. Clearly a rifle made to hunt deer, elk and moose... black bear and hogs. It is a fast handling and cycling firearm.
For the handloader, the Winchester Model 1895 has tremendous potential. Bullet weights from 110 to 220 grains, cast and jacketed. The Winchester becomes a rifle with much broader applications.
Good place to take a break while working up handloads. We'll be back shortly on the results.
1) The History of Winchester Firearms 1866 - 1992 - Henshaw. 2) John M. Browning American Gun Maker - Browning & Gentry. 3) The History of Browning Firearms - Miller 4) Winchester, An American Legend - Wilson 5) History of Modern U.S. Military Small Arms Ammunition - Hackley, Woodin, Scranton
Winchester's Model 1895 - Part 1
Winchester's Model 1895 - Part 2