The LCRx is a rugged little gun. Series 7000 aluminum is an aluminum-zinc alloy and highly resistant to stress corrosion cracking. Additionally, Series 7000 stainless may be precipitation-hardened to give it the highest strength of any aluminum alloy. The .38 Special cartridge has a SAAMI maximum pressure of 17,000 PSI. The +P version of the cartridge is rated at 18,500. Combined with the high strength stainless cylinder and barrel, the Ruger LCRx is listed as OK for a steady diet of .38 Special +P ammunition.
No, that is not a new trick combat hold...
The cylinder is supported at the front latch pin, the cylinder stop and at the ejector. Cylinder lock up and release is... crisp. Indexing is positive and alignment, checked with a range rod, showed no signs of misalignment or timing issues. The LCR is a very precise mechanical assembly.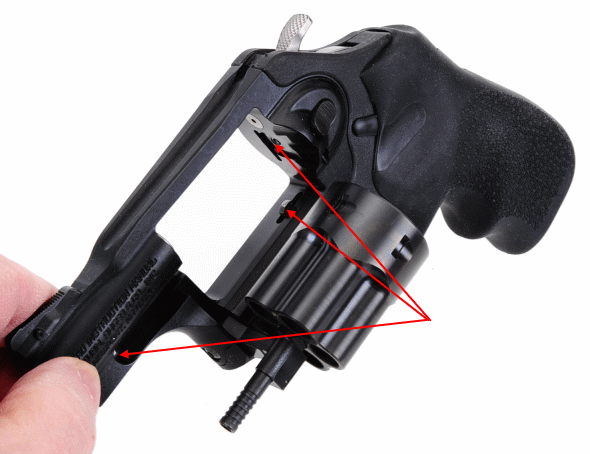 The front ramped sight is pinned, making front sight swap outs relatively easy. Checking the Ruger Shop, they list 5 types of fiber optic or Tritium replacement sights and a Laser Max Laser. As is traditional with snub-nosed revolvers and consistent with application reality, the rear sight is a "U" shaped groove formed into the revolver's top strap.
Personality... No not mine
The Goliath of a revolver on the right is actually a medium frame 4.2" barrel Ruger GP100, which suggests why the diminutive size of the LCR works so well as a very concealable defensive weapon. The 38 Special +P provides convincing self-defense, but in a manageable firearm, unlike so many defensive firearms these days.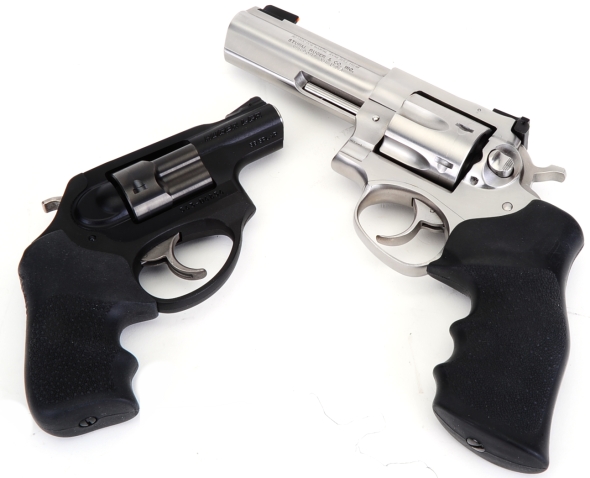 The LCRx's grip construction takes the smack out of recoil and yes, the pinky finger will curl under the grip; an expected compromise for a very compact firearm of this type. For a guy who almost always shoots revolvers with adjustable sights, aiming through the grooved frame top initially feels like shooting downhill, but that feeling subsides after a cylinder or two of practice fire which results in the grip and sight alignment become more intuitive.
Ruger states that the "Patented Ruger® friction reducing cam is a next generation design in fire control systems that results in a smooth, non-stacking trigger pull". Folks who shoot double action revolvers know that trigger pull can be roller coaster like in resistance. The LCR's trigger is uniform in resistance, relatively short for double action and crisp. Unlike a revolver made for target work or hunting, defensive revolver trigger pull is mostly driven by spring rates required to assure reliable ignition.
Cut to the chase, Joe...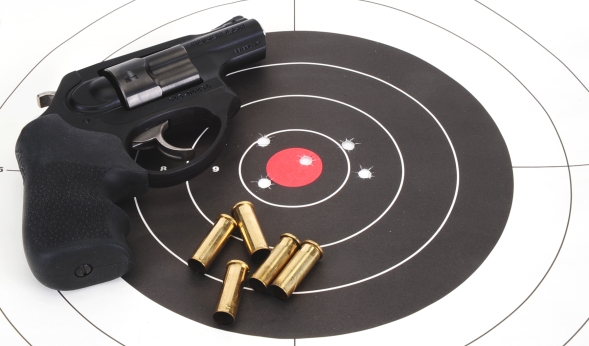 Shooting double action at 10 yards, with an over the top, kung fu, two-handed modified Wedemire grip... and shooting Winchester 130 grain target ammo (782 fps over the chronograph) yielded this 2" 5 shot group. It is a great target to lay over all of the 3" groups I also shot on the same day. For me, a sub-palm sized group at that distance with a snubbed-nose revolver is excellent. Shooting five shots, single action from a rest, as an indication of the LCRx's mechanical accuracy rather than my dubious marksmanship ability, put five shots more or less in the 1" bullseye. Excellent, trouble-free revolver at a good price. For more information...