I have to give Browning a lot of credit for their decision to offer a Morgan, Utah manufactured, .22 long rifle rimfire autoloader that emulates the appearance of John Browning's famous 1911 pistol. Particularly since U.S. manufacturers, for the most part, are producing .22 rimfire autoloaders that look like European squeezers or refuges from video games. Initially released June, 16th, 2011, this newest desert tan model release remains an 85% scale of a full size 1911, but has a composite frame rather than the original 1911-22A1 release's machined aluminum frame.
For most people, with moderate practice, the full size 1911 is easy to shoot and accurate. The grip angle and balance lead to a natural point and line of sight to target is easy to find. All of these attributes carry over to the Browning 1911-22A1, despite the 1911-22A1's light weight and diminutive size. Gratuitous 1911 Commander Vs Browning 1911-22A1 comparison photos follow....

Dimension

Browning
1911-22 A1
Commander
1911
Caliber
22 LR
45 ACP
Barrel Length
4.25"
4.25"
Weight
14 oz
37.0 oz
Magazine Capacity
10
8
Action
SA Blow Back
SA Short Recoil
Overall Length
7 1/8"
8 3/4"
Overall Height
5 3/4"
4 1/2"
Sight Radius
5 1/2"
5 7/8"
Slide Width
0.79"
0.92"
Frame Width
0.65"
0.77"
Grip Depth - Front Strap to Heel
1.88"
2.25"
Grip Height - Trigger Guard to Magazine
2.25"
2.75"
Grip Width - Across Panels
1.07"
1.33"
MSRP
$579
$949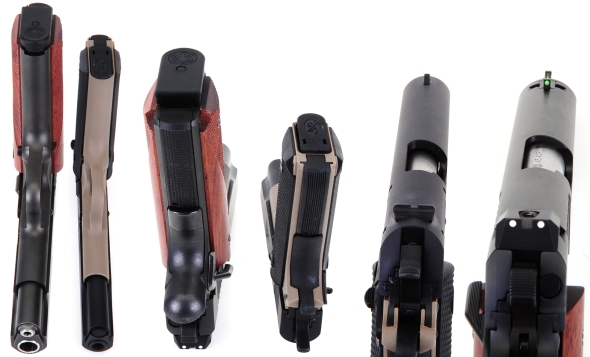 A 1911 wrapper on the outside and... kind of a 1911 on the inside
Disassembly is about the same as it is with a standard 1911 with some notable part and function exceptions. The slide stop, as an example, passes through a boss on the barrel, which pins the barrel in a fixed position. No pivoting link to pull a tipping barrel out of radial lug lock up on discharge. A plastic recoil spring guide is in place of a standard 1911 steel piece.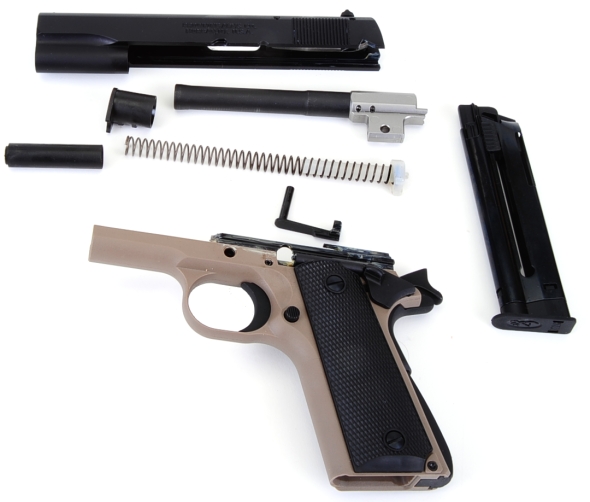 Unlike a standard 1911 there are bold cautions in the manual and on a slip sheet that state NO dry firing. The 1911-22A1 does have a magazine disconnector and the gun will not fire with the magazine removed.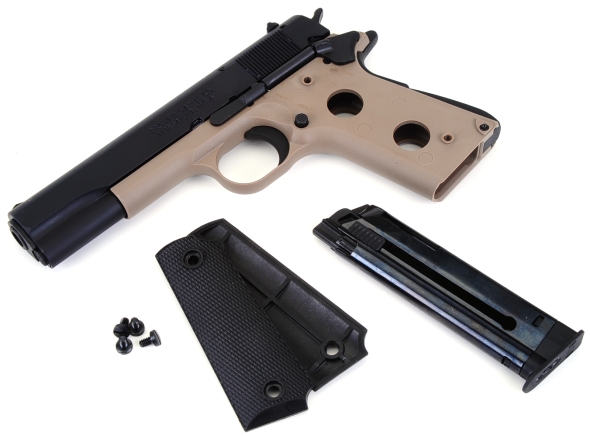 Grips panels are removed the same as they would be on a standard 1911 and other visible parts like the magazine catch, hammer pin, sear pin and thumb safety shaft appear and are located as they are on a standard 1911. The mainspring housing and mainspring housing pin are similarly located.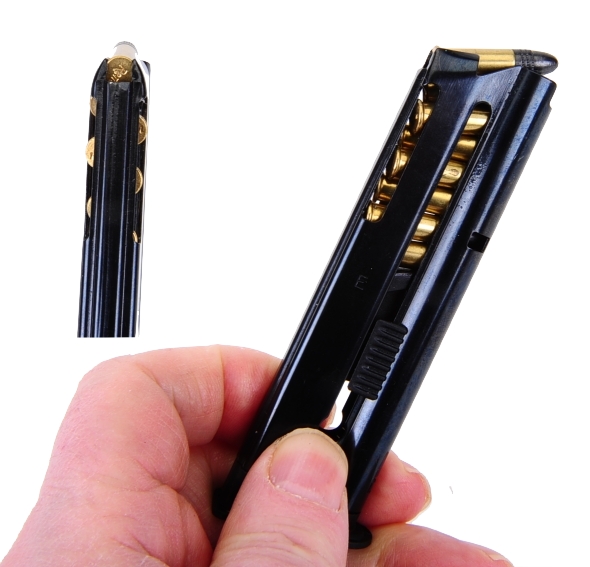 Loading the magazine for the first time was a bit disconcerting. The rounds seemed to be loading a little haphazardly until I realize the rounds were staggered and under control. The little offset overlaps about 30% of the rim diameter of 22 LR ammo and allows the little Browning to retain 10 shot capacity even with its relatively short grip. Nifty.
So how does it shoot, Joe, you maven o' grammar ?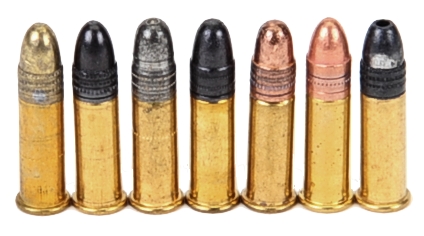 Magazines full of each of the rounds pictured above were test fired, as well as mixed magazines of the same, without a single jam, misfire or... problematic episode. Left to right: Remington 40 grain high velocity, Peters 40 grain high velocity, Eley 40 grain target ammo, Win Super X 40 grain Super Speed and Remington 38 grain subsonic. I was so surprised that the subsonic cycled cleanly that I loaded a magazine and fired it rapid fire with the same results.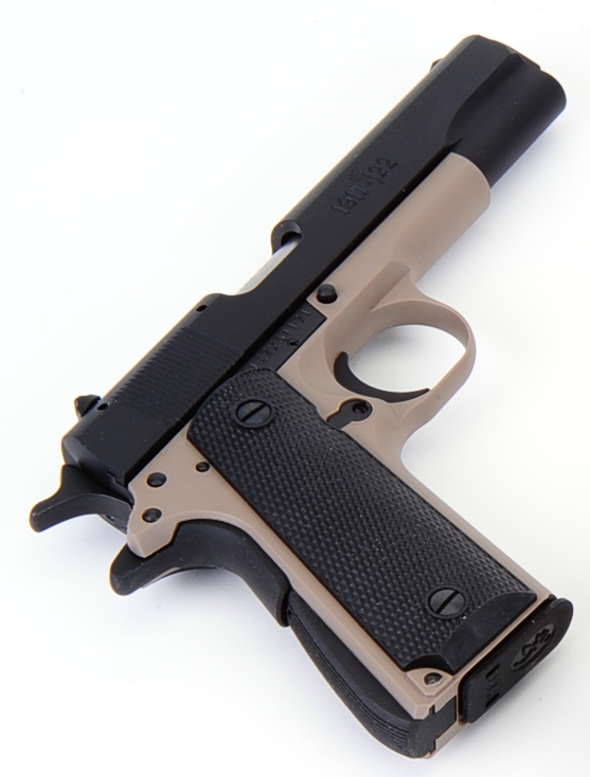 The Browning 1911-22A1 is a small gun that handles like a full size pistol. A steady, conventional 1911 two hand hold is easy, even if the grip disappears between your hands. Squeezing off 1" and 1.5" 5 shot groups at 10 yards was typical and good enough for me. A little muzzle rise, a little force of momentum from the aluminum slide made the 1911-22A1 a fun gun to shoot. The 1911-22's slide is aluminum with a steel breech block that houses the firing pin and extractor, and provides a hardened hammer cocking surface on the slide's underside. Nicely done job of reducing slide mass for reliable cycling with rimfire ammo.
How does the Browning 1911-22A1 compare to the Sig Saur 1911-22B and similar? I think they are two quite different types of firearms for two distinctly different applications. The Sig is packaged to emulate the full size and weight of a 1911 to facilitate full size 1911 training. Without that specific training objective, the Sig at 38 ounces is an oversized, overweight rimfire with little practical use as a small bore carry gun or for small game hunting. The same applies to the full size Walther made Colt 1911 A1 22 LR, as well as the Kimber's idea of a budget prices $871 Rimfire Target.
The Browning approach gives its owner a compact, lightweight and accurate pistol, with all of the comfort of 1911 type controls and geometry, without a size and weight penalty.
Minor gripes and grumbles?
Based on complexity of assembly and materials used, I thought the MSRP was a bit high, even in comparison to other quality 22 rimfire autoloaders like Browning's own fancy Buck Mark Plus UDX. However, a scan of discount retails puts the typical discount retail price on the near $500 range in this configuration.
As an old guy, I am more fond of machined aluminum than composite poly frames. However, as a very active firearm enthusiast, I can't argue with the increased durability, light weight and resistance to adverse elements that follows the use of composites. I believe the front sight is staked like a GI 1911 and the rear is only drift adjustable for windage. I'd like to see dovetailed sights front and rear and optional, on gun or accessory, W/E adjustable rear sight.
My dream gun is one with an aluminum frame, fancy cocobolo grips and interchangeable sights front and rear. Is any of this necessary? Not at all, however, it is always nice to have a firearm that an be finessed in small ways to the preferences of its owner. Right out of the box, the Browning 1911-22A1 is an exceptional little autoloader.