Review: Gunstock Checkering
With Joe Balicke
By Joseph D'Alessandro Editor | RealGuns.Com
There are some things in the life of gun dabblers that just don't go on and come off with a wrench or a screw driver. Sometimes that's a good thing, as safety is facilitated by making knowledge a prerequisite for attempting some tasks. There are also those skill things, you know, the ones that require the hand-eye coordination of an artist, the patience of a saint and more than a little practice to master.
I had a box of Gunline checkering tools on the bench, a plain piece of walnut practice stock next to it and, for some reason, those tools just weren't speaking to me. In fact, they wouldn't even come forward to identify themselves and I was pretty sure they needed to be used with some specificity of application. I did have several books on the subject, but checkering is about finesse and technique, something not easily captured by the static images of a book.
Brownells has a great library. Every time I've found myself in over my head, which is more than occasionally, they always have a book, tape or DVD that helps me to reassemble whatever it is I had taken apart. "Gunstock Checkering" is one of their selections and it is available in VHS and DVD versions. I opted for the DVD because it allows me to jump in and out of areas of information and pause and play frame by frame when necessary. In addition, where VHS tapes tend to stretch and lose video and sound quality, DVD's hold up much better, rarely showing signs of age or heavy use. Gunstock Checkering is a professional production with all of the expected quality of lighting and sound. Much of the work is shown in close up, with long takes so it is easy to see the detail of the work in progress. Audio chores are appropriately shared between Joe Balickie and a narrator, both delivering in relaxed, clear and informative manner.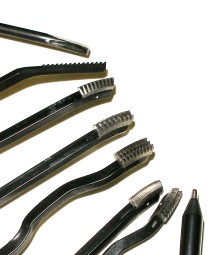 Each of the tools used is covered in depth. The coverage includes name, use, video of the tool in service, cautions and tips, and alternative methods where applicable. During the course of the video a forearm and pistol grip are checkered from start to finish and all of the routine procedures including typical problems and solutions are thoroughly covered. I now know why a checkering cradle should be a part of every checkering tool kit. More than for convenience and comfort while working, it becomes an essential part of the process when checkering highly curved surfaces and attempting to maintain straight and parallel lines.
The section on checkering patterns was interesting as the author grouped all types of patterns into two main categories; point and fill in. The fill in type received borders first, then the inside area is filled with checkering. The point pattern utilizes the checkering line pattern to establish the borders. The author also showed how a simple diamond shaped template is used to layout a fairly complex point pattern, which was very useful information to a novice.
Gradually I learned about master lines and edgers, long tool for long line runs and short tools for tight places, the use of a veiner for cleaning up borders, a joiner for cleaning up lines, multiple line tools for progressive line cutting with maximum guidance, and cleaning up minor overruns. It is easy to see on video how tool pressure should be applied and how deep each pass should be and how intersecting lines are cut before any one direction is cut to final depth. I know this sounds silly, but the additional knowledge helped me to appreciate my own progress after I cut a small pattern on a practice board without wavy lines or broken diamonds.
Gunstock Checkering offers good sections that address tool maintenance as well as fine finishing the checkered areas. Nothing is done only in the long view. As an example, while plenty of time is spent describing and illustrating laying out a pattern and laying down the lines, a great deal of time is spent on the minute detail of clean up and the very fine aspects of the job that make good work stand out. The author is so accomplished he makes everything looks easy, but he doesn't motor ahead as though he doesn't understand this is a lot of information for a viewer to grasp.
If you have an interest in checkering, or have been working at it and can use some insight from an experienced craftsman, you may want to pick up a copy of "Gunstock Checkering". I can't think of a single area that did not offer valuable assistance to someone trying to develop their checkering skills.
Book Info & Summary:
Retail Price:
$69.95
Author:
Joe Balickie
Publisher:
Artisan Productions
Publish Date:
April 2003
Format:
DVD
Available:
Brownells
Quality of information (1-5): 5
Quality of Presentation (1-5): 4