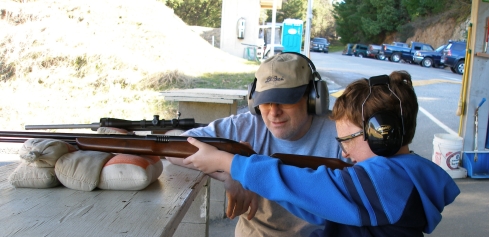 Think there is a problem with the length of that stock? Amazingly enough, he was still able to keep everything on the paper at 50 yards, mostly in the center, and while maintaining a big smile. At eight years of age, my eldest grandson is finding a lot of enjoyment in learning how to shoot, which of course gives my wife and I more opportunities to spend time with him. It wasn't that way in the beginning. The first time we took him to the range we spent a lot of preparation on safety rules and proper firearm handling. We drew diagrams of the range, covered all of the typical instructions he would hear and covered range safety. We set up a table in our living room and taught him sight alignment and trigger squeeze on a gun that was way too big for him. He did good, his eyes didn't glaze over, he learned quickly, but it was easy to see this whole shooting thing was still quite foreign to him.
The day we went to the range, adults were friendly and went out of their way to make him feel welcome. My wife and I took him for a walk behind the safety line to see what other guns people were shooting, to get him use to the noise and to explain the different shooting areas and how they were used. When he seemed settled down we picked a spot, ran through the safety issues again, and he had a chance to shoot maybe a dozen rounds out of a 22 LR autoloader. He did really well, I thought, but I could see he was losing patience with not mastering shooting skill within a short period of time. He eventually hinted he wouldn't mind if we headed home. I thought he had fun, but I got the feeling he satisfied his curiosity and shooting wasn't in the cards as a routine activity. I guess I was quietly disappointed. We had taken our children out shooting when they were very young, we took them hunting. I guess I was worried that a family interest in firearms was coming to a close. My wife told me not to worry, it wasn't the end of the world and, of course, she was right. Eric is such a great kid, and excels at so many things, I knew I just had to let it go or run the risk of sending the wrong message to him – that he was somehow a disappointment to me.
This past week he asked us to take him to the range without our prompting or prodding. We reviewed the safety information and were pleasantly surprised to find he retained virtually all of it. This time, instead of spending a lot of time in preparation, I gave him responsibility for helping us get set up and I brought a different rifle that, while larger, would be a little easier to manage. This time he was very comfortable and was able to adapt his hold to the gun and get a steady rest, while almost being able to hold on to squeeze the trigger. When another youngster, maybe in his mid teens took the spot on the bench next to us, Eric got a little competitive but clearly liked the idea of more kids being around. We went through a lot of ammo and Eric he had a lot of good targets to show his parents when he arrived home. I guess people, even little people, come to conclusions in their own way and in their own time. The following day, my wife and I purchased a very compact and light Savage 17 HRM for him to shoot on range days.
Thanks,
Joe