I picked up a

Ruger

No. 1 so I could work up loads for the .45-70 beyond the Maximum Average Pressure limit of the Marlin Model 1895. I've been shooting a Ruger No. 1 re-barreled and chambered for the .358-378 RG (a wildcat based on a full length .378 Weatherby case necked down to a .358″ bore) for the past year without any problems, and the Ruger No.1 is factory chambered for many serious cartridges, so I have a lot of confidence in the gun's strength.
Photographing an entire rifle is difficult, at least within the equipment and skill limitation of…well, me. Either the gun is too long, or the electronic flash falls short, or I need to climb up on a ladder to get enough elevation to capture the whole thing within the focal length of an inexpensive lens. So first, and foremost, the Ruger is a fine firearm because it is a short gun and therefore easier to photograph. If this meets your criteria for a firearm purchase, you can stop here, while I go on to fill up some of this white space.
This particular example, a K1-S-BBZ Ruger No. 1 Stainless Steel Sporter, weighs 7.25 lbs on the nose, has a 22″ barrel and, thanks to a very compact action, is only 38.5″ in overall length. Pull, the distance from trigger to recoil pad, is 13.75″ – the same as a Weatherby, a little longer than an M700

Remington

. The comb, at least where my face contacts the stock, is about .75″ below bore centerline, or about 2.25″ below the center of a scope with a 1″ tube. Trigger pull measured a clean 4 lbs, which is fine with me; I shoot more accurately with a trigger pull above 3 lbs.
The rifle is… well, pretty. The black laminated stock and bright stainless barrel and receiver makes for a great looking combination, but its appearance in the field would be a like strapping reflector mirrors all over a camouflage suit and shouting, "I'm over here ! I'm over here !". Then there is the decision as to which scope to put on this thing; do I stick with basic matte black, or do I go with stainless? If I use a black scope, should the rings match the gun or the scope? Wait, stainless buttons for sling swivels; stainless swivels? Would that combination require a black sling, or perhaps something in a saddle tan. I miss the good old days – "Do I spend an 30 minutes scrubbing a rust film out of a bore, or just push a jacked bullet through at 3,000 fps?".

Before my sarcasm runs all over a perfectly great product, that was put together by a lot of very hard working people, I'll move on to some of the more positive aspects of the rifle. Ruger includes a set of high base stainless steel scope rings that clamps directly to the quarter rib just behind the folding open sight. The latest version rings have Torx head fasteners and they work with basically any scope with a 50mm or less objective lens. I use a set of these rings on my other Ruger No. 1, with its 80+ ft/lbs of recoil, and those rings hold on without shifting. Ruger hangs a promotional tag on their rifles to indicate the inclusion of a set of rings represent a $50 value; this tracks to the current retail prices for quality rings/mounts. Nice deal.

The workmanship on this particular rifle is excellent. The machine work is very neat and precise and the finish is uniform; no screw head nicks, assembly scratches, rough edges, etc. The front ramp sight is bright stainless, so the use of sun glasses on bright days is mandatory, but the sharply contrasting blade is flat black and is easy to center in the also black rear folding leaf sight. The grip cap actually followed precisely the shape and size of the pistol grip, the breech block rose and fell evenly without rough sensation, and the front barrel band provides a thoughtful place to hang a sling. I don't know what the deal is with the can opener notch in the forearm, the same as found on the Tropical model, but it is traditional looking and follows the lines of many old classic single shot rifles.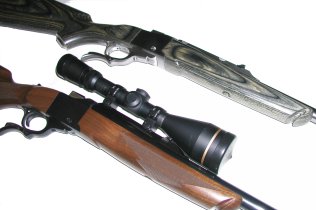 I think the top to bottom comparison is a good illustration of just how different the stainless and carbon steel versions are. The bottom rifle has a 26″ barrel, and is muzzle heavy with its Tropical Model heavier profile barrel. The stainless gun feels very light with the CG just forward of the trigger guard, the result of a 22″ barrel of a more slender profile. At today's prices, about $50 separates carbon steel from stainless Ruger No. 1 models in retail stores, but if you want the .45-70 chamber, your only choice is stainless. This cartridge, at one time, had been offered in the Tropical Model, but that was some time ago.
The No. 1 is a very basic assembly so it's difficult to get tangled up in its mechanical parts when attempting to load and pull the trigger. All of the important parts are heavy duty, and stainless steel is used inside and out. A good portion of the mechanical assembly extends out into the forearm; hammer spring, strut, elector strut, etc. and are accessible with the removal of one screw, so everything is easy to get to and easy to detail clean.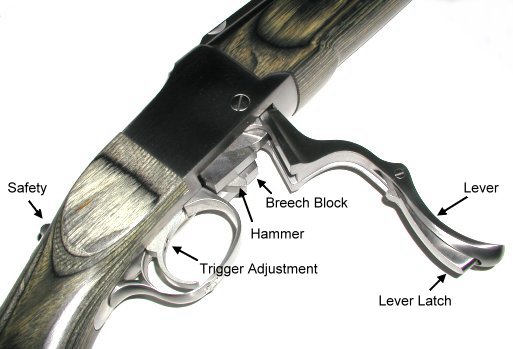 I'm going to spend the week setting up the rifle and test equipment, and I'll post the results as soon as I have some. I have to admit, I'm glad I have a more time to work with the .45-70 Government cartridge, and I'm glad I have a little more safety margin with the Ruger No. 1. Now, which gun loses a scope…
More "Ruger No. 1 .45-70 Test Mule":
Ruger No. 1 .45-70 Test Mule Part 1
Tools for .45-70 handload development – Part I
Tools for .45-70 handload development – Part II