We frequently have tools and material left over from Real Guns project that have seen use only as the subject of photographs, or were used only a couple of times in the course of writing articles. In other cases, there are items that have seen routine use, but have now been replaced in production. Sometimes we finish a project and have what I like to call "extra parts". To avoid interoffice landslides, we identify each item by specific case, then typically disposed of the material locally. We thought it would be beneficial to site visitors if we also offered this material through the Real Guns Classified section, so out of area site visitors can also have access. The Classified section is also open for use by Real Guns site visitors.
Visitors can buy, sell and announce availability of goods and services consistent with federal, state and local laws. $5/month buys space for up to 1,000 characters plus 2 photos. Shipping and method pf payment information is not deducted from the 1,000 character allocation for item description. Multiple items may be listed in single ads, and advertisers may edit or replace text and photos at any time through a password protected ad management section. Advertisers may elect to auto renew ad space if they wish to become a familiar presence to site visitors. Site traffic stats indicate good traffic exposure. Each month over 45,000 unique visitors come to the site, many more visit on a regular basis. These are people who are serious about firearm ownership; I can tell by the number of email I receive that correct my misstatements and sometimes misguided opinions. These are different visitors, not clicks, pages, or other similar stats. Visitors tend to remain on the site for 15-20 minutes, they tend to visit many areas, most dealing with technical aspects of hardware and handloading.
The following categories are currently available: Firearms, Gunsmith Supplies & Equipment, Hunting Supplies & Equipment, Optics, Reloading Supplies & Equipment, Services, and Shooting Supplies & Equipment. The main Classified screen displays only categories with active listings. This was done to reduce the clutter of non-essential information…one of the reasons my articles are so short.
Sample Screens
Access to the Real Guns Classified section at any time by selecting "Classifieds" on the menu bar at the top of any site page. The following are non-interactive screen captures. Selecting "Classifieds" at the top of page menu brings up the Classified category page.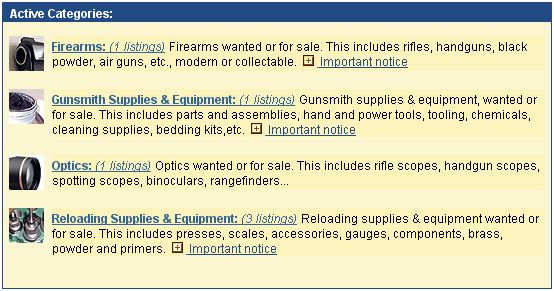 Clicking on any active category, such as Reloading Supplies & Equipment changes to this window, which lists all items for sale within the specific category. The drop down menu at the top of this window permits changing to any other active category.

Clicking on any hyperlinked listing or "+" box expands the listing into the full ad. Clicking on the same again closes the ad. Clicking on the camera icon to the right of the listing opens another window and displays ad photos. As images are typically large compared to the text, we felt it better to display images separately.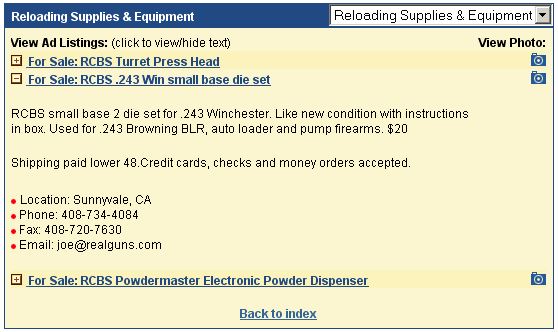 Ad Editing is accomplished by entering the Classified section and clicking the "Edit Ad" button at the bottom of any section page. From there advertisers may edit text, upload new photos, place entirely new ads, change auto renew status to cancel at end of run, etc.
The Classified program isn't static, we are currently working on improvement. We anticipate, within the next week or two, advertisers will be able to select a nickname, and people buying items or utilizing advertised services will be able to rate the vendor – a benefit both the advertiser and the buyer. We will also begin advertising the section in other locations on the internet to promoting this service, which will directly benefit advertisers.