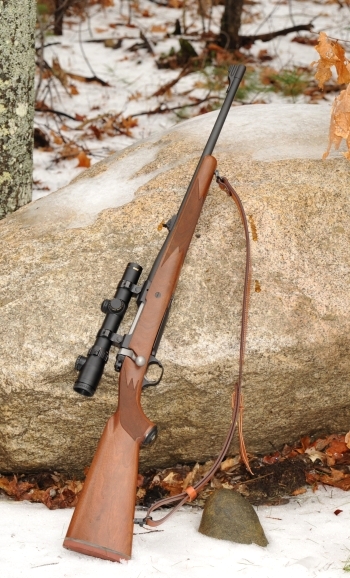 I just finished digging out of the first significant snow storm of the year. It was significant because its 7″ of snow and high drifts were but a prelude to the real storm coming on Sunday. Yea for Maine! Where even the moose are at the airport checking in for flights to Florida.
Maine is a state in transition. Out with the old, in with the…goofy. I was down at the end of the drive, three hundred feet through the woods, clearing snow and wearing the proper uniform of the day; Gore-Tex coat, gauntlet gloves, a cappello a calza, my winter beard, and peeking out through a head wrapping woolen scarf. Coming down the hill was my new neighbor, dressed only in a too much for 5AM Lycra jogger's suit. With the big rotating blower blades churning between me and jog boy, I flashed on the scene from Fargo where Steve Buscemi got on his buddy's nerves and was fed into a large chipper. We settled for a mutual hand wave and a "Hey".
I wanted to cap off the year with something special, like improved grammar, but then I thought writing about a really nifty gun might be more realistic. And so, in the name of nifty… I bring you the Ruger M77 Compact Magnum.
What are those bumps on the barrel?
The Ruger M77 Hawkeye Compact Magnum is what is technically described as a kickass little gun. 39¼" in length, barely an inch longer than a M94 saddle carbine, it weighs just 6¾ lbs. Its 13″ pull is ⅝" shorter than a M77 Ultra Light. You pick it up, it pulls intuitively into your shoulder, and where ever you turn the muzzle follows right along with you, without putting up a fight.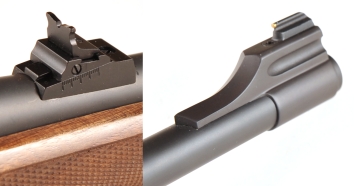 I wish to personally thank Ruger for understanding how short barreled guns are sometimes used and for having the good sense to put them on this little gem. I use to go to a gunsmith to have receivers drilled and tapped for scope mounts, now I go to have metallic sights installed. We don't have a lot of open prairie here in Maine. We have to shoot between timbered mountain peaks and they are only about fifty feet apart. Metallic sights are a plus.
The Compact Magnum's Williams U notch rear sight and ramped gold bead front sight combination are an appropriate balance of reliability and utility. They hold adjustment and they are visible against a woodland backdrop. Perhaps Ruger will add a nice bright Williams Firesight set to their accessory store list for those of us who hunt by Braille, but what's in place as the rifle is delivered is excellent.
Fits like a glove…
The two items below actually go well together. I was able to comfortably operate the Ruger while wearing a pair of Thinsulate gloves. Which is good, because I really get tired of pulling gloves off with my teeth before taking a shot. The floorplate release, outside of the trigger guard, provided assurance that I wouldn't accidentally drop the floorplate when I stuck a gloved finger through the guard opening. The stubby cartridges were also easy to load; no finesse handling required. Bolt and safety operation were also routine with gloved hands. Like I said, nifty gun.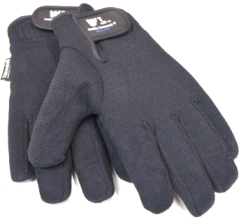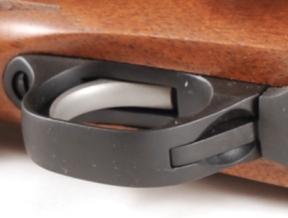 Feeds like a… positive reference analogy I can't think of at the moment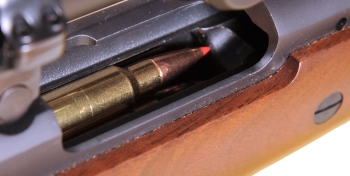 The M77 Compact Magnum holds three rounds in its magazine. You could physically squeeze in four, however, when the first round is stripped off and rotated upward at the feed ramp, it will bottom out the remaining rounds in the magazine well and bind and nobody likes bent ammo. That's why it pays to read the manual and follow the manufacturer's instructions for use.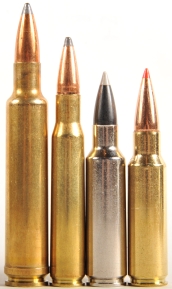 My WSM chambered rifles are a challenge to load, particularly under hunting stress, and they all feed like….sand on ice. The Ruger, with approximately the same fore and aft magazine well cartridge clearance, is easy to feed and bolt close is slick. So I put on my nerd visor and broke out the inspection light and poked around.
Pictured for context L-R: 338-378 Weatherby, 30-06 Springfield, .325 WSM, .338 RCM. Ignore the longer than .325 WSM length of the .338 WSM in the picture as this is the result of bullet selection, not cartridge maximum COL specification. The .338 RCM COL spec. is 2.846″ and the .325 WSM is 2.860″. Probably days away from a real SAAMI released drawing, I rough measured two once fired cases for comparison. The case head of the .325 WSM measured 0.553″ and the .338 RCM measured 0.530″. .325 WSM case length measured 2.095″, the .338 RCM case measured 2.011″. New unfired Hornadybrass measured 2.005″ on the average. My point is that the .338 RCM is smaller than the WSM in all respects.
Then I measured a couple of WSM chambered rifle actions and the Ruger Compact Magnum with fraction of an inch accuracy and found the magazine feed lips were roughly 5/8″ wide on the WSM guns and just about 3/4″ on the Ruger. Additionally, the ejection port openings of the WSM guns were 2 3/8″ longs, the port on the Ruger measured 2 5/8″. I guess I can deduce the improved fill and feed is the result of a smaller radius case and an action with greater cartridge capacity. Yes, it was a long winding and awkward narrative that got me to these points, but thank you not mentioning it, and for not smoking.
Ruger's Compact Magnum…heavy on the Magnum
The .338 Ruger Compact Magnum Cartridge is quite a Hornady innovation. Derived from the .375 Ruger case, the .338 RCM's case length is just about 2″ long with a measured fired case capacity of 72 grains of H2O. For as stubby as the .338 RCM is, 200 grain factory ammo fired from a 20″ barrel consistently clocked 2880 fps over the chronograph. Not too shabby, as the load is listed by Hornady at 2850 fps and my testing was done during 7°F Maine winter weather.
If you haven't drawn the inference, for as compact as this rifle and cartridge combination is, it produces all the power of the well respected .338 Winchester Magnum, only with 4 less inches of barrel and with 14 less grains of powder. Like I said, it is an innovative cartridge and it is suitable for all big and dangerous North American game. Even Canadian moose, eh. It is also quite flat shooting, so it is OK to take it out of the woods and into open spaces and, for those occasions, just scope it appropriately.
.338 RCM External Ballistics 20″ Barrel

Range in Yards

0

100

200

300

200 Grain Velocity fps

2880

2629

2392

2168

225 Grain Velocity fps

2710

2535

2367

2206

200 grain KE ft./lbs

3683

3069

2540

2087

225 Grain KE ft./lbs

3669

3211

2800

2431

200 Grain Bullet Path – inches

-1.5

1.7

-0.0

-7..5

225 Grain Bullet Path – Inches

-1.5

1.9

-0.0

-8.1
The .338″ bullet has a relatively high sectional density, which interprets into relatively high retained velocity and energy. 200 and 250 grain bullets are excellent choices for factory ammunition as they provide good coverage for big game hunting. The 225 grain, particularly over the longer haul, may be the better performer.
There are many weights and types of .338″ bullets available to the handloader, something that makes the .338 RCM distinctly preferable to the .323″ .325 WSM. Hornady brass and dies from a number of manufacturers are readily available for the .338 RCM, as are modified cases if you use the Hornady system for setting and checking cartridge overall length.
Setting up for shooting…
Not wanting to break with the rifle's personality of woods hunting in all weather conditions, and to maintain the very light firearm theme, I installed a 1.25-4×24 Bushnell Elite 4200 scope with illuminated dot reticle. A 30mm tube product, the Elite 4200 has a 24mm objective, 4mm greater than a 1″ tube product; 44% greater objective lens area and, correspondingly, a much brighter image and increased field of view; 81 feet compared to a 1″ tube scope at 66 feet for close in shots at moving targets. The scope is being reviewed separately.
Honestly, when I recall that I hunted for decades with a 4x scope for woods and a 6x for prairie, it is almost comical to see some of the giant Hubble like devices, complete with electronic compensating range finder functions, that have made their way onto sporting rifles. I'd rather scope manufacturers left off the superfluous features and put more into durability, reliability and optimized light gathering and transmission through a reasonable size optical package.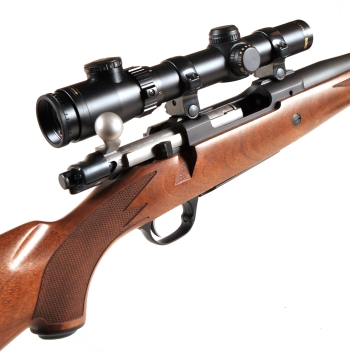 I picked up a set of Ruger 30mm rings. The Compact Magnum rifle ships with a set for 1″ tube products which is a more common size, but 30mm can be ordered from online discounters as well as directly from Ruger. Availability is limited to high and medium heights.
The M77 takes rings with a one height step differential as an offset to action height. In this case, a medium ring height for the front and a high ring for the rear. The high ring at the rear offered some welcome clearance between a raised bolt handle and the scope's large eyepiece. During all of the times I shot the rifle, This scope and ring set were more than adequate, including while shooting 100 yard groups.
Little touches…
The M77 Compact Magnum is loaded with very nice touches. I like the engraved floor plate. It isn't gaudy, its…distinctive and very nicely done. The satin finish and matte black hardware is very traditional looking and the cut checkering is neatly done, covering enough area to be functional.
The stock geometry is right for this type of rifle. While the pull is short, the comb is high enough to provide good support while shooting. The pistol grip angle is comfortable and the forend is wide enough for a solid grip. The functional cross bolt absorbs some of the stress at the recoil lug area.
Dismantling the Ruger, the inletting is very neat with no binding edges, the wood surfaces are all sealed and barrel contact is established near the forend. Areas intended to be clear of contact are and inletting gaps at the barrel channel are uniform on both sides.
Hardware pieces, including hinges, are of good quality. Castings, a Ruger manufacturing technology talent, are of a very high grade in casting quality and in final finishing. As an example, most rifle manufacturers will have a conical cut for a feed ramp and sharp edge where it falls off into the mag well. The Ruger has a blended radius that assists in smooth feeding. Some of the Eastern European guns brought in as commercial Mausers are very rough in action finish, bolt tracks and feed contact surfaces.
The M77 Hawkeye Ruger Compact Magnum has a silent three position safety; fire, load-unload and safe. Fire, self explanatory. Load-Unload, Bolt cycles but trigger pull blocked. Safe, Bolt locked closed and trigger function blocked. The safety locates positively in each position.
If there is one area that might be improved, it would be the recoil pad. For general shooting it is not a problem, however, if you are working on load development and shooting sixty rounds at bench sessions, the recoil can get to you. For a hunting season, or a box of ammo for practice shooting, the recoil pad is fine as is.
Almost forgot, it shoots too…
I went through a lot of ammo with the Ruger between snow storms. There is a hellacious one blowing through here now and the inside-outside wireless thermometer is reading 68°F inside and "You've got to be kidding me" outside. Earlier today I set up a target and shot from a makeshift bench. It was freezing, winds gusting 10 – 12 knots, so I had to keep waiting for breaks before shooting groups. At one point I thought a pinky fell off, but it turned out to be a snack carrot left in the bottom of my pocket from last winter.
I hadn't shot a Ruger this year that wouldn't group well and the Compact Magnum was no exception. After about 30 rounds dedicated to settling in and familiarizing myself with the rifle, I shot the upper three holes with the scope set at 4X. The group measured a little under ¾". I was so pleased with myself, I thought, "Hey, why not make it a 5 shot group". That's when I shot the lower hole. It's hard to shoot tight groups over chattering teeth. So I'll call it a 1″ group, but with an explanation. Generally, the gun shot under 1 ½" with factory ammo, which is an ad campaign for some manufacturers.
Wrap up…
I was quick to develop an appreciation for the Ruger Model 77 Hawkeye Compact Magnum and the stubby .338 Ruger Compact Magnum cartridge. I've always had a lot of respect for the .338 Winchester Magnum and this gun provides those ballistics in a more compact and easier to handle package. As soon as I get done shoveling snow I'll start the handload development portion of this project and let you know how it all comes together.
Ruger's M77 Hawkeye Compact Magnum Part I
Ruger's M77 Hawkeye Compact Magnum Part II