The first time I read Homer's epic poems, The Iliad and The Odyssey, a prerequisite to becoming a high school freshman, I thought it was implausible that a city sacking effort could last ten years when the combined allied participation in World War II lasted only five. I did, however, enjoyed The Odyssey for its monsters, temptations and epic challenges. The next time I read both works, during the year following military service, I found leaders, bravery, loyalty, commitment, and persistence…cowardice, deceptions and the frailties of man. It's amazing how a second look, after accumulating some experience, could alter an opinion and/or perception.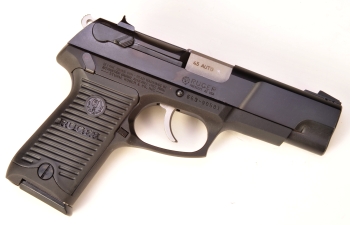 For me, firearm reviews begin with sitting down at a workbench with the firearm and reading its manual while attempting to become familiar with safety and operational features. Eventually, the firearm gets disassemble and reassemble until there is a general understanding of how all of the gun's parts interact, particularly those that were left over after the first attempt at reassembly. Then it's out to the range to see how the gun shoots, with two part reviews rolling into handloading projects.
The title of a piece will change several times from initial draft to final cut as opinions and perceptions are formed. As an example, my brain makes an instant connection from the .45 ACP cartridge to the M1911 as a point of reference. However, the P90 is not a double action version of a 1911 type .45 ACP, it is a more modern design double action pistol, put together with advanced manufacturing technology, that just happens to be chambered for the .45 ACP cartridge.
In the words of Neil Young, "Tell me, why?"
Maybe the best place to begin with the Ruger P90 is not so much what it is, but why it is. The P Series Ruger came into existence in the form of Ruger's P85 as a response to a 1985 government solicitation for a 9mm pistol to replace the M1911. The P90, as an extension of the P Series product line, was introduced in 1991. In product context, The current P89 is a similar to the alloy framed P90, only chambered for the 9mm Luger. The P944, chambered for the .40 S&W, is similar to the P90, but the P944 incorporates a cam block which is a departure from the P90's barrel link design. As .45 ACP guns go, Ruger introduced a slimmer poly frame Model P345 in 2004, a .45 ACP which differs significantly in design and is outside of the scope of this material.
There are at least a couple of reasons for a general movement away from the original M1911 .45 ACP design for military, law enforcement and civilian applications. The P90, as is the case with most current designs, is made for safer operation under stressful and harsh conditions, safer meaning additional design consideration for protection against accidental discharge in the event the firearm is struck, dropped or while its owner might be in a struggle for possession of the firearm. Double action operation, decocking capability, captive inertial firing pin, trigger and sear disconnects, even finishes that keep materials in working order longer with less maintenance all contribute to this objective. A second reason for movement away from the M1911 type design is cost.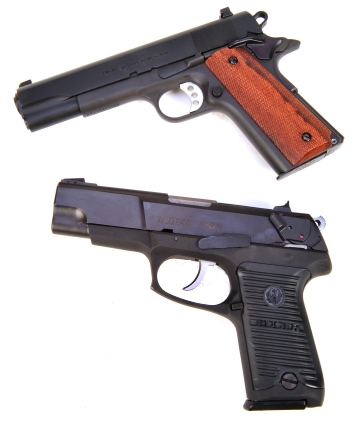 Like my classic Fred Flintstone lunch box with matching wide mouth thermos, high quality M1911 type guns are getting harder to find as the cost of billet machining and finesse fitting to assure accurate and reliable operation put these guns out of financial reach of many shooters. Some M1911 models sell at two and three times the cost of alternative design products.
The 1911 types that are inexpensive are inexpensive for good reason; the use of spot hardening in critical areas, less than precision cast parts, lower grade material in frame and slide production, and loose parts fit to assure reliable operation in the absence of close tolerance critical parts. Some of these guns begin life with minute of a barn accuracy and rapidly deteriorate from there. The low cost M1911, pictured upper left, is a good shooter, but only after several hundreds of dollars in parts changes and countless hours spent parts fitting.
The P90, represents a direction where superior design and liberally applied advanced manufacturing techniques create an opportunity for people to own a pistol of modern design, chambered for the .45 ACP, that can provide many years of accurate and reliable service. It can provide that service at a low cost and without sacrificing quality. The P90 isn't fancy, it isn't ugly, The P90, devoid of Euro prissiness, is all business and I'd guess the far greater majority of the gun buying public would find it aesthetically appealing.
An inevitable, but brief comparison…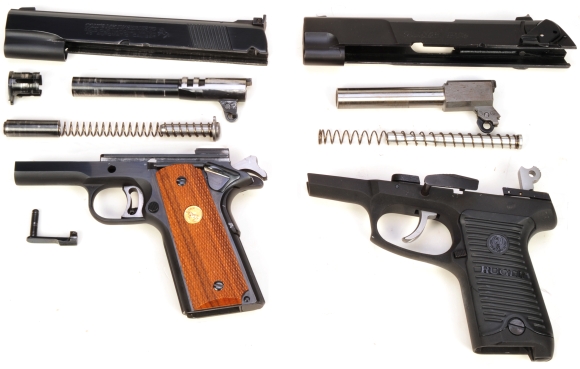 The 1911 has a barrel bushing to assist in barrel alignment and the barrel locks up with multiple radial locking lugs engaging multiple recesses in the gun's slide. All precisely fit parts and all subject to diminishing performance with routine wear and tear. The P90 has no barrel bushing and lock up is at the large fore and aft surfaces of the rectangular block that is integral to the gun's barrel. Both use a linked tilt barrel system for control and timing of lock and unlocked conditions.
The traditional 1911 recoil spring system is comprised of three parts, the recoil spring plug, the recoil spring and recoil spring guide. The P90 uses a one piece full length guide and the spring is retained by the slide so an additional plug is not required.
When the P90's safety/decocker is applied, the firing pin moves into the body of the slide and out of reach of the gun's hammer. The slide also incorporates a firing pin block that prevents discharge, unless the trigger has been depressed, as protection against accidental discharge in the event the gun is dropped.
Applying the gun's safety cams the trigger bar (A) downward, rendering the trigger moveable but inoperative and the sear (B) is depressed which decocks the hammer. The gun has a number of safety mechanisms to designed to protect against accidental discharge, even in rough handling, while retaining intuitive and reliable operating.
From the decocked condition, switching the safety to "fire" and pulling the trigger is all that is required to discharge the firearm in what would be double action mode. Subsequent operation would be in single action mode. The P90 does not have a magazine disconnect to prevent the gun from firing without a magazine in place, nor does it have an internal key lock. The P90 can be single loaded and fired.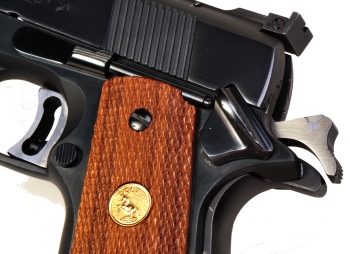 The 1911 employs a thumb safety to secures the gun while in a cocked and locked condition. There is no decocker function or double action trigger pull to allow firing the gun from a hammer down condition. This series 1911 does not have a firing pin block, so the firing pin is not captured when the trigger isn't being depressed. Over the span of many years, I've not had an accidental discharge with a 1911, even in rough handling. However, a thumb safety relies on a very small amount of material to block a gun's sear and a decent trigger job may leave only 0.025″ of sear – hammer engagement.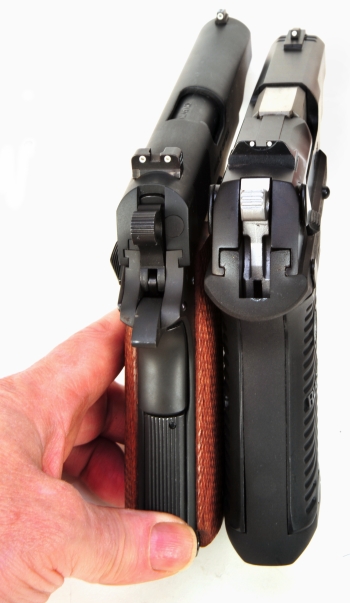 The P90 gives the illusion of being considerably larger than a full size 1911, but it is not. At 33 ounces it is 5 oz less than a steel full size 1911 and 0.500″ shorter because, respectively, of the P90's alloy frame and half inch shorter 4.5″ barrel. At 0.945″, the P90 forward slide dimension is only 0.023″ wider than a 1911, however, the P90 slide quickly broadens to 1.053″ which is approximately 0.137″ wider than the 1911. It's a tenth of an inch not really noticed in use as the P90 is thinner at the grip than a 1911 by a like amount. Where a full size 1911 typically feels a bit nose heavy, the P90's lighter weight is noticeable and the gun feels more balanced in the hand.
The P90's double action trigger pull is a heavy but controllable 11 lbs 9 ounces. Single action trigger pull is light at 4 lbs 1 ounce, but with a bit of creep. The active double action pull is a long one inch, while active single action trigger pull is approximately a very short ¼" after take up. Unlike a number of other modern double action autoloaders out there, the trigger for the most part moves parallel to the bore and not in a tight arc. The pull is not as clean as my 1911's, but much better than any SIG's or S&W pistols I own that are of a similar double/single action design. The P90 trigger feel is similar to some of the better smoked over CZ75 type pistols I have shot, like the SP01, but with a more parallel pull motion.
Some other, perhaps more appropriate comparisons…
Ruger P90 – Comparable Model Comparison

Model

Ruger P90

CZ 97 BD

Glock 21

SIG P220

Caliber

.45 ACP

.45 ACP

.45 ACP

.45 ACP

Action

DA/SA

DA/SA

DA (Proprietary)

DA/SA

Trigger Pull DA Lbs

11.6

11.0

5.5

10.0

Trigger Pull SA Lbs

4.2

5.4

NA

4.4

Overall Length "

7.7

8.4

7.6

7.7

Overall Height "

5.5

5.9

5.5

5.50

Overall Width "

1.3

1.4

1.3

1.5

Barrel Length "

4.5

4.8

4.6

4.40

Sight Radius "

5.8

6.5

6.7

6.3

Weight Empty Oz.

34.0

36.0

26.3

30.4

Mag Capacity

8

10

10

8

Sights

3 Dot White

3 Dot Tritium

3 Dot White

3 Dot White

Slide Material

Carbon Steel

Carbon Steel

Stainless Steel

Stainless Steel

Frame Material

Aluminum Alloy

Carbon Steel

Polymer

Aluminum Alloy

Manual Safety

Yes

Yes

No

No

Decocker

Yes

Yes

No*

Yes

Accessory Rail

No

No

Yes

Yes

MSRP

$574

$874

$637

$975

*Cocking mechanism not preloaded
The models noted above, based on features, function and application may help place the Ruger P90's features and price tag in context. Where other models from the same and different manufacturers approach the P90 in price, they are virtually all poly frame guns and chambered in a sub caliber. Ruger's .P90 is a matte black hard coated aluminum A356T alloy framed pistol, with a black carbon steel slide and polycarbonate grip panels. The blued version of the P90 is double action with a ambidextrous manual safety/decocker function. A stainless steel slide version, the KP90, provides a decocker only function in place of the manual safety, however, both are essentially the same in all other respects. Both firearms are intended for law enforcement, civilian concealed carry, home defense, and recreational shooting.
Fit and finish…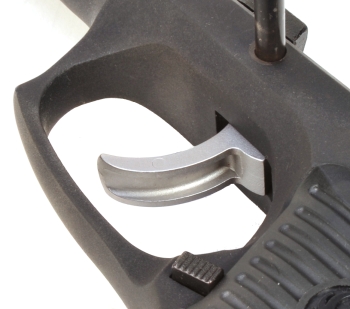 The P90 is a well finished workhorse. The frame is matte black, the slide satin black. Both barrel and guide rod are stainless steel. The gun utilizes a number of precision cast parts that show up at times in the form of a hollow back trigger, or a parting line on a hammer, all perfectly functional and durable, if not ostentatious. It is a firearm to carry on the job where a firearm is required, or as a concealed carry piece in a significant caliber or a nightstand resident gun for us rural, adults only in the home dwellers.
A blue P90 carries an MSRP of $574, however, they are more routinely sold for less. Cindy, the retail store general manager for Real Guns tells me theirprice is approximately $452.
Shooting and handling impressions…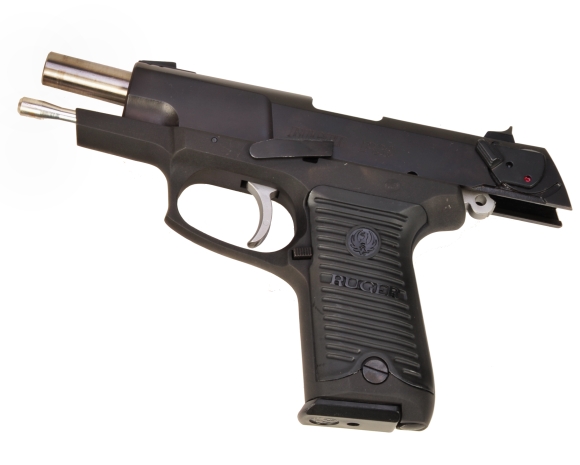 The P90 appears larger than it feels when held or gripped for shooting. I know I mentioned this before, but it bears mentioning again. Controls are located as they are on just about all other successful autoloading centerfire pistols and within comfortable reach for one hand operation by anyone with even medium size hands. The safety/decocker is ambidextrous. The length of the trigger guard makes room for gloved hands and a comfortable fit when shooting from a two hand position. Magazines drop cleanly when released and load without fumbling for the correct orientation. Surfaces are smooth, no sharp or pointed edged jump out to bite a shooter's hand.
The 3 dot sight system is easy to pick up and hold on target, aftermarket sights, HiViz and Tritium type, are available from quality suppliers like Brownells and Ruger's own store. The rear is dovetail secured, the front sight blade is pinned. Brownells also offers replacement and upgrade spring sets. There are numerous sources for fancy wood replacement grips and utility slip on rubber grips with finger grooves.
The P90 is an easy to shoot gun. At 10 meters, or at least an approximation for a guy who counts in yards, Keeping a magazine full in a 2″ – 2.5″ group is pretty easy. The shape of the backstrap is very comfortable and just the right size for me. M1911s tend to cut into my palm after half a box of ammo or so and SIGs and Glocks are just a bit too wide to feel totally under control. My wife did a bit of shooting and, for a person who is not very fond of the M1911, she very much enjoyed shooting the P90. Her comments were mostly directed at how soft recoil felt and how much more control she had based on the grip size and shape.
Ejection was clean, not a jam all day, and the gun was tolerant of any loads fed from the high velocity light loads to the shot putting weight heavies. During an extended day of shooting, as well as prior shorter periods of operation, no parts fell off, nothing broke and the gun appeared none the worse for wear when the exercise is completed. Nice gun, great price.