If I wanted to illustrate why revolvers have remained in high demand, despite the intense marketing  of inexpensive plastic framed autoloaders, I would probably just show them this revolver. The gun projects nostalgia, but it also reflects modern manufacturing technology. It is a gun that fits well into a handgun training program, it's a gun that is carried by professionals with the word "Officer", "Sheriff" or "Agent" in their job descriptions, it is a gun that fits well as a home defense weapon. It is a gun that could be carried for hunting, or while hunting for wilderness protection.
The obligatory synopsis…an animal indigenous to Real Guns
KGP141 .357 Magnum – Overview

Manufacturer

STURM, RUGER & CO., INC.

Firearm Type

Double Action Revolver

Chamber

.357 S&W Magnum

Material

416 Stainless Steel

Grips

Hogue Monogrip – Sorbothane Internal Insert

Capacity

6 Rounds

Barrel Type

Full length rib and underlug

Barrel Length

4″

Twist

5 groove 1:18¾" RH

Overall Length

9½"

Height

6″

Weight

2 lbs 7.2 oz – empty

Trigger Pull DA/SA

10 lbs/4 lbs 9 oz

Pull length DA/SA

0.578″/0.065″

Rear Sights

White outline adjustable windage and elevation

Front Sights

Plain black ramp, quick change

Cylinder Locking Points

Three

Cylinder Diameter

1.557″

Wall Thickness

0.0925″

Cylinder Throat Diameter

0.3575″

MSRP

$680
The GP 100 series Ruger has been in production since 1985, an upgrade to Ruger's Security Six double action Ruger that was introduced in 1971 and discontinued in 1989. The stainless KGP141, specifically, was introduced in 1987. All GP 100 type revolvers, in comparison to the original Security Six, offer improved trigger function, a more robust frame and locking system, an improved peg mounted grip, and interchangeable front sights1. The GP 100 series is a medium frame product which places it in physical context between the company's compact frame SP101 and it's big boy Redhawk double action revolvers. Ruger double action revolvers do not have a side plate, they have a solid sided frame, and they are modular in assembly. A very strong firearm.
For those of you without x ray vision…
For those of us who have experienced that moment of looking at a large pile of very small piece parts from a disassembled side plate design revolver, just before brushing the bits and pieced into a zip lock bag labeled, "Put together sometimes when you have a few days to spare", the Ruger modular design is appreciated.
Disassembly of the Ruger begins with removal of the single screw that secures the grip to the frame. Then the gun's hammer is cocked, which exposes a hole at the end of the hammer strut. A disassembly pin which is supplied with each gun is inserted in the hole. The trigger is pulled and the hammer is lowered. The hammer spring, with the pin in place, is locked in compressed form and can then be removed.
Side note – The manual refers to the disassembly pin as stowed under the grip's side panel and cautions that care be taken not to lose the pin at the initial steps of assembly. This doesn't apply to the Hogue grip model which is secured to the gun differently than the split wood paneled grip version of the gun. For Hogue grip guns, the disassembly pin can be found in a small plastic bag stapled to the gun's warranty card.
In the event the 0.078″x0.750″ pin is misplaced at some point in time, a jumbo paper clip can be used in substitution.
With the hammer spring assembly removed, the gun is cocked and the hammer pivot is pulled from the side of the frame with a #2 thumbnail…maybe even a #3. The point is no tools are required. With the trigger still depressed, the hammer is lifted up and out of the frame. One of the reasons for running through this brief description of the disassembly process is to show how easy the gun is to work with during routine maintenance and cleaning and also to show how well the internal machined and cast parts are finished. Ruger has done a great job with casting technology and computerized machining.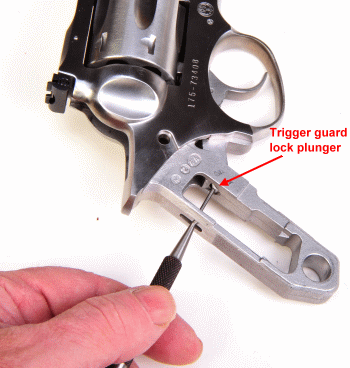 The trigger guard assembly is secured by a lug at the front and a spring loaded plunger at the back. The instruction manual suggests using the end of the hammer strut to slip through the slot in the backstrap and depress the trigger guard plunger lock. That wasn't any fun, so I used a small diameter long nose punch that easily depressed the plunger, or at least made it very sad, causing it to release its hold on the frame. The instructions provided in the manual are not incorrect, nor are the instructions unreasonable in suggesting approaches. The problems I encountered are symptomatic of Newrevolveritus, which is cured by a few days of shooting the gun and the subsequent accumulation of normal break in wear and tear. Personally, I'd rather have a tight fitting gun like this that doesn't gravity disassemble.
The balance of the field stripping process is accomplished by pulling out the trigger guard assembly, pressing on the cylinder latch button and swinging out the cylinder for removal. The result should look something like this.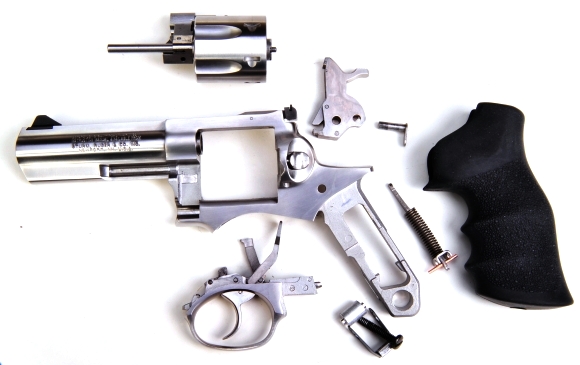 My intention was not to author a takedown guide for the GP100 series revolver, the gun's manual does a more than adequate job of providing that information. The intent was to underscore the uninterrupted frame design and that, other than a screw driver to remove the grip, takedown requires no other tools and the modular approach to subassemblies makes the task simple. Reassembly is even easier.
A gun that is made to be shot…a lot
Ruger managed to put a lot of beef in a middle weight frame. Pictured next to a J Frame S&W, note the differences in top strap thickness, chamber wall thickness and the barrel frame union. The KGP141 is a tough, tough revolver that will stand up to an endless stream of .357 Magnum loads.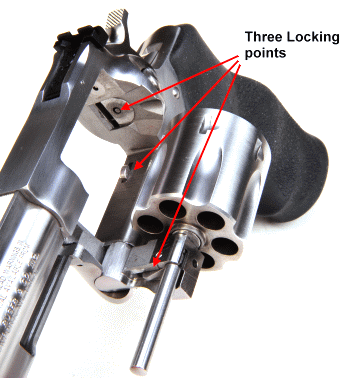 In addition to all of the parts staying together, the Ruger GP 100 will shoot accurately over the long haul. The cylinder is secured at three points assuring maximum longitudinal alignment, timing was right on and indexing was positive. The gun was that way when I initially took it out of the box and it was that way after extensive shooting.
I own and shoot single action and double action Ruger revolvers in both rimfire and centerfire chambers. They are all fun to shoot and reliable in operation, but I think this model represents the best balance in power and mass. There seems to be more material in stressed areas, while the gun's 4″ barrel balance makes it comfortable to shoot and not in the least bit heavy. It's a nice gun that will draw compliments at the range. The KGP141 is the iconic classic revolver.
The .357 S&W magnum cartridge…
I own and shoot autoloaders chambered for the .357 SIG which is always compared to the .357 S&W Magnum. With 125 grain bullets in similar level factory loads the .357 SIG cranks out approximately 1,350 fps of muzzle velocity, the .357 Magnum approximately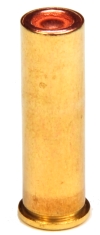 1,450 fps. And that's about where the similarity ends as the .357 Magnum moves all the way up to 180 grain factory loads. The 158 grain factory loads, left, typically top out in the 1,235 fps range for factory ammo, however, the Ruger's 4″ barrel produced 1,244 fps.
For target practive, it is easy to load 148 wad cutter loads with 4.5 grains of Unique for 800 fps and not have to worry about having enough steam to reliably cycle a slide and feed ammo from a magazine.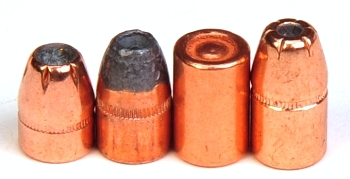 A handloading section wasn't planned, but the gun – cartridge combination was so much fun to shoot I couldn't pass up the opportunity. I picked four representative weights: 110, 125, 148, and 158. The caliber has excellent expansion characteristics, significant penetration and good accuracy. There is a ton of handload data out there for the .357 Magnum loader and lots of components to go with it.
.357 S&W Magnum Handloads – 4″ Barrel Ruger KGP141 Revolver

Bullet Mfg

Bullet #

Weight
Grains
Length
"
COL
"
Powder
Type
Powder
Charge
Actual
Velocity
Muzzle
Energy
6 Shot
Group*

Hornady

HP/XTP

35700

110

0.

490

1.590

Power Pistol

10.7

1433

502

2.3

 

 

 

 

 

H110

20.5

1472

529

2.9

 

 

 

 

 

Blue Dot

15.0

1495

546

2.6

Remington

JHP
23572
125

0.5

72

1.575

Power Pistol

10.0

1397

542

2.5

 

 

 

 

 

H110

19.2

1385

533

1.9

RS Enforcer

16.5

1347

504

2.4

Berry
DEWC

148

0.

555

1.

280

Unique

4.5

833

228

1.9

 

 

 

 

 

HS-6

5.0

773

177

1.3

 

 

 

 

 

Win 231

4.0

847

236

1.7

Hornady FP/XTP

35780

158

0.660

1.590

H110

16.5

1274

570

2.2

Win 296

16.7

1294

588

2.6

2400

14.2

1208

512

2.4

PMC Bronze

357A

158

Factory Ammo

1244

543

2.0

*Groups shot at 25 yards
Magnum Small Pistol Primers except WC loads which were Standard Small Pistol
I assembled my handloads with a set of Lee Precision Dies marked for the .38 Special. .357 Magnum die sets are usually sold as .38 Special/.357 Magnum or .357 Magnum/.357 Maximum. .357 Magnum cases to be loaded are measured, 1.280″ in this case, then 1.145″, the standard case length for the .38 Special is subtracted. A pin gauge that matches the dimensional difference, 0.135″, is laid across the shell holder and used as a the die adjusting reference point, rather than the surface of the shell holder. I did use the Lee Precision Factory Crimp Die. Yes, because it leaves a nice crimp, but also because it sizes assembled ammunition to make sure it fits cleanly into a gun's chamber.
Shooting impressions…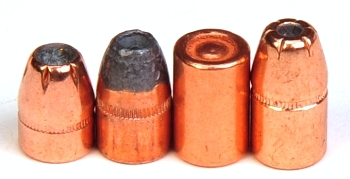 My wife shot a few groups at a range of 21′, PPC distances. The one above, shot with PMC factory 158 grain ammo, measured less than 0.9″ center to center. I was pretty impressed with the combination's accuracy, but also by the bullet that mushroomed so uniformly and lost a maximum of only 5 grains in weight after penetrating approximately 18″ of our test medium.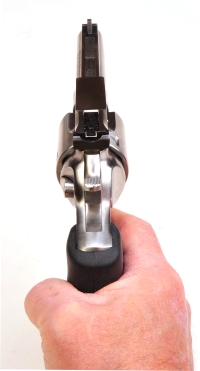 I like the Hogue grips. They provide support where it is required and they do a good job of dampening recoil. The ribbed ramp and wide flat frame top make pointing pretty intuitive and the weight of the full underlug or shroud makes for a steady hold.
Both two handed and one handed grips are comfortable and I appreciate a trigger guard that didn't smack my fingers around.
The gun shoots tight. Not sure how else to explain that but everything clicks and locks up cleanly and the mass of the cylinder gives the gun a very…substantial feel.
I can't get excited about the sights, but I can get excited about the fact places like Brownells, as well as Ruger, sell Firesight kits that contain interchangeable color front sights as well as a rear light pipe sights. Both companies also sell solid material bright colored front blades. All are very modest in price. The blade is changed by pressing on a spring loaded button embedded in the front sight ramp. The factory sights are good quality. I just need contrast of colors based on my squinting eye sight.
With wad cutters, the Ruger has no significant recoil and it is easy to put together these target loads. I do not shoot .38 Special rounds from .357 Magnum chambers. I think, over time, it is damaging to guns. Even with heavier loads , 158 grain as an example, are not difficult to shoot and the gun is very controllable. Quite different from my experience with single action revolvers.
The 4″ barrel is the right size as a balance of handling and performance. I have a number of revolvers with longer barrels, 6″ and 7.5″, and I almost want to go looking for a hacksaw at the end of a day after hiking around with one of these. 4″ is not a stubby and it is not a Wyatt Earp commemorative. It is a very practical barrel length for a gun that will be carried.
I get a kick out of the Glock safety gun slogans. The double action revolver is the original safety gun. It won't go off unless you pull the trigger and it isn't going to go off if dropped. For teaching someone how to use a firearm for self defense, it doesn't get much simpler than "Pull the trigger". And, speaking of triggers, the double action pull isn't bad and it is relatively easy to master. There was a time when the first thing I did when shooting a double action revolver was to cock the hammer to get to a short light pull. That practice has been replaced with…practice.
Conclusions…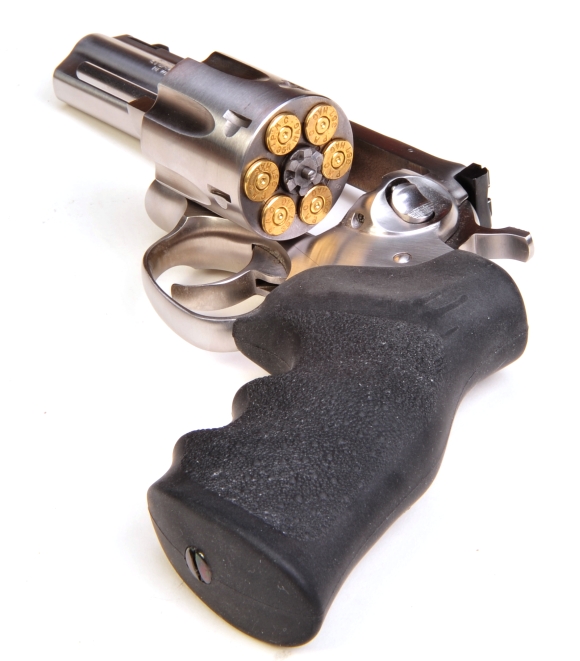 Well, this is a picture of what is now one of my personal guns. That's about the best endorsement I can give. I usually start off excited about a firearm, mostly because I like firearms and I am eager to spend some time with a gun I've not shot before. But if a couple of weeks go by and I won't let go of it; that's a good gun. MSRP is $680. I bought it from Cindy, the nice lady who runs the RGI Gun Shop for $497. That's about $200 less than a S&W and the Ruger is a lot more gun.
1. Ruger, a Man and His Guns R.L. Wilson
2."Cartridges of the World" .357 Magnum entry