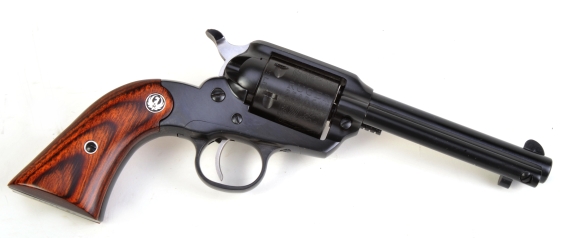 First impressions are often the most lasting, but that doesn't mean they are always correct. Case in point, the Ruger Bearcat. I always thought of the Bearcat as more of a novelty as a single action revolver, perhaps something to have around as a training aid for young small handed shooters, but not something that would see routine use as a firearm with much utility. Fortunately, while I might have labored under that misperception for forty five…maybe forty six years, a recent hands on experience with the little gun showed me the errors of my way. At least in respect to the Bearcat which, as it turns out, is a more than spiffy and precisely made single action revolver.
A brief Bearcat background…*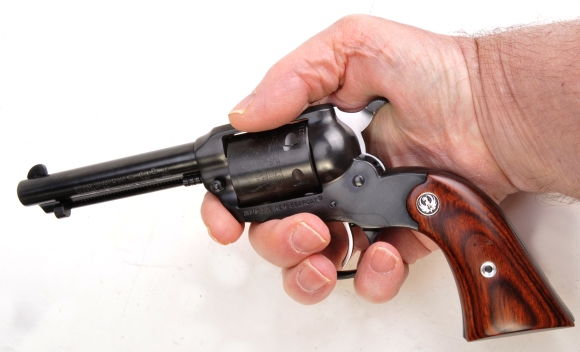 Virtually no long lasting product line is free of revisions, overhauls and redesigns. The Bearcat is no exception with a history that spans three generations. From its 1958 introduction through 1970, the Bearcat sported an aluminum frame and cylinder. In 1971, the model became the Super Bearcat when the frame material was changed to precision cast steel. However, even with this improvement, production was discontinued in 1973 with the last units leaving the factory in 1974. The Bearcat was reintroduced in 1993 in a form similar to the Super Bearcat with a short lived .22 WMR convertible cylinder option, an option that caused the gun's cylinder and frame to be lengthened to accommodate the longer round. The gun was plagued with reliability and timing problems to the extent it was withdrawn from production. In 2002 a refined and revised designed New Bearcat was introduced as a .22 LR only gun that is currently in production. All models prior to the 2002 New Model Bearcat have an anodized aluminum trigger guard, including a brass anodized version. As verified by Ruger literature and a handy magnet, current Bearcats have steel frames, cylinders and trigger guards as pictured above.
(revised for clarity 5/9/210 – Ed.)
What's in a name? That which we call Bearcat… Sorry Billy.
Bearcat? Sounds like the name of a guy who hangs out at The Knuckle Saloon in Sturgis.
Big as a bear, fast as a cat… Don't bump into his bike when you're pulling into the parking lot. But then names can be deceiving.
As an exercise in due diligence before I began writing this piece, I researched the name and found the real Bearcat, pictured left**. Comfy, sleeping. Looking more like…well, me enjoying late night TV. Bearcat, arctictis bintourong, is native to South East Asia.
However,
when provoked, a bearcat can get wolverine serious and inflict meaningful injuries on and about the ankles. Hence, Bearcat, a compact. lightweight, easy to handle gun, that can dole out as much power on the trail as .22 Long Rifle chambered handguns twice its size.
Bearcat is a good name for nailing down the gun's personality as Bobcat would have been too cliché, and what would have been my personal favorite, "Platypus", is probably just a little ahead of its time. Duck billed, poisonous mammal. How cool is that?
Pint size… right size ?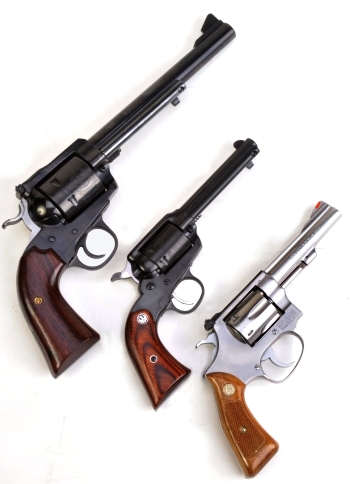 In comparison to a Ruger Bisley in .45 Colt and an early 4″ barrel Smith & Wesson Model 63, the Bearcat is back pack and tackle box tiny, but not so much so that the Bearcat is hard to control. In fact with me cast in the role of one of the worst revolver shots EVER, the little Bearcat was easy to shoot accurately, even with a pinky rolled under the grip.
| | |
| --- | --- |
| Model | Bearcat |
| Caliber | .22 LR |
| Capacity | 6 shots |
| Overall Length | 9″ |
| Barrel Length | 4.2″ |
| Twist | 1:16″ RH |
| Weight | 24.3 oz |
| Sights | Blade/Notch |
| Hardware | Blued steel |
| Grips | Rosewood |
| MSRP | $516 |
The Bearcat has an incredibly solid feel with very precise lock work. A short traveled three crisp clicks to hammer back, positive cylinder indexing and tight lock up. Even the loading gate snaps open and closed with… conviction. The real standout in the mechanical assembly, hands down, is the trigger.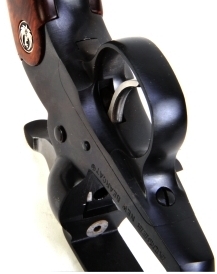 The lock work pieces and design are unique to the Bearcat, differing even from its cousin, the Single Six. Fewer parts, fewer springs, different geometry. Pull isn't light at 4¼ lbs, but no creep, snapping glass clean and virtually no overtravel. The trigger feels better shooting than my Ruger Bisley with a clean 2 lbs and change trigger pull. Maybe part of it is the absence of a three feet of hammer fall, but the Bearcat is also much better than a Single Six.
The trigger face is quite narrow, less than 3/16″ and sharply radiused a compared to a more typical 1/4″ flat trigger face. The trigger is also offset to the left of center by 0.095″. The result is that the trigger finger crease comes to rest naturally on the trigger. I tried using my finger tip and finger pad to apply trigger pressure, but neither yielded a as steady of a hold while permitting easy hammer cocking. The finger crease hold provides both longitudinal and lateral hand support for a very steady trigger squeeze.
Accuracy… Mine or yours?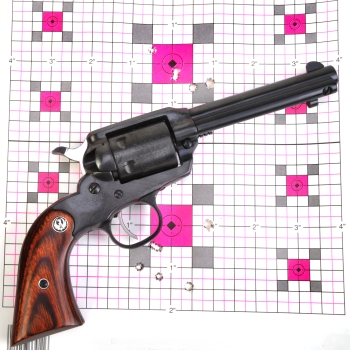 Very casual offhand shooting yielded 1¾" – 2″ groups with basically any brand and age ammo at 25′ – 35′. My wife, Diane, and friend and gun shop manager Cindy, both wanted to try the little gun and both outshot me. A little practice on my part and group size was reduced to nearly half the size noted previously. Loading and punching out empties was a snap and the gun remained as tight as it was before the first round was fired.
The sights, simple fixed, are very visible and about right in blade thickness and height to make it easy to get on, and remain on target. Sometimes I think I make too much of adjustable sights and HiViz sights and everything else that complicates putting sights on a target and pulling the trigger.
I am quite sure the limits in the Bearcat's accuracy are mine. The more practice I got, the more focused I became, the smaller the groups so I don't really know the gun's potential. I do know that even I can shoot the gun well enough to discourage squirrels from mooning me from trees and chuckling with that little maniacal squirrel laugh after each shot that has all too often been the result of me and small game handgun hunting. In a place like Maine where rabid fox, pet snatching coyotes and feral dogs are a common reality, it make sense to keep a small gun handy when out hiking around rural property or out for a day of fishing. Maine is an open carry state, requiring only possession of a hunting license. My legal interpretation – not my legal advice to others.
Take down for cleaning is a snap; half cock, depress the base pin latch, pull the base pin, open the loading gate and roll the cylinder out of the frame. Complete disassembly requires only hammer spring compression and removal of a couple of screws. The Bearcat is a simpler assembly than the Single Six.
The frame and grip are a one piece precision casting… quite rigid. Coil springs are used throughout for long life and consistent rates over the life of the gun.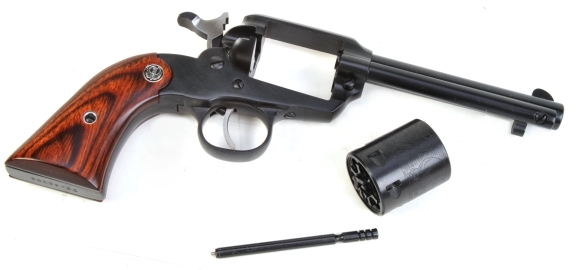 In looking over the evolution of specifications for the Bearcat, I'd have to say the current version is the best, with each successive iteration implemented from 1958 intended to make the gun more robust. At a bit over 24 ounces, the gun is still very light and compact. In fact, the additional heft over the original aluminum frame and cylinder model probably is just enough to make the gun more steady in hold. The stainless model, for a few bucks more, is tempting, but I personally like the rosewood and deep blued look. Ruger offers a nifty all leather holster for the Bearcat for $38 that should suffice for most use the little gun would see. Comfortable carry for a lightweight pistol that will stay out of the way until needed. Made by Triple K, the holster can be purchased directly from the Ruger Online Store. Nice gun.