The Ruger No.1 hold a unique place place of honor at Real Guns®. It served as the basis for wildcat cartridge development, like the 358-378RG with 280 grain 35 caliber bullet zipping along at 3,100 fps.  Ruger No.1s wired for strain to monitor chamber pressure were used in our development of high performance 45-70 Gov't and 9.3x62mm handloads. Ruger No.1s in a variety of calibers were used for recreational target shooting and hunting.
The Ruger No.1 is described by Ruger as an under-lever, falling block, single shot rifle. Early examples of hammerless, under-lever falling block rifles are the 1871 Martini-Henry and the 1872 Farquharson-Metford. Falling block rifles were routinely chambered for small bore through large bore nitro express cartridges and used extensively as firearms of choice on safari. In fact, the first big game rifle Walter Bell used in Africa was a .303 British Farquharson and later a .350 Rigby chambered Greener Farquharson.
The Ruger No.1 is patterned after the Farquharson, right down to the sweeping flourish of the under-lever and the stock's raised side panels aft of the receiver. The Farquharson, in turn, is patterned after the earlier exposed hammer Alexander Henry. Both Bill Ruger and contributing gunsmith-stock maker Lenard M. Brownell openly designed the No.1 to emulate these early European firearms in the hope of creating a modern classic. Additionally, the team improved the falling block design to eliminate the few weaknesses associated with some of the early guns of this type, in particular, enhancing extractor and ejector functions to the extent they are selectable and adjustable.1)
Mr. Ruger's legacy is the Ruger Company and its history, along with the company's firearms and innovative manufacturing technology. I do not think there will be another man of his stature within the firearms industry in the future and that is unfortunate for all of us. There are perhaps fifty No.1 articles on Real Guns that break them down in detail and feature modifications. Just use the left column page search box and enter Ruger No.1.


Fast forward to now…
Ruger No.1 Single-Shot Rifle

Manufacturer

Ruger Firearms

Model

21313

Type

Under Lever Falling Block

Caliber

450 Marlin


Capacity

1

Barrel Length

20"

Rifling

1:16″ 5 Groove

Weight

7 lbs 1 oz.

Overall Length

36.50"

Stock

American Walnut

Hardware

Satin Gloss Alloy Steel


Length of Pull

13.50″

Drop at comb

0.50″

Drop at heel

0.75″

Rear Sight

Folding Leaf on Quarter Rib

Front Sight

Ramped – Brass bead

Scope

Ruger Integral Base

Trigger Pull

*4 lbs.1 oz.

Safety

2 Position Thumb Safety

MSRP

$1,899
Ruger No.1s once carried type designations: Tropical, Varmint, Sporter, Light Sporter, etc.and each was offered in a variety of applicable calibers. Currently, the No.1 is a limited production firearm, the prior designations have been dropped with changes to type and chamber made on an annual basis. As an example, the 2018 line up is comprised of an all stainless steel version with synthetic stock chambered for the 450 Bushmaster, a 50th Anniversary chambered in 308 Winchester and the subject rifle, a short barrel Tropical type chambered for the 450 Marlin. Additionally, there are eight models produced as individual distributor exclusives.
Carried out or tossed out?
Hunting with a single shot requires practice and developing a feel for hesitation free reloading of the weapon. Some folks like their firearm to forcefully eject and empty so that the chamber is cleared and there is no brass in the way. Other like to have the brass extracted, but not tossed, especially when valuable brass is in play. Ruger's No.1 gives the shooter a choice. The Ruger No.1 can be configured to extract or eject and for greater or lesser ejection force.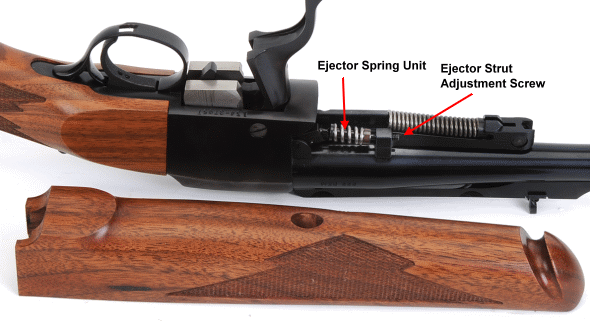 To convert the Ruger No.1 to extract only rather than extract and eject, the Ejector Strut Adjustment Screw is backed out until the Ejector Strut Spring is no longer preloaded and the Ejector Spring Unit is free and can be removed. With the unit in place, the Ejector Strut Adjustment Screw can be turned out or in to decrease or increase, respectively, the Ejector Spring preload. Caution. Too much preload will bind the action so, regardless the changes made, a full lever stoke ops check is essential. Before attempting any of this, read the manual… yeah, that little white booklet that is packaged with every firearm sold.
Strength in simplicity, not numbers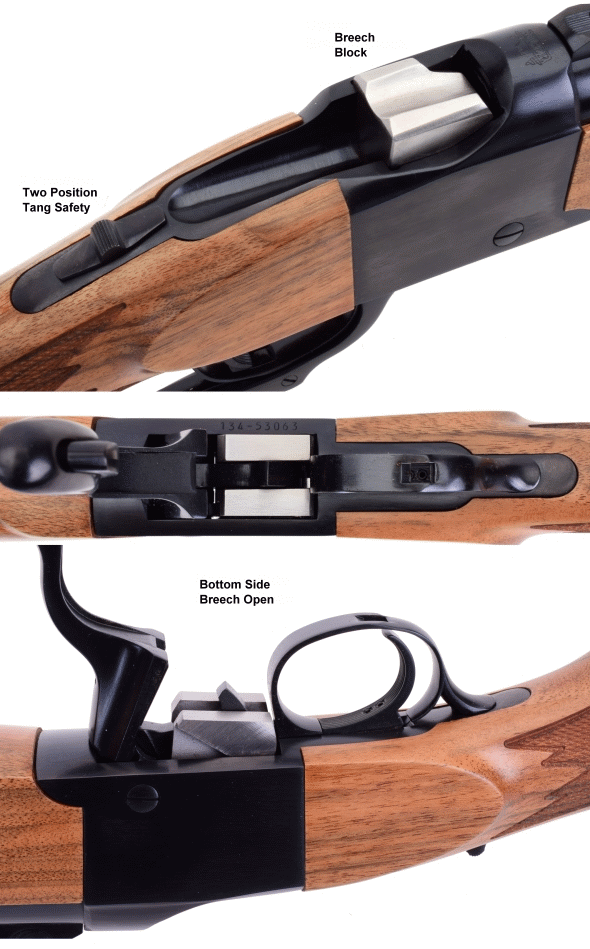 Having a short action like the No.1 means a rifle with an overall length approximately 4″ shorter than a bolt action. A breech block, in the form of a big chunk of steel trapped in the grasp of the thick steel receiver,  can not move backward or side to side, only up and down with the shooter's deliberate motion of the under lever.
A stock that looks good and fits a human form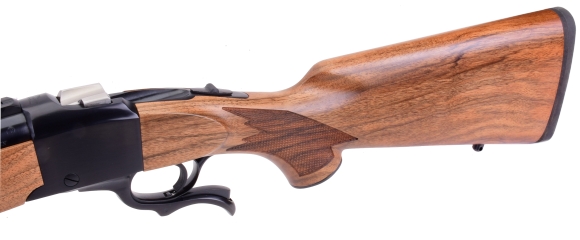 The Ruger's buttstock is shotgun like; the long slender wrist, sweeping pistol grip and checkering patterns that follow. The recoil pad is more than adequate because of it very resilient structure. Nice not to have a giant foam filled inner tube at the butt end of a nice rifle.
The Ruger's forearm is narrow, but tall, so it is hand filling but well proportioned to the rest of the firearm. The sculptured grooved Schnabel forend? It looks good. A little bit of fancy work on a nice firearm. Is it for shooting sticks? Can't see it, the angle is wrong unless aiming at something across a valley mortar style. Could it be there as a tie down? Could be to secure rifles to a rack. Sure, why not. It is interesting to note that the forearm is short from checkering to forend, Shooting from a standing position with the elbow down, the left index finger slips right into the groove… until you pull the trigger on a kicker and understand why you would never… never hold the rifle in that fashion.
Not as busy as the labeling suggests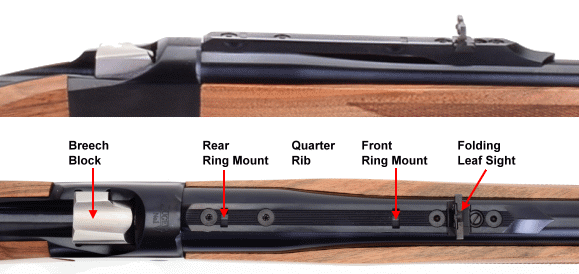 The quarter rib provides the scalloped and keyed base for the set of Ruger proprietary rings included with the rifle. Included are 1″ medium height rings, however, 1″ and 30mm rings from low to high mount are optionally available. If a scope isn't required, the standard metallic sights are quite serviceable.

The rear sight folds to stay out of the way of a scope's objective bell. It is elevation adjustable by raising and lowering the aperture. The rear sight is drift adjustable for windage.
Tomorrow, we'll get in some range time and work through what we can do with a 450 Marlin chambered Ruger No.1.
1) Ruger and His Guns: A History of the Man, the Company & Their Firearms – Wilson