My theory on carry guns and an egg analogy… As we get older, our waistline spreads, are hips narrow and our butts disappear. In short, we begin to morph into nature's perfect shape, the egg. Consequently, the four pound forty-four mag that once rode proudly at our waist, now progressively falls to our ankles with each step we take. Subsequently, the search is always on for the perfect lightweight centerfire pistol or revolver that might work without having to resort to the extremes of a healthy diet and exercise. Enter the Ruger SR1911 Lightweight Officer Style… I said, "Enter the Ruger SR1911 Lightweight Officer Style"… There, that's better.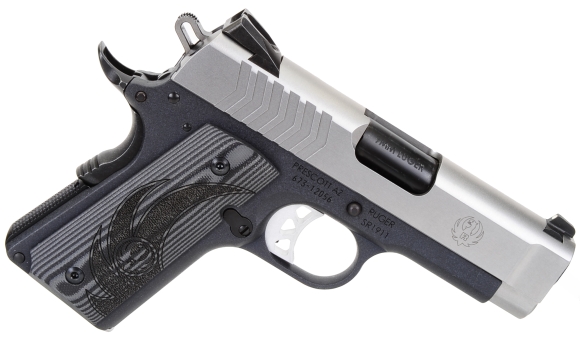 Model

SR1911 Lightweight Officer-Style




Company

Ruger

Model #

6758

Manufacture

Prescott, AZ

Type Action

Single Action

Slide

Stainless Steel

Finish – Barrel/Side

Low Glare

Frame

Aluminum

Caliber

9mm Luger


Capacity

7+1

Barrel Length

3.60"

Twist

1:10″ RH

Weight – Empty

27.2 oz

Overall Length

7.25″

Overall Height

5.00″

Sights – Rear

Novak – Drift Adjustable

Sight – Front

Black – Drift Adjustable

Sight Radius

6.25"

Trigger Pull

3 lbs 11 oz (Actual)

MSRP

$979

Includes: Display box, 2 Magazines
gun lock, and manual
Where most steel frame 1911 types weigh in at approximately 40 ounces, the Ruger SR1911 Officer-Style weighs approximately 27 ounces, which includes its bushingless bull barrel.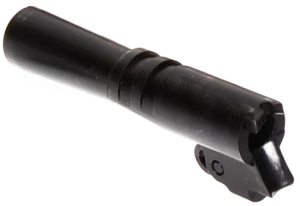 Ruger indicates the heavy barrel, weight biased toward the muzzle and aided by a full length recoil spring guide rod, provides improved recoil control. The barrel ramp intercepts 9mm Luger ammo feeding from the gun's magazine that would otherwise smack the frame. This makes the titanium insert present in aluminum frame 45 Auto SR1911s unnecessary.
We'll compare – you decide…
No, I have no idea what that section title means. I was going for witty  reference, but missed the bar. But here they are, side by side, illustrating the diminutive size of the SR1911 Lightweight Officer-Style next to the substantially larger full size SR1911.
The distance to controls, finger wrap around the grip and reach to the trigger are the same for both. The Ruger SR1911 Lightweight Officer Style's heavy barrel balance minimizes the different in feel even with its truncated front end. In a high grip, two and one half fingers on the front strap provide all the necessary control, even when double tapping.
Ruger touts the precision and smooth operation of slide over frame. Very true. Additionally, the spring rate balance; recoil, main and sear required for this slide mass and the 9mm Luger cartridge make slide racking easy.
The three dot sight system is ideal for this type of firearm; clean in outline front to rear and a standout in contrast against a target. Once the rear sight is drifted to line of sight, there is little shift in point of impact between light and mid-weight bullets.
The back end is as would be expected for any 1911 shooter. The beavertail grip safety keep the bobbed, lightweight hammer away from the web of a hand. The grip safety's speed bump assure disengagement, thereby preventing awkward and/or embarrassing moments from arising when called upon for self defense.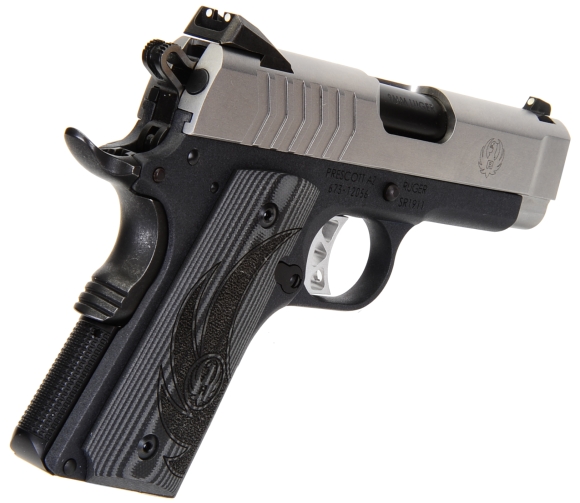 The right sided thumb safety is a narrow type, which plays well with the SR1911 Officer-Style's narrow width, even at its widest point, 1.10″ across the grips. The G10 grips and checkered mainspring housing make for a slip free grip at any human life sustainable temperature and humidity.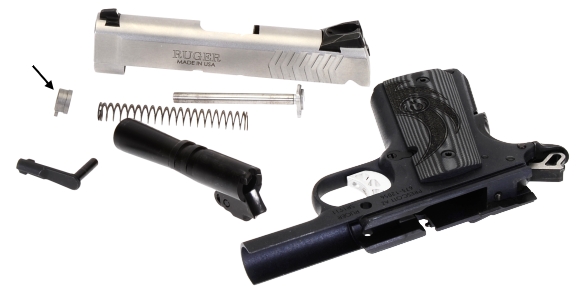 No tools are required to this level of disassembly, thanks to a recoil spring plug (arrow) also known as a reverse recoil spring bushing. Light recoil spring loaded means no multi ricochet slide removal. In short form, pull the magazine, pull slide back and check for empty, line the tail of the slide stop up with the slide's takedown notch, push out the slide stop, ease the slide forward and off the frame.
The bottom of the slide is conspicuously devoid of a firing pin plunger which deems it a Series 70 type pistol. The subject pistol had an excellent trigger in terms of pull weight and absence of creep. There was no perceptible overtravel on the subject gun, but there is overtravel adjustment to correct that condition if it were present. Yes, I know, a Series 80 can have as good a trigger… but you know that's a lie.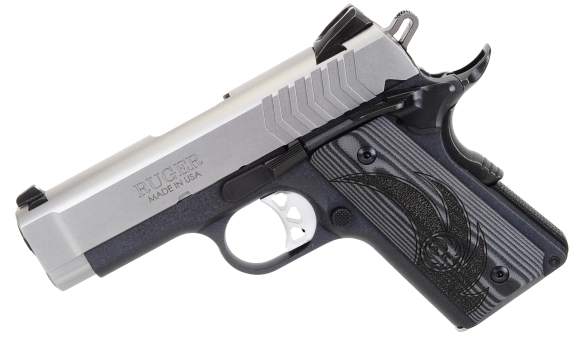 Live fire performance
Some of the smaller packaged nines, sub compact, ultra sub compact and any other evolution of the work small have caused me to anticipate small gun finger stinging, sharp report, noteworthy muzzle blast, and precise shot placement limited to ten yards. Stepping up a bit in size to the Ruger SR1911 Lightweight Officer Style pistol eliminated or at least minimized those distractions.
The mass of this pistol's slide permits the use of a relatively lighter recoil spring making slide racking easy, while the aluminum frame keeps the pistol's overall weight down.  The SR1911's form fit my 1911 belt holsters so there was no further investment required and the lighter weight meant not having to keep pulling my pants up while carrying on throughout the day.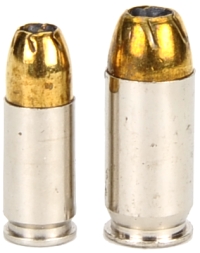 The grip backstrap and grips are… recoil diffusing. The spread the load over the palm of the hand. The slide's reciprocal action is soft, so no hand smacking, no intense muzzle jump and  not sore wrists even after a considerable amount of range time. The sights are good enough and the control is good enough to skip the ten yard restriction and comfortably shoot twenty five yards.
The 9mm Luger round is not as… robust as the 45 Auto, both pictured left, but it is effective in a mission of self defense, proving its worth and lethality in civilian, law enforcement and military applications. There are currently a whopping one hundred-fifty four factory loads for the 9mm Luger, expansive enough to address any application within the reach of the cartridge.
In a more objective form of measurement…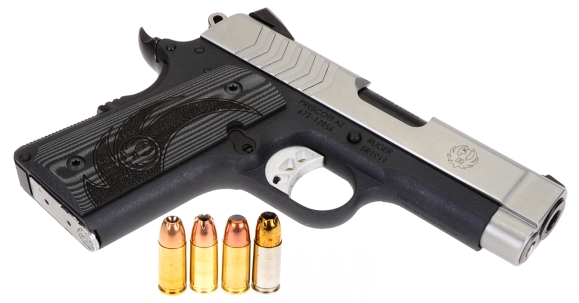 Groups were shot from a steady rest fashioned from shot filled bags. I wore my good glasses and there were no breaks between shots, other than to change magazines.
Ammunition

Type

Bullet




Grains

Rated




FPS

Actual




FPS

25 Yard


5 Shot




Group "

PMC Bronze

JHP

115

1160

1075

2.1

IMI Systems Di-Cut

JHP

115

1150

1148

2.2

Remington UMC

FNEB

124

1100

1050

2.0

Remington UD

BJHP

124

1100

1112

1.7
The Ruger pistol specifies the use of standard and +P rated 9mm Luger ammunition but, for my purposes, I chose two popular 9mm Luger weights and four popular types of standard pressure ammunition. Magazines were loaded with both common and mixed ammunition types. There were no mishaps, no failures to feed, no failures to fire, no failures to eject. The pistol always went to battery, except when it properly locked open on empty.
What I really like about the Ruger SR1911 Lightweight Officer-Style is that it is a real 1911 design and not a striker disguised as a 1911 which opens the doors to tons of aftermarket bits and pieces. It also means transferable knowledge and transferable shooting skills. The product is well made in America and backed by Ruger's warranty and customer service. Nice pistol.