No, not another cliche, big game season opening day photo, but certainly a photo representative of our local public enemies one through ten thousand. You'd think these little guys are harmless and enhance country scenic appeal, but they are self centered survivalists that will stop at nothing when in pursuit of a meal. This guy was spotted outside of the shop, several times, eating baby mice. In this case, Bob couldn't resist a trail of pumpkin seeds and a blob of peanut butter, thereby violating at least two of the Deadly Sins, Greed and Gluttony. Charged up with all of that energy, I am quite sure he would have gone out and violated at least one other.

Actually, these little buggers dig tunnels up to thirty feet deep to stash their harvests, procreate like crazy, dig many more tunnels around structures, until buildings collapse into sink holes and their occupants burn in the black depths of hell… or at least their porches list in an unattractive way.
So I catch them and… parole them to a faraway chipmunk park, a pond area at the bottom of our hill, where they are free to frolic all day and practice identity politics as they choose. Since yesterday, twelve chipmunks have been sent packing with many more to follow. Now, onto a solution for larger vermin and other assorted pests…
More than a rifle, I like to think of the Ruger 10/22 Target Lite rifle as an employer paid, exceptional vacation. My job at Real Guns pays squat, but shooting the Target Lite is like a day off. If asked for comment, I'm sure Real Guns would say, "We pay you more than what you're worth" and Ruger would say, "Of course the Target Lite is fun to shoot. What other type of firearm is there?". Both fair points.
Ruger® 10/22® Target Lite

Manufacturer
Sturm, Ruger & Co. Inc.

Model Number

21186
Type
Auto Loader

Caliber
.22 LR

Capacity
10 – Rotary Magazine

Barrel Length
16.13" – Threaded Muzzle

Rifling
1:16″RH
Weight
5 lbs

Overall Length
35.25"
Stock
Black Laminate

Receiver
Matte Black – Aluminum

Length of Pull
13.5″ – 14.5″ – Insert Adjustable

Drop at comb
5/8″
Drop at heel
1 1/8″
Rear Sight
None

Front Sight
None
Scope Mount

Weaver Rail – Included

Trigger Pull
3 lbs 6 Oz.

Safety
2 Position Cross Bolt

MSRP
$649
The Ruger 10/22 Target Lite is made in Newport New Hampshire with American produced materials and with American labor, including the laminated hardwood stock, metal castings and plastic molded parts. This means increasingly more to me these days.
The barrel is comprised of a hammer forged barrel, sleeved in aluminum and capped with a 1/2″x28 thread to facilitate the use of muzzle end accessories. I have found a Ruger Silent-SR is one of the most rewarding accessories to affix. The aluminum sleeve makes for a very light, but very rigid assembly that dissipates heat rapidly, even during extended shooting sessions. The result is a rimfire of exceptional accuracy.
The BX-Trigger…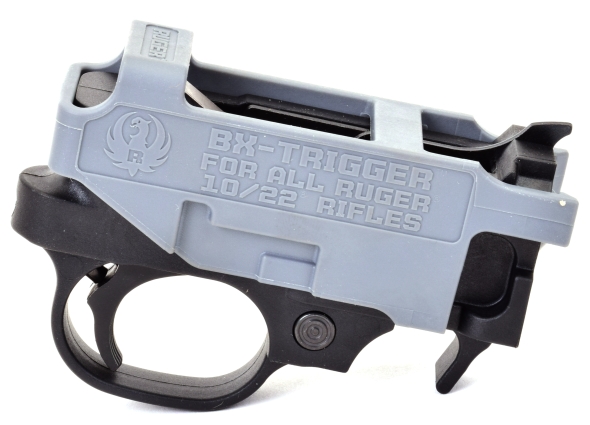 The BX-Trigger is installed on select Ruger 10/22 models, which includes the Target Lite, and it is available as a drop in upgrade for all of the other models. The Ruger BX-Trigger has a light, crisp pull, reducing standard trigger pull from a 6 poundish pull to 2.4 to 3 Lbs. In this case, pull measured 3 lbs 6 Oz right out of the box and lightened in use. As an accessory it is priced at $89.95 so its presence in the Ruger 10/22 Target Lite is a thoughtful inclusion.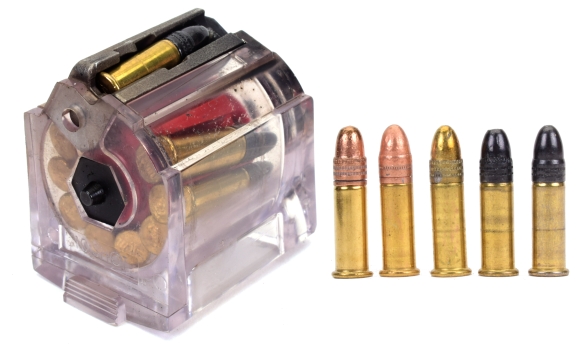 The Ruger 10/22 Target Lite utilizes Ruger's BX rotary magazines. A ten round is supplied, however, single round, 15 and 25 round versions are available from The Ruger Shop.The single round magazine is useful when training new shooters. The magazine packaged with the Target Lite is opaque black. I inserted a picture of my clear magazine to illustrate its internal construction. How did I get a clear magazine? I know a guy… he answers the phone at the Ruger Shop. I slipped him $24.95 plus shipping and he sent an Item # 90223 to me.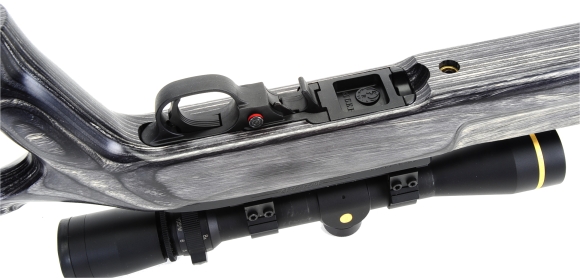 The 10 round magazine tucks in close to the stock and out of the way, its insertion and removal made easy with an extended magazine release. Despite its light weight and compact form, the little rifle is hand filling at both the forearm and at the palm swelled pistol grip. These types of features makes the Target Lite easy to shoot accurately.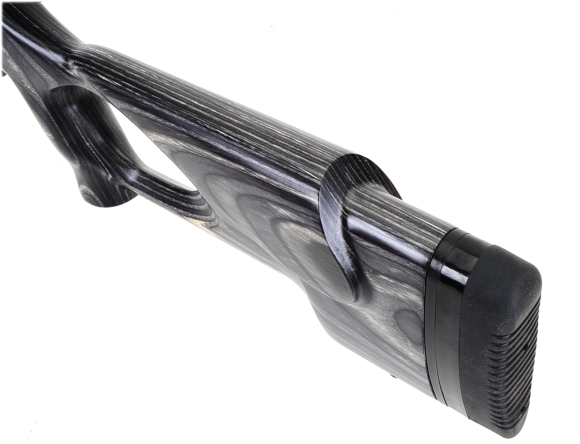 Both the stock's comb and cheekpiece appear on both sides of the stock… which is a nice accommodation for those left handed shooters who whine that no one ever thinks of them. My words, certainly not Ruger's words. Recoil pad spacers can be removed or added to give a shooter an optimal length of pull. The thumbhole stock gives a generous… thumbhole to allow even people with huge thumbs a steadying grip. The laminate is a nice alternative to a synthetic stock as it is more rigid, more stable and, within my sense of aesthetics, nicer looking.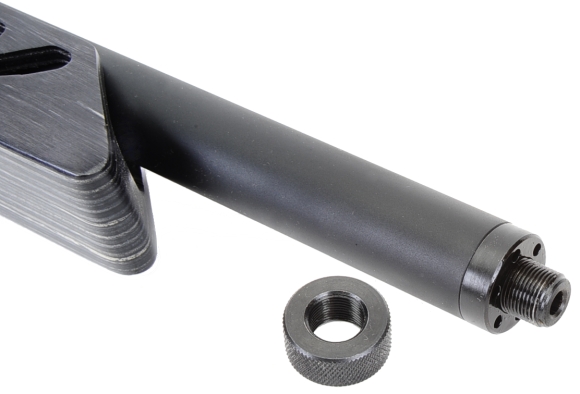 The target rifle style stock is broad at the forearm and the barrel floats 1/4″+ above the barrel channel. Forearm side slots provide significant cooling. The muzzle is threaded a standard 1/2″-28 and a thread protector, pictured removed, is supplied with the rifle.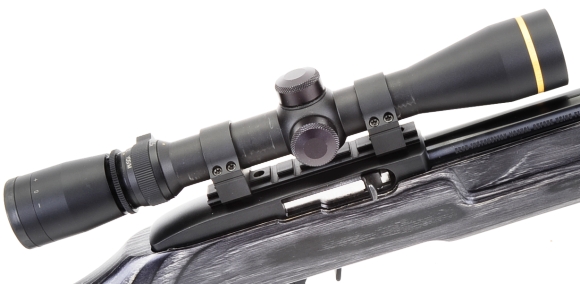 The smooth top receiver is drilled and tapped for scope mounts, a Weaver standard rail is in the box with the rifle. In this case, a set of Leopold PRW steel rings were used to mount a moderate magnification Leopold scope. The rings are secured longitudinally with steel cross bars so they stay put even in heavy use.
Yeah, yeah. Blah, blah… did you ever actually shoot the Target Lite…
Yes, I did, and thank you for tweeting @scooterking922. Four ammo types were selected at random and, with what should offer little surprise, they were shot through the Ruger Target Lite. Ammunition below, from left to right, is listed on the table top to bottom.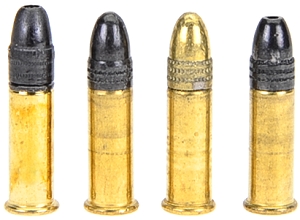 Cartridge

Bullet
Weight


Grains

Factory
Rated


FPS

Recorded




FPS

100 Yd




3 Shot


Group"


 Eley Subsonic

40

1040

1008

0.6

 Remington Target

40

1150

1048

1.2

 Remington Golden


40

1255

1164

 0.3

 Remington Cyclone

36

1280

1301

  1.1

The groups were reshot several times, with and without silencer and while they may have expanded and contracted a smidgen, it was not enough for me to grab a pair of dial calipers and pretend they are appropriate for measuring bullet holes in paper. I am sure I could have ferreted through piles of other brands and load types and easily found a dozen brands that produced the small groups and, no doubt, a dozen that barely broke the inch mark.
What does all of preceding mean? The Ruger 10/22 Target Lite is a very accurate rifle and with a little ammo type sorting it is an exceptionally accurate rimfire. Again, 100 yard groups. Why aren't those groups sitting in the center of bullseyes? When I check for precision from a shooting bench, I am only interest in group size and I do not correct zero for each type of ammo. I just shoot to a single point on the target for each type and let shift in point of impact put them where they will… within reason.
Other stuff…
The Ruger 10/22 Target Lite actually is… light, but it felt balanced regardless shooting position and it feels like a substantial firearm. As received, length of pull was too long for me, but a few minutes, a couple of screws and removal of a recoil pad insert later, that issue was resolved. Not a problem, just use of a feature, so that is a positive. Outside of accuracy optimization, the Target Lite digested everything it was fed without a hiccup, feeding, firing or ejecting, with and without silencer.
Subsonic ammo with the Ruger Silent-SR… silencer was quite. Enough so that the action's clackety-clack could be easily heard above any report. Supersonic ammo delivered its mini sonic boom, but was still much quieter than without the silencer. I did not wear ear protection for the former, I certainly did for the latter, but my habit has been to wear ear protection for either.
Overall, the Ruger Target Lite is a rimfire that will deliver accurate and reliable performance for a very long time. In the event something does break, it is backed by Ruger's pro customer warranty. Not a budget priced firearm by any means, but then few things worth owning come cheap.