It is a struggle to improve one's writing. It may even be a struggle to improve two's writing. A style and grammar mentor would be nice, or even just someone who has a general handle on spelling and where to place comas. My… stuff could be critiqued for technical substance, errors could be highlighted in digital yellow and I could take the criticism as long a the mentor would note in the margins that my intentions were good and, therefore, I am a good person… or at least reasonably so. In my defense, I am a guy who happens to write, not a writer who happens to be a guy, which defines me as an Approxamist; as long as the facts are correct, how they are presented and in what priority are of little consequence.
Savage Model 110 Lightweight Storm


Manufacturer
Savage Arms

SKU
57048
Type
Bolt Action

Caliber
6.5 Creedmoor

Capacity
4 – Detachable Box

Barrel Length
20"

Rifling
1:10″
Weight
5.65 lbs*

Overall Length
39″  40"
Stock
Synthetic
Hardware
Matte Stainless

Length of Pull
12.75″ – 13.75″

Drop at comb
1/2″
Drop at heel
1″
Scope Mount

Weaver – Included

Trigger Pull
2.5 Lbs to 6 lbs

Safety
3 Position Tang Safety
MSRP
$749
*The Storm is listed on the Savage site as "5.65 pounds" and "Weight LB 6.5". The rifle certified scale checked 5 lbs 12 Oz without scope.
In regard to the Savage Model 110 Lightweight Storm 6.5 Creedmoor, two observation immediately came to mind. The model name designation; should it have been Storm – Lightweight suggesting a force of nature that is light in weight Vs. Lightweight Storm which creates the image of… a light drizzle?
The second observation is that the Storm and 6.5 Creedmoor combination makes for a useful woodland hills firearm, significantly more useful than the preponderance of competitors' very heavy rifles that flaunt long barrels as a statement of thousand plus yard capability.
Here in Maine, trees grow two feet apart and a shot at game between them can travel no father than forty or fifty yards before hitting an offset wall of trees. In this environment, the Lightweight Storm's short barrel won't engage every every cluster of brush, yet the rifle's power will still bring down anything from coyote to moose.
Based on Savage's rock solid reliable Model 110 action, the Lightweight Storm has some unique features, as well as some shared with other Model 110 Savages. While the Lightweight Storm is not supplied with the aluminum frame embedded and adjustable comb height Accustock, it is supplied with a set of four spacers that fit between the stock and recoil pad to adjust the length of pull. Increment of adjustment is 0.025″, from 12.75″ to 13.75″.
The Savage Model 110 Lightweight Storm is fitted with the Savage AccuTrigger, with pull adjustment from 2.5 lbs to 6 lbs. The subject rifle came preset at 3 pounds 9 ounces and was left for the range checkout. Pictured below, the same AccuTrigger mounted on a Savage Model 110 Hunter.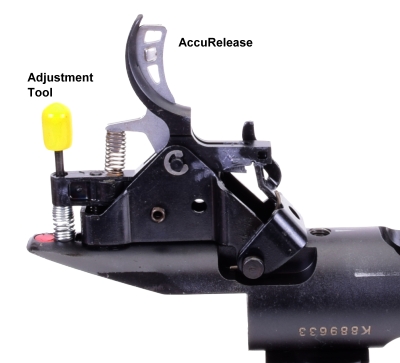 The three position safety; fire, safe unlocked bolt, safe locked bolt is quiet in operation, but positively indexed in positions. The Lightweight Storm is supplied with Weaver type mounts that accept a wide variety of mounts from a broad selection of manufacturers.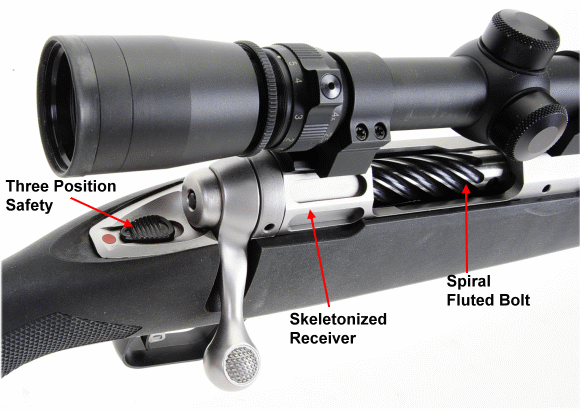 Unique to the Storm is a material removed from unstressed areas to reduce overall firearm weight, as in the aft receiver ring and the fluted bolt body.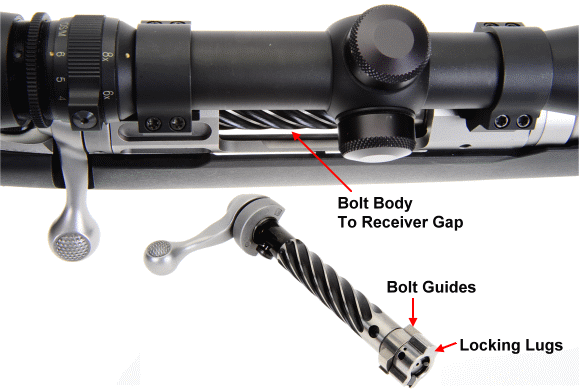 Milled receiver, fluted bolt; lightweight rifles tend to shed ounces and partial ounces where ever they can. Weight savings? Heat dissipation? Harsh environment reliability? The weight savings are minor, the Savage bolt bearing surfaces are on the bolt guides and locking lugs and there is a good deal of clearance between the bolt body and the receiver walls.It would take an awful lot of rapid fire to generate much bolt body heat on a bolt action rifle. So why? Don't overlook the obvious, it looks really good and they are finesse touches on a nice rifle at a cost of a couple of hundred dollars from a skilled gunsmith. I like the look.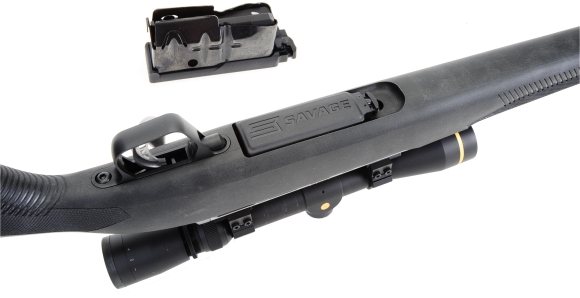 The bottom side of the Savage Model 110 Lightweight Storm is free of protrusions that might get in the way in a choked up hold. Still, the recessed catch is easy to locate when deliberately removing a magazine. The magazine has a poly floorplate, but self centering steel body. They are available separately for folks who want to load up more than one with backup ammo, or different ammo. The griping surfaces are nicely done, providing lots of traction even in humid, wet or cold environments.
I hope Savage sees fit to fix this mismatch. I understand there is an economy when using the same stock and barrel channels for a number of different models, but a featherweight barrel profile, laying in a magnum barrel profile channel is just butt ugly and detracts from an otherwise good looking firearm.
6.5 Creedmoor
Far left – 260 Remington next to a 6.5 Creedmoor. The 6.5 Creedmoor is a ballistic twin of the 260 Remington and the 260 Remington is a necked down hot rod based on the 308 Winchester. Hornady 129 grain Superformance ammunition is rated as  2930 fps. The same ammo in 6.5 Creedmoor is rated at 2950 fps. The 260 Remington has a maximum average pressure of 60,000 PSI, the 6.5 Creedmoor MAP is 62,000 PSI. Both share approximately 53.5 grains of H20 capacity.
Both cartridges are very similar in cartridge overall length specification. The 260 Remington spec is 2.530″ to 2.800″. The Creedmoor spec is 2.700″ to 2.850″.  The real departure is on case length where the 260 Remington is 2.035″ and the Creedmoor is 1.920″ which means longer, heavier bullets, the type used in competitive shooting, don't protrude as far into the Creedmoor case which yields, theoretically, a greater net powder charge.in a short action firearm.
If these are hairs to fine to split, something of more practical use might be the popularity of the 6.5 Creedmoor which shows in the number of factory loads available for each cartridge; twenty one for the 260 Remington and fifty one for the Creedmoor.
Both the 260 Remington and 6.5 Creedmoor are certified with a 24″ test barrel, which is long for cartridges of this capacity and the basis for ammunition velocity ratings. Subsequently, going to a 20″ barrel will shed some muzzle velocity, which is actually of little  consequence in a woodland hunting setting as impact velocity will assure full bullet expansion, as well as more than adequate penetration and retained kinetic energy.
Shooting experience…
Two type of ammo were shot on live fire evaluation. Federal Fusion 140 grain protected tip hunting ammo, rated at 2750 fps, it clocked 2688 over a calibrated chronograph. Federal's American Eagle 120 grain open tip match ammo, rated at 2900 fps, had a recorded muzzle velocity of 2700 fps. What really caught my attention was this short barrel, lightweight rifle's accuracy and consistency in shot placement.

The chronograph rounds were the first and second out of a new Lightweight Storm. The 140 grain Fusion group on the left were round three, four and five out of the rifle and it measured 0.7″. The 120 grain American Eagle, shots six, seven and eight shot 0.4″. Going through a few boxes of each type of ammo yielded no groups worse than the first groups and some considerably less. That is not typically for a mass produced, lightweight rifle, particularly with a short, slender barrel.
This is the fourth current generation of Savage Model 110 rifles I've spent time with and I believe it is my favorite. I have to give Savage high marks for the creative application of the 6.5 Creedmoor cartridge and excellent production execution of a lightweight, short barrel hunting rifle.