Ruger has always been true to the Firearm industry's tradition of making special runs of firearms. Sometimes this comes in the form of short runs of specialized product sold through Ruger's general distribution channels. Sometimes this comes in the form of special configurations of production models exclusively available through select distributors as is the case with this Ruger No.1 International. A stainless steel version, chambered for the 257 Roberts, it is distributed exclusively through Lipsey's.

Ruger No.1 International


Manufacturer

Ruger Firearms

Model

21318

Type

Under Lever Falling Block

Caliber

257 Roberts


Capacity

1

Barrel Length

20"

Rifling

1:10″ RH


Weight

7 lbs


Overall Length

36.50"

Stock

American Walnut

Hardware

Satin Stainless Steel


Length of Pull

13.50″

Drop at comb

0.50″

Drop at heel

0.75″

Rear Sight

Folding Leaf on Quarter Rib

Front Sight

Ramped – Stainless Blade

Scope Mount


Ruger Integral Base

Trigger Pull

*4 lbs. 7 oz.

Safety

2 Position Thumb Safety

MSRP

$1,919
The firearms market is as fragmented today as the many issues that divide the country. Not only is there a passionate expression of appreciation for the firearms of choice, but also passionate expression against those that are not our preferences, particularly within the confines of social media. Weird, as the meaningful "vote" is to purchase what you like and don't purchase what you don't like, and let people enjoy their independent choices for as long as they are sustainable in production.
My personal concern is over what appears to be a loss of understanding of, and appreciation for, above average firearms that comes with a market flooded with $600 MSRP, cost reduced, look alike plastic stocked rifles that have the unique personalities of jelly beans. Fewer and fewer enthusiasts are exposed to various designs, quality of material and attention to production or custom rifle detail. Consequently, fewer and fewer enthusiasts see the history, work and materials that go into making exceptional firearms.
First shipped in 1966, the Ruger No.1 is an important firearm as a link to key milestones in firearm history. The Ruger No.1 is described by Ruger as an under-lever, falling block, single shot rifle. Early examples of hammerless, under-lever falling block rifles are the 1871 Martini-Henry and the 1872 Farquharson-Metford. Falling block rifles. They were routinely chambered for small bore through large bore nitro express cartridges and used extensively as firearms of choice on safari. In fact, the first big game rifle Walter Bell used in Africa was a .303 British Farquharson and later a .350 Rigby chambered Greener Farquharson.
The Ruger No.1 is patterned after the Farquharson, right down to the sweeping flourish of the under-lever and the stock's raised side panels aft of the receiver. The Farquharson, in turn, is patterned after the earlier exposed hammer Alexander Henry. Both Bill Ruger and contributing gunsmith-stock maker Lenard M. Brownell openly designed the No.1 to emulate these early European firearms in the hope of creating a modern classic. Additionally, the team improved the falling block design to eliminate the few weaknesses associated with some of the early guns of this type, in particular, enhancing extractor and ejector functions to the extent they are selectable and adjustable.1)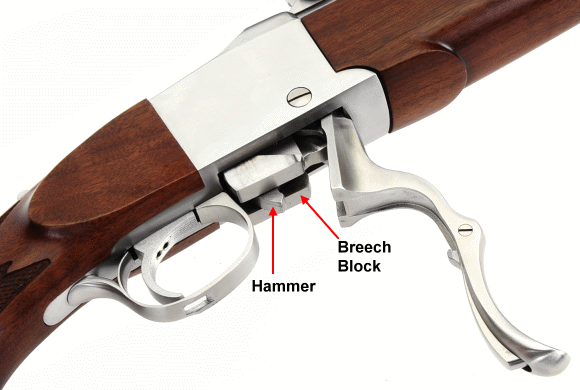 The receiver is a big hunk of steel, the receiver is a big hunk of steel, with the former traveling through the latter in a precision interlocking fashion. I have shot this action chambered for the diminutive sub .22 caliber cartridges as well as in custom versions chambered for the oversize magnum Weatherby cartridges. It is a tough, tough action, but light and very compact.  As home to the 257 Roberts, it is an abundance of strength that easily digest standard and +P ammunition.
Details, details, details… muzzle cap, stainless grip cap and really sleek underside. Almost makes me forget the many rat rod like, mid priced firearms offered by some manufacturers. Case in point, I recently reviewed a Savage Model 110 Lightweight Storm that put a featherweight barrel in a magnum barrel contoured channel with side gaps large enough to hold loose change and a pocket knife.
The 257 Roberts
Not only does the Ruger No.1 link modern firearms to the past, the 257 Roberts cartridge is more of the same. The cartridge was designed by gun writer N.H. Roberts and chambered in custom rifles made by the Niedner Rifle Company as early as 1928. Which is curious, as A.O. Niedner was the creator of the more powerful 25-06 Remington, which predated the Roberts by eight years. Both cartridges were adopted by major firearms manufacturers and standardized as cartridge, the Roberts in 1934 with the Remington Model 30 and the 25-06 Niedner as the 25-06 Remington in the Model 700 in 1969.2)
The 257 Roberts changed a bit in its transition from wildcat to production cartridge. The shoulder angle was sharpened from a Robert's sloping 15° shoulder and long neck design and reverted to a 20° shoulder, the same as its 7×57 Mauser parent cartridge.
In the late 1980's, a +P SAAMI version was certified. Standard factory ammunition remained at 54,000 PSI MAP, while the +P factory loading increased to 58,000 MAP. The increase in velocity standard for 117 grain bullets, based on a common 24″ test barrel, seems… optimistic with a standard pressure maximum velocity of 2,630 fps and +P version maximum velocity of 2,920 fps. Something to look at during live fire.
Pictured above, left to right, in descending order of powder consumption, current popular .25 caliber cartridges: 257 Weatherby, 25-06 Remington and 257 Roberts. Weatherby offers either a 115 grain or 120 grain bullet. The 115 is rated at 3400 fps. the 25-06 Remington Hornady Superformance 117 grain product is rated at 3110 fps, the Roberts 2945 fps with the same type of ammunition. All based on a 24″ test barrel.
Onward and upward…
OK, now that I've gotten that out of my system, I'm going to bore align the scope so it is headed in the general direction of the bore axis, then wander out into the woods (i.e. our rural rifle range), brave this year's tick and rabid fox infestation and see if I can poke some holes in paper in a manner that reflects this very nice rifle's potential.
1) Ruger and His Guns: A History of the Man, the Company & Their Firearms – Wilson
2) Cartridges of the world – Frank C. Barnes and Handbook for Shooters and Reloaders – P.O. Ackley.