OK, the 45-90 WCF cartridge is an excuse to spend time with the Winchester Model 1886, this short rifle version in particular. It all seems to come together; old guy, old gun, old cartridge… before the time of fancy lads and man buns on the firing line. A time when the mention of John Wayne, Audie Murphy, Steve McQueen and, possibly, Tom Waits didn't evoke the question, "who?".
Although there is a highly embellished Model 1886 Deluxe Case Hardened version with super fancy walnut, case hardened finish and octagon barrel, I kind of like this Short Rifle. It is all business in its John Browning designed, simple clean lines, a rifle destined to go hunting rather than spend its days in a safe or on a padded shooting bench.
Model

Winchester Model 1886 Short Rifle

Item Number

534175171

Caliber

45-90 Winchester

Magazine Capacity

8 Rounds

Stocks

Black Walnut – Satin

Action/Barrel

Blued Alloy Steel – Brushed

Barrel

24″ Round

Rate of Twist

1:20″

Weight

8 Lbs 6 Oz

Overall Length

43″

Length Of Pull

13 1/4″

Drop At Comb

1 1/4″

Drop At Heel

2″

Rear Sight

Semi Buckhorn

Front Sight

Marble Brass Bead

Sight Mounting

D&T for Receiver Sight

Trigger Pull

5 Lbs 12 Oz

Safety

Sliding Tang

MSRP

$1,339.99
The Winchester Model 1886, its origins and manufacturer has been covered multiple times on Real Guns®, to the extent I am being to feel like Coleridge's Mariner. Consequently, I can't stop myself from telling the tale, yet again.
The Model 1886 was the third in a series of three rifles John Browning was commissioned to design for Winchester, however, the 1882 and 1883 patented designs never went into production. The Model 1886 was manufactured between 1886 through 1935, Slightly modified, the Model 1886 became the Model 71 and remained in production through 1957*.
The revisions incorporated into the Model 71 were to accommodate feed and cycling of the 348 WCF cartridge** and to introduce manufacturing process refinements and material improvements. The differences between the two models are moot as the current Model 1886 incorporates material and manufacturing process improvements that surpass both original models and a current Model 71 is only brought out for short runs of the 348 WCF chamber.
The Winchester Model 1886's strength…
The Model 1886 was designed from the beginning with big, high performance cartridges in mind: 38-70 WCF, 45-70, 45-90, 50 Express, etc. Subsequently, it has a stout design. Beyond the inherent strength of the thick walled steel receiver, the breech block has locating rails that ride in slots cut into the inside walls of the receiver. This arrangement hold the breech block square to the bore and held to only fore and aft movement.
Rather than two small locking lugs as found on a typical bolt action rifle, with the lever rotated closed, the Winchester 1886's breech is locked with two 2.5″x0.750″x0.200″ locking bolts that move perpendicular to the gun's bore in an edge forward orientation. Above left, the action closed with the locking bolts "keyed" between receiver and breech bolt and rails fully forward in their corresponding receiver rail slots.
Buckhorn, blade and apertures…
The sights, for folks with patience and with practice, are very good. The large aperture gets the shooter on target and the tiny notch provides the precision. The rear sight elevator allows for stepped trajectory compensation and both the front and rear are drift adjustable for windage.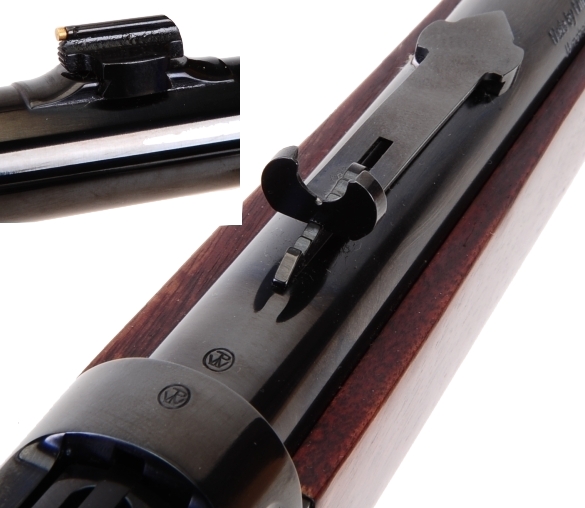 I am at a point where I scope almost everything as a hedge against mature eyesight. The Model 1886 top eject is not drilled and tapped for scope mounts. Personally, I would not alter the rifle to accept an offset mount and I would not put a scout scope in anything… ANYTHING. Fortunately, peep sights work very well for me and there is a tradition of using these types of sights that predates even the original Model 1886.
Pictured below is a Lyman Receiver Sight, Model 66 WB, mounted on the Winchester 1886. Two plug screws are removed from the side of the Winchester's receiver, much like the plug screws that are removed to install scope bases, and the Lyman mount is secured at those two points. Less than a five minute install and no modification to the rifle is required.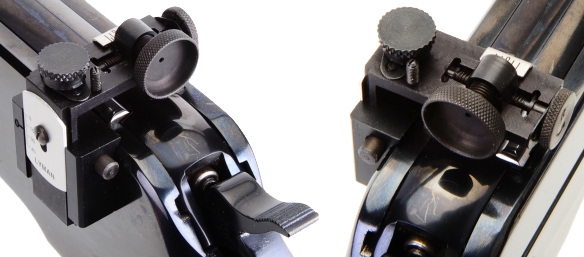 This particular model is supplied with semi-target knobs, micrometer adjustment for windage and elevation and two aperture discs, a 0.040″ target and a 0.093″ hunting. The coarse elevation scale is in 3 MOA increments, however, both elevation and windage have 1/4 MOA click adjustment. There is a quick release button to facilitate sight installation and removal, and it permits zeroing the elevation scale once the firearm is sighted in. Neato. Live fire will be done with open and peep sights.
The 45-90 Winchester cartridge…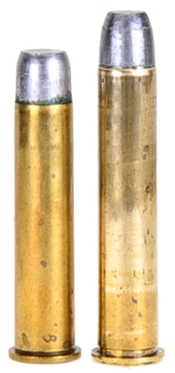 Pictured far left, 45-70 with hard cast 540 grain bullet next to 500 grain 45-90 WCF.The 45-90 was released in 1886 in black powder form, just in time for the introduction of the Winchester Model 1886 rifle. Winchester also made this chamber available for the single shot, high wall, Winchester Model 1885. The cartridge was changed over to smokeless in 1895 and remained in active catalogue until 1936.
While the comparative cartridge designations suggest the 45-90 WCF holds 20 grains more powder than the 45-70 Gov't, that is an expression of black powder charge, not capacity. The 45-90 WCF gross case volume is 10 grains of H2O greater than the 45-70 Gov't. The increase in capacity gave the black powder version of the 45-90 WCF an approximate 200 fps advantage over the 45-70 Gov't; more powder, longer persistence of burn pressure, greater bullet acceleration and subsequent muzzle velocity.
I do not know, first hand, if there is an advantage of one cartridge over the other. Nor do I know if there is a similar velocity difference with smokeless powder ammunition. Where the 45-70 Gov't has been flogged, tested, developed, and pushed, the 45-90 WCF has been relatively static.
In mainstream press, I have read where the 45-70 Gov't round can be fired in a rifle chambered for the 45-90 WCF… sort of a 45 Short. A lot of people say a lot of things. I could see where some guy coming down from the mountains in search of ammunition for his only rifle and provider of food might find only 45-70 Gov't ammo at the general store and decide, "Hey, these fit". Personally, I have to think jumping a .300″ gap to get to the end of the chamber is a bit of a stretch and the end of a chamber would be a great place for lead to accumulate and prevent further use of 45-90 ammunition and that bare chamber wall would be a poster child for erosion.
Looking at the 45-90, it seems a high velocity, 300 grain bullet load was the cartridges standout load. But it would seem heavy weights would be a better fit than they are in the 45-70. Most of the load data floating around is soft, putting the 45-90 on part with trapdoor 45-70 loads… but not all. So I am looking forward to a little more research and some handload development.
*The History of Browning Firearms – Miller.
** John. M. Browning – American Gunmaker – Browning & Gentry