I was having a conversation with my eldest son, a senior marketing manager working in a corporate environment, discussing dealing with change. More specifically, how to focus on the job when others around you are disappearing on a regular basis. My chips for playing in this poker game came from many years of corporate life and what might be deemed a long, if somewhat volatile, turbulent and possibly eruptive career.
The best advice I would offer was, "Imagine you are running across the Serengeti Plain, one of a herd of proud Wildebeest, driven toward fields greened by rain and the potential of procreation. You lean your head toward… Ed, your running mate, just in time to see an enormous, black maned lion jump on his back, drive him to the ground and rip out his throat as the rest of a hungry pride piles on. Sure, you feel bad, but you can't help feeling just a little happy that is wasn't you". Get old enough and you will no longer live in fear of lions…
Why would you want your child to be familiar with firearms?
Firearm familiarization fits well within the framework of raising a child. The timing and degree are closely tied to other social development and it should come at a time when children show maturity, a rational and logical thought process, the ability to focus, and an interest. No, not every minute of their waken day, they need to be children, but surely during the time they are being trained or shooting under close supervision.
Anyone who has never owned, or at least shot, a Ruger 10/22 rifle probably lives outside of our planetary system. Ruger makes them and people buy them like jelly beans, as they have to be one of the most useful and fun producing firearms made. Accurate, reliable, easy to maintain, they provide great utility at a modest price and are extremely useful when training young shooters in firearm safety and marksmanship.

Above, the the last two Ruger 10/22s I built for grandchildren. Each started out as a basic model 10/22, then was overhauled to shooter preferences as each shooter's experience progressed. About the only assemblies left alone were the receivers as aftermarket barrels, trigger pieces and stocks were incorporated. Today, these types of costly and labor intensive modifications are no longer necessary to get to a refined 10/22 as Ruger has refined the product line to capture all of these enhancements.
There are seven basic configurations of the Ruger 10/22 with an accumulative ninety two variations beneath those configurations including those designated as "Distributor Exclusives". This does not include the Ruger 10/22 based Charger pistols. There are carbine, takedown, tactical, sporter, and target models, standard and lightweight versions, and now there are three new compact versions, one Ruger standard catalog and two distributor exclusives.
The new Ruger 10/22 Compact model, pictured left, incorporates the company's Modular Stock System. As shipped, the Compact serves the needs of any shooter who requires a shorter length of pull, without being permanently committing the rifle to that application. With the use of modular inserts sold through Shop Ruger, the rifle can be adjusted to a length of pull between 12.50″ and 13.75″ and comb heights between 1.26″ to 1.82″ for use with metallic or telescopic sights.
Ruger 10/22 Compact

Manufacturer
Ruger
Point of Origin
Newport, NH
Model
31114
Type Action
Auto Loader
Caliber*
22 LR
Magazine Capacity
10
Barrel Length
16.12″
Twist
 1:16″ RH
Receiver Material
Anodized Aluminum
Barrel Material
Alloy Steel Satin Blue
Metallic Sights
Adjustable
Scope Mount
Weaver Rail
Stocks
Black Synthetic

Pull Length
12.50″
Overall Length
34.0"
Weight
4.6Lbs
Safety
Cross Bolt
MSRP
$309.00
In more specific terms…
Ruger 10/22 based firearms all operate in the same fashion, they are all recoil operated and autoloading. Retracting the bolt cocks the hammer and compresses the recoil spring. Releasing the bolt under recoil spring tension drives the bolt forward, picks up a cartridge from the magazine and chambers the round.
When the trigger is pulled, the hammer drops on the firing pin and the cartridge is fired. The force of pressure in the chamber and bore, and forces opposite the inertia of the exiting bullet, drive the bolt rearward and cycle the action; ejecting an empty casing, cocking the action and chambering a fresh round. The 10/22 bolt does not lock open on empty and it will fire a chambered round without a magazine inserted.
What is a magazine that can't be read?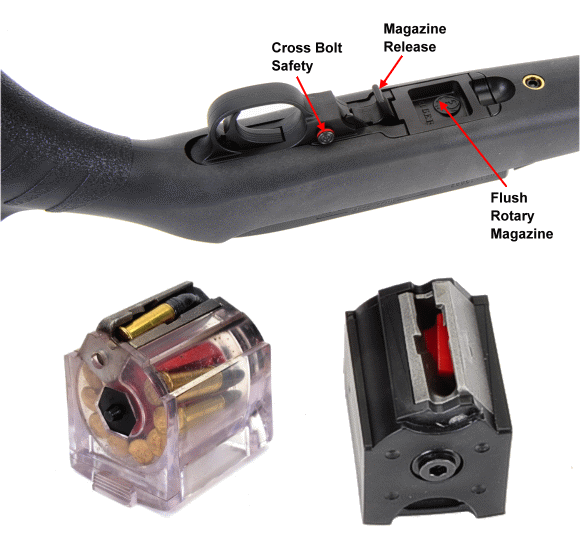 The Ruger 10/22 Compact is supplied with a single, opaque, ten round magazine. More of the same, as well as fifteen and twenty-five round Ruger BX magazines are available. The ten round version is available in a clear version, shown to illustrate how they work, and singe round for firearm training. It is often recommended that initial firearm training be done with only a single round available to chamber.
Stocking up…
As noted earlier, the Ruger 10/22 Compact  Utilizes the company's Modular Stock System. Pictured above, the Compact's 12.50″ length of pull is increased to  13.75″  with the use of modular inserts sold through Shop Ruger. The mounted insert has a comb heights of 1.26″ for use with metallic sights, the insert above the rifle as a comb height of 1.82″ for use with higher mounted telescopic sights. The same comb height options are also available in 12.50″ pull.
Sighting in….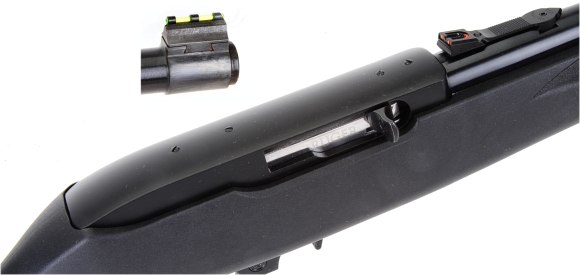 The 10/22 Compact is supplied with fiber optics sights, green front and rear rear. The front sight is raised and banded to the barrel, the rear is dovetail mounted, screw adjustable for elevation and drifted and set screw locked for windage. The receiver top is drilled and tapped to facilitate scope mounting. A Weaver rail is included with the rifle.

If you're going to make a rifle with a 12.50″ length f pull, you need to truncate the barrel keep weight down for a young shooter and for the sake of balance. With in the range of applications for the 22LR, targets and range, the loss is not of significance.
It always comes down to how it shoots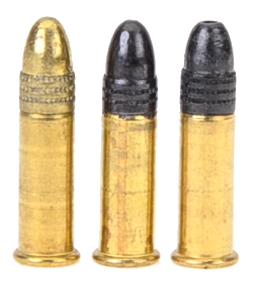 Three type of ammo, typical for a 22LR rimfire were shot: Remington Golden, Remington Target and Remington Subsonic. They were compared with data from a 22″ barrel 22LR rifle. SAAMI standard barrels used to determine manufacturer's rating for the 22 LR are 24″ long and with a 1:16″ twist.
Cartridge

Bullet




Weight




Grains

Rated




FPS

16.12″




Barrel




FPS

22.00″




Barrel




FPS

Remington Golden

40

1255

1119

1219

Remington Target

40

1150

1075

1096

Eley Subsonic

40

1040

818

975
No 30x scopes were bolted on
The Ruger 10/22 was shot at 50 yards through its fiber optic sights, because I thought that was in keeping with the rifles intended use, even if not my old guy's eyesight. Same ammo types were used. No attempts were made to zero to bullseye as five shot group size was my only obsession.
Remington Golden Bullet 3/4″, Remington Target 7/8″ Eley Subsonic 1/2″. The rifle was shot from a rest, buttstock on a bunny bag target was covered with fiber optic element and target cross lines were used for centering. Lots of ways of adapting from eyes like an eagle to eyes like a beagle.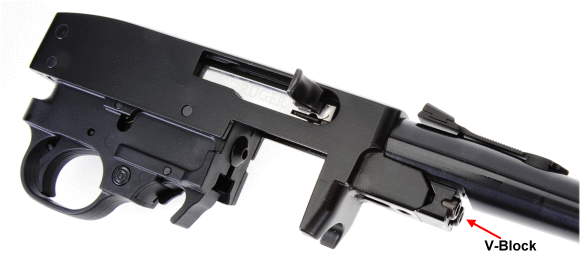 I am sure accuracy with a scope or young eyes is much better. Which means the Ruger 10/22 Compact can challenge a young shooter's marksmanship skills and keep them working to an ever more accurate shot placement goal. Much of the 10/22's repeatable accuracy can be attributed to the tight barrel to receiver slip fit and the twin fastener V bock that holds the barrel tight to receiver across a wide temperature and lots of shooting.
The Ruger 10/22 Compact… It is very short
The Ruger 10/22 Compact is a perfect size for a young shooter. It will keep their mind on targets rather than on stretching into an awkward position to overcome the handicap of a too long stock and a too heavy barrel. The gripping surfaces are right, the forearm is a good width for stability and mastering open sights is the best place to start when training on marksmanship and safety.
Pop in longer stock inserts and the rifle becomes a handy knock around for any larger shooter or a young shooter who has grown beyond a smaller rifle. A very handy and useful rimfire to own. And if the point is reached where heavy customizing is perceived to be a fun project, all of the Ruger and aftermarket 10/22 pieces fit.