The Ruger AR-556 is the product that put an end to most of my personal AR 15 builds. The Ruger AR-556 is a robust and reliable system, made from quality American made parts and assembled into an AR compatible package. Subsequently, the AR-556 can always be updated or customized to incorporate future trends or left alone and shot as purchased. Yes, I do like gadgets, new and unique parts, but if an AR type firearm fits a shooter, delivers sub MOA precision and operates reliably why not spend more time shooting and building proficiency and less time tinkering?
Now chambered for the 450 Bushmaster, the Ruger AR-556 has more than enough power to hunt everything up to elk and moose inside 250 yards. The 450 Bushmaster cartridge cranks out impressive performance even from a relatively short barrel firearm. In the case of the new Ruger AR-556 450 Bushmaster with its 18.63″ barrel, Hornady Black 250 grain FTX ammunition clocked 2,267 fps over the shop's calibrated chronograph, generating 2,854 ft-lbs of kinetic energy. Hornady Custom yielded 2264 fps for 2846 ft-lbs.
Ruger AR-556 450 Bushmaster

Manufacturer

Sturm, Ruger & Co.

Manufactured

Mayodan, NC

Model#

8522

Caliber

450 Bushmaster

Mag Capacity

5

Barrel

18.63″ 4140 CM

Rifling

1:16″ 5R

Muzzle Threads

11/16″-24

Gas System

Carbine

Handguard

Free-Float M-LOK®

Receivers

7075-T6 Aluminum Forging

Receiver Finish

Type III Hard Coat Anodized

Trigger Type

Ruger Elite 452 2 Stage

Trigger Pull

4 Lbs. 6 Oz.

Sights

None

Accessory Mount

Full Length Picatinny Rail

Buttstock

MOE SL Collapsible

Length of Pull

11.10″ – 14.40″

Overall Length

35.60″ – 38.90″

Weight

7.4 Lbs

Safety

Rotating Selector

MSRP

$1099
Built to accommodate the 450 Bushmaster
In anticipation of what service the AR-556 450 Bushmaster will see and what unique demands the 450 Bushmaster will place on the firearm's components, Ruger was proactive in incorporating enhancements to piece parts and systems.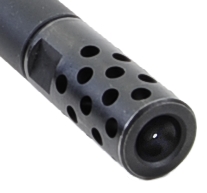 The Ruger radial port muzzle brake cuts recoil and muzzle rise; faster recovery for follow on shots. The 11/16″ – 24 muzzle threads accommodates a wide variety of accessory devices. The AR-556 450 Bushmaster was comfortable to shoot from any shooting position, including butt parked on a shooting bench.

Peeking through the 15″ full float M-Lok handguard the carbine length gas system is visible. This length was selected as optimal for 450 Bushmaster function. The gas block journal is increased over the AR-556 5.56 NATO diameter to 0.875″. The barrel is cold hammer forged 4140 chrome-moly steel with 1:16″ 5R rifling for precision shooting and easy cleaning. The twist rate is optimal for bullet weights from 170 to 260 grains.
The AR-556 450 Bushmaster does not ship with sights, probably because people who buy ARs tend to mount 16 concurrent sighting systems positioned about the receiver like rocket pods or they need to have sight du jour. In this case, a riser mount was clamped to the rifle's Picatinny and low rings on a moderate magnification scope were installed on the subject rifle in deference to the 450 Bushmaster's 250 yard effective range. For hunting in the Maine local overgrown tree and brush environment, an open red dot sight might be a better fit.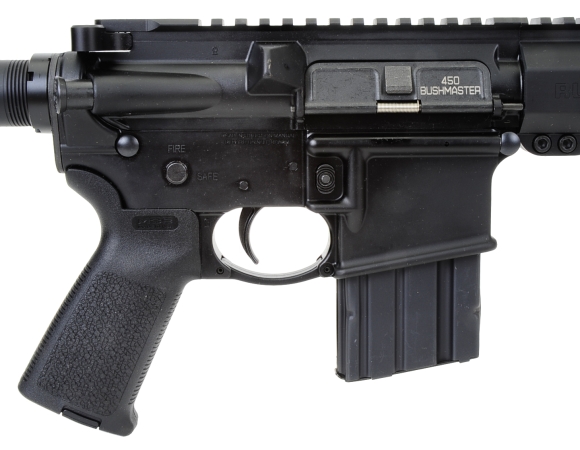 The upper receiver ejection port has been increased over the AR-556 5.56 NATO port to accommodate the larger 450 Bushmaster cartridge ejection or clearing. While the caliber is engraved on the barrel just ahead of the handguard, it is also marked on the ejection port cover, inside and out. I think, somehow, there is a story behind that decision. The grip is a Magpul MOE. The supplied magazine holds five rounds, the legal limits for hunting in the state of Maine with a semi-auto rifle, but higher capacity magazines are available for other states and other applications.
The Ruger AR-556 450 Bushmaster is supplied with the company's two stage Elite 452 trigger assembly. A very nice AR standard complaint assembly I routinely install even in non-Ruger ARs. The pull is light with crisp release. The combination of full strength hammer spring and lightweight hammer result in 30% faster lock time over standard AR triggers.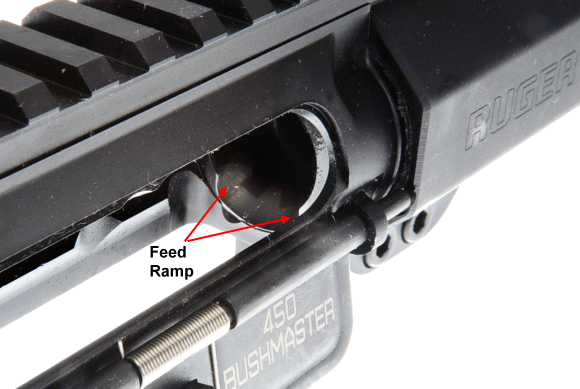 Beyond the caliber emblazoned ejection port door, beyond the oversize ejection port, resides a single wide feed ramp in place of dual diminutive feed ramps associated with the 5.56 NATO. Probably why even I couldn't get a jam, failure to eject or misfeed with handloads and a totally inappropriate selection of bullets.
Ruger elected to go with C300 high strength maraging steel for the AR-556 450 Bushmaster's bolt; 18% nickel, cobalt strengthened steel. Maraging is double vacuum melted, by vacuum induction melt and then by vacuum arc remelt. The process leaves the material virtually carbon free. The alloy is known for its very high strength, toughness and impact resistance within a temperature range exceeding 450°C and falling below -50°C.  In addition to excellent mechanical strength, C300 is crack resistant, creep resistant at high temperatures, corrosion and oxidation resistant, and has good surface stability. This is a material originally developed for aerospace applications, with operation under extreme environmental conditions.
In addition to the attention paid to high strength materials, the bolt lugs and corresponding barrel extension complimentary lugs were broadened at the root for increased strength in accommodating the 450 Bushmasters larger cartridge seat and difference in bolt thrust in comparison to the 5.56 NATO version. It is interest how firearms can look so similar, but be so appropriately cartridge specific engineered.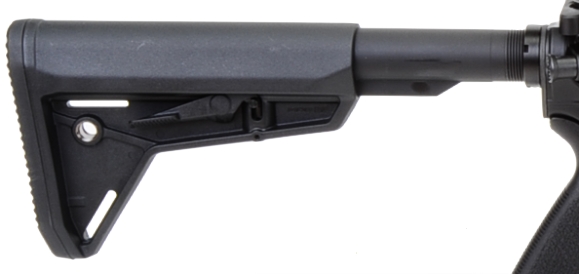 The collapsible buttstock is a Magpul MOE SL carbine, mounted to a Mil-Spec buffer tube. The stock locks in any one of six positions for a 11.10″ – 14.40″ range of length of pull with a release on both sides of the stock. The cheek weld… remember when that was a comb?… is sloped for comfort, the non-slip butt pad is angled and the toe is rolled to ease shouldering and anti rattle features eliminates noise and buttstock wobble.
The 450 Bushmaster
The 450 Bushmaster dates back to Jeff Copper's "Thumper" concept, a 250 yard big game cartridge for the AR-15 platform. The cartridge was designed by Tim LeGendre, with the 284 Winchester the parent case, as the 45 Professional. After a licensing agreement with rifle manufacturer Bushmaster, a name change and several minor dimensional changes, that cartridge became the SAAMI homologated 450 Bushmaster. The SAAMI file date is 02/01/2008.
The 450 Bushmaster cartridge has a 38500 PSI Maximum Average Pressure and an H2O capacity of 60 grains. The cartridge headspaces at the case mouth and takes a small rifle primer. There are currently six factory loads available from four manufacturers: Hornady, Inceptor, Remington, Underwood, and Winchester in weights from 158 to 260 grains. Brass and other components are readily available.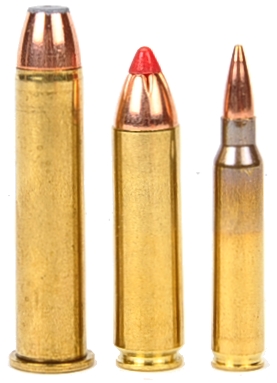 Cartridge

Bullet




Weight




Grains

Muzzle




Velocity




FPS

Muzzle




Energy




Ft-Lbs

223 Remington

55

3240

1282

450 Bushmaster

250

2200

2686

45-70 Government

325

2050

3032
In context, the 450 Bushmaster gives a serious boost to AR power. In fact, it is very close to the venerable 45-70 in power and it has good reach. While Hornady rates the 450 Bushmaster for hunting, it is recommended for thin skinned game up to 1500 lbs, stopping sure of approving it for use on big and dangerous game… big bear. Other companies and firearm manufacturers do cross that line and all also recommend the round for personal defense.
Personally, I do not have big game hunting experience with the 450 Bushmaster to arrive at a conclusion on the last issue. But I have handloaded the cartridge with 300+ grain bullets with good results and I would not hesitate using the round on Maine moose, deer and black bear.
No softball slow pitch here…
Hornady Bushmaster Black 250 Grain FTX

Yards

0

50

100

150

200

250

300

Velocity – fps

2200

2013

1837

1670

1517

1379

1259

Energy – ft.-lbs.

2686

2250

1872

1547

1277

1055

880

Momentum – lbs-sec

79

72

66

60

54

49

45

Path – in.

-1.50

1.82

2.99

1.58

-2.96

-11.29

-24.20
Best Zero Results

Near-Zero – yards.

19

Mid Range – yards.

99

Far-Zero – yards.

172

Max Ordinate – in.

+3.0

Point Blank – yards.

183
Based on down range power, bullet momentum and trajectory. The 450 Bushmaster Hornady Black 250 grain ammo, we have a big game, 250 yard cartridge. In the example below, a 6″ critical target size yielded a best far zero range of 172 yards and a point blank range of 183 yards. I believe most hunters can handle compensation for -11.29 drop at 250 yards in a field situation and in most woodland hunting, a typical environment for this cartridge, well under 100 yard shots would be the norm.
How about accuracy? Precision in the NRA dictionary…
Two types of ammo were used in conjunction with this review, Hornady Black 250 Grain FTX and Hornady Custom 250 grain FTX. Look similar? They should, as they are both the same with only a product line name and marketing campaign differentiation.
Both products are rated at a 2200 fps muzzle velocity using a 20″ test barrel length. As noted earlier, Hornady Black 250 grain FTX ammunition clocked 2,267 fps over the shop's calibrated chronograph, generating 2,854 ft-lbs of kinetic energy. Hornady Custom yielded 2264 fps for 2846 ft-lbs.
Scoped and shot from a rest, Hornady ammo yield this type of result consistently; 3/4″ center to center, farthest holes. While the cartridge generates lots of power, the brake takes the edge off of recoil and makes this a pretty easy shooting combination. I have worked up handloads for this cartridge, but only for bolt action applications as pressure is too much for an AR system. I will try to find some time to refine handloads for the AR-556 450 Bushmaster in the near future.
Ruger has done an excellent job of combining the 450 Bushmaster cartridge with the company's AR-556, beefing up components as necessary to insure reliability and accuracy of the long haul and bring enough power to the AR platform for a true big game rifle.