Summer began late this year and definitely has ended early, catching us flat footed; "us" being myself and my better half for over fifty years. The leaves on the maple trees have already begun to turn and the before winter to do list on the kitchen counter became a source of panic. No quick projects to knock out to make ourselves feel as though we were making progress. So where to begin, four wheel brake job on the Escape, our winter, deep snow flogger or perhaps repave the driveway?
This past weekend we went with the brake job and a search for winter tires, before the garage got too cold to sustain human life and the road down the hill became an Olympic ski jump. So that was our weekend, working away, enjoying coffee breaks… while putting on brakes, and being just a little goofy. I grumble, she laughs. I think we have that routine sorted out. With that task behind us, we celebrated by turning the Ruger project into a little friendly shooting competition at the wrap up.
The Ruger Mark IV Tactical
I am a big fan of Ruger's Mark IV rimfire pistol so, yes, it has been written about it more than once. In fact…Ruger Mark IV Target,Ruger's Nifty Mark IV 22 LR Pistol, Ruger's Mark IV Competition Rimfire Pistol. If you have an interest in the Mark IV, I suggest you grit your teeth to get through my writing style as each model has different features and I learn and articulate as I go along.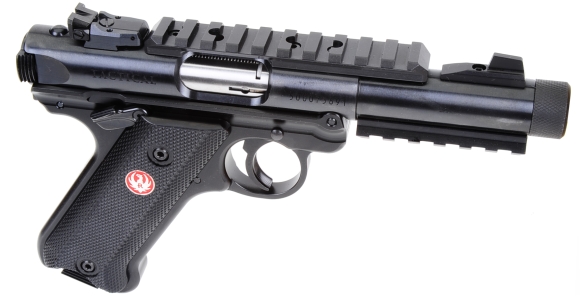 Ruger Mark IV Target

Company

Sturm, Ruger & Company, Inc.
Point of Manufacturer
Prescott, AZ U.S.A.
Model #
40150
Description
Mark IV Tactical
Type of Action
Auto-loader SA
Caliber
22 Long Rifle
Magazine Capacity
10
Barrel Length
4.40″
Barrel Material
Blued Alloy Steel
Barrel Contour
Bull/Threaded
Rifling Twist Rate
1:16″ RH
Receiver Material
Blued Alloy Steel
Grip Frame Material
Aluminum
Frame Finish
Black Satin Anodized
Grips
Checkered Synthetic

Front / Rear Sights
Fixed / Adjustable W/E
Picatinny Rails


Top & Underside

Weight of Firearm
34.6 Oz.
Overall Length
8.50″
Overall Height
5.50″
Widest Point
1.10″ at Bolt Ears

Manual Safety
Thumb – Ambidextrous
Magazine Disconnect
Yes
Loaded Chamber Indicator
No
Key Lock
No
CA/MA Approved

No / No

MSRP
$569
The Tactical Model shares most of the same useful features included with all Ruger Mark IV models, as well as some that are unique to the Tactical configuration.
One button take down eliminates one of the issues raised by owners of the three prior generations of Ruger rimfire pistols. No more working overtime to field strip and reassembly. In fact, no tools are required.
The aluminum grip frame is a very clean; a CNC machined and anodized single piece.
The 60° grip angle provides a natural point for getting and staying on target. The grip panel are replaceable and numerous types are available.
The bolt travels within a tubular receiver and the rear sights mount atop the receiver. Subsequently, the sights stay put while the bolt travels, so sighting zero stays put.
The receiver contour tucks in just forward of the bolt ears, making the ears easy to grip and the pistol to be cocked, emptied or cleared.
The sights present a crisp image, micro adjustments stay put. The receiver top is drilled and tapped for rings and rails, a top Picatinny rail and under barrel accessory rail are included in the Tactical package that will mount virtually any applicable sighting system, tactical lights, etc.
The thumb safety is ambidextrous, but it can easily be converted to left side only with included spacer.
The Ruger's magazine release in on the left side, just enough out of the way from the thumb to prevent accidental release. The magazine releases clear of the pistol to expedite reloading.
The Mark IV's  muzzle is threaded to permit use of any applicable muzzle devices including brakes and silencers.
A little more detail… arrows do not appear on actual firearm

I'd guess, for many people, a 22 rimfire pistol can provide great utility. I use them to keep the rodent population in check, hunt small game, recreational target shooting, pistol proficiency building, and family and friend competitive matches. No longer 2¢ a round, but still inexpensive at twice to three times that price, they offer a great deal of recreational value.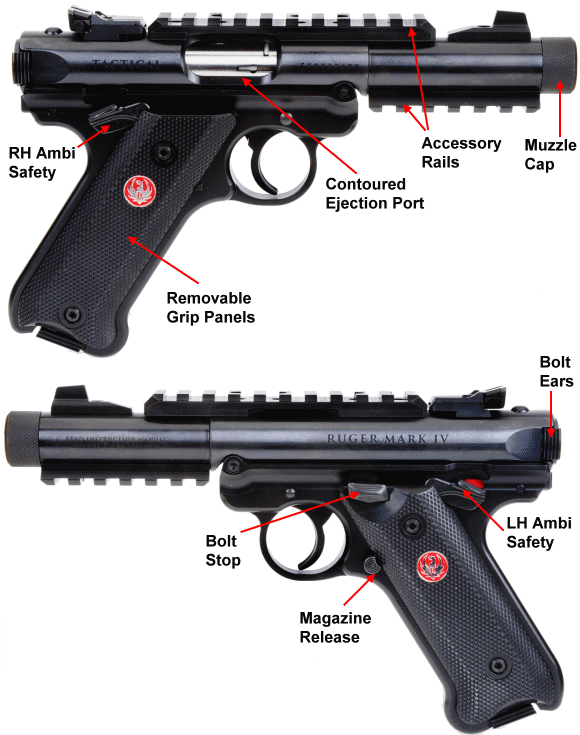 Checking with a goniometer, a $20 word for a $2 gauge used to measure range of motion, the interior angle of a line drawn through bore centerline and down through the center of the grip screws measures 60°. As a result, grasping the pistol and extending the arm and pointing results in a level barrel with the sights pretty much aligned. The Ruger Mark IV series pistols were based on the general exterior form of the Japanese Nambu pistol. However, in the detail and in mechanical function there is no commonality.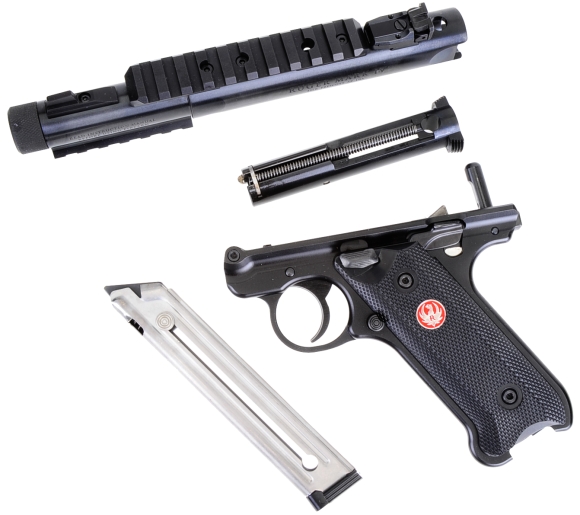 Pull the mag, clear the action, push the take-down button at the rear of the frame; the barrel pivots up from the rear and unhooks from the frame at the midpoint. The bolt is pulled out as a self contained assembly…. clean away. As a side note, Ruger Mark III magazines are compatible with the Mark IV.
Putting the Ruger Mark IV to work…
The Tactical version, with just addition of the Picatinny rail and threaded muzzle, offers a good deal of utility. It's a bit like an off the road, heavy duty version of the Mark IV, right down to the satin blued finish.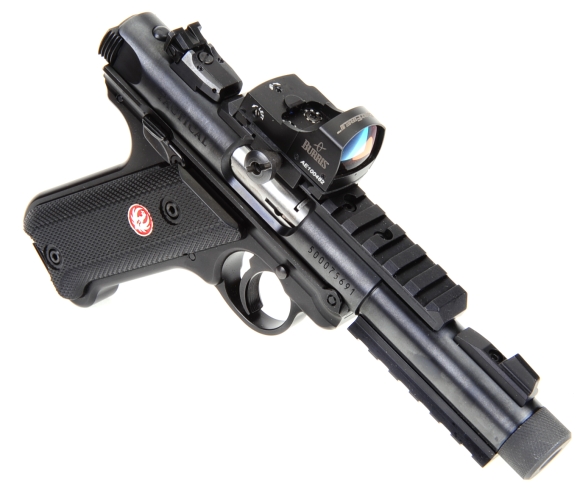 The open sights on the Ruger Mark IV are very good; adjustments are precise, contrast against target is crisp. However, my favorite set up for fast target acquisition and ease of use is an open red dot. That is my old Burris FastFire II. It probably could be upgrade to a newer version, but it works well and has stood up to a lot of rifle and handgun battering, so I suppose it has earned my loyalty.
For special occasions, like the stealthy squirrel that broke all of the branches on our newly planted peach tree, the addition of a Ruger Silence-SR to compliment the red dot… a ghillie suit, camo face paint, lowered heart rate and shallow breathing can bring a great deal of satisfaction. Just kidding… sure. No, it won't result in a movie "pssst" like sounds, but it does reduce subsonic ammunition use to the mechanical clacking of the pistol's bolt.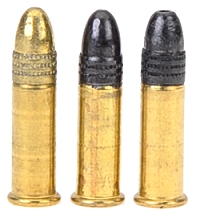 Cartridge
Bullet
Weight
Grains
24″
Rated
FPS
Clean
Muzzle
FPS

Silencer
FPS

Remington Golden
40
1255
1008
1012

Remington Target
40
1150
961
976

Eley Subsonic
40
1040
952
961
The Mark IV was shot silenced and clean. I realize that clean would be the norm, so I thought both should be included… two minute changeover, so not a big deal. The silencer's close fitting bore tends to boost velocity while slowing and cooling bore gases. Targets were shot at 50′ with the red dot in place and shooting off a steady rest with a sand filled bunny bag for grip support.
Cartridge
Bullet
Weight
Grains
Clean
50′ 5 Shot
Group "

Silencer
50′ 5 Shot
Group "
Remington Golden
40
0.7
0.9
Remington Target
40
0.7
0.7
Eley Subsonic
40
0.5
0.8
Well, that was a lot of fun. I felt that accuracy…. that's precision in NRA speak, was excellent, especially considering that the silencer gets very heavy use. The Ruger fed and ejected without mishap without concern for whether subsonic or supersonic ammo. Excellent trigger.
Conclusions…
There are cheaper 22 rimfire pistols, but not at this level of performance and quality of assembly. In fact, the Ruger Mark IV Tactical shoots as well as pistols labeled "Match" that sell for twice the price. Accurate, reliable, super quality in an American made product. Easy to clean and maintain and good looking. For anyone who needs a terrific rimfire pistol that will last long enough to past down to future generations, this would be a good choice. It was even fun to photograph.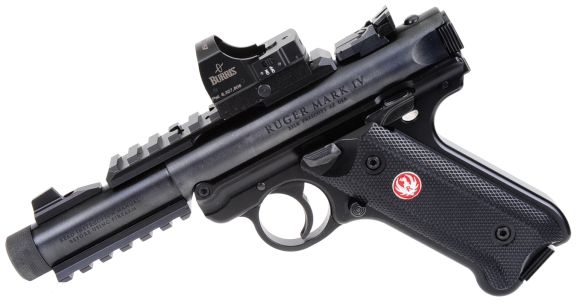 And one more time…