I drive a Ford, wear jeans and a T-shirt and live in the woods. "Sophisticated", "elegant" and/or "refined" are not typical words heard across the dinner table within the context of firearms. I have a handful of firearms I am happy to own on a permanent basis and they serve only to hunt or defend or to practice for either or both. Still, I have had the pleasure of owning and/or shooting many excellent firearms over the past fifty years, even if on a short term basis so, metaphorically speaking, while perhaps I can't afford to hang a Rembrandt on the outhouse wall, I can still appreciate the quality of a Dutch Master's work.
Special firearms offer greater potential than utility grade firearms; higher levels of performance and precision in skilled hands and they foster pride of ownership. These types of firearms often have higher aesthetic appeal and present function as mechanical art. To that end, Ruger has created the Ruger Custom Shop and some very special firearms.
The Ruger Custom Shop Doug Koenig Competition SR1911®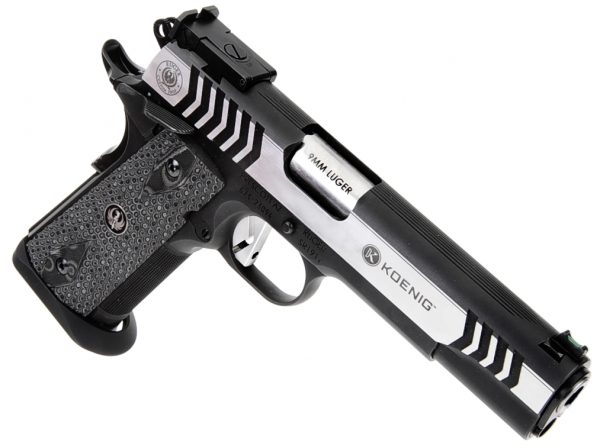 On January 15, 2018 Ruger announced the launch of a professional shooting team, naming Doug Koenig team captain and Brand Ambassador. As stated by the folks at Ruger, "Doug is an athlete, lifelong hunter and world champion professional shooter. Doug began shooting competitively at the age of 17, winning both regional and national competitions. Since turning Pro in 1990, he has shot a perfect score of 1920 an unprecedented 17 times at the NRA Bianchi Cup. As he approaches his 31st year competing, this 18-time Bianchi Cup Champion's wins include more than 70 National and 10 World titles".
Ruger Custom Shop –
SR1911® Doug Koenig Competition Model

Company

Ruger

Model #

6766

Manufacture

Prescott, AZ

Type Action

Single Action

Slide/Frame Material


Stainless Steel

Slide Finish

Black Nitride – Two Tone

Frame FInish

Black Nitride


Caliber

9mm Luger


Capacity

10+1

Barrel

5″ Stainless – Ramped


Twist

1:16″ RH

Weight – Empty

41.0 oz

Overall Length

8.67″

Overall Height

5.63″

Sights – Rear

Adjustable Target


Sight – Front

Fiber Optic


Sight Radius

6.87"

Trigger Pull

4 lbs 8 oz (Actual)

MSRP

$2499

 
Four other professionals joined Koenig:
Randi Rogers; 63+ world and national action shooting titles over a span of twenty years, competing in SASS, IDPA, IPSC, USPSA and 3-Gun.
Dave Olhasso, another twenty plus year shooter, who has garnered many titles in multiple shooting sports divisions including USPSA, IDPA, Steel Challenge, ICORE and 3-Gun.
James McGinty began competing when he was eight years old and became a master in the IDPA Enhanced Service Pistol division at age fifteen, then went on to win the IDPA World Championship title in the ESP division. McGinty is currently a top tier divisional competitor in Steel Challenge, ICORE, 3-Gun, IDPA and USPS.
Trevor Baucom, an Army Veteran, was injured in a helicopter crash while serving a fourth tour in Afghanistan. Working from a wheelchair, Baucom began training for and competing at the 2011 NRA National Action Pistol Championship and went on to compete in Bianchi Cup, IDPA, SCSA Pistol Tournament Championships, and USPSA multi-gun matches.
Why is this shooting team important in the context of this pistol and other Ruger Custom Shop products? Because the team is instrumental in defining, designing, developing and testing of all Ruger Custom Shop products.
An SR1911 refined for competition…
The Ruger Custom Shop Doug Koenig Competition SR1911® is delivered as a pretty nifty kit.  The SKB hard case is made of ultra high-strength polypropylene copolymer resin and is a gasket-sealed water and dust tight submersible IP67 design, with an automatic ambient air pressure adjusting valve. Inside the case is the pistol, 2×10 round magazines, bushing wrench, sight adjusting tool, spare fiber optic elements, and a pistol rest with Ruger logo gun peg to use in the event your pistol needs to take a breather.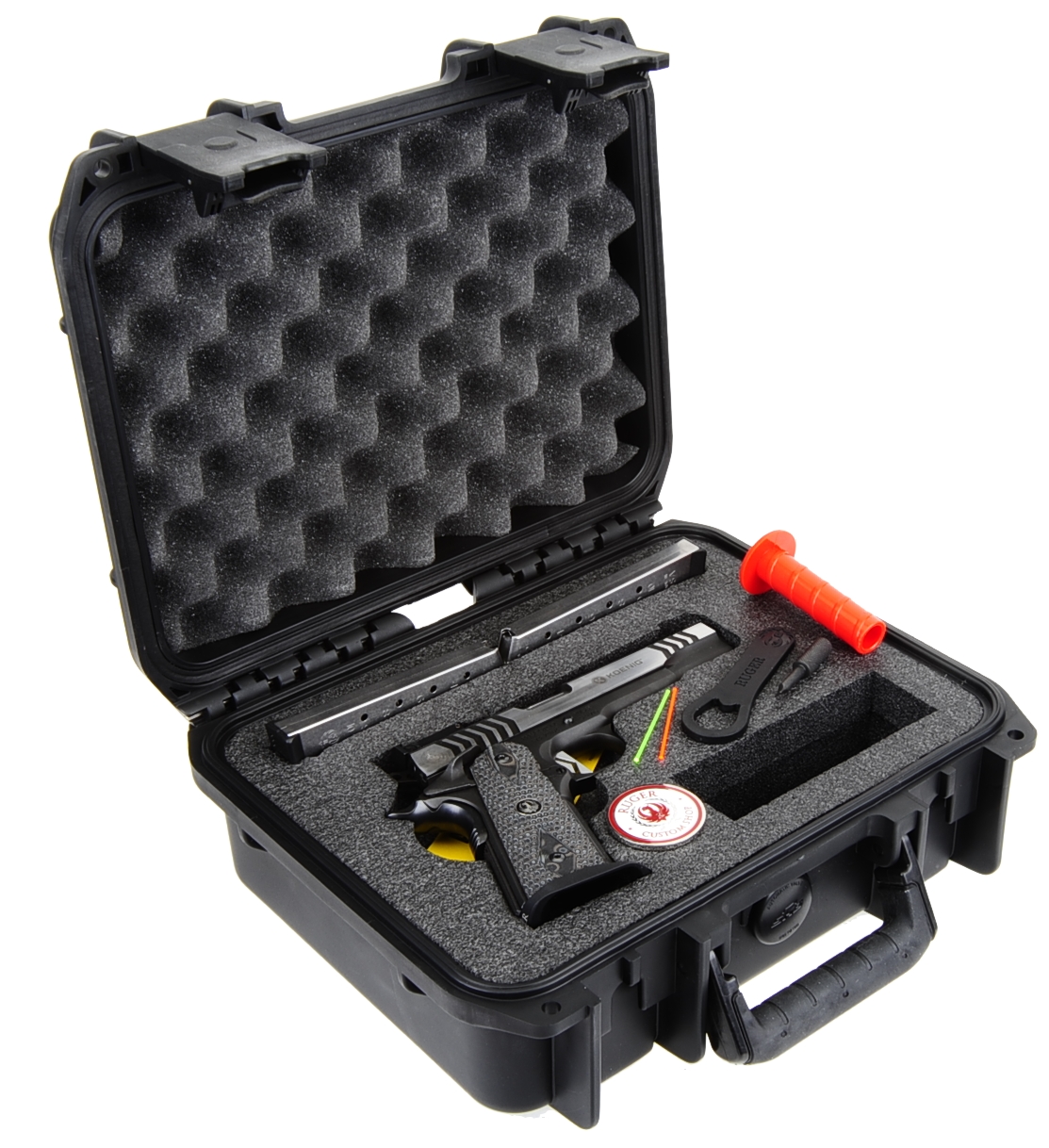 Other inclusions… to be read in the voice of Major T.J. "King: Kong: Certificate of Authenticity, Ruger Custom Show decal, Instruction manual with Ruger Custom Shop Doug Koenig Competition SR1911® addendum, gun cleaning cloth, and a Ruger Custom Shop Challenge Coin, all sealed in a bright red presentation envelope embossed with the Ruger Eagle. Nice touch.
Distinguishing features…
The Ruger Custom Shop Doug Koenig Competition SR1911® is optimized for participation in IDPA, IPSC, USPSA, Bianchi Cup, Pro Am Shooting and Steel Challenge. And, yes, it can be used for any other applications suitable for a full size 1911 chambered in 9mm Luger and, no doubt, with additional style and sophistication.

The Competition model is a Series 70 type, round top, single action 1911. The slide crown is Nitride matte black from end to end to kill glare. The slide top and rear sight face are striated for the same purpose. The front fiber optic sight is dovetail mounted, the rear sight is a precision adjustable match type. The ambidextrous safety is extended, but tucked in to allow weak hand shooting, while staying out of the way.
The Koenig Model SR1911 slide is hand fit to frame. My well worn Colt Series 70 Gold Cup rattles like a loose lug nut in a hubcap, while the Ruger's slide is a close fit the frame and the bushing is a close fit to the barrel. Racking the slide feels like the slide is rolling on bearing.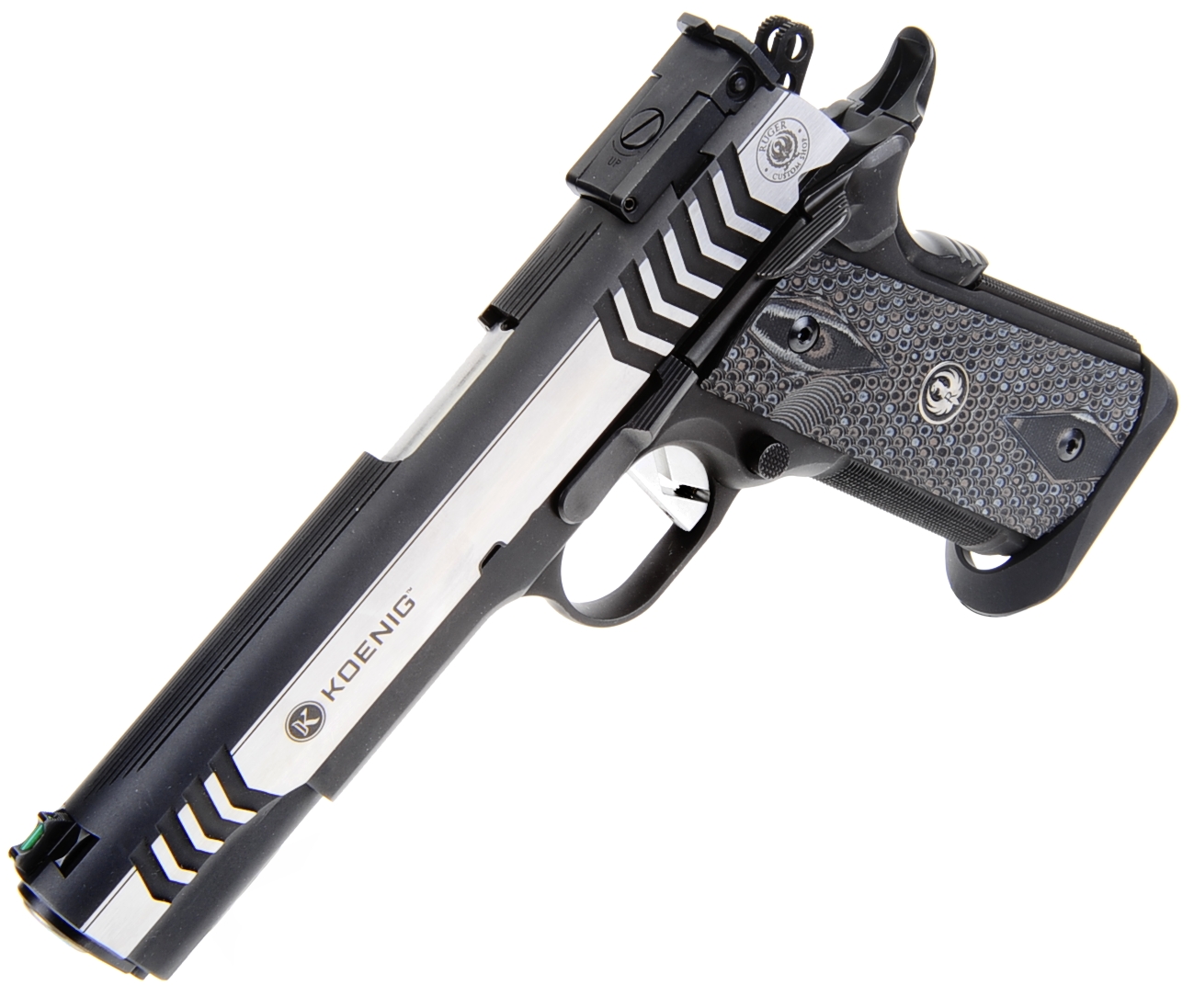 The slide gripping surfaces are pronounced, making slide racking easy. The slide's sides are polished so that they can… look very nice, but the frame is black Nitride so that it will… look very nice. The Nitride surfaces resist wear and corrosion and clean with a quick wipe or swipe. The magazine release is extended and within even a medium length thumb reach.
The undercut trigger guard and beavertail grip safety makes for a comfortable hold and facilitates proper trigger finger position. The high hold moves the hand closer to bore centerline for better recoil control and reduced muzzle rise.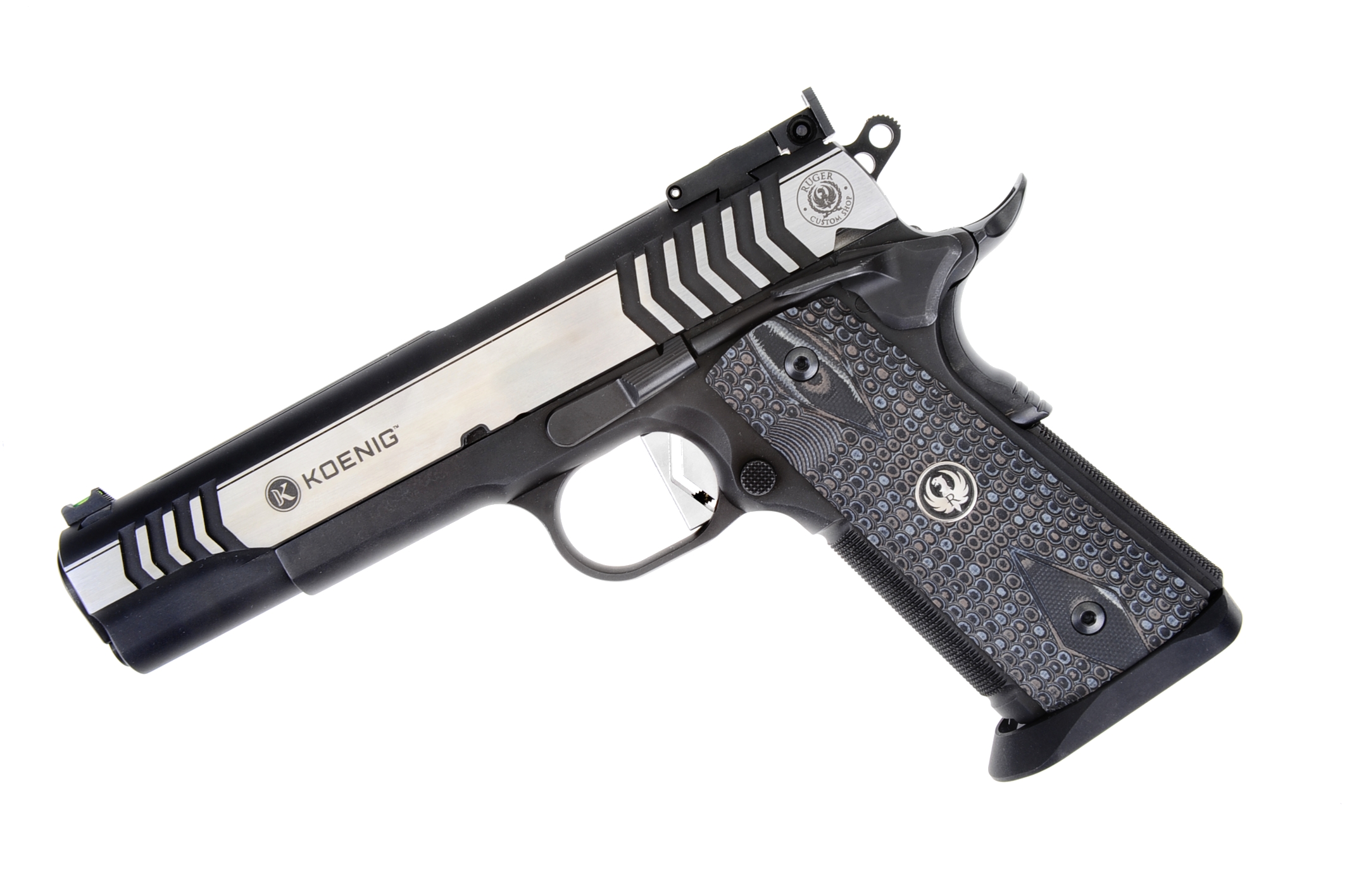 Ruger's Custom Shop pistol has a match trigger system based on a steel, Koenig Shooting Sports Low Mass Hammer and Competition Sear.  Together they incorporate features that normally require a trip to a quality gunsmith; lightened for fast lock time, engagement areas are surface ground to insure proper relationship between hooks and pins, and the half cock notch will not damage sear angles. The disconnector is a precision machined Cylinder & Slide piece, the trigger is flat faced with overtravel stop and the mainspring is hand tuned.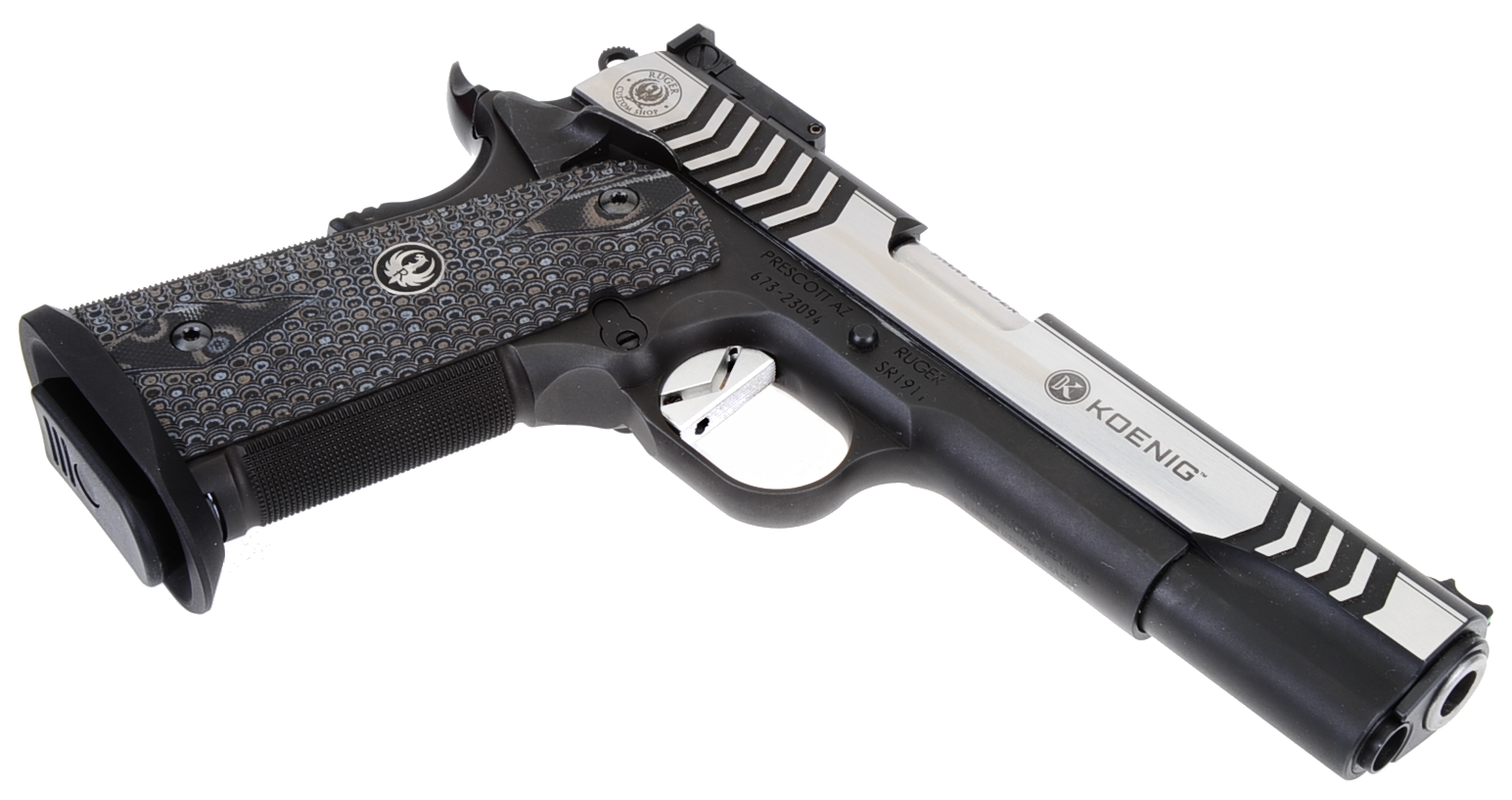 The machined aluminum TechWell Magwell is a solid functional touch for speeding reloads. The front strap and mainspring housing are made non-slip with 25 lines per inch checkering, as is the case with Ruger's choice of Hogue® Piranha G10 grip panels. A little bit like Sailor Ripley's jacket in Wild At Heart but tastefully done.
Yes, there are parts inside. Thank you for asking.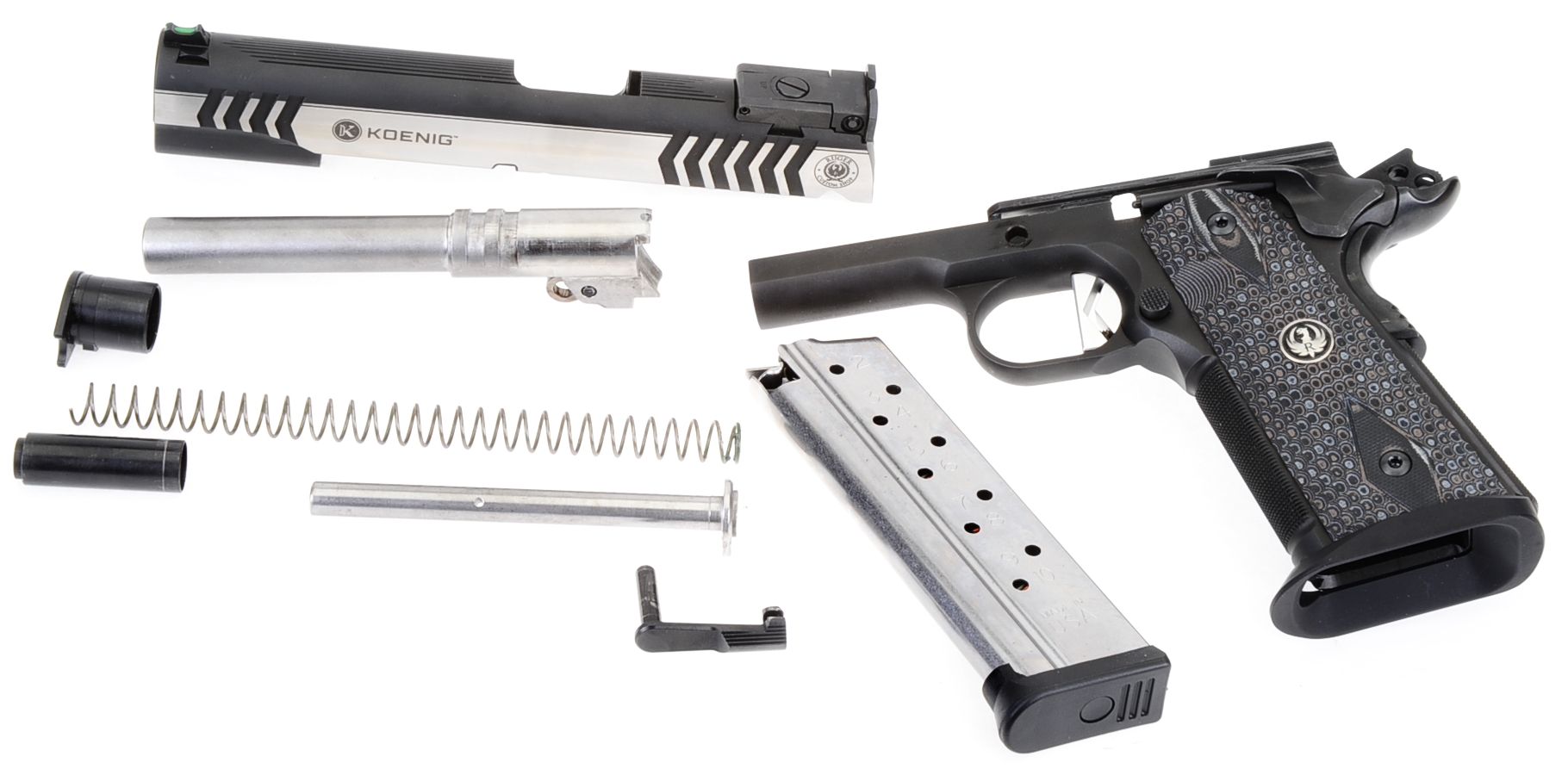 Anyone familiar with the inner workings of a 1911 type would find the Ruger Custom Shop Doug Koenig Competition SR1911® familiar when apart. The full length guide rod makes for a open recoil spring plug. The competition barrel has a polished feed ramp, a hand fit barrel lug, and a target crown. Ruger opted for slow 1:16″ twist rifling to optimize stabilization of lighter weight bullets used in competition.
So how does it shoot ?

One of the more enjoyable handguns to shoot; full size, all steel, 9mm Luger and particularly so in the form of the Ruger Custom Shop SR1911. Recoil is negligible, muzzle rise is minimal, muzzle blast is moderate, and accuracy potential is always there to challenge a shooter's skill.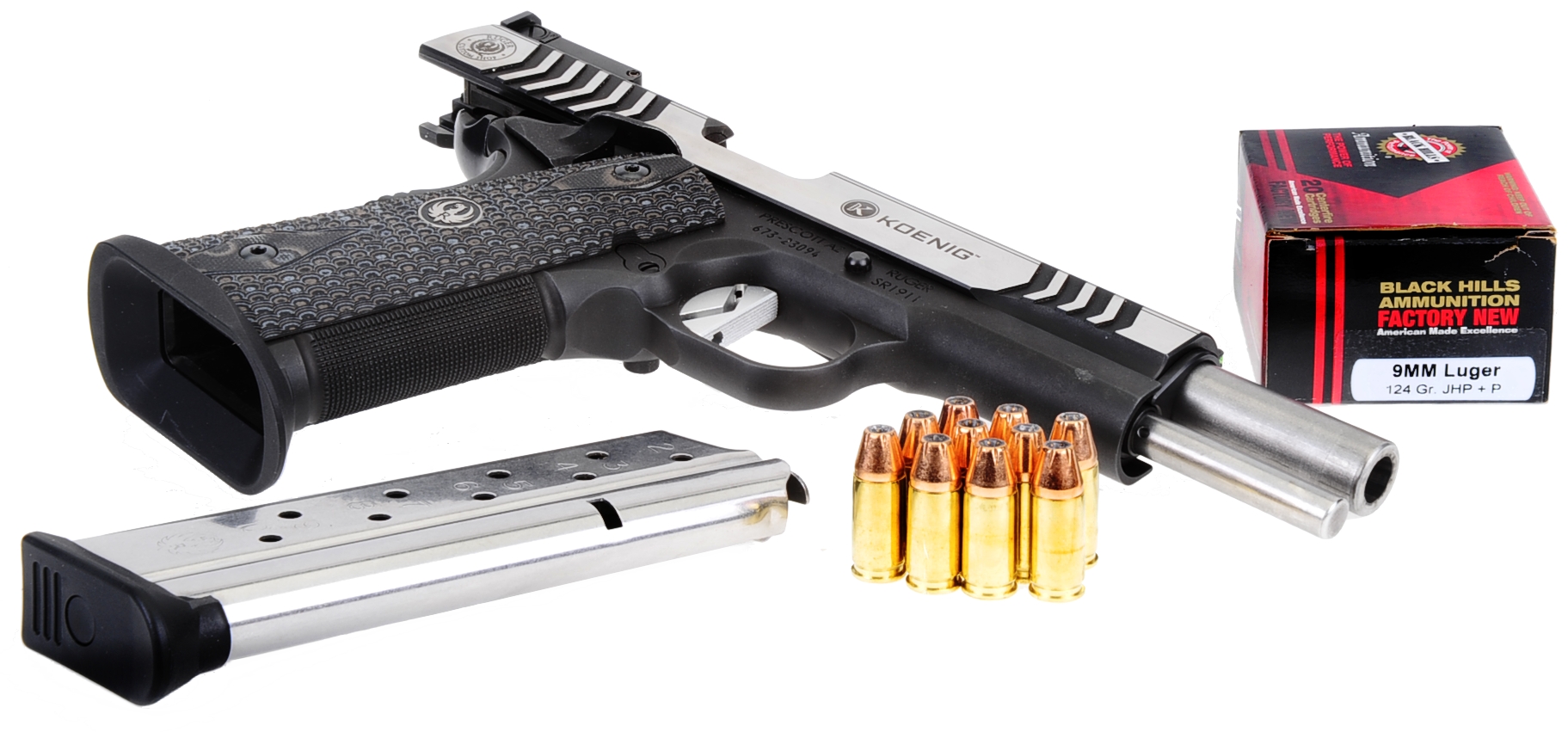 Seven types of ammunition, from 115 grain range ammo, to 147 grain +P were shot, mixed for chronograph readings, grouped for target shooting. The Ruger cycled flawlessly regardless, no incidence of jams or failure to fire and the slide always locked open on empty. The ammo, as pictured left to right, appears top to bottom on the table below. Written under the influence of Buddy Holly's "Rave On".

Cartridge

Bullet




Weight




Grains

Bullet




Type

MV




FPS

5 Shot




50′ Group"

American Eagle

115

TSJ

1140

0.7

Rem HTP +P

115

JHP

1173

1.1

Rem UMC

124

FMJ

1068

0.8

Black Hills +P

124

JHP

1194

0.5

Rem UD

124

BJHP

1096

0.8

Speer GD +P

124

GDHP

1225

0.9

Grizzly +P

147

JHP

1066

1.2
Shooting was done with a basic shooting rest under the frame and a shot bag under my wrist for support and with my 50′ eyes. The sights are very good… crisp image and good contrast over the target. I believe the pistol was idling and waiting for me to catch up. That Black Hill group was stressful. With every shot in that tiny circle came a desire to quit while I was ahead, but then who shoots a 2 or 4 shot group? Not a fluke as the pistol seemed to really like that ammo.
My understanding is that the pistol is optimized for light bullets at lower velocity and, I am sure, the guy whose name appears on the pistol could and actually has done some amazing things with this pistol. In the context of my world, the pistol is super accurate and repeatably so, but with more potential for me to grow into and it worked well across a broad spectrum of ammunition types.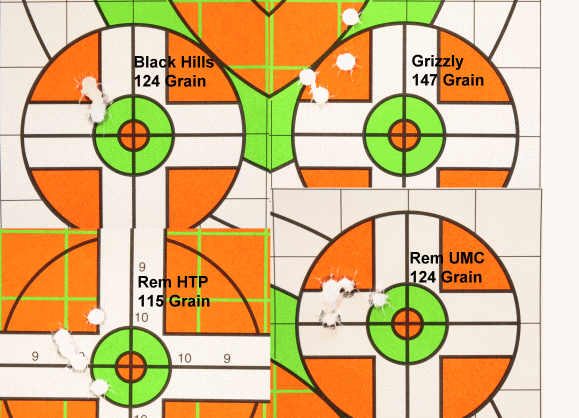 A few of the groups from best to widest ranging to something in between… before I ran out of patience putting up pictures of what already appears in tabular form.
Conclusion…
If you're like me and you carry an SR1911 around as a utility and security gun, the Ruger Custom Shop Doug Koenig Competition SR1911® is a solid step up when looking for a next tier pistol; American manufactured, good pieces inside and out, special touches and hand assembly to assure superior performance. Ruger has always run a quality house with lots of very skilled personnel. Pooling those resources to make hand assembled firearms seems like a really good idea and something special for their customers who collect or compete.
If you've put together, or had put together, high end 1911s with exceptional parts and costly talented gunsmithing, you'll understand how the price tag for this pistol is a good value. Buy it as a package from Ed Brown or Wilson Combat and you'd have to dig a lot deeper in your pockets for another 50% to 200% the price of the Ruger Custom Shop product. Downside? Sure. Ruger needs to shorten that product nomenclature. It is just a lot to say or write or remember. Maybe a nickname like…