Higher end firearms can offer greater potential than utility grade firearms; higher levels of performance, higher levels of precision in skilled hands and the presence of unique features tailored to the firearm's purposes. Ruger's new Custom Shop firearms clearly fit the description.
The 10/22 Competition Rifle is one of two highly refined products from the new Ruger Custom Shop, a companion product to the Doug Koenig Competition SR1911®. Intended to meet the rigors of professional shooting competition, the 10/22 Competition Rifle also fits well with advanced shooters, hunters and/or knowledgeable collectors.
Ruger Custom Shop
10/22 Competition #31120

Manufacturer

Sturm, Ruger & Co., Inc.

Point of Origin


Newport, NH U.S.A.

Caliber

.22 Long Rifle

Action

Autoloading

Operation

Recoil

Receiver
CNC Machined 6061-T6511

Stock
Black/Gray Laminate

Mag Capacity*
10 Rotary

Barrel

16.12″

Twist Rate

1:16″ RH

Rear Sights

None

Front Sight
None

Optics Ready

30 MOA Picatinny Rail

Weight
6 Lbs

Overall length

36″

Length Of Pull

13.50″

MSRP

$899.00

* Compatible with all 10/22 Magazines
Ruger Custom Shop Background
January 15, 2018 marked the beginning of the Ruger professional shooting team with Doug Koenig as team captain and Brand Ambassador. Ruger's introduction, "Doug is an athlete, lifelong hunter and world champion professional shooter. Doug began shooting competitively at the age of 17, winning both regional and national competitions. Since turning Pro in 1990, he has shot a perfect score of 1920 an unprecedented 17 times at the NRA Bianchi Cup. As he approaches his 31st year competing, this 18-time Bianchi Cup Champion's wins include more than 70 National and 10 World titles". Four others joined Koenig:
Randi Rogers; 63+ world and national action shooting titles over a span of twenty years, competing in SASS, IDPA, IPSC, USPSA and 3-Gun.
Dave Olhasso, another twenty plus year shooter, who has garnered many titles in multiple shooting sports divisions including USPSA, IDPA, Steel Challenge, ICORE and 3-Gun.
James McGinty began competing when he was eight years old and became a master in the IDPA Enhanced Service Pistol division at age fifteen, then went on to win the IDPA World Championship title in the ESP division. McGinty is currently a top tier divisional competitor in Steel Challenge, ICORE, 3-Gun, IDPA and USPS.
Trevor Baucom, an Army Veteran, was injured in a helicopter crash while serving a fourth tour in Afghanistan. Working from a wheelchair, Baucom began training for and competing at the 2011 NRA National Action Pistol Championship and went on to compete in Bianchi Cup, IDPA, SCSA Pistol Tournament Championships, and USPSA multi-gun matches.
Why is this shooting team important in the context of Ruger Custom Shop products? It is these people and this intense competition that are at the core of these Ruger Custom Shop firearms; contributing to defining, designing, developing and testing.
A closer look from front to back…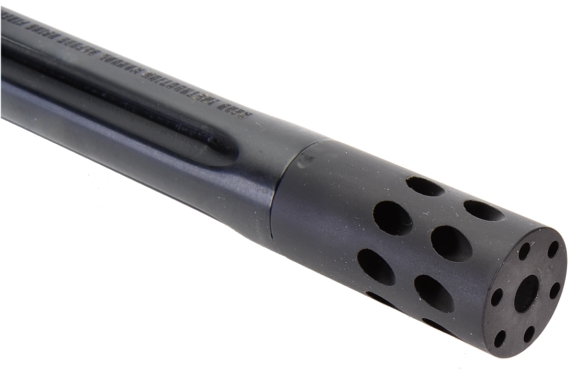 The 10/22 Competition's barrel is 16.15″ long, a bull barrel in profile, with fluting cuts to reduce weight and aid in heat dissipation. A newly designed muzzle brake exhausts gases through radial, forward directed ports to keep the barrel leveled. In use, the brake proved very effective in use including reduction of muzzle blast. It is a very quiet rimfire. The 1/2"-28 threaded muzzle is standard for brakes, silencers and other devices, including a silencer.
The Ruger 10/22 Competition's receiver is located front and rear. The rear bedding block can be removed to permit rear to front bore cleaning. The barrel is retained with the same two fastener lower V block, but also with a third fastener located front and center under the integral Picatinny rail. The 10/22 Competition has a match dimension chamber to enhance accuracy.
Where the standard 10/22 is machined from a die cast part, the Ruger Custom Shop 10/22 Competition receiver is CNC machined from a billet of heat treated and stress relieved 6061-T6511 aluminum. Inside the new billet receiver is a 4140, heat treated and nitrided, match CNC-machined bolt which is actually very slick in operation.
Atop the receiver is an integral 30 MOA rail for long range shooting which will approximately put shots on target at 200 yards with scope adjusted to optical center. The rail also works well for close in shooting with a red dot sight. The 2.75 lb pull trigger is the high performance BX version with custom shop bolt release; the bolt is pulled back and the bolt lock is pushed up, but the bolt is release by a slight tug rearward. The trigger pull / feel is exceptional.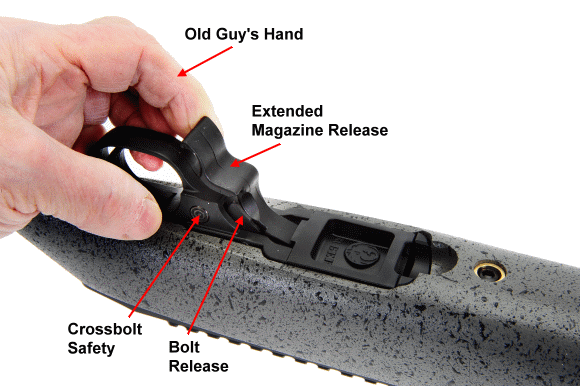 Man, you wear the same hands long enough and they end up looking like an old pair of bad fitting gloves. Anyway… A really nice Ruger Custom Shop 10/22 Competition feature is the extended magazine release. Lever travel is about a quarter of an inch, executed by poking the trigger finger forward and the ten round magazine will pop right out. The Competition is compatible with all 10/22 magazines.
The laminated stock gives the rifle a centerfire feel, even though weight for the rifle has been kept to six lbs. The comb is adjustable vertically and horizontally for optimal scope or red dot sight positioning. The pistol grip palm swell is hand filling, as is the forearm. The stock surface is textured and pained into a non slip, but attractive finish.

My favorite part – live fire…
Rather than mount a scope and set up the rifle for long range, 200 Yard+ shooting, I set it up as I would put it to use with an open red dot sight for fast shooting out to 50 yards.
Four types of ammo that represented a good cross section of ammo types were shot –
Cartridge
Bullet
Weight
Grains
Rated
FPS
16.12″
Barrel
FPS

50 Yard




5 Shot




Group



Remington Cyclone

36

1280

1266

0.4

Remington Golden
40
1255

1296

0.3

Remington Target
40
1150

1148

0.2

Eley Subsonic
40
1040

1057

0.3


All groups shot from a conventional tripod front rest and sand filled bunny bag under the stock's toe with fist controlling elevation.
The Ruger Custom Shop 10/22 Competition was relatively quiet for a rimfire. The muzzle stayed down, the action cycled smoothly and reliably regardless ammo fired. The stock made for a very stable hold. The extended magazine release was a nice touch when working through boxes of ammunition; release was quick, magazine lock in was positive.
The BX trigger is something special. I use them on any 10/22 rifles I work with. They contribute too much to accurate shooting to go without. The simplified bolt lock open and release was handy. The drop at the comb and heel worked well with a low red dot sight, the comb needed to be raised about half an inch and come forward about 3/4″ to feel comfortable with a scope.
The union of red dot and Custom Shop 10/22 Competition is a good one. Good prescription shooting glasses have helped a great deal with open sight shooting, but a red dot is easier and much faster for inside 100 yard shooting, When I was done with this article, my wife and I had the opportunity to shoot spinning targets and bounce around a reactive target and it was just a lot of fun.
So who would spend $900 on a rimfire?
A competitive shooter where the outcome was more than just a little recreational shooting; high expectations require pro gear. The Custom Shop 10/22 would be a reliable and very accurate piece of equipment. Me. I don't shoot in organized competition, but I do use a rimfire rifles constantly for varmint control, small game hunting, and proficiency shooting for hunting and self defense. I like, and can use, what the 10/22 Competition uniquely has to offer. An excellent 22 LR, built to last several lifetimes; Ruger's Custom Shop 10/22 Competition.
As a Ruger Custom Shop Product…
The Ruger is packaged in a quality hard case for travel. Inside the case are the rifle's manual, gun lock and Ruger collateral material. There is also a sealed envelop with a certificate of authenticity for the collector, a Ruger wipe down cloth, a Challenge Coin, and Ruger Custom Shop decal. Thoughtful touches to a special firearm. Can't wait to see what Ruger Custom Shop products follow.