Just getting back to work after quadruple heart bypass surgery. Four and one half days in Maine Medical Center then home. Rehab is straight forward, these people are all medical rock stars, but impatience is tough to contain. Fortunately, I have some article drafts and data to finish until all applicable restrictions are lifted.
In retrospect, I do not believe it was the most recent two years of weight control, exercise and a diet of good and healthy foods that finally got me, but rather the preceding seventy years of living life as though Der Wienerschnitzel represented fine dinning.
The Ruger Hawkeye Standard in 30-06 Springfield, is the quintessential North American hunting rifle. A derivative rifle design with elements dating back to 1898 and a cartridge design dating back to 1906, its current existence speaks volumes to the combination's usefulness.
Effectiveness as a combination, the rifle's visceral appeal and Ruger's manufacturing technology and design refinement have rendered the Ruger Hawkeye rock solid reliable under even the harshest conditions and always capable of a high degree of accuracy all contribute to the Hawkeye's continued success.
Unwilling to be lost to a sea of MSRs pitching new cartridges of the day, ever changing features, a myriad of accessories, and near infinitely adjustable stock geometry I am so glad there is still  the choice of carrying a traditional bolt action rifle. A rifle with a familiar feel, one I can shoot well, one that will be intuitive in use when it comes time to take a critical shot, one that connect me with hunters throughout history.
Ruger Hawkeye Standard


Manufacturer

Sturm, Ruger & Co., Inc

.

Manufactured

Newport, NH

Item#

37125

Type

Bolt Action

Caliber

30-06 Springfield


Capacity

4+1

Barrel Length

22″

Rifling

1:10 RH

Weight

7 Lbs 8 Oz

Overall Length

42 3/4″

Stock

American


Barreled Action

Satin Blue Steel


Length of Pull

13 1/2″

Drop At Comb

0.656″ (Spec)

Drop At Heel

1.000″ (spec)


Sights

Clean

Scope Mount

Ruger Proprietary


Trigger Pull

4 Lbs. 3 Oz. Adj

Safety

Three Position

MSRP

$979.00
For folks with different cartridge preferences, the Ruger Hawkeye Standard is available in: 204 Ruger, 223 Rem, 243 Win, 270 Win, 7mm-08 Rem, 7mm Rem Mag, 308 Win, 30-06 Springfield, 300 Win Mag, and distributor specials in 257 Roberts and 260 Rem.
What makes the Ruger Hawkeye Standard a hunting rifle? You in the back, thank you for asking….
The Ruger's LC trigger, while not adjustable, has a pull lightly more than 4 lbs, which is safe for field use. It is smooth, breaks cleanly and has virtually no overtravel. And after lots and lots of rounds through the rifle, the trigger will maintain its original personality.
Precision hammer forged barrels with cut chambers are produced in house make for accurate shooting over the long term and a smooth bore for easy cleaning.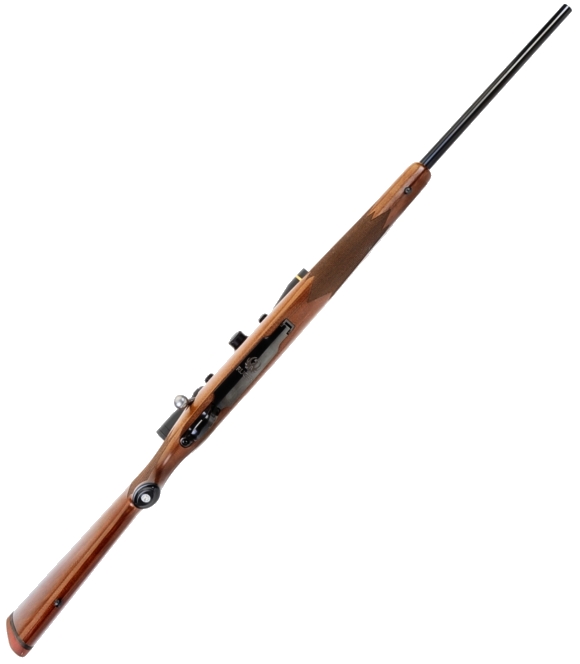 The Ruger Hawkeye Standard is slender at the buttstock and round bottom at the forend. It is a comfortable rifle to shoot from standing, kneeling, sitting, and prone positions. Cut checkering is well defined and placed. Sling swivel buttons are standard. The stock geometry; length of pull, drop, etc work well with a scope in providing natural eye – scope eyepiece alignment.
While closed up the bottom side of the Ruger is… sleek with no projects to snag hands or clothing, a push as the embedded floorplate release at the front of the trigger guard pops the hinged floorplate open to facilitate emptying the rifle's magazine. Bottom metal is all steel.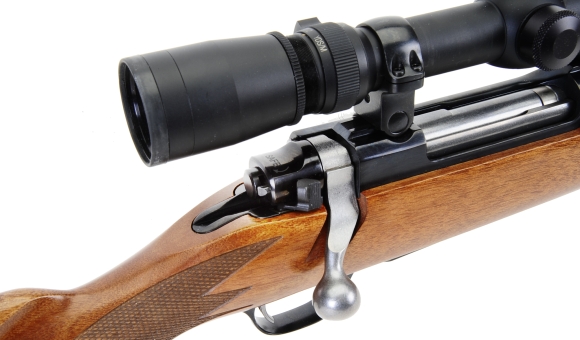 The three position safety; safe – bolt locked, safe – bolt free, fire is quiet in operation and positively engaged in each position. It is easy to dump the magazine through the hinged floorplate and then clear the chamber on safe with the bolt unlocked.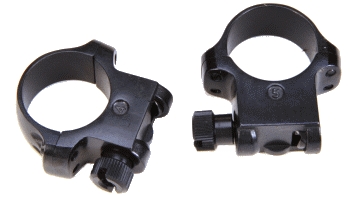 The Ruger proprietary mount system is a good one. Rings clamp directly to scalloped cuts on the rifle's receiver. A tab centrally located in the base of the rings lock into a slot on the top of the receiver further anchoring the assembly.
The rings stay put regardless the size of the optics and the recoil of the rifle. Ruger rings are available in a variety of scope tube sizes and heights, stainless and blued both from Ruger and from firearm accessory retailers. Ruger customer service will even exchange ring size on new firearm purchases. For folks who wish to use a different rings systems, retailers also carry conversion bases and rails to allow Weaver and Picatinny type ring systems.
The stainless steel twin lug bolt has a 90º lift. Its non-rotating Mauser type claw extractor provides an extra measures of extraction reliability. The dog leg bolt handle assure maximum eye piece clearance with the lowest possible rings to keep line of sight closest to bore centerline and to minimize that angle of incidence.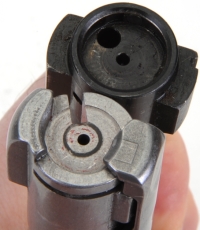 The Ruger M77 is a control feed rifle as shown, bottom right. When a cartridge is fed from the rifle's magazine, it is pushed against the boss formed at the front of the far locking lug and slipped under the extractor claw on the opposite side then guided forward into the rifle's chamber. Gravity has no bearing on the process. Unlike some controlled feed firearms, the M77 can be single loaded by placing a round in the chamber and closing the bolt. The slot in the Ruger bolt face is clearance for the blade type ejector.
By comparison, the Remington, top right, is push feed. It has a plunger type ejector located in its bolt face and a small stamped steel nib extractor riveted or clipped inside the rim of its bolt face. Earlier, I used the term "conservative" when describing the Ruger M77 Hawkeye and, I think, what has just been noted is a good illustration.
Does a rifle have to be control feed? No. Does it have to have a major claw extractor? No. But the design is derived from weapons designed for absolute reliability under combat situations where life often hangs in the balance. Perhaps Ruger recognizes that we are all not all just sport deer hunters and knows that when subsistence hunting, and hunting dangerous game with teeth and claws, assurances of positive feed and extraction are a good idea.
The single bladed, Swiss Army knife of cartridges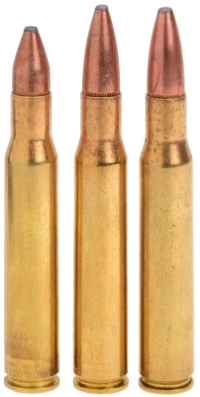 Pictured left to right –  125 grain, 150 grain, 180 grain 30-06 Springfield factory ammo.
The 30-06 Springfield is the best cartridge in the world, bar none. Too much? I don't know why firearm aficionados argue and debate what is acceptable, or not acceptable, within similarly classed cartridges when the answer is "All or any of them". That answer doesn't make sense? Either does the debate.
The 30-06 Springfield will fit any application from coyote to moose. Is it right for 100 round prairie dog shoots at 400 yards. Nope. Too much case, and too low sectional density lightweight bullets. I have tried 110 grain bullets and 22 caliber sabot mounted bullets and it never ends well, so I use this situation as an excuse to own another rifle.
Can the 30-06 Springfield be used as an effective stopper on large and dangerous game? I would point to the large number of recorded kills and Alaska's Department of Fish & Game's endorsement; the answer is "yes".
Hunters experienced with big and dangerous game say shot placement is vital. I would add that shot placement is always vital as no sporting firearm will drop game quickly if vitals are missed. I will agree, however, that the consequence of a poorly placed shot on dangerous game could be considerably greater.
Bang, bang… bang!

Ammunition
Bullet
Weight
Grains
Rated
MV FPS
24″ BBL
Actual
MV FPS
22″ BBL
3 Shot
100 Yard
Group "

Remington PSP

125

3140

3062

0.7

Remington Core-Lokt

150

2820

2937

0.6

Remington Core-Lokt

180

2700

2736

0.7
The factory ammo selected is good quality, but there is ammunition like Hornady Superformance that can tack 200+ fps on even the 180 grain load. Handloads can pretty much do the same.
The Ruger Hawkeye Standard is a well put together, medium and big game hunting rifle when paired with the 30-06 Springfield. Repeating myself? Sure. The first and opinion coming into this project, the second after a close look and live fire assessment. Terrific rifle.