It's been four weeks since attempting a new article. I know, "Joe, we didn't realize you were gone". Yeah, yeah, yeah… The problem is I am easily distracted under the best circumstances. I start writing about a gun stock and end up researching "Walnut Through The Ages" and, at the moment I am thinking about this little rifle, wondering if it will snow overnight and watching the season finale of "Bitchin' Rides. Life just doesn't happen sequentially.
No, I do not know why Ruger selected a 16 1/2″ barrel for their Compact Rifle, rather than an 18″ or 20" barrel. The decision could have stemmed from the fact that Ruger seems to have an overabundance of engineers on tap who may have taken the "compact rifle" moniker seriously, understood the typical application for the rifle, examined the exterior ballistics, and concluded that a 16 1/2″ barrel was appropriate.
The difference between 22″ standard length barrel muzzle velocity and 16.5″ muzzle velocity for a .243 Winchester 100 grain load is approximately 250 fps to 300 fps, with the longer barrel producing at 100 yards what a 16.5″ barrel rifle will produce at the muzzle. The 22″ barrel can keep kinetic energy above 1000 ft-lbs out to 400 yards, the 16.5″ barrel will do the same out to 300 yards. The short barrel rifle is not intended for 400 yard shots at deer size game, it is meant for woodland hunting where a long shot across a clearing or firebreak is typically inside 100 yards.
My point is… yes of course I have a point, the 16.5″ barrel rifle provides more than enough velocity and energy for a woodland hunter and it does so in a package that won't have him or her huffing and puffing up and down hills or getting snagged in thick brush. Pragmatic engineering can make decisions that habit and emotion might otherwise not allow.
Ruger Hawkeye Standard


Manufacturer

Sturm, Ruger & Co. Inc.

Manufactured

Newport, NH

Model

Compact

Standard


Item#

37138


37119

Type

Bolt Action

Caliber

243 Winchester


Capacity

4+1

Barrel Length

 16.5″

22.0″

Rifling

1:9″

Weight

 6 Lbs


7 Lbs

Overall Length

35.50″


42.00″

Stock

American Walnut


Barreled Action

Satin Blue Steel


Length of Pull

 12.5″

13.5″

Drop At Comb

0.656″ (Spec)

Drop At Heel

1.000″ (spec)


Sights

Clean

Scope Mount

Ruger Proprietary


Safety

Three Position


MSRP

$979.00
From the world of blued steel and organic walnut
It would seem a young shooter would be most comfortable shooting the Ruger Hawkeye Compact Rifle, but not exclusively so. The barrel has a sharp taper from a 1″ diameter shank to a 0.525″ diameter muzzle. The forearm is truncated beyond its gripping surfaces and the rifle's length of pull is a short 12.5″. I personally have not used the extra half foot of wood that extends beyond the gripping surface of a standard rifle and I have no problem with the short length of pull when it is -20°F and I am dressed like that kid in A Christmas Story who was knocked over on his back in the snow and could not get up.

Not a budget priced firearm, the Ruger Redhawk has plenty of nice features as components of a premium production rifle. The blued, carbon steel barrel is cold hammer forged for a smooth, precision dimensioned bore and a reamer cut chamber for perfect concentricity to the bore and square to the rifle's bolt face. Combined, the process yields exceptional accuracy, longevity in use and ease of cleaning.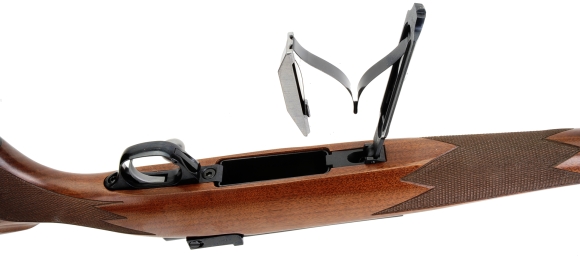 The all steel bottom metal; trigger guard, hinged floor plate and follower, give the little Ruger a solid feel. The hinged floorplate, release embedded in front of trigger guard, facilitates quick magazine emptying.

The top pf the Hawkeye receiver is scalloped and keyed to anchor Ruger's proprietary scope mounts. With a ring set included with each rifle, they are also available in blued or stainless, 1″ and 30mm and in a variety of heights to suit any application. They really stay put, regardless the size and weight of the mounted scope. Also visible in the picture above is the non-rotating, Mauser type claw extractor, which makes the Ruger a controlled round feed bolt action rifle. The ejector is fixed blade so the shooter controls the force of ejection.
The Ruger's safety is a three position wing type; quiet in actuation and positive in position.In the full back position, the safety on and the bolt is locked in battery, mid position is safety on but the bolt can be cycled to empty the rifle's chamber, the forward is the fire position. The rifle cocks on close. The dog leg bolt handle is relieved for scope eye piece clearance and it tucks in close to the stock to avoid snagging on clothing or brush.. or the truck door.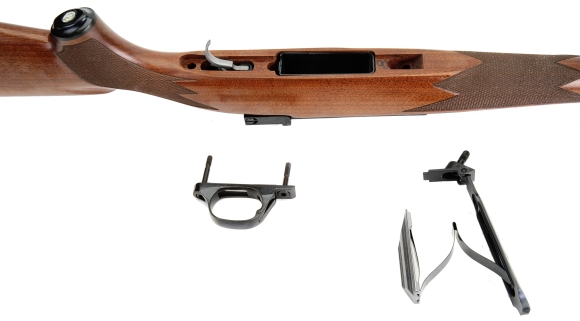 The flat bottom action is clamped to the stock with two trigger guard screws and one angled screw that passes through the floorplate hinge. The magazine box is captured between the two.
The Hawkeye Compact Rifle's action is short and rigid, but the magazine will still feed a close to 2.880″ long cartridge for handloaders, in comparison to a SAAMI specification 2.710″ maximum length 243 Winchester factory round. Free bore and potential cartridge overall length will be checked with specific bullets in Part II.
The Ruger Hawkeye receiver is precision cast and CNC machined to a finished piece. Ruger does all of their own casting and machining. The trigger is the current Ruger LC6™ design, which consistently breaks at approximately 4 1/2 lbs; a good pull for a hunting rifle and otherwise very smooth and free of creep and overtravel. The trigger is non-adjustable, if there is anything in life that is non-adjustable, and there is a selection of aftermarket triggers and trigger pieces to satisfy an owner's need to tinker.

The stock is precisely inletted and weather guarded inside and out to prevent environmental induced instability. The action fits tight and flat, the barrel floats in the barrel channel right up to the speed bump at the forend that contacts the barrel as a pressure pad.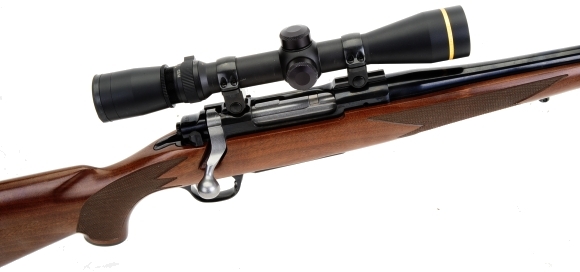 We'll take a break here, round up some factory ammunition, assemble some handloads and see how the Ruger Hawkeye Compact Rifle shoots. Be back soon.