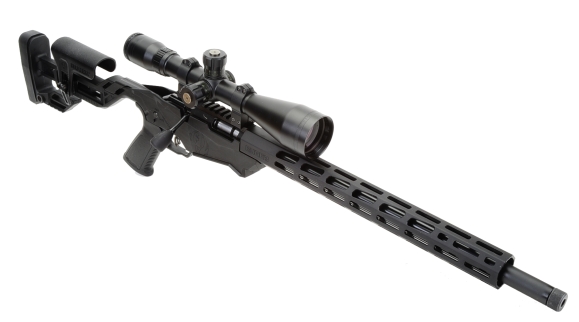 Ruger Precision Rimfire


Company
Ruger
Point of Manufacturer
Mayodan, NC

Model #
8405
Type of Action
Bolt, Adjustable Throw

Caliber
22 WMR

Magazine Capacity
5
Magazine Type
Rotary – 15 Round Optional

Barrel Length
18.0″
Barrel Material
Hammer Forged 1137 Alloy

Barrel Finish
Black Oxide
Rifling Twist Rate
1:14″
Receiver Material
Carbon Steel
Stock Type
Quick Fit Precision Adjustable

Stock Material
Glass Filled Nylon

Length of Pull
12″ – 15.5″

Grip
AR Pattern

Front Sight
NA

Rear Sight
NA
Scope Accommodation
Aluminum 0° Rail

Trigger Type
Ruger Marksman Adjustable

Weight of Firearm
6.8 Lbs
Overall Length
35.13″ – 38.63″

Safety
2 Position Rotary Selector

MSRP
$529
The last time I wrote about a Ruger Precision Rimfire, it had a 22 Long Rifle chamber, it was the day after a snowstorm, I was avoiding going out in subzero weather, and I was contemplating the future of a plastic container of leftover meatloaf.
History does not always repeat itself, as it is two days after a snow storm, the outdoor ambient is a balmy 20°F, and I am contemplating a plastic container of chicken salad. And… AND, the Precision Rifle is now chambered in 17 Hornady Magnum Rimfire and 22 Winchester Magnum Rimfire. Specific model numbers are:
8402 – 17 HMR 15 Round
8403 – 17 HMR 9 Round
8404 – 22 WMR 15Round
8405 – 22 WMR 9 Round
For those who arrived late..
The Ruger Precision Rimfire is a magazine fed, bolt action firearm. The receiver mounts the trigger, barrel and floating handguard, and this assembly fits into a chassis. The chassis provides spot bedding and hand gripping surfaces and extends back to form the very adjustable buttstock.
The centerfire version of the Ruger Precision Rifle mounts the buttstock to the aft receiver tube and the fire control components and grip are mounted to, or contained within, unstressed lower half enclosures. Another way to define the difference is the centerfire is a tube rifle while the rimfire is a chassis rifle.
Great, but to what end?
The Ruger Precision Rimfire makes an excellent trainer for the centerfire, long range precision shooter, for both new and established competitor's. The Ruger Precision Rimfire makes and excellent rifle for training a new shooter on everything from the fundamentals of safe firearm handling to doping the wind. Finally, the Ruger Precision Rimfire is an excellent recreational shooter for paper punching and small game and varmint hunting. It could easily be that one good rimfire rifle everyone should own.
Some hardware specifics
The Ruger Precision Rimfire mimics the centerfire Ruger Precision Rifle dimensions so it feels comfortable when switching between each and so it can be an effective training firearm for the centerfire version. They share a common reach from grip to trigger, they share a common bolt handle size, the grip and selector can use standard AR 15 pieces and the selector can be swapped left or right side.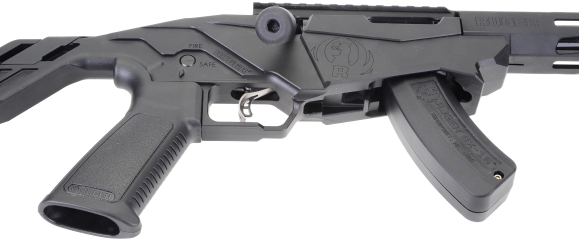 Consistent with other training accommodation, the bolt throw… more accurately bolt stroke, can be set to a short 1.5″ rimfire bolt throw or 3″ to simulate centerfire short action throw length to prevent muscle memory short stroking when switching back. I remember getting out of a little Cessna after a couple of hours of proficiency flying, getting into my car and abruptly being reminded that you can't bank left with a brake pedal. But that's just me…
The 15″ full floating handguard is made of black, hard anodized aluminum with Magpul® M-LOK slots on four sides to facilitate accessory mounting.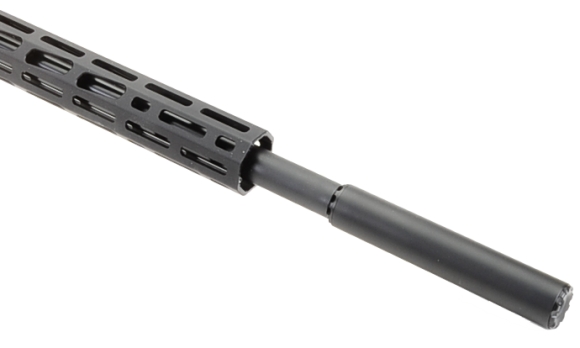 The Ruger Precision Rimfire 18″, hammer forged 1137 alloy steel target barrel sports a 1/2″-28 threaded muzzle to permit easy attachment of an assortment of devices. In this case, a Ruger Silent-SR® suppressor is pictured. No, you can't silence the sonic crack of a supersonic bullet, but you can significantly reduce it to a muffled thwack.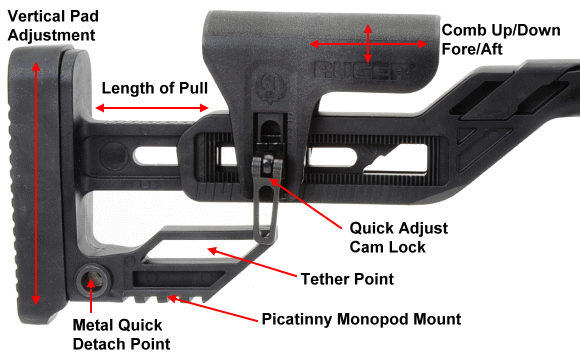 The Ruger Precision Rimfire stock is well done. It is a very rigid structure with useful adjustment points and range of adjustment and flexibility in mounting points to accommodate accessories. Where preferable, the cam lock that sets length of pull and comb position can be swapped to the left side. Coming from a time where one stock configuration fit all… mostly poorly, it is easy to take advantage of this feature.
The chassis is secured to the barreled action with two bedding screws. When disassembling, the front fasteners is removed first, then the rear. When reassembling the reverse sequence is applied and both are torqued to 35 in-lbs in production rifles.
Above, the front chassis bedding contact points protected by not over torquing the bedding fasteners.

With the chassis removed, the balance of disassembly is easy and covered in detail within the manual including trigger removal and servicing. Trigger pull resistance can be adjusted with the rifle fully assembled, through an access port just forward of the trigger guard, within a range of 2.25 lbs – 5 lbs. You can tell when a spec is written by an engineer when it is two places past the decimal. I set the subject rifle to 2.27 Lbs and felt much better for it.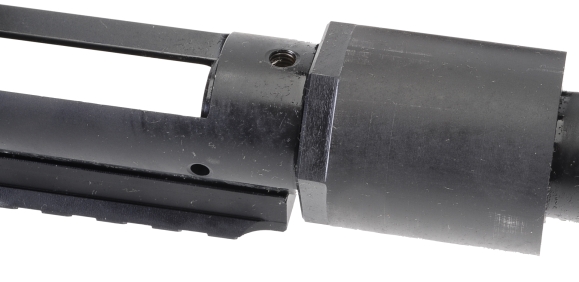 Above, the heavy contour target barrel is secured to the receiver with a barrel nut and relatively easy to remove and reinstall, or replace with the aid of a headspace gauge.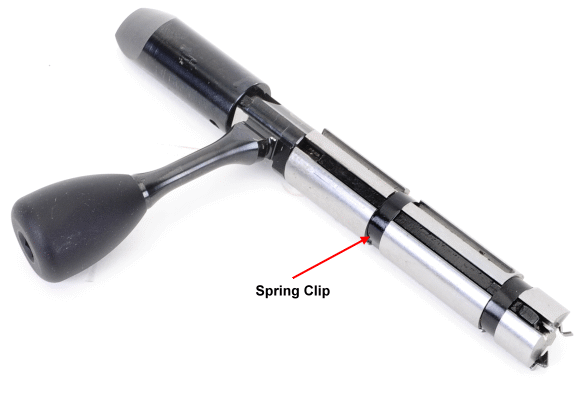 The large tactical bolt handle emulates the feel of the centerfire version of the Precision rifle. With the rear spring clip, bolt stroke is 1.5″, adequate for cycling rimfire ammo. Removing the spring clip increases the bolt stroke to 3″, emulating 308 Winchester length centerfire cartridges.
The 22 Winchester Magnum Rimfire is legal for deer hunting in Maine…

But you'd never catch me using that cartridge for that purpose. I would use this combination on coyote and eradicating the varmint population within 150 yards… although shooting distances were kept to 100 yards. I originally planned on 200 yards for target shooting, but gusting winds, short legs and tall snow drifts had me answering a different calling.
The 22 WMR version of the Ruger Precision Rifle has no Picatinny rail vertical bias, unlike the 22 LR version that has a 30° Rail. The 4.5-30 x 50mm scope with 30mm high rings was removed from a 6.5 Creedmoor Ruger Precision Rifle and plopped on the 22 WMR rifle without the use of a riser or different rings.
The Ruger Silent-SR® was left on for all shooting. I tend to use a silencer on handguns and rifles whenever possible in deference to my desire to hear over the long haul.
How many rounds do you need?
Both the 22 WMR and 17 HMR are available in 9 and 15 round configurations. Pictured above is the flush fitting 9 round… I'd guess the 9 cartridges already gave away that surprise.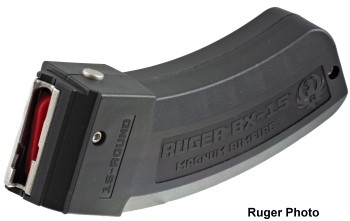 For those who like more, Ruger offers as 15 round Magazine that projects downward, significantly, from the bottom of the rifle. The magazines carry the same capacity respective part numbers for both 22 WMR and 17 HMR cartridges.
Outside shooting… in the cold… gusting up my pants leg. Damn!
Ammunition
Bullet
Weight
Grains
Rated
MV
fps
Actual
MV
fps
100 Yard
3 Shot
Group"
Winchester Super X LF
28
2200
2246
1.3
Hornady V-Max
30
2200
2187
0.9
CCI TNT
30
2050
2220
1.0
CCI Game Point
40
1875
2191
0.7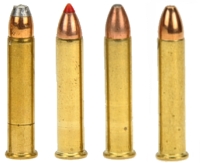 There are approximately twenty two popular factory loads for the 22 WMR. Four were selected with differing bullet weights and/or bullet types. based on inclement weather conditions, cold, gusts, and chattering teeth, I felt that accuracy was excellent and there are probably better choices in ammo. Still, there is nothing I would shoot at that would be missed with a vital organ shot at this level of accuracy and consistency.
The Ruger Precision rifle is just a lot of fun to shoot.There is no recoil, report is low, spare mags took care of capacity and ammo choice, I felt, much better than would have been the case with a 15 round magazine. The rifle is easily adaptable in form to virtually any shooter and/or shooting position. It is like a Swiss Army knife without points. Why the 22 mag selection and not the 17 mag? I have other rifles and handguns in 22 Mag, so it is a base which with I am familiar and it made for common supply of ammunition. Heck of a rimfire rifle.