I want to change, I try to change, but with so many years of life's momentum, I just keep missing the on ramps. For the sake of a brand new year, I decided I would attempt an infusion of singers/groups under the individual or average age of sixty into my music listening. This year's adder is Rachael Price, with and without Lake Street Dive… as long as she occasionally sings old songs like "Can't Find My Way Home" or her reasonably recent song "What I'm Doing Here". The traditional counter balance is Susan Tedeshi. There are other changes I may be forced to make.
After ten years in service, my primary camera has crossed the seven hundred thousand shutter cycle mark. Most of its lenses are twice that age. Periodic factory service, repair and calibration can't hold back eventual obsolescence of parts and software and I will be forced to take my ten year old knowledge of camera specs and function, get reeducated and overwhelmed so I can understand the current generation cameras and make a less than dumb purchase decision. One of the reasons i like firearms so much is that they may change around the edges, but they are a century plus old at the core, and when you pull a trigger, you know exactly what will follow.

The Ruger Hawkeye Predator is one of those rifles that I look forward to shooting, especially chambered for the 223 Remington cartridge; the accuracy of a thinly disguised target rifle, a cartridge with an easy 300 yard varmint hunting reach, virtually no recoil, inexpensive to shoot, and a huge potential for handloading. It is also a mature firearm, with enough time in grade to assure consistent and reliable performance.
to
Ruger Hawkeye Predator

Manufacturer

Sturm, Ruger & Co. Inc.

Manufactured

Newport, NH

Model #

17122

Type

Bolt Action

Caliber

223 Rem


Capacity

5+1

Barrel Length


22″

Rifling

1:9″

Weight

7.7 Lbs

Overall Length

42″

Stock

Green Mountain Laminate


Barreled Action

Matte Stainless


Length of Pull

13.50″

Sights

Clean

Scope Mount

Ruger Proprietary


Safety

Three Position


MSRP

$1139
The Ruger M77 MK I was introduced as the company's first bolt action centerfire rifle in 1968. The next generation was introduced in 1993 as the M77 MK II. The change brought a three position safety, a newly design floorplate latch and a blade type ejector. The MK II also featured a non-adjustable trigger in deference to a growing threat of product liability litigation. In 2006, the Hawkeye designation appeared on centerfire rifles, along with a slimmed down stock and non-adjustable L6 trigger. The Ruger Hawkeye Predator actually has a two stage adjustable trigger.
The Ruger Hawkeye Predator was introduced as the Ruger M77 Hawkeye Predator in January of 2009. In recent years, however, the M77 nomenclature has faded away with each iteration of the Hawkeye, even if mechanically, the M77 and Hawkeye are pretty much the same.
Just the hardware highlights…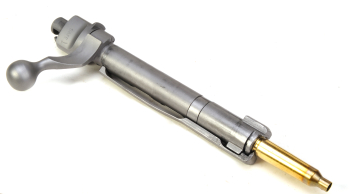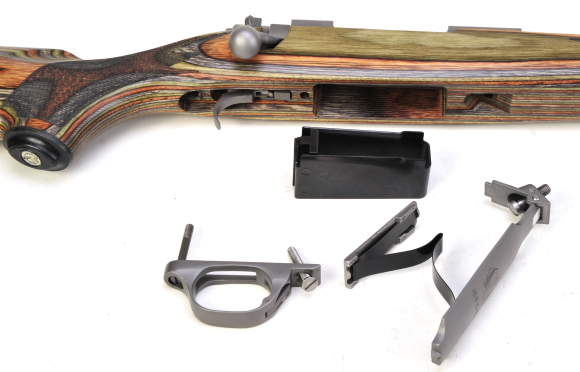 The Ruger Predator has a stainless steel hinged floorplate to facilitate unloading a full magazine. The magazine box has an aft spacer to bring the nose of each cartridge to the proximity of the feed ramp while still allowing maximum cartridge length loads. The floor plate release is embedded in the front of trigger guard; handy but still protected. Inside or out, the Ruger utilizes high quality castings and machined parts. No plastic to be found.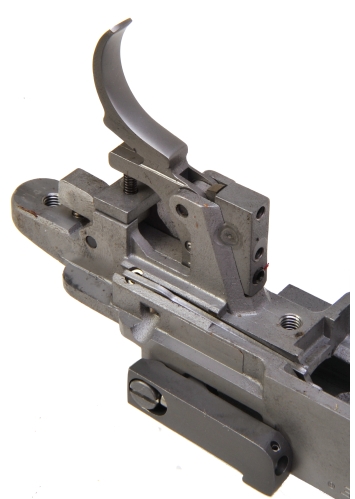 The Predator comes with a really slick, fully adjustable, short take up two stage trigger. A departure from what has been historically Ruger non-adjustable triggers. Ruger's description: "Two stage, light, crisp, with no overtravel" is solidly appropriate. The subject rifle's trigger had a measured two pound pull. Adjustment, while easy, requires separating the rifle's barreled action from its stock.
Ruger lists the barrel as a medium contour barrel, as opposed to a heavy contour target or varmint rifle barrel. It measures 0.650″ in diameter at the muzzle.
The rifle's 1:9″ rifling twist is tight for a bolt action sporter. This bumps up the maximum bullet weight it will shoot accurately in comparison to other manufacturers products that have held to the 1:12″ twist bolt action rifle standard. This extends the rifle's application to include deer with tough jacketed bullets in the 65 grain range.
Scopes that can't be retired…
In an age of disposable products, I decided I would mount a twenty year old scope I have not been able to retire. For five years it lived on an Ultra Lightweight Weatherby Mark V, a couple of seasons on my 7mm Remington Mag, and then made its way through everything from my 220 Swift varmint rifle to a 300 Remington Ultra Mag heavyweight.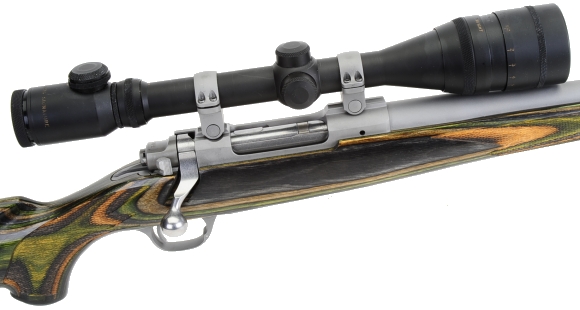 It is an early Burris Signature scope, a Model 200766; 4X-16X magnification, matte black, with a tiny Electro-Dot illuminated reticle, Posi-Locks for the optics, and adjustment for parallax correction.It has an iris behind the objective lens that adjust for ambient light conditions and the optics are crisp, excellent in contrast and crystal clear. On medium mounts, the objective bell sits 0.030″ above the barrel at its lowest point. The scope has a Burris Forever warranty so it will be interesting to see what their custom service reaction would be if I break it.
Yes son, there are lots of 0.224″ caliber cartridges…
Left to right – 22 Hornet (1930), 222 Remington (1950), 223 Remington (1964), 22-250 Remington (1965), 220 Swift (1935). Dates reflect commercial availability. Factory and/or wildcat designs preceded industry homologation by as much as 50 years, as is the case of the 22-250 Remington. In context:
So why the 223 Remington? Easy, the 22 Hornet is too limited in power and range to hold my interest… other than when I am popping nuisance critters out back, and handloading doesn't provide much more steam.  The 222 Remington is an excellent cartridge, but really limited in production rifle availability and factory loaded ammunition variety. The 22-250 Rem and 220 Swift, when pushed near max where they are intended to run, are rough on gear and on ears and have more reach than I can utilize. Can they be handloaded down? Sure, but then why not start with a more moderate cartridge?
Cartridge

SAAMI
Bullet


Diameter"

SAAMI
Groove


Diameter"

Maximum




Case




Length"

Maximum




Cartridge




Length"

Case




Capacity




Grains

MAP




KPSI

SAAMI




40 Grain




FPS

22 Hornet

0.224 -0.003

0.222 +0.002

1.403

1.723

14.50

49

 –

222 Rem

0.224 -0.003

0.224 +0.002

1.700

2.130

27.90

50

3570

223 Rem

0.224 -0.003

0.224 +0.002

1.760

2.260

28.8

55

3770

22-250 Rem

0.224 -0.003

0.224 +0.002

1.912

2.350

43.49

65

4125

220 Swift

0.224 -0.003

0.224 +0.002

2.205

2.680

47.00

62

4170
 In reality, I own, shoot and handload firearms for all of these cartridges because each has unique aspects to exploit. The reason I look forward to shooting the 223 Remington cartridge is because it is relaxing.  It is easy on firearms, there are over one hundred factory loads, it is fun to handload and uses inexpensive components and it has all of the reach I can use staying close to home. For varmints and small game, it is a 300 yard round. For deer, although it is not a personal choice for this application, it is good for one hundred fifty yards in Maine, which is mostly farther than the view through the trees under the best conditions.
What does the 223 Remington have to offer ?
Hornady recommends their 55 grain Superformance load for deer –
| | | | | | | |
| --- | --- | --- | --- | --- | --- | --- |
| Range – Yards | Muzzle | 100 | 200 | 300 | 400 | 500 |
| Velocity fps | 3275 | 2872 | 2503 | 2163 | 1851 | 1571 |
| Energy ft/lbs | 1310 | 1007 | 765 | 571 | 418 | 302 |
| Trajectory " | -1.5 | 1.4 | 0 | -6.9 | 21.4 | 46.1 |
And? Well, pipsqueak cartridge or not, at 150 yards it is carrying the muzzle energy of a 44 Magnum handgun deer load and without the McDonald's arches trajectory. Varmint loads can be quick and flat shooting. As an example, the Hornady 35 grain NTX Superformance varmint load has a muzzle velocity of 4000 fps and is considerably flatter shooting, about 25% flatter out to 500 yards,  than the 55 grain deer load.
Terrific rifle, vintage scope and now for some ammunition
Pulling components for handloads. I think, this time, we will go for the lightweight and varmint loads for bolt action rifles. We've already updated deer hunting loads for the 223 Remington in the handloading section. All we have to do now is squeak in some time between snow and ice storms and find a replacement for Rachael Price. She has a great voice, but the performances get monotonous, quickly. Maybe some Bonnie Raitt? A little Runaway?