I've kept most of my old game consoles. Sometimes at the end of an… interesting day, I'll break out a game featuring Sonic or Mario, play and relax. My PlaySation 4 has been accumulating dust. Generally, the football and basketball games require more knowledge than a pro player/coach to anticipate a successful outcome and battle games seem to either shoot me in the face or cut off my head shortly after the opening screen.But then there is always Ratchet & Clank.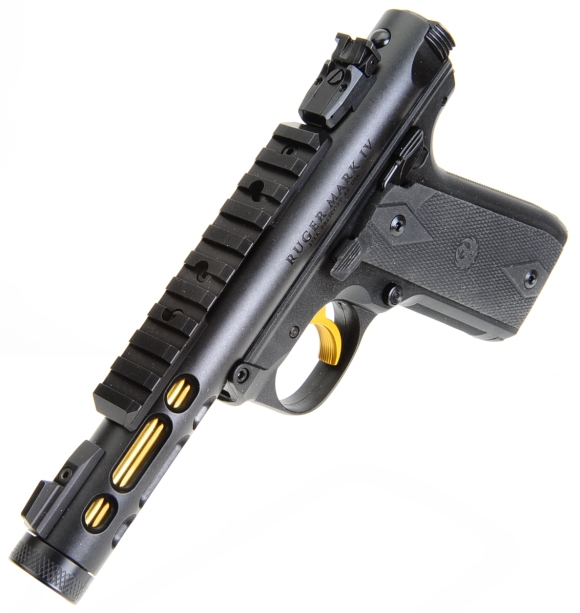 The Ruger Mark IV™ 22/45™ Lite is one of those firearms that does not need to be held in anticipation of defense of home and self, or in abeyance while awaiting hunting season. It is a solid recreational firearm for shooters of all ages of reason, that can be used in competition, used for small game hunting and varmint patrol, and for my favorite – backyard family and friend make it up as you go along shooting events. If you live in urban and suburban areas, the terms "backyard" and "shooting" may be a puzzler, but if you live in Maine, the combination of words makes a lot of sense. All others can substitute "Go to a range that offers a plinking area".
Ruger Mark IV 22/45 Lite

Company

Sturm, Ruger & Company, Inc.
Point of Manufacturer
Prescott, AZ U.S.A.
Model #
43927
Description
Mark IV 22/45 Lite

Type of Action
Auto-loader SA
Caliber
22 Long Rifle
Magazine Capacity
10
Barrel Length
4.40″
Receiver
Black Anodized Aluminum

Barrel

1/2″-28 Threaded Muzzle

Rifling Twist Rate
1:16″ RH
Receiver Material
Blued Alloy Steel
Grip Frame Material
Polymer
Frame Finish
Matte Black

Grips
Checkered Rubber

Front / Rear Sights
Fixed / Adjustable W/E
Picatinny Rail

Top

Weight of Firearm
25.0 Oz.
Overall Length
8.40″
Overall Height
5.50″
Widest Point
1.10″ at Bolt Ears

Manual Safety
Thumb – Ambidextrous
Magazine Disconnect
Yes
Loaded Chamber Indicator
No
Key Lock
No
CA/MA Approved
No / No
MSRP
$559
The Ruger 22/45 was introduced in January of 2010, the Lite version in April 2012. The product line has since evolved into various configurations and color and finish aesthetics to suit public demand. Some versions are standard catalogue, others are at the urging of Ruger Distributors that want to present a unique version. There are currently eleven versions of the 22/45.
Mark IV 22/45 pistols differ from other Mark IV pistols in a number of ways but, in the broad strokes…
The standard Mark IV 22/45 receiver, like the Mark IV, is made of steel. The Mark IV 22/45 Lite receiver is fashioned from aircraft grade aluminum, ventilated where it shrouds the barrel. All Mark IV 22/45 versions have a polymer grip frame, all Mark IV versions have an aluminum grip frame. Comparable steel receiver model to steel receiver model only differs by a bit more than an ounce. However, the aluminum receiver 22/45 Lite versions are easily a half pound lighter than any of the steel receiver versions of the Mark IV 22/45
The Mark IV 22/45 LITE has a near 1911 angled grip frame, 110° measured back from bore centerline and through the grip screws. The Mark IV grip angle is approximately 130°, approximating a Japanese Nambu or German Luger. Arguably, the 22/45 has a more natural grip angle and it helps when used for proficiency training or in when shooting similar centerfire pistols in competition.
Have we met before?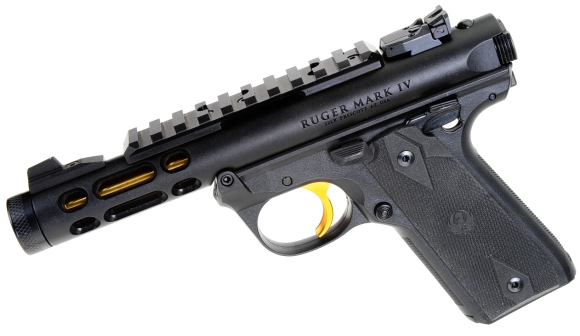 This Mark IV 22/45 is near the size of a 1911 Government Model, but within an ounce of a Lightweight Commander. The 22/45 grip angle is essentially the same as both and the balance is about the same as the Commander. The grip is a little thinner… maybe the caliber difference, maybe thinner grip panels. Even for medium hands, everything is in thumb actuation length, even the magazine release. Held in an extended hand, the sights come up pretty much in alignment.
While the thumb safety is where it should be,it pivots from the end opposite a 1911, but that difference is minor. The right wing of the ambidextrous safety is clear when safe, but hits adjacent to the knuckle of my right hand when switched to fire from a high hold. The solution to the problem is packaged in the box with the pistol in the form of a spacer. The right wing comes off and the spacer goes in under the same fastener; no more interference.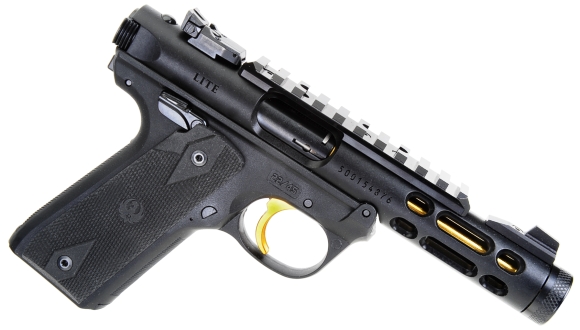 The right side is clean with the exception of the right side thumb safety wing. The barrel material is stainless steel with the gold coloring coming from a TiN coating. The trigger is anodized aluminum. The Lite is offered in a number of anodized colors and with a variety of vent hole patterns to suit personal preferences. While my sense of colors fall within RGB and on occasion extend to ROYGBIV, Ruger has gone on to hit an interesting range from sedate to what can only be described as… zippy. I suggest you visit the Ruger site and see for yourself as slate blue next to raspberry requires a visual comprehension.

The top of the 22/45 Lite shows the best of both aiming device worlds. The adjustable metallic sights are effective at any realistic 22 Long Rifle ranges… lets say out to 50 yards, and the Picatinny rail facilitate use of a multitude of electronic/optical and optical sight systems.
Like other Mark IV pistols, a push on a button on the far aft of the grip frame releases the receiver so it can pivot down at the muzzle and lift off the frame. The bolt can then be pulled from the receiver so it can be cleaned as required and the bore can be scrubbed with total impunity.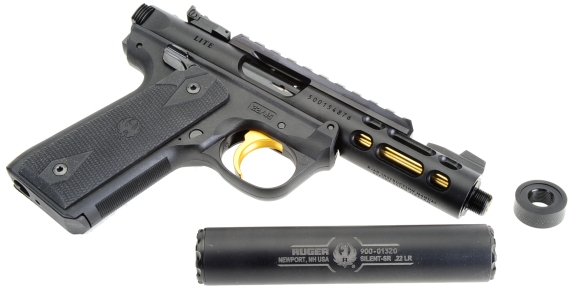 All 22/45 Lite models have a capped muzzle, but some can be removed to provide purchase for muzzle devices, like the Silent-SR… silencer pictured, others are pressed on caps that do not cover a threaded barrel. The subject pistol is threaded, as define on Ruger spec sheets and web site product presentations.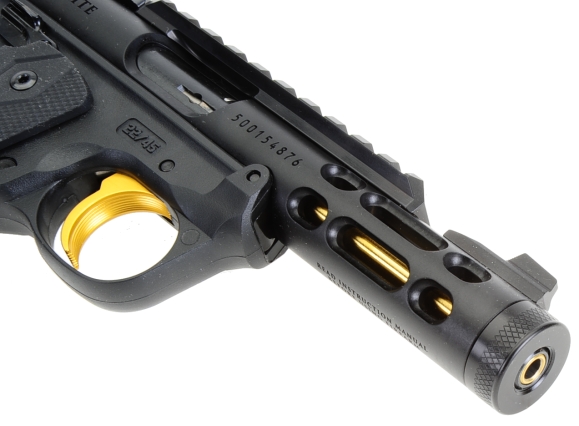 We'll take a break, round up some ammunition and some sight systems, and return when we have some objective performance data to report.