Prologue… is not a city in the Czech Republic

Behind eye popping marketing catch phrases, copy hyperbole, misappropriated initialism and acronyms, and other forms of language diversity, an excellent product can be found. Which is certainly the case… in this case. Marketing departments communicate in nifty nicknames and bullet points because it is extremely difficult to get the public's attention when the public insists on looking at the world through alternative realities.
I was following a raging comment debate on social media. I can't remember the exact platform, maybe GoogleBook or FaceTube. In any event, a group of  people pretending to be gun owners, were professing their disdain for Browning X Bolt and Winchester XPR bolt action rifles. In their words, the rifles are made in Japan which cost American jobs and we fought the Japanese in WWII so they are our enemy. Subsequently, these folks, as a collective, would rather be dipped in grape jelly and hung up adjacent to a wasp nest than buy these products.
In reality, the rifle are made in Portugal, Japan has been an unwilling, then willing, ally since 1945 and wasps are not attracted to jelly as they are carnivorous. Perhaps social media should stretch out on a couch, relax and tell Uncle Sigmund what REALLY is bothering them. Sometimes a rifle is just a rifle, and being produced at a location known for manufacturing and trade commerce since 1258 AD may actually have an upside. Winchester XPR rifles are made by Browning Viana – Fabrica De Armas E Artigos De Desporto, S.A., a $53.3 million per year business entity that employs 408 people. They have been an incorporation since 1972, busy making quality shotguns, rifles, pistols, and military small arms.
The XPR Experience or… Xprience

Winchester XPR Sporter

Manufactured

Viana, Portugal

Item #

 535709212

Type

Short Action – 60° Bolt Lift

Caliber

243 Winchester

Mag Capacity

3

Barrel   Length

22″

Rifling

Button Rifled 1:10″ Twist


Weight – Actual

6 Lbs 12 Oz


Overall Length

42″

Stock

Laser Checkered Turkish Walnut

Hardware Finish

Perma-Cote Matte Black

Length of Pull

13 3/4″

Drop at comb

1/2″

Drop at heel

1/2"

Sights

Clean

Scope

Drilled and Tapped 8-40 Fastener

Trigger – M.O.A.

Adjustable 3.5 Lbs Nominal

Safety

Thumb – 2 Position with Bolt Release

MSRP

$599.99
We've covered the XPR on Real Guns® a number of times, most recently in 7mm-08 Remington, 270 WSM and 300 Winchester Magnum. However, those were synthetic stock versions and I wanted to check the accuracy of the wood stocked version and work on some 243 Winchester handload combinations. So I guess we can begin with the personality traits common to all Winchester XPRs and point out those unique to the Sporter version.
From front to back…

For the sake of accuracy, the Winchester XPR is fitted with a chromemoly alloy steel barrel that is deep drilled, button rifled and stress relieved. The muzzle has a recessed target crown to shield it from damage and to insure uniform pressure acting on the base of a bullet as it exits. Button rifling, as a process, is well suited to mass production, but it also makes for a very uniform, burnished barrel interior. Button rifling is used in the majority of bench rest competition rifles. The barrel is threaded to the rifle's receiver with headspace controlled with a barrel nut.
The Winchester XPR receiver is CNC machined from cylindrical bar stock. Recoil stress between the rifle's action and stock is managed with a slot in the receiver that locks into a steel recoil lug glass bedded in the stock. I'd guess that is a simple system that works as something similar is used on heavy rifles chambered for the largest Rigby and Gibbs dangerous game cartridges.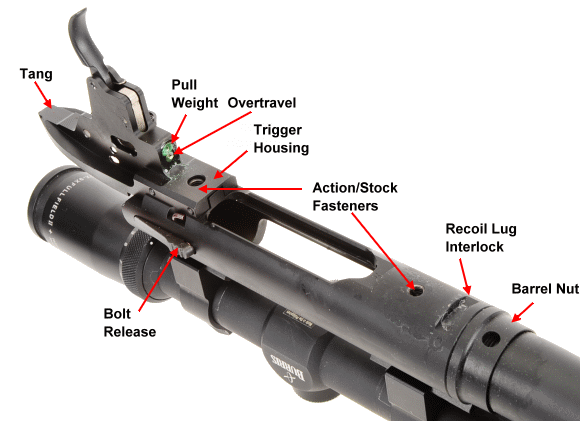 The M.O.A. Trigger housing is pinned to the receiver, forming a flat bedding surface and the receiver tang, but both action screws pass through the stock and into the body of the receiver for maximum strength. The adjustable M.O.A. high mechanical advantage, low effort trigger has no take up, creep or overtravel.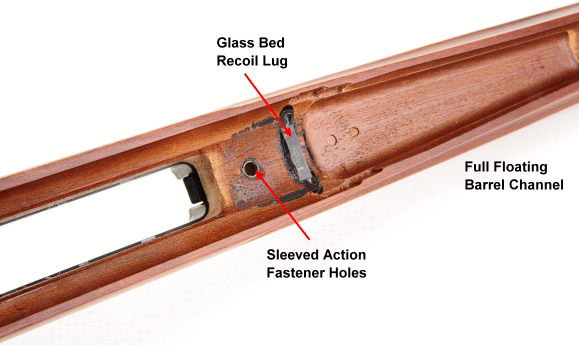 Above, sleeved fastener holes, glass bedded, wide steel recoil lug and full floated barrel, eliminate compression movement between the barreled action and Turkish walnut stock. Sealing the stock so that it won't absorb humidity and floating the barrel to prevent odd pressure points between stock and barrel. All contribute not only to consistent accuracy under all weather conditions.
Overall, the XPR has clean lines and a compact profile. I could have easily used a low ring set, but medium was more comfortable when shooting from a bench. Bolt lift is only 60° so there is plenty of clearance for large scope eyepieces. Scope base fasteners are large 8-40, something that is usually reserved for big caliber TAC rifles, but welcome on a sporter. Checkering is laser cut. Won't pass for cut checkering, but it is uniform, clean and functionally excellent.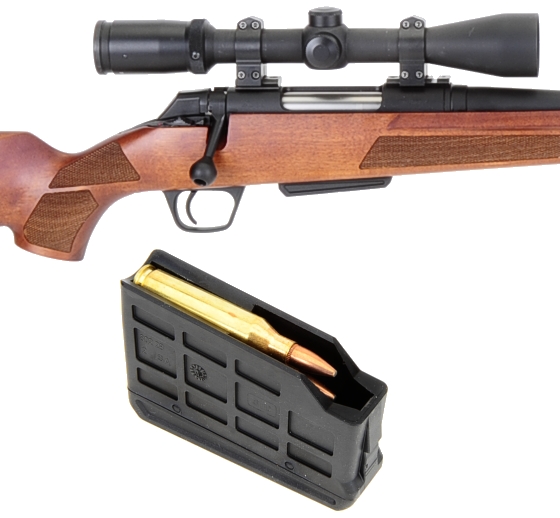 The three round, poly magazine in an inline cartridge type for center feed. Feed is smoother than a staggered magazine as the case rim is queued central to the bolt face. However, to get to a capacity of three rounds, the magazine projects down from the bottom of the rifle by approximately one-quarter inch. The trigger guard is oversize to make room for a gloved trigger finger.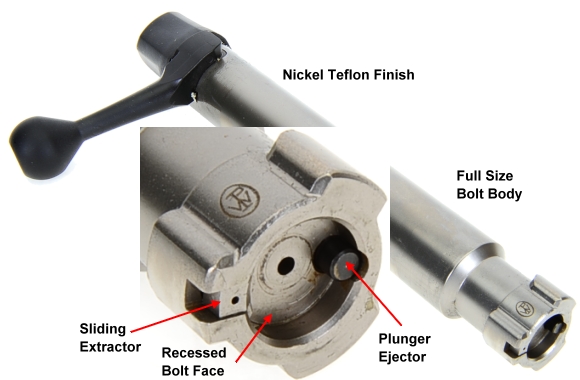 Also contributing to accuracy and smooth cycling is the XPR's full body bolt, three locking lugs and recessed bolt face. Nickel Teflon plating makes for a slick surface and it is corrosion resistant. The sliding extractor slips over case rims with minimal effort and allows single cartridge feed through the receiver's ejection port. The ejector is spring loaded to assure full ejection regardless the force applied when withdrawing the bolt.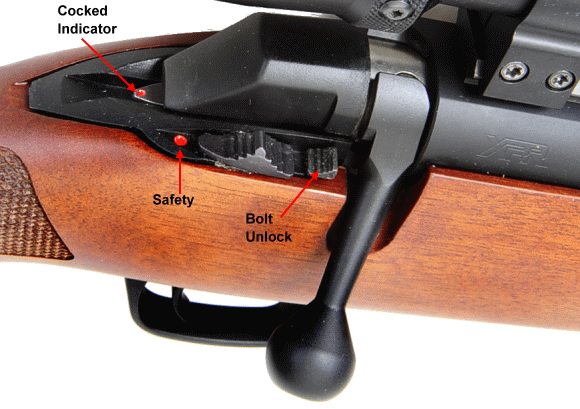 When the action is cocked, an indicator protrudes from under the bolt shroud and a red dot is exposed.  Rather than a three position safety, the XPR has a two position safety and a bolt unlock button that permits the bolt to be cycled to empty a loaded chamber without taking the rifle off of safe.
Even though the Winchester XPR Sporter weighs less than seven pounds, recoil is minimal. Still, the Inflex Technology pad sets an appropriate length of pull and non-slip contact between rifle and shooter. The pad has a great deal of lateral stability even through it absorbs recoil exceptionally well. Working with a similar set up on 270 WSM and 300 Win mag made for comfortable shooting.
Speaking of shooting…
Because the plan was to process handloads, and because we are dodging snow storms, only three types of factory ammo made it through the Winchester, as indicated below.
Ammunition

Bullet




Weight




Grains

Factory




Rated




FPS

Recorded




FPS

100 Yd




3 Shot




Group

Remington HP Rifle

80

3350

3294

0.6

Remington Express

100

2960

2937

0.5

Prvi Partizan

100

2970

2955

0.7
The Winchester XPR Sporter performed admirably. The action is slick, the feed from the detachable magazine was smooth and the stock geometry was comfortable when shooting, regardless shooting position. Accuracy with even factory ammunition was very good and very repeatable. The price is competitive, it looks good and in no way shows signs of a budget priced firearm outside of the stock. Even there it isn't quality as much as aesthetics. European stocks tend to lean toward reddish tones where classic American leans more toward neutral browns or the the color of American or black walnut. That's all I've got. I enjoyed shooting the Sporter version of the XTR and it seems and excellent Winchester product.