My wife and I are in the midst of winter colds… flu… one of those two. Ironically, we contracted the flu when my wife insisted on getting a flu shot and I had to go to the doctor's office for a wellness check. A wellness check is shorthand for the doctor looking at a computer screen and asking how you feel. In any event, during the hour spent in the waiting room, we were surrounded by people who were hacking and coughing, without restraint, sharing their gift of illness with everyone else in the room.
So my wife and I tried to find ways to entertain ourselves, to get our minds off of nose dribbling flu symptoms. I found that my flu voice allowed me to do a credible Barry White medley. My wife, apparently not entertained, thought it would be fun to convince me that I had slept for two days after taking a one hour, over-the-counter cold medication induced nap. Not cool. Sometimes work is the best cure…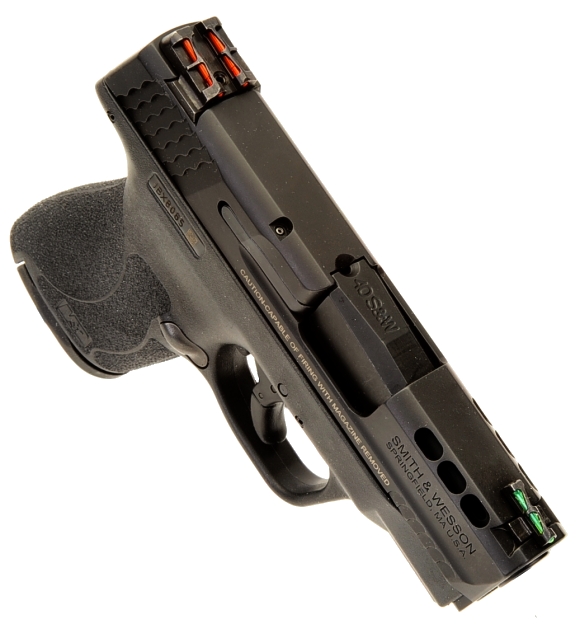 My intention is not to write a firearm review of the S&W Performance Center M&P Shield. We have previously reviewed and worked up handloads for both the 9mm Luger and 45 Auto versions of this well done compact pistol. The difference is that the 40 is, ballistically, heavier than the 9mm Luger and lighter than the 45 Auto. I wanted to see if I could work up some handloads that would fit into defensive concealed carry and trail carry for the 40 S&W. So very brief review of pistol for context and some baseline data collection before moving in to handloads.
Quick recap…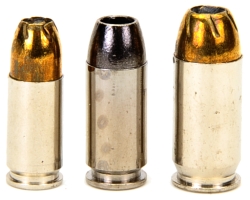 It is difficult to believe the question of 9mm Luger, 40 S&W or 45 Auto comparative lethality is still being asked. The 9mm Luger has been around since 1902, the 40 S&W since 1989 and the 45 Auto since 1905. In truth, the 9mm Luger, 40 S&W and 45 Auto have all performed admirably in a wide variety of applications. Proponents of each cartridge point to agency approval, but procurement is driven by many factors beyond lethality; unit price, serviceability, buy back pledges, training, commonality of ammunition, or even a contract to resolve a political issue.
What to do? What to do? Have faith in each cartridge's history of commercial success, pick the pistol you can shoot best and exercise care in the selection of factory or handloaded ammunition. Don't buy something just because another person recommends it as your circumstances may be completely different. The Smith and Wesson Performance Center Ported M&P Shield is available in all three chambers. We've reviewed both the 45 Auto and 9mm Luger versions, so it follows that the the subject pistol is chambered for the 40 S&W. The focus is on the pistol's ballistic performance and how that might by optimized rather than a redundant review of the hardware.
Smith and Wesson  Performance Center Ported Shield

Point of Origin

Springfield, MA

Model #

12473

11868

11867

Type of Action

Striker Fire

Caliber

45 Auto

40 S&W

9mm Luger

Magazine Capacity

6+1 / 7+1

6+1 / 7+1

7+1 / 8+1

Barrel Length "

3.3

3.1

3.1

Barrel Material

Stainless Steel

Barrel Finish

Armorenite™

Rifling Twist

1:15″

?

1:18.75″

Slide Material

Stainless

Slide Finish

Armorenite™

Frame Material

Poly – Stainless Chassis

Front Sight

Green HiViz

Rear Sight

Red HiViz

Sight Radius "

5.25

5.00

5.00

Weight Ounces

22.6

17.9

18.2

Trigger Pull Lbs/Oz

6.4

5.7

6.6

Overall Length "

6.45

6.1

6.10

Height – Standard Mag "

4.8

4.60

4.6

Safety

Thumb

Magazine Disconnect

No

Chamber Check Port

Yes

Key Lock

No

MSRP

$539
A basic rundown…
The benefits of a compact pistol are two fold, concealment and ease of carry. Other than aesthetic and mechanical design appreciation, compact handguns have nothing else to offer. Isn't concealment and ease of carry the same? Glad you asked. No, as ease of carry can also apply to open carry.
The M&P40's gripping and actuating surfaces are so good, it is difficult to let go. A high grip is comfortable and it does not squirm around in the hand. The fish scale slide surfaces make racking positive, requiring less griping pressure. HiViz sights are quick on target and effective in any practical lighting situation.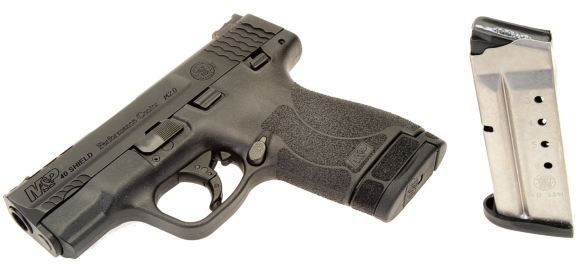 The M&P40 Shield magazines hold 6 or 7 shots. For the average civilian, I do not believe the difference is meaningful. Yes, I am sure their are extreme and unique circumstances where the one round would make a differences…. other than in a dream, but I think it makes a big difference in resulting grip length for those who want more to hold onto.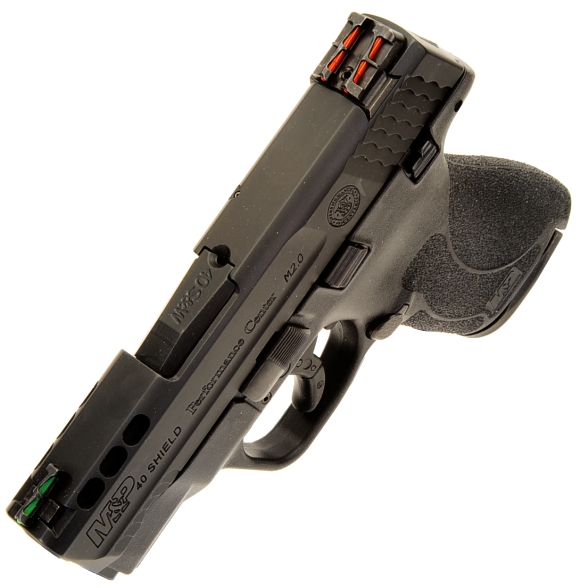 The Performance Center M&P40 2.0 contours and projections make for a clothing and holster relatively snag free firearm. Unlike its protruding eared 1911 cousins, the Smith and Wesson keeps its controls tucked in making for a narrow, streamlined form. Why ports? Some folks find a short barrel autoloader more controllable when muzzle rise is offset by exhausting bore gases.
The benefits of porting do not come without trade offs, predominately in loss of velocity which results in diminished down range performance; velocity, kinetic energy and rainbow like trajectory. If the pistol were being used for 100 yard deer hunting, or perhaps 300 yard varmint hunting, this diminished down range performance would be a concern, but defense happens at close range where the pistol's performance is more than sufficient, again, outside of made for TV movie or social media circumstances.
Ammunition

Bullet




Grains

Bullet




Type

Rated




FPS

Recorded




FPS

Barnes TAC/XPD

140

HP

1120

962

Hornady Custom

180

JHP

950

922

Remington HTP

180

JHP

1015

899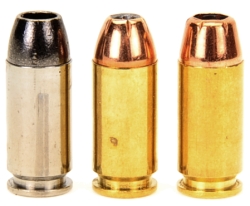 The Hornady performed much closer to factory rated fps, primarily because… Nope. I've got nothing. The test barrel standard for the 40 S&W is 4″, which Hornady used to set its standard, as did Barnes and Remington.  I also don't suppose it matters as the muzzle velocity all seems to end up nearly the same.
The Barnes tends to penetrate well and fully expand at this velocity. The Hornady tends to penetrate well, but does not expand well at this velocity. The Remington provides deep penetration and next to no expansion at this velocity. If factory ammunition was going to be used for self defense, Barnes TAC/XPD would be the selection.
Another way to look at this…
My biggest problem is that I only had time to baseline a few factory rounds before my honking cold set in. Once cold medication was required, shooting and handloading went on hold, firearms got put up and all I could do was speculate on bullet choices for self defense, home and shop, and self defense on trails handloads. Moving in that direction, the project is now to come up with 6 potentials, three defensive, three trail, that will bump the performance of the 40 S&W without exceeding standard pressure.
I'll be back shortly where I think the theme will be, "If you can't make them fast, make them heavy". Nice cleaning kit packaged with the Performance Center M&P40 Shield. Hope to put it to use shortly.