The Remington Model Seven is a truly useful product. While long barrel, match weight 6.5 Creedmoor rifles are terrific for 1,000 yard competition and downing pronghorn at similar distances, most Americans do not have access to or frequent long range shooting facilities or hunt the country's Western plains states. No, we drive to mostly hundred yard shooting ranges and hunt deer at a similar distance, maybe stretching that out to 200 yards. So in the first demographic of a buyers' market resides a dozen guys and in the second demographic is everyone else. If you were a manufacturer, which demographic would you gear up to serve?
Compact and lightweight…
Remington Model Seven SS HS Precision


Manufactured

Ilion, NY


Brand

Remington

Model

85971

Type

Bolt Action 90° Lift


Caliber

6.5 Creedmoor


Capacity

4+1

Barrel Length

20.00″ 416 Stainless Steel


Rifling

1:8″


Nominal Weight

6.5 lbs

Overall Length

39.25″


Stock

HS Precision Composite


Hardware

Satin Finish Stainless


Length of Pull

13 3/8″


Drop at comb

1 1/4″


Drop at heel

1 1/2″

Sights

None

Scope Mount

Receiver Drilled & Tapped


Trigger Pull

3.0 – 5.0 Adjustable


Safety

Two Position Thumb + Passive

MSRP

$1,149

The Model Seven has been in production since 1983, however, the Seven utilizes the smallest of Remington's actions. Introduced in 1963 as the core of the Remington XP-100 bolt action pistol, the pistol remained in production for thirty-five years, earning a solid reputation for accuracy and reliability.
The Model Seven action, in comparison to the Model 700 short action, weighs one half pound less; 6 lbs 11 oz vs. 6 lbs 3 oz.. The receiver ring, bolt body and lug diameters are the same. The Seven action measures 5.25″ long, one half inch shorter than the Model 700 short action and the Seven's bolt stroke is 4.50″ compared to the Model 700 bolt short action's 5.00″. Scope base fastener threads are 8-40, barrel shank threads for those who can't leave well enough alone are 1.062″ x 16 tpi, the same as the Model 700.
I've owned several Model Sevens over the years, as well as Model 700's. In 223 Remington, 260 Remington, 7mm-08 Remington, and 308 Winchester they proved to be easy to haul around and they've held up well to serious snow and rain and temperatures extremes from -25°F to 90°F. A brief look at the Remington Model Seven…
A real deal composite stock…
For me, a composite stock begins with a CNC machined bedding block that is matched to a specific barreled action. When the stock is manufactured, the bedding block is inserted in a mold and hand laminated with Kevlar, fiberglass and carbon fiber. The mold is then injected with high density polyurethane foam before it is hand finished to final form and aesthetics…. flat black with spruce-green spiderweb. Not an inexpensive endeavor. This is the type of premium composite stock on this HS Precision version of the Model Seven. The contribution made by the stock is to provide a very stable connection between the stock and barreled action for shot to shot precision and the stock's material is very stable across a range of extreme weather conditions. And what is with the raised spider-webbing? They provide a very effective non-slip surface. It all goes well with the all stainless steel barreled action.
Below, the rifle and stock were cut up to illustrate further detail. No, not really. Remington Model Sevens always had a speed bump at the forend to create a uniform and predictable pressure point. The HS Precision version is no different with a small insert just aft of the sling swivel mount position.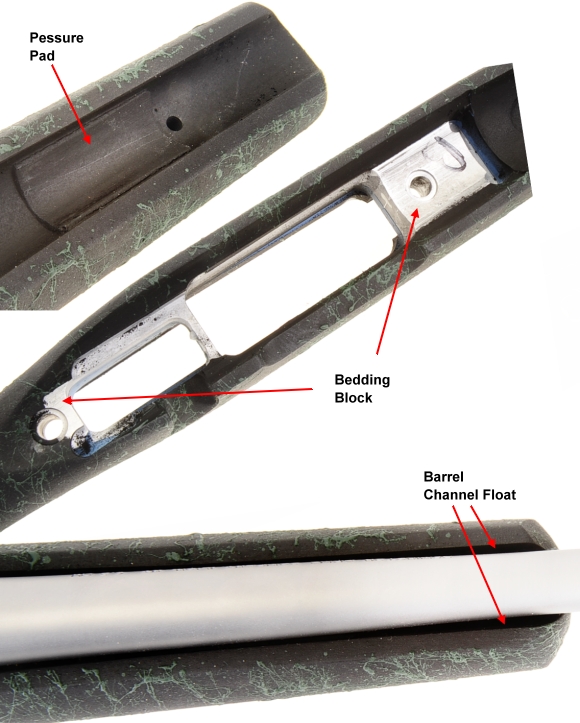 Center above, a portion of the bedding block is visible through the stock. Immediately ahead of the block is a well in the stock that retains the actions recoil lug, the heavy tab sandwiched between the barrel and receiver. Other than at the earlier noted pressure pad, the barrel floats in the stock's barrel channel.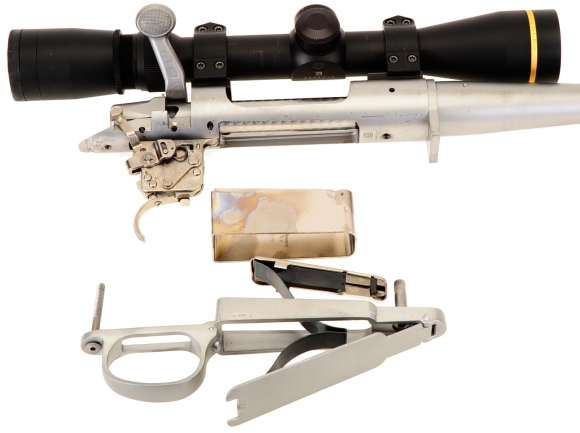 A good combination of appropriate materials: 416R stainless steel barreled action, nickel-plated steel magazine box, stamped stainless steel follower, steel spring, aluminum trigger guard and hinged floor plate to reduce weight.  Everything bottom side is flush fit to the stock. This type of assembly is used on all Model Seven rifle with the color of the bottom metal either black or silver to match a stainless steel or alloy steel barreled action.
The hinged floorplate permits unloading a full magazine without cycling its bolt and eliminates the downward protrusion of a detachable magazine. Yes, the capacity is set at 4+1 and some detachable magazines offer more, but I would suggest that this Model Seven is slated for a self defense, security applications so the four should be sufficient. The floorplate release button is located high on the front of the trigger guard.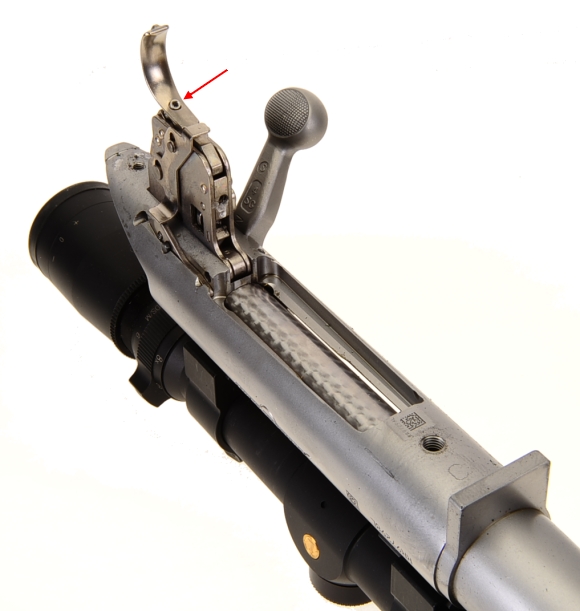 The Model Seven has the excellent Remington X-Mark Pro, externally adjustable (arrow) trigger; 3 lbs to 5 lbs. Longitudinal movement of the the stock relative to the action is checked by the action fasteners that pass through the HS Precision stock's bedding block pass and recess that secures the recoil lug.
The Remington Model Seven and all other Model 700 derivative actions have a two lug bolt and 90° lift. Some may find it surprising that the twin lugs have the same lug seat surface area contact as a Browning three lug firearm; each of the twin lugs are larger than each of the three lugs. The Remington has its three rings of steel cartridge case head support. In battery, the nose of the bolt fits into a matching groove in the rifle's barrel shank and the barrel shank is supported by the forward receiver ring.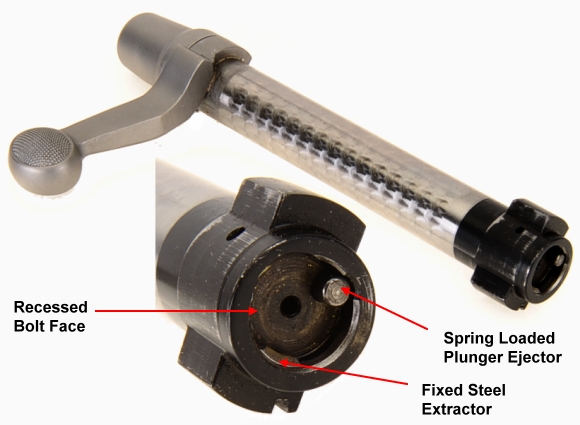 The Remington Model Seven utilizes a spring load plunger ejector that pops empties out and clear of the receiver, regardless effort used to open the bolt. Force of ejection from blade ejector firearms is dependent on speed of bolt opening by the shooter. As a frequent handloader, I like blade ejection so I don't have to chance brass. Hunting, a spring loaded plunger ejector assures a clean ejection under any circumstance.
The 6.5 Creedmoor
Far left, 260 Remington next to a 6.5 Creedmoor. There are a number of good 6.5mm cartridges, however, some seem to cycle in popularity from highly desirable to near obsolescence and back, mostly driven by how many types and brands of firearms are chambered for them at any given point in time. The 6.5×55 Swedish Mauser and 264 Winchester Magnum are examples of this category.The newish 6.5 PRC has not been around long enough to gauge its longevity outside of competitive shooting. In any event, those tend to have too much case capacity for the 6.5mm bore in concert with a relatively short barrel rifle, which leads us to the 260 Remington and 6.5 Creedmoor as consistently present in shooting sports.
There are seven configurations of the Model Seven, five are chambered for a 6.5mm cartridge; four for the 260 Remington and one for the 6.5 Creedmoor, with the latter being the subject rifle. Why is the Remington Model Seven chambered for the 6.5 Creedmoor and not just the 260 Remington?
Case powder capacity is within a grain of one another; the 260 Remington is a 60,000 PSI cartridge, the 6.5 Creedmoor 62,000 PSI. The Creedmoor case is 0.115″ shorter, which increases net bore length with common barrel lengths. The 260 Remington has 40° shoulders, the Creedmoor 60° and less case taper, the 260 Remington has an overall length of 2.800″, the 6.5 Creedmoor 2.825″. The Creedmoor's squat case and long overall length results in longer, heavier weight bullets not deep seating and taking powder capacity.
If there is some sunshine behind the 6.5 Creedmoor as a more general purpose hunting cartridge, it is coming from the round's popularity in competition and the endless coverage it receives from industry press. Why is that an advantage? The 260 Remington has been in production twenty three years and there eight manufacturers producing a combined eighteen types of ammunition, with one dedicated to target work. Eleven brands combine to produce fifty types of 6.5 Creedmoor ammunition with eleven dedicated match ammunition. At this moment, there are many more choices for the 6.5 Creedmoor hunter. The 6.5 Creedmoor has been in production for eleven years.
Where to?
We'll move on to some live fire data collection, both factory and handloaded ammo, to see how the combination comes together. I'm particularly interest in how the more shallow seating of heavy/longer bullets plays out and how much accuracy comes with the HS Precision stock / 20″ barrel combination. Part II will be wrapped up shortly.