I've been listening to Iris DeMent… something about her voice and honest presence I really enjoy. Songs like "Let The Mystery Be" or a "In Spite Of Ourselves" duet with John Prine reminds me of the 60s. The 60s are popularly labeled as a time of political chaos and a country in turmoil. I don't remember that. Seemed more like a time with good friends, in school, in the military, at work. My wife and I were blessed with a wonderful family. I remember a national press that tried to otherwise define life in America with cameras always and only turned on the dregs of society, captioned as "Mainstream America".
Much of the time I keep the TV turned off and read what informs and entertains. Books, fact and fiction, written by authors who have mastered an understanding of human nature and often what constitutes humor. The men delivering TV news look… prissy. Too slick, too manikin like to be real people. The women of the news dress as though they are attending a cocktail party, brunettes or blondes dependent upon the network. Both genders reading the news as written by agenda driven sources, both fabricating a narrative based solely on a contentious component of society.
Personally, I find my life in America to be good, as it always has been, through years of abundance, through years of tough times. They were all years of opportunity, some where I could find the key to success, others where I could not. None were spent waiting for others to define them. Right now, I want to write about firearms…
The schedule has been a few months of ill mannered, shoulder pounding, ear blasting long range magnums, so I am ready for a segue into some rimfire recreational target shooting with a rifle that is accurate enough to challenge a shooter out to a hundred yards if there is enough still air.
Ruger American Rimfire Target


Manufacturer
Sturm, Ruger & Co., Inc.

Point of Origin
Mayodan, NC

Model Number

8366
Type Action
Bolt Action

Caliber
22 LR
Magazine Capacity
10
Barrel Length
18″ Fluted

Twist
 1:16″ RH 6 Groove

Receiver Material
416 Stainless Steel

Barrel Material
416 Stainless Steel

Muzzle Threads

1/2-28

Scope Mount
Picatinny Rail

Stock
Black Laminate Thumbhole

Pull Length
13.25″ – 13.75″

Overall Length
37.0"
Weight
6.7 Lbs
Safety
Tang
MSRP
$579
The Ruger American Rimfire Target is a solid example of a quality rimfire. Available in 17 HMR, 22 LR and 22 WMR, in both alloy steel or stainless steel versions, with a choice of thumbhole and non thumbhole, black laminated target stocks.
A U.K. conspiracy?
Regardless multiple visits to the U.K., I am still the guy who opens the right side door and is surprised to see a steering wheel. It is only attempting to avoid an awkward conclusion that has, more often than not, led me to being the self assigned driver in a traveling group. Fortunately, with a cheek piece on both sides of the American Rimfire Target's stock I was confronted with no such forced decisions.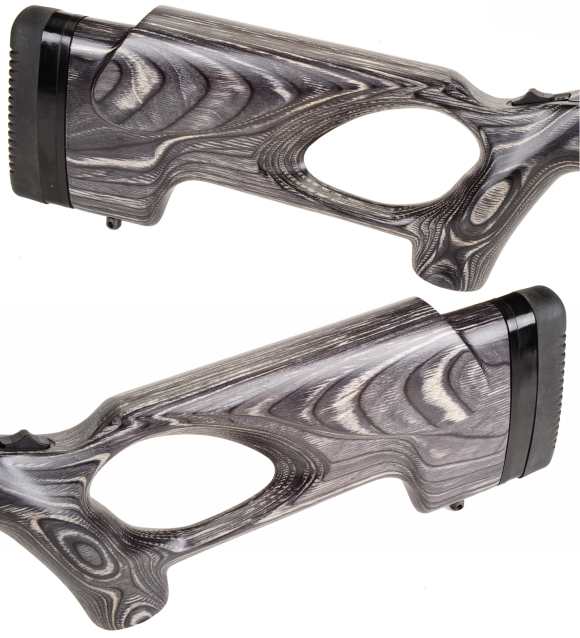 Ruger has considered multiple shooting perspectives when making their stock selection. The ambidextrous cheek piece and grip is beneficial to left handed shooters, right handed shooters who obsess over grip shift and some forms of competitive shooting where weak side shooting around, over or under a barrier is an integral component. For guys who still view the 1959 AR-15 as a newfangled contraption, and believe that left handed firearms are for communists or democrats, the Ruger American Rimfire Target thumbhole stock provides a high comb for comfortable optical sight use. The stock has excellent geometry, 1/2″ and 1/4″ spacers to adjust length of pull and a flat underside for a hand filling, without death gripping hold.

The bottom side of the stock is flush, including the inserted 10 shot rotary magazine. The only protuberance is the extended magazine release. The stock narrows a bit in profile forward of resting/gripping surfaces. Side vents aid cooling during extended shooting sessions. Swivel / bipod mounting studs are in place as shipped from the factory. The grip has slight palm swells on both sides, which proved to be comfortable and steadying. For folks who prefer extended magazine capacity, the Ruger American Rimfire Target is compatible with all Ruger 10/22 BX type magazines.
The Ruger Rimfire Target rifle utilizes the Ruger patented Power Bedding® integral bedding system. The barreled action is keyed to the bedding blocks in the stock and secured with two fasteners. The 0.860″ bull barrel floats in the forearm for greater shot to shot precision. The muzzle has a 1/2″x28 thread to facilitate the use of muzzle devices like the Ruger Silent-SR sound suppressor.  The Ruger Marksman trigger has a very clean pull and is pull adjustable between 3 and 5 lbs. The subject rifle was received with a 4 lb 2 oz pull from the factory.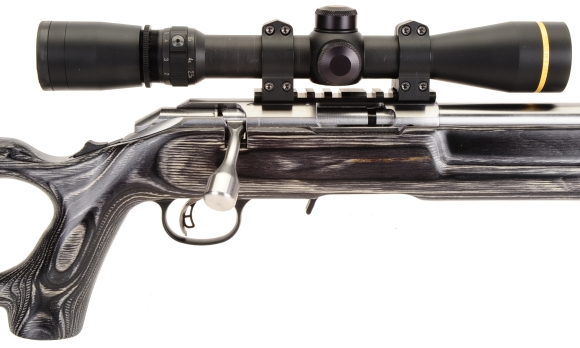 The American Rimfire Target rifle includes a Picatinny rail which makes scope and ring installation and swapping an easy task. A tang safety is on a great place to allow actuation without grip shifting. Bolt lift is 60° which provides scope eyepiece clearance. The Marksman trigger is a good one in terms of feel and pull with nothing lost to the inclusion of a trigger safety.
Finally getting around to live fire…
Actually, that is not a truthful statement. It's just that I was having fun shooting and distracted from clocking bullets with the chronograph or measuring group sizes. Only two types of ammo were used, Federal Champion and Remington Golden Bullets, primarily because they are common rounds and reliable performers.
Ammunition

Bullet




Grains

Rated




MV




FPS

Actual




MV




FPS

100 Yard




5 Shot




Group "

Federal Champion
36
1280
1240
1.4
Remington Golden Bullet

40
1255
1263
1.5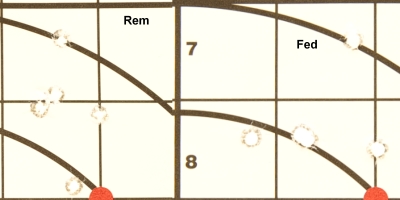 In all fairness to the Ruger, 100 yard groups were shot on a typical Maine day, gusting winds, and from a front rest only. So I would conclude by saying the Ruger American Rimfire Target was able to easily produce 1.5″ and under 5 shot groups at 100 yards, warm or cold barrel and with common recreational ammo. A little ammo juggling, a little better shooting conditions and a more seriously settled in shooting effort would produce better. It was interesting that both ammo types despite bullet weight differences shot to approximately the same point of impact.
Closing comments…
Setting aside the issue of thumbhole, no thumbhole, this is my favorite version of the Ruger American Rimfire. Why? Let me think about that for a moment… I can see spending time, popping varmints and advancing the two person challenge series my wife and I often stage on the weekends. The fit and finish of barreled action and stock, the adult size bolt handle makes the American Rimfire Target feel more like a centerfire than a rimfire rifle. What about the .17 HMR or 22 Mag versions. I am sure they are excellent for folks who favor those cartridges and have the applications. For me, the 22 LR is the least expensive cartridge, capable of solid performance which is followed by a small centerfire cartridge when it is time to move up. Nice job on Ruger's part. A good contribution to rimfire enthusiasts. Niffty rifle.