The Ruger Precision Rifle has appears on Real Guns on numerous occasions, prompted by introduction, enhancement or expanded list of calibers. Each can be located by entering Precision Rifle in the article search box on the Real Guns home page. What follows is more of a summary of what it is, why it is and what the 300 PRC brings to the party.

The reach of a rifle's bullet determines its stock geometry. The 30-30 WCF gets a buttstock with a comb to heel angle that resemble a downward  ski slope, but with the rifle pulled to the shoulder in a standing shooting position, the eye falls into alignment with the rifle's metallic sights. The intention of the design was to have a short range repeater for the woodland hunter of the late 1800's to the early 1900's. The application is the same, the cartridge rainbow trajectory is the same so forma, sequitur munus.

A bolt action carbine that will be shot close in, and mostly through metallic sights with the option of a scope, gets a higher comb, but a lower heel. In my experience, the hogback comb takes a lot of the starch out of hard kicking rifles. Pull the trigger on 416 Rigby with a hogback stock and a significant portion of the recoil is converted to dramatic muzzle climb rather than straight back to the shooter's shoulder. Additionally, the higher comb works well with low mounted scopes with 24mm objective lens. Predominately, this type of rifle is used for short range hunting in a setting not all that different from the lever action rifle's intent. Some people put scopes in them and live with an uncomfortable shooting position just because they look so damn good.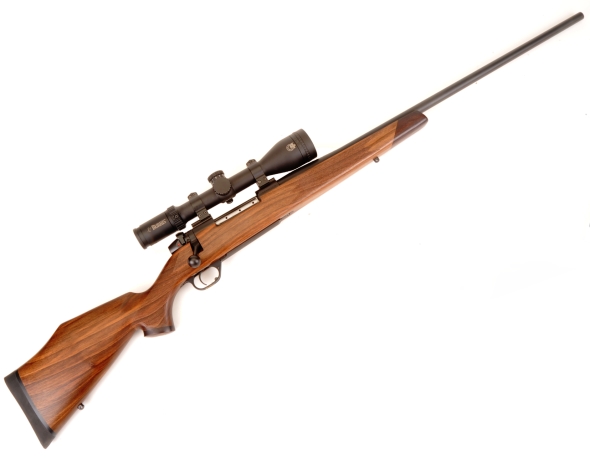 When the cartridges shoot flatter, and the scopes get greater magnification and large tubes and objectives, the comb gets higher to get eye to optical centerline alignment, looking a bit like this 270 Weatherby Magnum, which about maxes out comb heights on a long range sporting rifle. I've done my time with Weatherby rifles, owning and shooting everything from the 240 Weatherby to 416 Weatherby Magnums, until I found that deer were not impressed by either roaring muzzle blast or me getting bounced around at the back end of a recoil pad. I still think it is a beautiful firearm.

The Ruger Precision Rifle is of the tube rifle variety and a perfect illustration of what a firearm should look like when dedicated to long range shooting between 300 and 1,200 yards. Everything is aligned to bore centerline from the shooter's shoulder to the tip of the muzzle brake. Not a chassis rifle, the receiver is the center to the structural universe with buttstock mounted to the aft end of the receiver, barrel and floating handguard mounted to the front of the receiver. A housing beneath the receiver mounts the grip and safety selector and retains the magazine .
I'm getting ahead of myself, so one month earlier…
I wish there were special purpose rifles like the Ruger Precision Rifle when I first developed an interest in firearms. Back then, it was mostly a repetitive cycle of charging the barrel from a powder horn, ramming a patched ball home, priming the flash pan… Accuracy levels assured no broadside of any barn was safe, however, deer, bear and rabbit? Well, that's another story..
Sometime later, when new fancy lad smokeless powder arrived, accuracy of factory rifles dramatically improved until 2″ group at 100 yards was considered respectable. A tuned rifle that could sometime halve that number was considered a highly sought after prize. Progress marched onward.
With new materials technology, new processes and much greater accuracy in casting and machining, some production rifles attained a level of accuracy that was once reserved only for custom target rifles and lots of shooters wore the label of "marksman".
As firearms became more accurate, competitive event organizers began moving the metaphorical goal post, pushing a 5″ X ring out to 1,000 yards. A flurry of activity ensued around precision rifle design, firearms with the sole purpose of hitting tiny target at ridiculous distances, brinring with it a redefining of the term "marksman".
Where a decade ago, hitting a seven hundred pound elk at 300 yards was considered a supreme accomplishment, these days, young children under the supervision of an adult are hitting 8″ gongs at 1,000 yards. One of the most successful factory rifles employed by long range shooters is Ruger's Precision Rifle.
The Ruger Precision Rifle has been with us since July of 2015. Purpose built for long range shooting, every part of its design serves that function, including the cartridge selection. The 300 PRC, the subject rifle,  and the 6.5 PRC are the latest additions.
Ruger Precision Rifle


Manufactured
Newport, NH

Brand
Ruger
Model
18083
Type
Bolt Action 70° Lift

Caliber
300 PRC

Capacity
5
Barrel Length
26.00″

Rifling
1:9″ 5R

Nominal Weight
15.2 lbs
Overall Length
49.0″ to 52.5″

Stock
Folding MSR

Hardware
Hard Anodized / Black Oxide

Length of Pull
12.7″ – 16.2″

Comb Height

+ 0.5″ – +1.25″ Bore ℄

Heel Height

+ 0.5″ Bore ℄

Sights
None

Scope Mount

30 MOA Picatinny Rail
Trigger Pull
2.25 Lbs – 5.0 Lbs Adjustable

Safety
Ambidextrous – Rotating
MSRP

$2099
Originally introduced in 243 Winchester, 6.5 Creedmoor and 308 Winchester, the Ruger Precision Rifle is currently available in, below left to right,  6mm Creedmoor, 6.5 Creedmoor, 6.5 PRC, 308 Winchester, 300 Winchester Magnum, 300 PRC, and 338 Lapua. The 6mm Creedmoor has displaced the 243 Winchester. They are all good long range cartridge, but their effectiveness and practical range increase as they move up the caliber scale.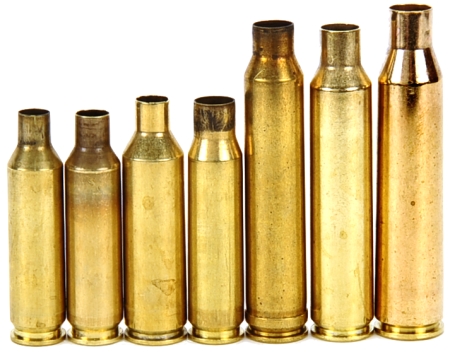 So why the pipsqueak and why the cannon? Long range shooting events span ranges between 300 yards and 1,200 yards, shorter if you live in Rhode Island, longer if you live in Texas. Yes, I did just make that up… the Rhode Island, Texas part. No different than selecting a firearm for hunting, what is needed is enough cartridge and no more. Lighter cartridges have less recoil and bark and they are not as wearing on the hardware. Heavy calibers push heavy for bore, high ballistic coefficient, high density bullets that hang onto velocity. Subsequent reduced time in flight diminished the effects of gravity over a course, as well as the effects of crosswind.
Ruger Precision Rifle Overview
The removable Picatinny rail is either 20 MOA or 30 MOA, dependent on caliber. The 300 PRC get the 30 MOA version. The rail is secured with oversize #8-40 screws to insure the rail stays put with even large and heavy scopes. The barreled action is not bedded to a chassis. It is supported at the buttstock and at the full floating handguard. Forces on firing are along the longitudinal axis of the rifle's bore.
The center of the universe for the Ruger Precision Rifle is its receiver. Both it and the rifle's one piece bolt are precision machined from pre-hardened 4140 chrome-moly steel. The pre-hardened steel minimized distortion caused by post machining heat treatment. The Ruger Marksman Trigger is externally adjustable within a 2.25 to 5.0 pound pull range. It remains afixed to the receiver when the lower halves are removed.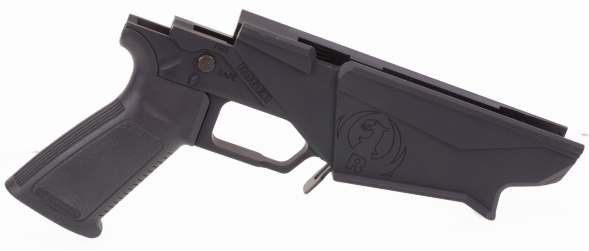 The magazine well contains, surprise, surprise a magazine, but also an ambidextrous safety selector. It is made from aerospace grade 7075-T6 aluminum and Type III hard anodized hard coated. The rifle is supplied with two 5 round magazines which are AICS system compatible.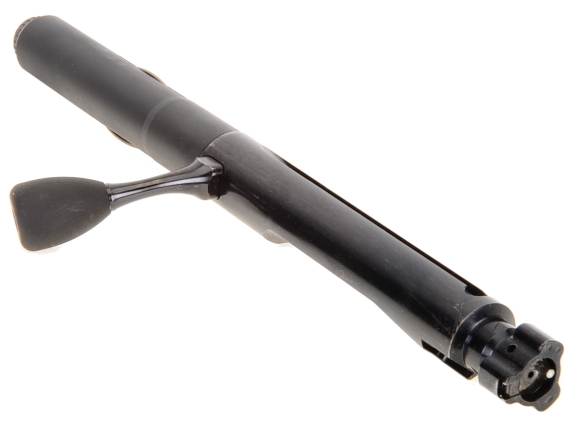 The bolt is a full body three lug with a 70° life with a recessed face to contain a cartridges case head. The ejector is a plunger type, the extractor is a sliding claw type. The oversize bolt knob is secured with a 5/16″-24 thread so the bolt handle is open to creative termination.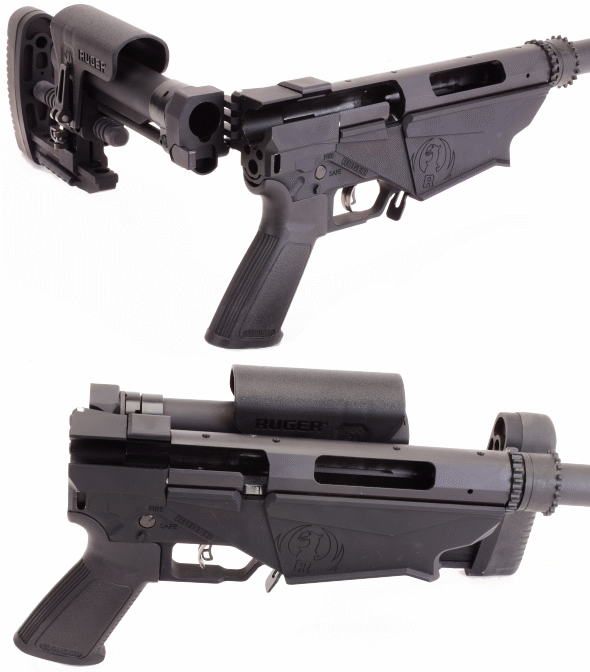 Folding the stock to facilitate transport or to pull the bolt is easy; pull mag, chamber check empty, close bolt, safety on, press stock release button and the stock folds left. The hinge design is unique enough to literally warrant patents. The hinge assembly is heavily champed to the rifle's receiver. The mount clamping fasteners pass through two slots cut into the receiver which prevents the stock from rotating or moving fore and aft. The receiver is pre hardened 4140 chrome moly steel and the mount is very thick walled aircraft grade aluminum.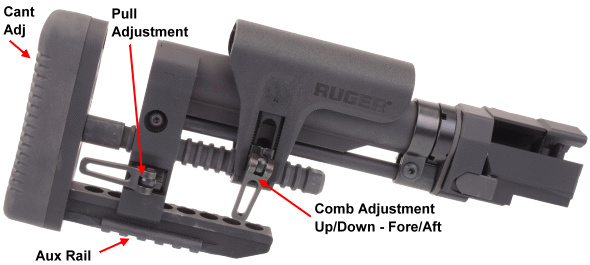 Pull and comb height and position are adjustable by lifting up on the quick release cams and sliding to position of preference. No, "Cant Adj" is not the same as "Can't Adj". The pad is recoil absorbing dampening and it can be canted, rotated, left or right 9º. All of the camming latches and QD attachment points can be swapped to the opposite side to suit preference. We are all different shapes and sizes. Having a rifle that conforms to the individual is a big step in helping a person to shoot their best.
The heavy contour barrel is 0.875″ in diameter and 26″ long. The 4140 alloy steel barrel has hammer forged 5R rifling to minimize bullet distortion as a contribution to the rifle's accuracy. Additionally, bore and groove, chamber and headspace are minimum specification. The barrel is secured with a conventional barrel nut, making barrel change and replacement straight forward.
The Ruger Precision® Rifle Magnum Muzzle Brake is effective in reducing recoil and muzzle jump and it is tunable by position and ports. The 18″ aluminum floating handguard accepts M-Lok compatible accessories.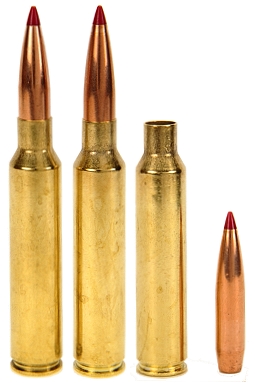 The 300 PRC Cartridge…
Pictured left to right, Hornady PRC 212 Grain ELD-X Precision Hunter, Hornady 300 PRC 225 Grain ELD Match, disassembled Match.
The 300 PRC is essentially a necked down version of the 375 Ruger, its capacity about midway between the 300 Winchester Magnum and the 300 Weatherby Magnum. As a non-belted cartridge, it is reported to provide better chamber alignment and it is easier to feed from a magazine. Where belted magnums headspace on their belt, the PRC headspaces on it 30° shoulder.
The only rub is that where the 3.340″ COL 375 Ruger in factory form and in wildcat versions fits into a 30-06 length action, the 3.700″ COL 300 PRC does not. In fact, the 300 PRC is a full 0.100″ longer than a full length magnum like the 375 H&H or 300 Weatherby. Both the 375 Ruger and 300 PRC cases are the same length at 3.580″, so the difference is on the long, heavy .30 caliber projectiles that are optimal for long range shooting. Not a problem in any way for the Ruger Precision Rifle which has more than enough, but it puts a damper on my plans for a 6 1/2 lb hunting rifle, built on a standard length action.
Didn't e just market away Ultra Magnums and full length belted magnums and replace them with stubby undernourished… magnums? We kind of all agreed that a short case allowed a long bullet that did not intrude into the case and diminish its powder capacity. Isn't that the Creedmoor mantra? You bet. So what the heck are we doing with an extra long cartridge now?
The purpose of a large capacity case, in comparison to a more modest capacity counterpart, is to push light and middle weight bullets much faster, or to push very heavy for bore bullets at a respectably high velocity.
The 300 PRC offers the best of both worlds. A high capacity case and a case length / cartridge overall length that permits the use of long heavy bullets without having them inordinately displace powder capacity. And that is what it takes to seriously participate at 1,000 to 1,200 yard events or hunt mountain goat without actually having to climb mountains. No, not a serious comment.
Other relatively high capacity .30 caliber cartridges, in order of capacity: 300 WSM 81 grains, 300 Win Mag 92 grains, 300 PRC 99 grains, 300 Weatherby 110 grains, 300 Ultra Mag 112 grains.
How did it work out in real time?
Cartridge

Bullet




Weight




Grains

Rated




Velocity




FPS*

Recorded




Velocity




FPS

100 Yard




3 Shot




Group "

Hornady 300 PRC Match

225

2810

2847

0.3

Hornady 300 PRC Precision Hunter

212

2860

2897

0.5

* Hornady test barrel 24″. Recorded 26″ Ruger Precision barrel.
The Ruger Precision Rifle is a comfortable rifle to shoot from a range bench. Honestly, both recoil and report were milder than I anticipated. I would attribute much of this to the rifle's weight, as well as the very effective muzzle brake. Accuracy was impressive. Perhaps not by competitive, competitive shooter's standards, but certainly for me. The big Ruger accumulated shots fired without complaint and without hiccup. Definitely a rifle and cartridge combination that encourages spending time at the range.
After a couple of range days, the rifle showed no signs of wear, it cleaned up easily and left me wondering what in the world I could add that wasn't already a part of the rifle as shipped. I realize range work was the primary focus for the rifle and cartridge combination, but the thought of 1,000 yard deer, elk or pronghorn is enough to make me leave wooded Maine for the opportunity.