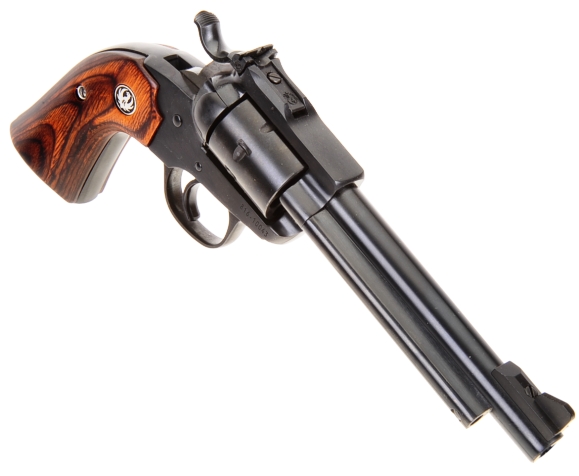 I realize there are several companies that manufacture single action revolvers, but none as well as Ruger. Not in quantity, not in quality and not with so much diversity of models. In addition to a multitude of catalogued firearms, Ruger, also produces a large number of firearms that are sold exclusively through select Ruger distributors. In this case, the Ruger Single-Seven products are exclusively available from Ruger's distributor, Lipsey's.
Ruger's Single-Seven products are further examples of what contributes to the continued popularity of single action revolvers and why Ruger is the leading producer. The Single-Seven, built on the same compact frame as the Single Six and is available in six distinctive configurations as detailed on the table that follows.
Ruger Single-Seven Bisley – Lipsey's Exclusive



Model#

8164(Subject)


 8160

8161

8162

8163

8165

Manufactured


Newport, NH

Caliber

327 Federal Magnum

Capacity – Rounds


7

Barrel Length "


5.50

 5.50

 4.62

 7.50

 3.75

 4.62

Rifling

1:16″ RH  6 Groove

Construction

Alloy Steel

 SS

 SS

 SS

 SS

 Alloy Steel


Finish

Blued


 Stainless

 Stainless

 Stainless

 Stainless

 Blued

Grip Frame


Bisley

Standard

 Standard

 Standard


 Birdshead

 Standard

Grips

Hardwood


Hardwood

Hardwood

Hardwood

Laminate

Micarta


Overall Length"

11.0

 11.0

 10.25

 13.0

 9.75

 10.25

Weight Oz

39

 36


 34

 38

 32

 34

Rear Sight

Adjustable


 Adjustable

 Adjustable

 Adjustable

 Integral

 Adjustable

Front Sight

Ramp


 Ramp

 Ramp

 Ramp

 Blade

 Ramp

Lipsey's Retail


$709

 $652

$ 652

 $652

 $652

 $629
In general, I am not a single action revolver kind of guy. Could be the extra coordination and dexterity required for proficiency but, more than likely, it is the traditional plow handle grip I find difficult to master. I am probably the exception, because virtually every cowboy action shooter can, and Elmer Keith could, pop rabbits while shooting off hand at 300 yards. Elmer Keith shooting, not the rabbits.
Yes, I do realize the plow handle grip is supposed to roll in my hand under recoil, but you say that as though it is a good thing. No, I like to keep my gun's front sight down in the event I want to squeeze off another shot and I do want my entire arm and shoulder dampening recoil and my gun hand wrist doing something other unscrewing itself. Subsequently, my preferred big bore and small bore single action revolvers have Bisley grip frames which allow me to comfortably shoot even heavily handloaded 45 Colt, 454 Casull and 480 Ruger chambered revolvers with accuracy.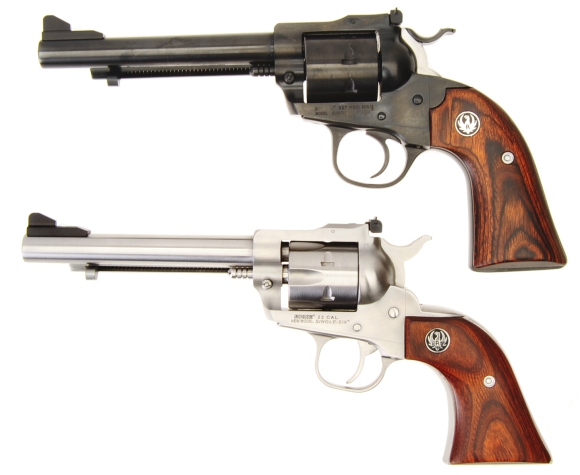 Above – Bisley grip top, plow handle lower. Notice the Bisley grip's reduced bottom flair and straightened front and back strap. The hammer thumb piece sits lower for an easier reach for one hand cocking. Not a surprise that the Ruger Single Seven Bisley does well in the accuracy department, as the style of grip appeared on the 1894 Colt Special Target Revolver. The pistol was later renamed in honor of its showing at England's target matches, held at Bisley Common 1). 
While I appreciate the Colt history and the grip style, for me the grip shape is of much greater consequence when affixed to a modern Ruger. In the case of the Single Seven, grasping the Ruger in a one or two hand hold and pointing outward, the sights naturally come up level, the grip is secure and thumbing the hammer take little exertion or shift in the gripping hand.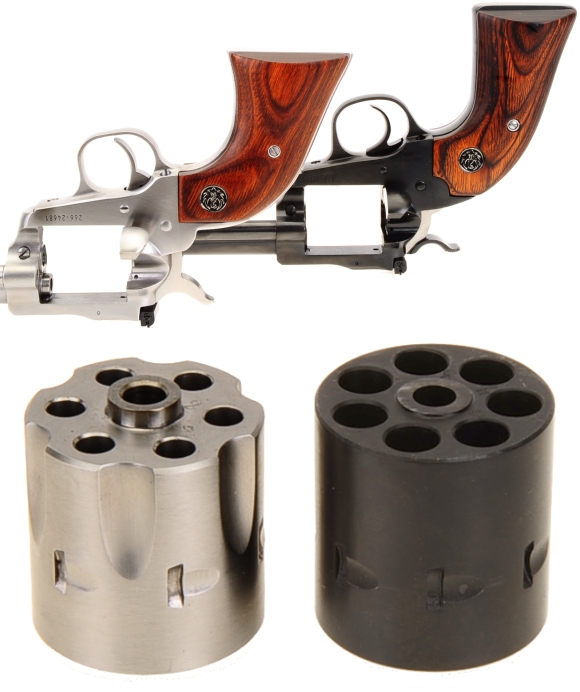 All of the Singles series share a common cylinder frame pictured above a Single Six 22LR and Single Seven 327 Fed Mag have common cylinder windows, 1.529″ W x 1.445″ H, and both have 1.420″ diameter cylinders. The 327 Fed Mag Cylinder measured 1.462″ long – chamber and throat, the 22 LR cylinder measured 1.405″. The 22 LR base pin bore extends further from the face of the cylinder and the barrel shank protrudes further into the window to accommodate the shorter cylinder. .The exterior cylinder wall thickness for the Single Six is a huge overkill for what is required. At 088″, the 327 Fed Mag cylinder wall is more than enough for the 327 Fed Mag cartridge. No, that is not a super short barrel 327 Fed Mag Ruger. The barrel was "removed" from the Single Six cylinder window so the frame would stand out for illustration.

The Single Seven really is an easy open carry revolver. At 39 Oz it isn't the lightest revolver to carry, but it may be for an all steel firearm with a useful barrel length. It is only 1.4″ at the widest point.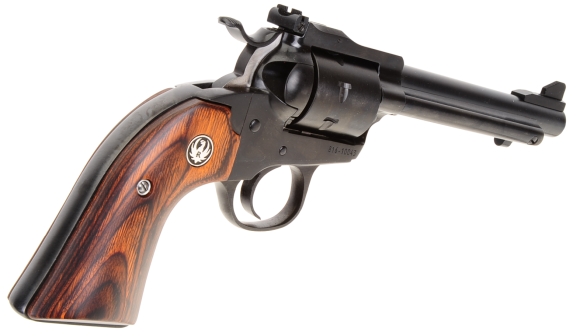 Fit and finish of materials is excellent. The 5.5″ barrel and all steel construction, including grip frame, results in a pistol that is well balanced and has enough heft to mitigate. The sights are micro click adjustable and present a very clean silhouette against a target. Adjustments stay put regardless how hard the Single Seven is pushed.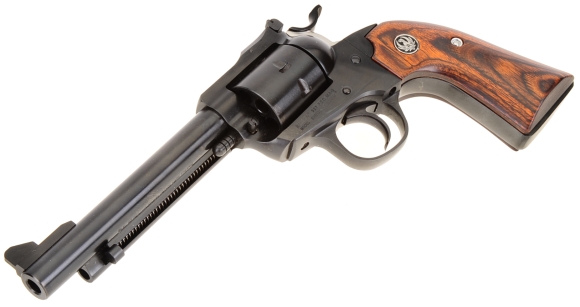 Cylinder rotation is clockwise, both indexing and loading. A transfer bar prevents a dropped gun discharge. Loading is through a right side loading gate, a manual ejector empties spent casings.The hammer forged barrel is finished with a target crown. With very little use, the Single Seven pull checked 4 lbs 14 oz. Pretravel was virtually nonexistent, let off was crisp, overtravel was minimal.
The cartridge half of the partnership
Two 327 Federal Magnum rounds; 85 grain Federal Premium, next to 115 grain Speer Gold Dot, next to 357 Magnum. Approximations to place the cartridge into context with other common cartridges:
Cartridge
Bullet
Weight
Muzzle
Velocity
Muzzle
Energy
32 ACP
65
925
123
380 ACP
85
1000
189
32 H&R Magnum
85
1120
237
38 Special +P
129
950
258
9mm Luger
124
1120
345
327 Federal Magnum
100
1500
500
357 SIG
125
1350
506
357 Magnum
125
1440
575
The 327 Magnum puts out only approximately 13% less kinetic energy than the 357 Mag, but over twice as much as the 32 H&R Magnum and 45% more than the 9mm Luger. The 327 Fed Magnum's relatively high velocity makes it a relatively flat shooter. In a compact double action revolver it is a good fit for a concealed, compact carry revolver. The Single Seven makes for a heck of an open carry firearm or trail gun for self defense, varmint control up to coyote size and hunting small game.
The 327 Federal Magnum seems to ebb and flow in popularity, usually dependent upon  what firearms are being introduced and how often the combination appears in print. Looking at a composite of online retailers, there are approximately six companies producing a pool of nine loads for the cartridge with enough of a spread in loaded components to fit all typical applications. Additionally, this is an easy and rewarding cartridge to handload. An example of factory loads –
Ammunition
Bullet
Grains
Rated
MV
FPS
Actual
MV
FPS
25 Yard
5 Shot
Group "
Federal Hydra Shok


85

1400

1370

2.1

Gold Dot


115

1380

1387

1.8
I have nothing profound to say about this firearm, but then I don't have anything profound to say about anything else either. Personally, I find this a really good looking, good shooting firearm. It is built like a tank, but handles like modern performance car and it is accurate. Any other comments would just be superfluous. I am labeling this as Part I, because I really want to some back with Part II addressing handloads. Won't be long.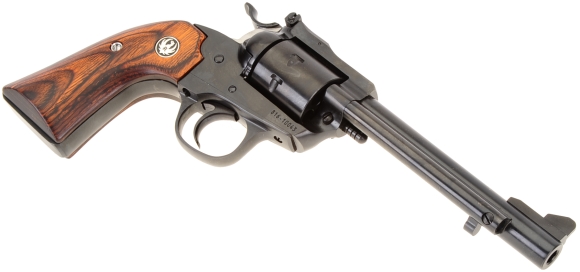 1) Bisley Bops the Bull's-Eye Colt's redesign pleased 19th-century target shooters. by Phil Spangenberger