The Thompson/Center Contender has been part of my association with firearms, on and off, since 1971. Probably like every other Contender long term owner, my pistol's frame has the company of numerous factory and custom barrels of different length and caliber and an assortment of grips, forearms and sight systems. After some recent work with a current T/C G2 Contender in 7-30 Waters, I thought I would follow with a 30-30 WCF version to see how it compares with an early Contender and my old saddle carbine.

If you are not familiar with my work, I typically begin with a specific premise, get distracted and begin writing about something completely different.
Background…
My introduction to the Contender System did not instantly evoke a great sense of enthusiasm. It looked like a pistol a pirate would carry, there was no obvious place to grab hold of it and I couldn't think of a single reason I would want a handgun of sorts that fired rifle ammunition. Which was verbalized to the salesman at the counter as, "Huh?", "What?".
The salesman persisted and, through his narrative, I began to envision owning a T/C Contender as resulting in a better version of myself… taller, thinner, a head full of hair…speaking Esperanto. I saw myself winning silhouette events, admired by friends and family… although I never have attended one, hunting brown bear in Alaska with a handgun… never have, and being the center of attention at the range… weird as I generally don't particularly like people.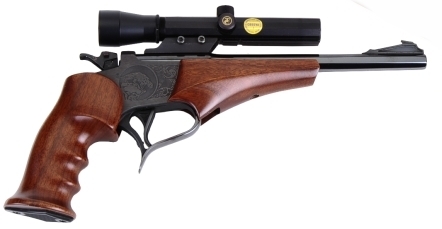 So I bought my first T/C Contender with a 10″ 222 Remington barrel in a state that permitted no metallic cartridge hunting, then doubled down some time later when I added a scope, then a 44 mag/44 shot barrel, then a 35 Rem barrel, then… and it goes on and on. The Contender may be different, but it has lots of good qualities. It's a lot like Bob Dylan. Sure he wrote Desolation Row, 14 minutes of life lost listening for no apparent reason, the manufactured enigma, but then he also wrote "Bob Dylan's Dream" for everyone to understand.
Bob Dylan's Dream
by Bob Dylan
While riding on a train goin' west
I fell asleep for to take my rest
I dreamed a dream that made me sad
Concerning myself and the first few friends I had
With half-damp eyes I stared to the room
Where my friends and I'd spent many an afternoon
Where we together weathered many a storm
Laughin' and singin' till the early hours of the morn
By the old wooden stove where our hats was hung
Our words were told, our songs were sung
Where we longed for nothin' and were satisfied
Jokin' and talkin' about the world outside
With hungry hearts through the heat and cold
We never much thought we could get very old
We thought we could sit forever in fun
But our chances really was a million to one
As easy it was to tell black from white
It was all that easy to tell wrong from right
And our choices they was few so the thought never hit
That the one road we traveled would ever shatter and split
How many a year has passed and gone?
Many a gamble has been lost and won
And many a road taken by many a first friend
And each one I've never seen again
I wish, I wish, I wish in vain
That we could sit simply in that room again
Ten thousand dollars at the drop of a hat
I'd give it all gladly if our lives could be like that
Song doesn't do much for you? Put it away, wait until your 73 and then read it again… snow flake.
Change can be good… Really
The first version of the Contender with the inclusion of several modest design revisions, scoped below, ran from 1967 through 1995 before being replaced by the G2 Contender. The blued Contender pictured was manufactured between January and June of 1971 and purchased shortly thereafter. A set of composite stocks, 14″ 30-30 WCF barrel, scope rail and scope were added.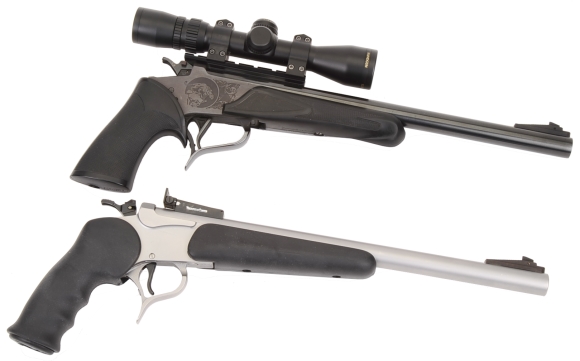 The G2 Contender pictured directly above represents current production. While this particular example is made of stainless steel, barrel and receiver, the G2 Contender is also available in blued alloy steel and walnut stocked.
Thompson/Center G2 Pistol 30-30 WCF


Manufacturer

Thompson/Center

Model Frame


 #08028750

Type

Break Action

Barrel 7-30 Waters


#06144205

Capacity

1

Barrel Length

14"

Rifling

1:10″


Weight

3 lbs 11 oz


Overall Length

18 1/2″


Stock

Poly Composite


Hardware

Stainless Steel


Sights

Adjustable W/E

Scope Mounting

Drilled & Tapped


Safety

Hammer Rotary


MSRP

$548 Frame + $399 Barrel

The early Contender grip is swept back 110° from bore centerline, the G2 grip angle is 115°. The early Contender has an adjustable trigger and overtravel stop, the G2 does not. However, the G2 has an improved fire control mechanism that allows the hammer to be recocked without opening and closing the action, as long as the hammer has been decocked with the safety engaged.
Where the early Contender has a slab sided receiver with threatening cougars preparing to leap from a rocky precipice, the G2 has sculptured reinforcement in the receiver's breech area. For the more pragmatic minded, the early Contender's receiver walls are 0.050″, while the G2 receiver walls measure 0.130″. Both have a common dimension 0.510″ thick breech face.
The G2 Contender has a stout action, available as a complete firearm, or through the use of accessory barrel in the following chambers: 17 HMR, 22 LR Match, 204 Ruger, 223 Rem, 6.8 Rem,  7-30 Waters, 30-30 Win, 357 Mag, 44 Rem Mag, 45/70 Govt, 45 Colt / 410 Bore with removable choke.
The G2 Contender can handle any of the standard pressure cartridge indicated, including the 45-70 Gov't, which is not the same as high pressure 45-70 ammunition from say Buffalo Bore. The higher intensity cartridges fall into the domain of T/C's Encore product.
An easy approach to switch barrel firearms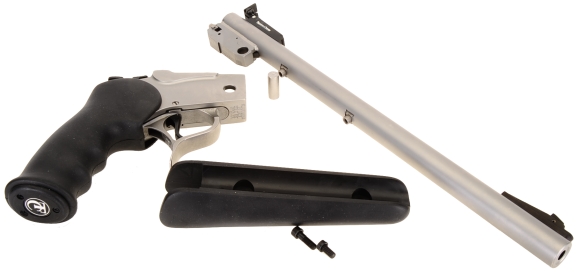 Regardless the Contender model or series, barrel swapping is the same. The forearm is removed, two screws, the action is opened and barrel tipped down, then the hinge pin is driven out through the receiver and barrel lug. The barrel of choice is tipped down, the barrel lug is aligned with the hole in the receiver and the hinge pin is pressed in. When the forearm is reinstalled, the hinge pin is captive.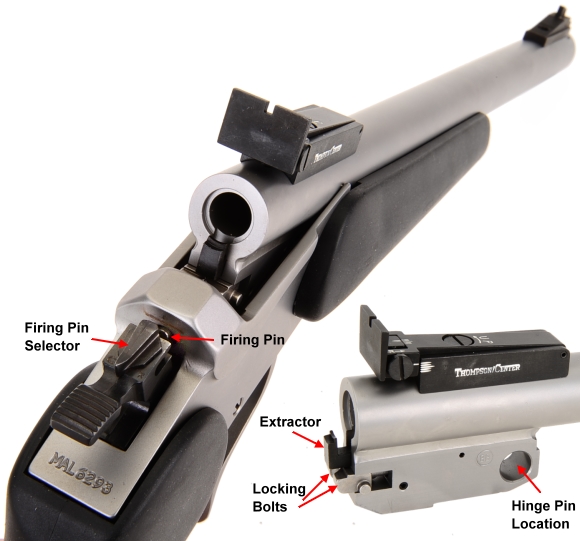 Briefly – A hinge pin through the barrel lug and receiver sides located the barrel to the breech face laterally and longitudinally. The locking bolts locate the barrel square to the standing breech face. The hinge pin, breech face and locking bolts take the stresses when the pistol is fired. The firing pins, rimfire and centerfire are mounted in the standing breech and hammer contact is controlled by the firing pin selector mounted to the hammer. Swing left/point right for centerfire, swing right/point left for rimfire, centered/no firing pin contact. The action is opened by tugging rearward on the trigger guard spur.
The hammer must be cocked manually for the hammer to engage the pistol's sear. Pulling the trigger allows the hammer to bypass the automatic hammer block and strike the loaded cartridge's primer. Releasing the trigger allows the hammer to return in position behind the automatic hammer block, away from the firing pin, or at rest hammer position. The G2, in this regard, is a major improvement over the original design.
Yes, 30-30 WCF firearms come in many forms…

It seemed a good idea to shoot the G2 along side my only slightly used Marlin Model 336. as they are both 30-30 WCFs.The Marlin was my first centerfire rifle and the onset of my preoccupation with firearms. It was a Christmas gift in 1957 and it has seen a lot of hunting seasons. So what is the difference in performance if a chronograph is used to mitigate human bias?
Cartridge

Bullet




Grains

20″




Barrel




FPS

14″




Barrel




FPS

14″-20″




Δ

Federal Fusion FNSP


150

2324

2172

<152>

Winchester Super X FNSP


150

2205

2105

<100>

Hornady LeverEvolution Poly Tip


160

2250

2108

<142.
You're right, almost nothing is shot at the end of a muzzle…
Tables, below –  Approximately how bullets fly out of the 20″ rifle barrel and the 14″ G2 Contender pistol.
Hornady LeverEvolution 20″ Rifle

Near-Zero – Yards.

20

Mid Range – Yards

106

Far-Zero – Yards

286

Max Ordinate – Inches

+3.0

Point Blank – Yards

198
Best Zero +/- 3″ Ordinate


Yards

0

50

100

150

200

250

300

Velocity – fps

2250

2128

2011

1897

1788

1682

1582

Energy – ft.-lbs.

1798

1609

1436

1279

1135

1005

889

Path – in.

-1.50

1.70

2.98

2.11

-1.18

-7.19

-16.27
Hornady LeverEvolution 14″ Pistol

Near-Zero – Yards

19

Mid Range – Yards

99

Far-Zero – Yards

175

Max Ordinate – Yards

+3.0

Point Blank – Yards

186
Best Zero

Yards

0

50

100

150

200

250

300

Velocity – fps

2108

1991

1878

1769

1665

1566

1473

Energy – ft.-lbs.

1578

1408

1253

1112

984

871

771

Path – in.

-1.50

1.84

2.99

1.68

-2.41

-9.65

-20.43
For folks using factory ammunition, the tables are a good indication of the performance difference between a typical carbine and the T/C G2 Contender, where the logic of selecting the pistol over the carbine is narrowed to ease of carry and challenge of the handgun hunting sport. but that is not the end of the story. Of course not…
For the handloader, the T/C G2 Contender is safe for use with spire tipped bullets with a much better ballistic coefficient than the typical flat nose or even specialty soft tip pointed tipped bullet. Subsequently, very low drag type bullets like the Berger Hunting VLDs or Hornady SST and other similar selections work well with the G2 Contender.
Even a very basic and inexpensive Speer 165 grain Game King bullet @ 2,200 fps MV from the G2 Contender pistol can outperform Hornady LeverEvolution factory ammunition from a 20″ barrel rifle beyond 50 yards; velocity, kinetic energy and trajectory as seen on the table below.
165 Grain Speer SP Handload14″ Pistol

Near-Zero – Yards

20

Mid Range – Yards

105

Far-Zero – Yards

187

Max Ordinate – Yards

+3.0

Point Blank – Yards

199
Best Zero

Yards

0

50

100

150

200

250

300

Velocity – fps

2200

2108

2019

1932

1847

1764

1684

Energy – ft.-lbs.

1773

1628

1493

1367

1250

1140

1039

Path – in.

-1.50

1.72

2.98

2.12

-1.08

-6.83

-15.37
Other benefits for the single shot pistol shooter…
In lead free ammo only states, of the twenty eight types of 30-30 WCF ammo generally available, only six are lead free. While six is not a bad selection, cost of lead free 30-30 WCF ammo is. Typical soft point 30-30 WCF ammunition runs between $13 and $16 per twenty as an every day price, while lead free runs from $30 to $35 per box.
As a handloader, the selection of bullets for the G2 Contender, compared to flat nose or specialty soft pointed bullets for a lever action rifle is significant. There are approximately 221 0.308″ diameter component bullets that fall between the weights of 110 grains and 190 grains. Of that 221, only 22 are flat nose or soft poly and suitable for tubular magazine lever action rifles. For folks who live in states that restrict hunting bullets to lead free only, there are 50 bullet types available for the G2 Contender and only three suitable for the lever action rifle.
Wrap it up, Joe. Gees, I'm trying…
The old Marlin is a 2″ group, 100 yard gun, the G2 is an MOA gun and I can stay in a 6″ target with modest handgun long range shooting skills out to 200 yard to 250 yards. A proficient shooter could cut that in half. The Marlin holds seven rounds, but rarely do my hunts require more than one shot and never more than two. The Contender is not so difficult to reload for a follow on shot. The G2 Contender offers a challenge that the rifle does not and, potentially, greater satisfaction.
I carry the Marlin in my shooting hand/arm, I carry a Contender in a holster that crosses the hip, one that crosses the chest and one that could loosely be called a shoulder holster. With the Contender both hand are free, with the rifle one is not. A bipod is helpful, but any branch or rock will do and the Contender can easily be shot offhand. It is always important for a shooter to be cognizant of a scope's eyepiece in relationship to his or her eye.
Personally, I am glad they are in production and available. They represent one more way for an enthusiast to enjoy firearms, whether out of the box, or seriously hot rodded. Nice pistola.