The first time I worked with the Ruger PC Carbine, I used a platypus simile. I may not know what a simile is, but I sure as hell know my platypuses, and that passage bears repeating… with a modest update.
"The Platypus is one of nature's designs that does not compromise function for the sake of superficial aesthetic expectation. A carnivorous egg laying mammal, a duck bill, a beaver's tail, an otter's body, webbed feet, water tight orifices, electrical sensing system, venomous hooks on its hind legs, and no teeth so a mouth full of gravel is used to chew food. How could anyone not appreciate this unique little rascal?
The Ruger PC Carbine is chambered for a pistol cartridge, its fluted and removable barrel is rifle length, it's length of pull can grow or shrink by an inch and one half, it accepts multiple manufacturers pistol magazines, it has ghost sights and a Picatinny rail, it has an M-Lok compatible floating handguard like an AR, and a threaded muzzle to accommodate muzzle devices. Trigger components come from the Ruger 10/22, its mag release and charging handle can be swapped side to side and the dead blow action is somewhat recoil canceling. Platypus, platypus, platypus."
I think what some readers missed within the platypus analogy is that the design of the platypus and the Ruger PC Carbine are genius and and both are a great source of enjoyment. I had a smile on my face every time I shot it, the PC Carbine not the platypus, and even now with the daunting task of replacing a truck load of 9mm Luger ammunition ahead. That's OK, it went to a good cause.
In less abstract terms…

Ruger PC Carbine


Company
Ruger
Point of Manufacturer
Newport, NH

Model #

19115
Type of Action
Dead Blow

Caliber
9mm Luger

Magazine Capacity
*17
Magazine Type
Ruger/Glock

Barrel Length

16.12″
Barrel Material
Chrome-Moly
Barrel Finish
Black Oxide
Rifling Twist Rate
1:10″ RH 6 Groove

Receiver Material
7075-T6 Aluminum
Receiver Finish

Type III Hard Coat
Handguard

M-Lok Free Float

Handguard Material

Anodized Aluminum

Stock Material
Glass Filled Nylon

Length of Pull
12.62″ – 14.12″

Trigger Guard Material
Glass Filled Nylon

Front Sight
Protected Blade

Rear Sight
Adjustable Ghost Ring
Aux Sight Mount

Picatinny Rail

Trigger Type
10/22 Derivative

Weight of Firearm
6 1/2 Lbs
Overall Length
34.37″
Safety
Cross Bolt

MSRP
$729
*Also available as a 10 shot Model 19117
For me, the full floating M-LOK compatible handguard makes this carbine. The Ruger PC Carbine went from a high function, modest aesthetic firearm to a really cool piece of hardware. While solely a semi automatic firearm, this version of the Ruger PC Carbine takes on the look and feel of a WW II submachine gun like the British Lanchester.
I found the handguard version of the PC Carbine easier to shoot accurately. The bottom area where the handguard joins the receiver is flat compared to the standard forearm version and the front end seems to carry a bit more heft. It was easy to assume a proper standing shooting position where the balance and weight was steadying. The swept back, compact magazine stayed out of the way of my supporting arm, allowing me to get my elbow down under the stock.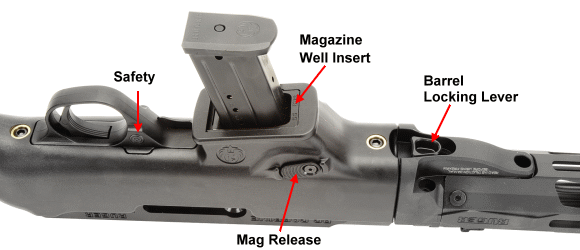 Ruger's thoughtful accommodation…
Magazines, or the non-standard nature of magazines, has been at the center of "how many things can people bitch about" social media discussion. I don't know why. If I bought a Ford because I thought it was a better product, I would not expect to be able to parts swap with the Chevy truck that has been parked into my garage. Unfortunately, when a manufacturer introduces a product, some people think that the product must conform with the last firearm they purchased.
When i see this absence of reasonable expectation, I shake my head and lose faith in humanity… and miss the point that magazines are no longer twenty cents each as they were in olden times and now hover around forty bucks. Fortunately for gun buyers, Ruger, in its marketing wisdom, listens to firearm enthusiasts and works diligently to accommodate. With many Ruger rifles offering AICS magazine compatibility for centerfire cartridge cross brand compatibility, Ruger designed the PC Carbine to do the same with Ruger SR magazine, Glock and Ruger American pistol magazine compatibility.
The Ruger PC Carbine is supplied with two interchangeable magazine wells. Installed; SR-Series Pistol and Security-9® magazine compatible (above left), and included in the box Glock compatible. A third well is offered in the Ruger Shop for the Ruger American Pistol®. With magazine well inserts priced at $29.95 per on the Shop Ruger site and magazine prices hovering around forty dollars per, sharing common magazine types is a worthwhile flexibility. Changing magazine wells is straight forward.
The basic sequence to swap out magazine wells… The magazine is removed, the chamber is checked for empty and the bolt is locked open. The locking lever is pushed forward and the barrel / handguard assembly is rotated counter clockwise until it disengages from the receiver and can be pulled free of the barrel block.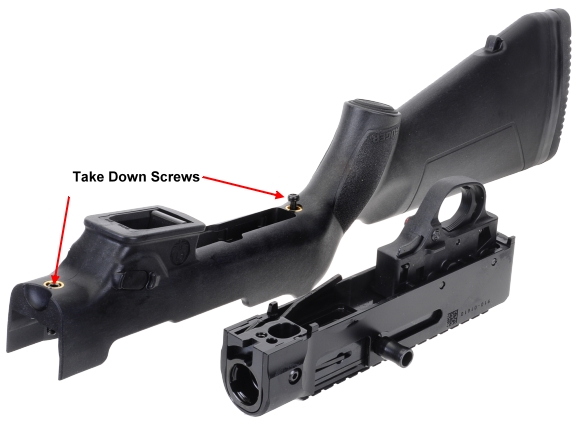 The take down screws are loosened, but remain in the stock, and the stock is lifted free of the action.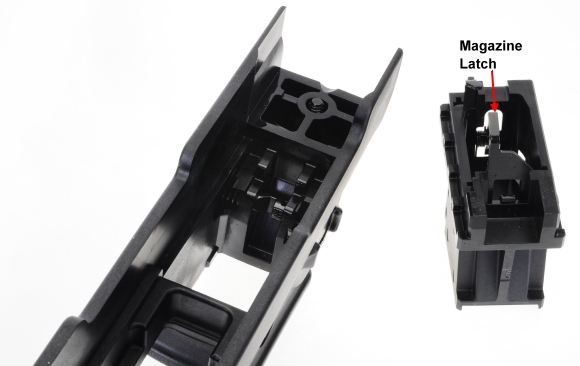 The stock is flipped right side up and the magazine well's latch is compressed (Ruger magazine well only), which allows it to be pulled from the stock. Reverse procedure to reassemble.
Ambidextrous considerations…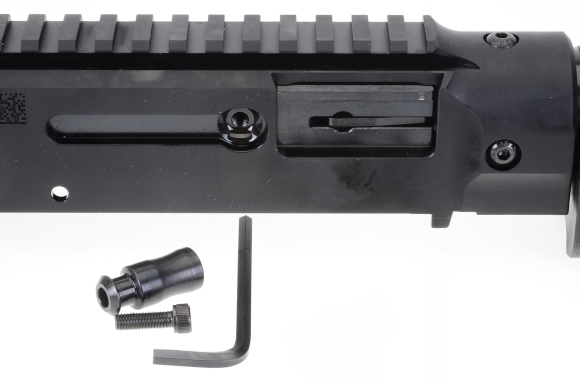 The charging handle is easily swapped from right to left side of the receiver by removing one cap screw. The charging handle cap screw is torqued to 65 in-lbs and it is suggested torque is verified every 1,000 rounds. The magazine release swaps sides in a similar fashion.
Since we're poking around in here…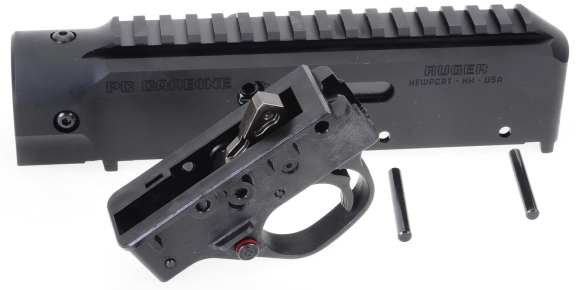 The trigger guard assembly is removed for cleaning and maintenance by pushing out the two trigger guard retaining pins. The manuals used the term "drift" but they are lightly held and solidly retained by the stock when assembled. Trigger pull measured a crisp 4 Lbs 9 Oz.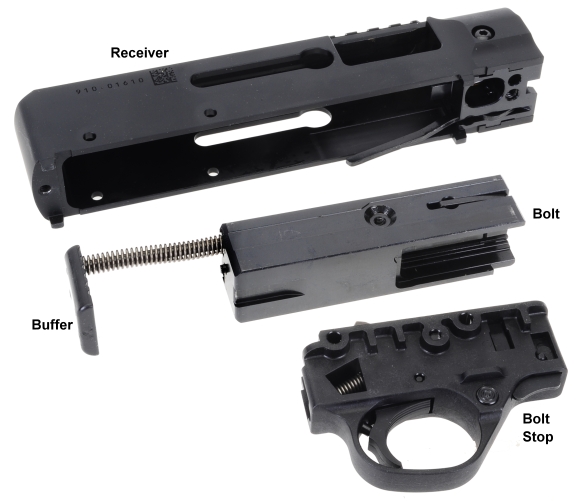 Disassembly is straight forward. With the trigger guard assembly removed, the bolt is removed from the receiver by tugging upward on the buffer. Note on handling: Care should be taken not to depress the bolt stop with the trigger guard on its side as this may cause the bolt stop retaining pin to fall out, the bolt stop to drop down and a small spring to magically appear, roll off the bench and fall into a large box full of scopes. The spring will eventually be identified as the bolt stop spring and reinstalled after an hour of searching through scope cubbies. Certainly not my experience , but it could happen.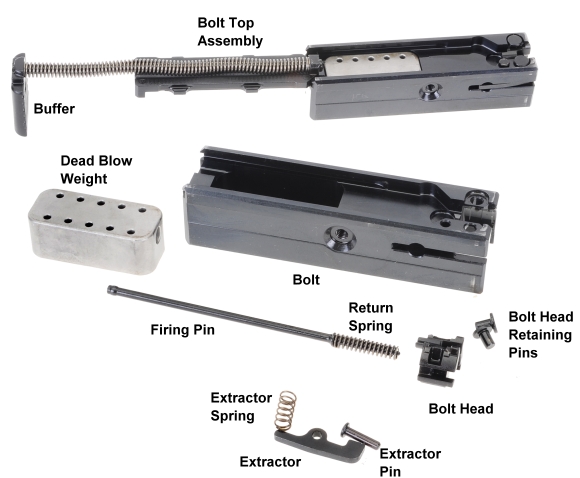 The Ruger PC Carbine is easy to clean and service, the manual provides exceptional step by step detail. The use of a 9.4 ounce tungsten weight recessed into the bolt body reduces required buffer spring rates and greatly dampens recoil. In fact, only a post baby boomer would think the PC Carbine has recoil… and perhaps some fancy lad engineers.
Conclusion? Nah. Just the beginning
OK, so you are tired, bored and probably ready to snack. I feel the same way, and I wrote this this stuff, but it was necessary to present how the Ruger PC Carbine is constructed. One of the important things to know is that it is like buying a reversible suit with two pairs of pants. You can leave the PC Carbine as it comes out of the box, effectively use its ghosts sight and still find reason to burn up every round of 9mm Luger ammo you have in inventory. You can also hang on headlights and red dot sights and suppress it with silencer and subsonic ammo until it barely burps. And that will be covered in detail in Part II.