The differences in people is what makes life interesting. My wife and I live in a rural setting, surrounded by dense woodland and wildlife. My wife looks though the windows and sees a Disney movie; robins singing, unicorns running and Bambi snacking on our pear tree. It is a place where my wife believes I do not mow the lawn, but rather maintain the grounds. I look out of the window and see Jurassic Park and two feet of vegetation that needs a thrasher. Yes, I can illustrate and illuminate through example. Thank you for asking.
Based on trail camera still photographs and video footage, my wife had been very happy that a large lumbering raccoon and a sly, quick fox fox sharing a condominium located under the shop. Sometime after midnight, nearly every night for a week, the raccoon headed out to forage, scavenge and hunt. Not fifteen minutes later, sly fox would show up and make himself at home in the vacated premises. It was a wonderful story of accommodation, efficiency and selflessness.
My version of the story is that the large raccoon lived under the shop with three kits. The sow would go out for food for its family and the fox would go under the shop and carry off the kits, one by one… and that is the video, kit carried in fox's mouth,  that got deleted before family viewing. I've always liked my wife's view of the world better than my own. It's… hopeful.
So many names for such a small pistol…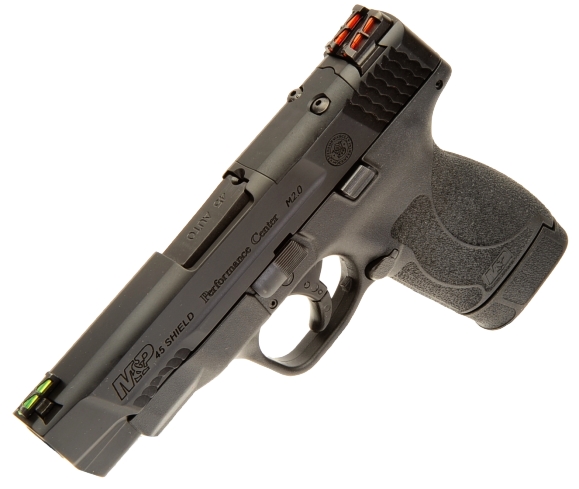 Smith and Wesson Performance Center
M&P 45 Shield Optics Ready


Company
Smith & Wesson
Point of Origin
Springfield, MA
SKU

11865

Type of Action
Striker Fire
Caliber
45 Auto
Magazine Capacity
6+1 and 7+1

Barrel Length
4.0″
Barrel Material
Stainless Steel
Barrel Finish
Armornite™
Rifling Twist
1:10″ RH
Slide Material
Stainless Steel
Slide Finish
Armornite™
Grip Frame Material
Zytel – Matte Black

Front Sight
Green – Red Fiber Optic

Optical Sights

4 MOA Red Dot

Sight Radius
6.0
Weight of Firearm
24.8 Oz.
Trigger Pull
4 Lbs 7 Oz

Overall Length
7.1″
Overall Height
4.75
Frame/Slide Width
0.99″
Thumb Safety
No
Magazine Disconnect
No
Chamber Check Port
Yes
MSRP
$826
The M&P Shield, introduced in 2012, was refined in a 2.0 version along with other M&P products in 2017. The Shield is a narrow, single stack subcompact pistol, optimized for concealed carry. Initially chambered in 9mm Luger and 40 S&W, 45 Auto and 380 Auto have since been added. As a statement of popularity, S&W currently produces fifty-three versions of the Shield. In a crowded market place where, supposedly, firearm enthusiasts are obsessed with high capacity auto-loaders, the Shield seems to swim effortlessly upstream.
The S&W PC M&P 45 Shield has several features that would make me pick it up on the way out of the door, rather than my Colt Combat Commander. The Shield is three-quarters of a pound, a full twelve ounces, lighter than the Colt. The Shield is more compact, slab sided and five-eighths of an inch shorter. The fiber optic rod used in the Shield's front and rear sights are very bright, but small diameter for precise aiming. Even with the supplied red dot sight installed, it is low profile and neatly done.
While the 1911 pistol is steeped in American history and tradition, and associated pistols often have excellent triggers, excellent accuracy and high functional reliability. However, when selecting a firearm for self defense history doesn't much matter, critical bullseye shooting triggers are unnecessary and if a pistol can be emptied into an area the size of a playing card at seven to ten yards, that is better than good enough.
The red dot kit part of the kit…
The red dot sight included with the Performance Center 45 Shield is made by Shield Sights, an established UK company with a large installed base of its products. The Shield Sights Mini Sight's dot is 4 MOA LED projection. Both body and lens are polymer, the body fiber filled, the lens anti reflective coated. The light material weight is actually beneficial in withstanding reciprocating motion of the slide; the manufacturer indicates the polymer versus glass optic element can withstand 10x more shock. The same applies to the sights polymer body as compared aluminum. The sight's total weight is 0.5 ounces.
The Mini Sight lens does not have a red reflective filter, which insures minimal visual signature. Circuitry in the design varies LED output commensurate with target light levels. An included cover reduced battery draw, allowing a standard 3 volt lithium battery CR2032 to last, on the average two to three years, four years in dark storage… the pistol, not its owner.
The S&W Performance Center 45 Shield's slide is relieved to accommodate the Mini Sight and keep it low on the pistol. The rifle ships with filler in place, but only requires two screw to be removed to remove the cover.
The battery, supplied in the sight kits, is pressed into the underside of the slight body, the sight goes over the locating pins on the slide, then the small shoulder fasteners are started and screwed down. Care is required to start both shoulders before attempting to tighten them down as the locating pins and securing fasteners are a tight fit to prevent the assembly from bouncing around under recoil.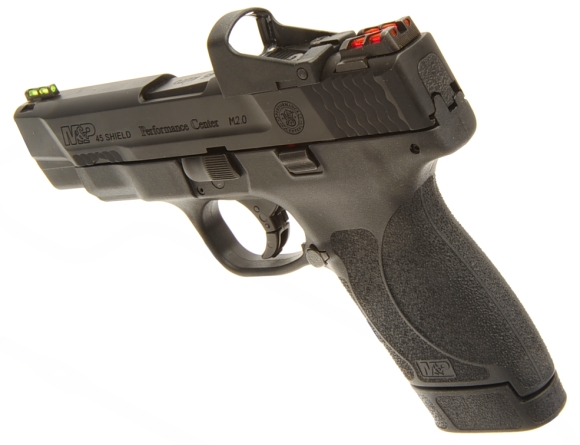 Looks a lot like the above when installed. The sight is always powered on, but the hood turns the output down to next to nothing and protects the lens when not in use. It is a bit like the refrigerator light question, "Is it out when the door is closed?". The range of adjustment is twenty-five inches in quarter-inch increments. I really like the Mini Sight. the dot brightness really does keep up with target brightness for excellent visibility and, for me, the 4 MOA dot is ideal. Without the use of the red dot, the fiber optic sights are bright and precise and they can be used even looking through the red dot lens.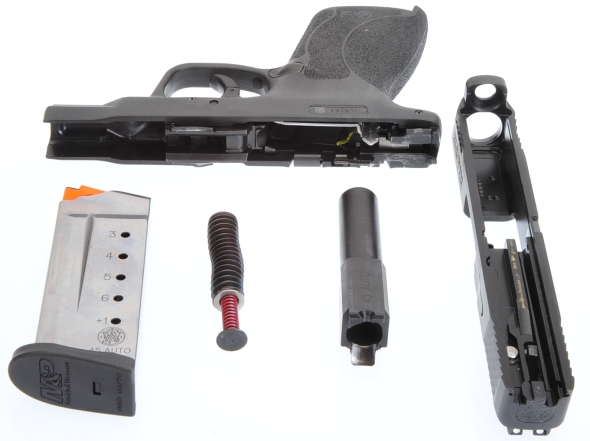 Take down is a few seconds task, detailed in the manual. The polymer grip frame holds a stainless steel chassis and guide rails and a stainless steel magazine. The double recoil spring is captive, the barrel is ramped and the slide is blackened stainless. It is a simple, but stout design that can handle heavy use.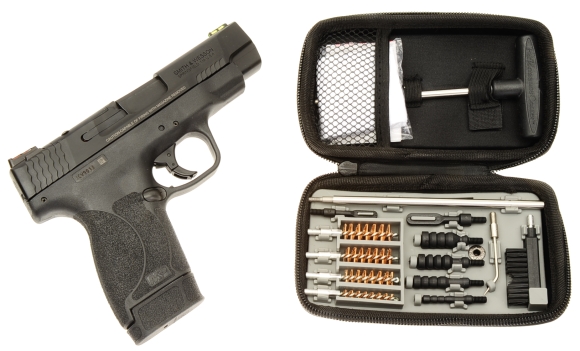 A very nice , all caliber, pistol cleaning kit was included with the 45 Shield. A nice kit with useful tools. That said, between the Armornite slide finish and Zytel grip frame a quick wipe down is all that is required to keep the outside looking good.
So compact, I almost forgot it is a 45 Auto
Pulling the trigger was a reminder. The 45 Shield is approved for both standard and +P versions of the 45 Auto although pressure wise there is not a huge difference. The standard 45 Auto SAAMI MAP pressure is 21,000 psi, the +P is 23,000 psi. Earlier recorded performance.
Caliber

Ammo

Weight
Grains
Rated
FPS
Shield
FPS
∆
FPS
*Gel
"

Recovered

Dia. "

Grains

45 Auto

Hornady Custom +P

200

1055

937

-118

14.0

0.636

200.0

45 Auto

Remington Ultimate Defense

230

875

707

-168

15.0

0.700

229.7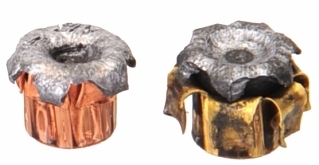 I tend to shoot heaver bullets in short barrel pistols as a personal preference, but ammo selection is very important to maximize expansion and penetration for a self-defense application.
One of the benefits found with Remington Ultimate Defense is that it performs well in regard to both, but standard velocity make it more manageable in a lightweight pistol.
The 45 Shield is manageable shooting standard or +P ammunition. The stippled grip is a little coarse, but the gun stays put with a comfortable grip. The slide gripping surfaces, fore and aft are very much none slip and the staged double recoil spring makes slide racking comparatively easy. Both the red dot sight and fiber optic sights are more than enough or a defensive pistol. We'll take a break here and put together some handloads, then shoot factory and handloads side by side and see what we get.