Summer is at an end, fall is not being shy in its arrival and only about half of the planned projects around the house and shop were completed. It wasn't so much poor planning or time estimating that rendered our Gantt chart and network diagram irrelevant, as much as unplanned events and less than ideal weather had to be accommodated. The thing about living in the middle of the woods is that the woods always want to reclaim whatever was taken when building. Clearing back twenty feet from the treeline to remove brush and saplings and pruning lower branches on larger trees may not seem like much, but it has occupied nearly every Saturday for months. With approximately 20,000 square feet finished, I think we can get in the last 4,000 square feet before we call it quits.
The generator needs to be leveled, the roof needs to be treated to kill algae and insecticide needs to be sprayed around the house, shop and outbuildings. We've got carpenter ants and carpenter bees, but we can't seem to find a good carpenter. Painting the inside of the garage, building a work bench and hanging cabinets will have to wait until next year or it will be done under the shield of a jet heater, but we have plenty to do inside. It's like visiting family always says, "You must love being out here in the country. It's so tranquil. So relaxing", just before they head for the lakes, ocean or go out to sample history in the form of a restaurant. Still, I wouldn't trade our little place in the woods to go back to yard against yard living, ever.
Yes, I do remember why we are all gathered here

Marlin is working overtime on new variations on a traditional theme, by introducing modern looks and features in innovative ways. After recently wrapping up a review of the company's truncated Marlin 1895 Trapper 45-70 Government, the Marlin 336 Dark Series approach to the 30-30 WCF was too interesting to pass up.
Marlin Model 336 Dark Series


Origin
Ilion, NY
Manufacturer
Remington
Order#
70497
Type
Lever Action
Caliber
30-30 WCF
Magazine Capacity
5
Barrel
16.25″ – 5/8″x24 Threaded Muzzle

Rifling
1:10″ Micro Groove

Nominal Weight
7.65 lbs
Overall Length
34.5″
Stock
Black Spiderweb – Hardwood

Hardware
Parkerized
Length of Pull
13.25″
Drop at comb
1.25″
Drop at heel
2.00″
Sights
Ghost Ring

Scope
XS Rail

Trigger Pull
5 lbs. 4 oz.
Safety
Cross Bolt Safety
MSRP
$949
In overview, Marlin has given the Model 336 a bit more utility… maybe flexibility than the more traditional walnut stock models. Sure, some of the Dark Series differences are mostly aesthetic but, in the main, they are quite functional enhancements. As an example, in place of a walnut stock is a hardwood stock painted with a black webbing. Black is a popular firearm color these days and the black webbing makes for an all over terrific non-slip surface.
The Parkerized metal finish is durable, holds up good against wear and tear, hold oil for rust prevention, and it is non-reflective. Perhaps not as pretty as a satin or gloss black oxide finish but, in my mind at least, it has a better look than Cerakote, a finish that is seeing too much use on new, premium model firearms.
The XS Lever Rail with ghost ring sight system is a good set up. The standard Marlin semi buckhorn rear sight is surrendered, but the rail accommodates a ghost and more precision peep sight, red dot or scope. With quick detach mounts, it takes only seconds to change from one to the other and zero isn't lost as long as the sights have not been adjusted for a different firearm. For someone who hunts only in the same environment, interchangeability may not be a huge pick up, but people who hunt in areas like the north east know that topography and climate can change significantly within one outing.
I went to the rail set up some years ago on my lever action rifles and it remains in place today. It is just too handy to pass up. For the Yosemite Sam contingency, those who feel a scope on a lever action rifle is blasphemy, times have changed. My 60+ year old Model 336C puts up 2″ – 3″ 100 yard groups, making the value in mounting a scope questionable, but the value in a fast tracking red dot is present. The subject Model 336 Dark Series put up a 3/4″ group with factory Fusion 150 grain ammo, which is enough potential to mount a scope.

The Paracord sling and wrapped big loop lever? I don't know about the lever wrap, other than for aesthetic taste, but the wide, soft Paracord sling is very comfortable and it remains anti slip and pliable even in the coldest weather. Enlarged loop levers, within reason, are really handy for gloved shooters in cold weather and not a problem any other time. The Paracord wrap does make for a good knuckle cushion on short barrel 45-70 versions.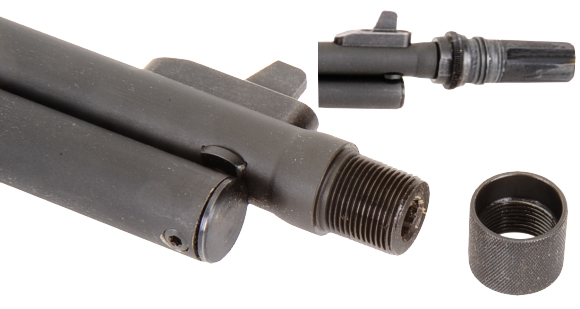 The Model 336 Dark Series' muzzle has industry standard 5/8-24 threads to accept a myriad of devices.  Yes, a myriad. The supplied thread protector was removed and an AAC fast attach 90 tooth flash hider was installed so the AAC SR7 silencer could be taken on and off with minimal effort as required for specific live fire testing. Shift in point of impact resulting from the silencer presence, or lack of the same was minimal. The silencer added a slight up tick to velocity.
A brief interlude for a spontaneous I rant…
This is a silencer, it suppresses sound by managing gases under pressure as they exit the barrel. It was defined as a silencer in 1920 when Maxim filed his first patent, it has been termed a silencer by every noteworthy silencer manufacturer and it is termed a silencer by the ATF. No, it does not make a firearm silent, although it can reduce a subsonic round from a non-auto loading, closed breech firearm to a pffft. For the hunter armed with supersonic ammunition, it will reduce sound levels and sonic crack substantially. If you insist on calling them suppressors, people will think you are an engineer working in a segment of the computer industry who only recently found an interest in firearms.
Silencers, with varying degrees of procedural complexities, are legal to own in 39 states and legal for hunting in 30 states. They are mandated for hunters in most western European countries as they preserve hearing and good relationships with near neighbors. They are the scorn of celebrities who have a difficult time separating fantasy from reality. For me, if there are suitable threads on a muzzle, and I have a silencer of suitable capacity, I'm a happy and hearing guy with a silencer installed. I have to applaud Marlin for doing the right thing and threading the muzzle, knowing they might take some grief. Thanks. I feel much better…. a very cathartic exercise… really.
In operation…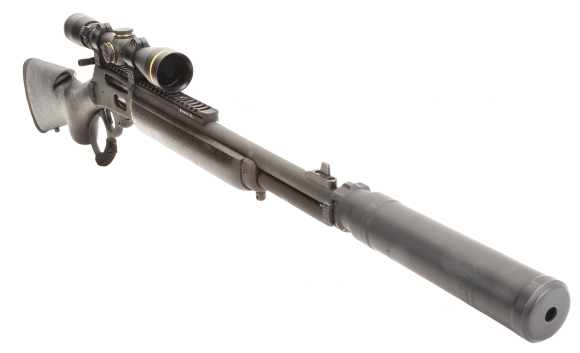 Loaded up, but with an empty chamber, the Marlin holds 5 rounds in its full length magazine; short rifle, short barrel, short magazine. The good news? For the hunter who takes realistic shots at game, 5 rounds is a huge excess of ammunition. The action feels like a centerfire lever action rifle; you can feel the bolt compressing springs as the hammer is cocked on the opening stroke and you can feel a round being elevated and chambered on the closing stroke. That said, the action is tight and actuation requires only light effort. Trigger pull is brief, a slight amount of creep and a little heavy. The latter can be addressed with a replacement trigger, or by making modest changes to the hammer spring adjusting plate and the hammer spring. Or… or… you can leave it alone and lean how to shoot the rifle, like people did in the olden days.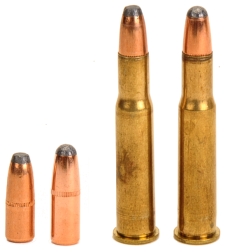 Federal Fusion 150 grain bonded Flat nose and Winchester Super X 30-30 Win 150 grain power point carried the banner for factory ammunition. They both cycled without a problem, both turned in near rated velocity even with the short Marlin barrel and both delivered excellent accuracy.
Two types of favorite handloads were assembled, pictured left, each with three types of powder. The bullets were, far left, Sierra Po Hunter 150 grain flat nose and Nosler 170 grain Partition Round Nose. Both did well in terms of velocity and accuracy with all of the powders selected.
Three shot groups were of the 100 yard variety, scope installed, from a rest… data jotted down on a white lined pad. The weather was balmy. At one point I was reminded why a check for a loose silencer should never involve bare handed touching. For a rifle intended for use with open sight and a good deal of drop at the comb and heel, its modest recoil came straight back, muzzle rise was minimal. Seemed a little… Joe Biden in the preceding narration? People tell me I don't provide enough notes, so I am trying to make amends, even if in a random thought fashion.
Cartridge: 30-30 Winchester (42,000 PSI MAP)



Firearm
Marlin 336 Dark Series

Barrel Length
16.25″
Min – Max Case Length
2.0395″ +0.0″/-0.020″
Min – Max Cartridge Overall Length
2.450″ – 2.550″
Primer
CCI 200

Bullet Diameter
0.3090″ +0.000″/-0.0030″
Reloading Dies
RCBS FL

Bullet Type 
Bullet Weight
Grains

Net H2O
Grains
Capacity
COL"
Powder Type
Powder Charge
Grains

Muzzle Velocity
fps

Muzzle Energy
ft/lbs

100 Yd
3 Shot
Group"


Sierra Pro-Hunter

150

36.4

2.520

Alliant Varmint

34.0

2371

1873

1.0

Sierra Pro-Hunter

150

36.4

2.520

CFE 223

37.5

2201

1614

1.2

Sierra Pro-Hunter

150

36.4

2.520

Norma 201

33.5

2223

1646

0.8

Nosler Partition

170

34.2

2.550

Alliant Varmint

33.0

2240

1895

1.1

Nosler Partition

170

34.2

2.550

Varget

32.5

2103

1670

0.9

Nosler Partition

170

34.2

2.550

CFE 223

35.5

2110

1681

1.0

Federal Fusion SP*

150

–

–

–

–

2338

1821

0.7

Winchester Super X*

150

–

–

–

–

2256

1696

1.1

* Factory ammunition
So what do we have?
I don't know what the numbers suggest, but empirically speaking, the rifle / cartridge combo is more than enough for deer, black bear, hogs, and elk within 100 – 150 yards and I am sure there are folks who have done much more. Some of my best hunting successes have come with basic Remington 150 grain Core-Lokt for factory ammunition and the Nosler Partition loaded with Varget for handloads. The 30-30 WCF is a relatively low pressure cartridge that can be boosted a bit for greater velocity. My approach to a high performance 30-30 WCF is the 308 Winchester.
There is no way not to enjoy the Marlin. It is compact, moderate in weight and fast handling. Accuracy is terrific, particularly within probably shooting distances. Most important, it is not a boring firearm.