Carpenter ants, contrary to the suggestion of their name, do not provide productive wood working services. Unlike termites, carpenter ants do not eat wood. Instead, they chew it into fine sawdust and push it out behind them like a miniature bucket brigade, as they dig tunnels to hold their progeny and the royal spouse. When they dig enough tunnels, the structure they've invaded begins to fall apart, piece by piece, until the structure's walls collapse, leaving the  occupant, sitting at his or her desk, staring out at the great outdoors.
I was over at the shop, typing away about the project rifle, when a large carpenter any walked across my desk, climbed over my calculator, jumped up onto my keyboard and disappeared between the keys. So I flipped the keyboard, tapped him out and squished him with the heel of my hand. Blood lust sated, I went back to clicking away when numbers 2 and 3 of the pine pinchers followed the same track and came to the same conclusions. Looking down at the floor, five or six were in view, attempting to push my roll chair away from a bare patch of plank flooring; squish, squish, squish, squish, squish… squish.
Six non-repelling foggers, eight strategically placed Boric Acid traps, two cans of ant killing foam,  three gallons of Taurus SC on foundation and outer walls, seven days of shoveling ant bodies off the floor every morning in ever diminishing quantities and, finally, I have my favorite type of ant… dead. It's always hunting season somewhere. Speaking of hunting season and firearms.. with a little Brandi Carlile in the background…

John Browning began his excursion into an automatic rifle design in 1910 in anticipation of a coming military application. Design complete, but no immediate military procurement takers, Browning watched as Woodrow Wilson sat on his hands from 1914 and watched World War I unfolded in Europe. With U.S. participation in the war imminent, the government officially sought what Browning was selling. On February 27, 1917, the 30-06 Springfield chambered BAR was assigned the designation M1918.
The original BAR weighed 16 pounds, had a 20 round magazine capacity and cyclic rate of 480 rounds per minute. It is a long stroke gas operated, open bolt design. In various forms, in various chambers, for U.S. and various other government, new models were introduced through 1939. In production through 1945, they remained in U.S. military service throughout the Vietnam years. All totaled, over 350,000 units were produced for both military and civilian markets, with the civilian market concluding with punitive taxes and registration under the National Firearms Act of 1934. Maybe some Jackson Browne…
John Browning did design a semi automatic high power rifle, the FN 1900 High Power Rifle. A long recoil design, based on the Browning Auto 5 shotgun, it was manufactured and sold in Belgium for sales outside of the United States between 1910 and 1931 with a total run of approximately 5,000 units. The same design, under license to Remington, went into U.S. production beginning in 1905 as the Remington Auto Loading Rifle, which became the Model 8, then the Model 81. The design remained in production through 1950.
The modern semi automatic BAR… designed by John Browning descendant Bruce Browning , was introduced in 1967 into civilian markets. A short stroke gas operated, closed bolt design, it was initially available in 243 Winchester, 270 Winchester, 308 Winchester, and 30-06 Springfield. Its 7 lug, rotating bolt head contributed greatly to the gun's strength and accuracy and the BAR was less than half the weight of its automatic name sake. In 1969, a magnum capable version was produced, which added the 300 Winchester Magnum chamber to the cartridge line up.
In 1993, the BAR received a refined gas operating system and a redesigned modular, easy to remove trigger assembly and became the BAR Mark II. Carried forward was the full selection of BAR chambers, which by then had been extended to include the 7mm Remington Magnum and 338 Winchester Magnum.
Through 1997, all Browning BAR rifles had been produced only with a steel receiver. In 1997, the BAR Mark II Lightweight was added with a receiver fashioned from aluminum, or al-lu-min-um as we British say. No, I'm not British. Second generation American of Etruscan descent, actually. I don't know why I said I was British. I just always wanted to say "Bond. James Bond" properly… but that's all in the past. Anyway…
The BAR Mark 3 was announced in early 2016 as a refinement to the Mark II. A slight change in receiver profile, a synthetic material trigger housing and floorplate and shims that are supplied with each BAR that facilitate adjusting stock drop and cast.  The subject rifle shares features common to all Mark IIIs and some that are unique.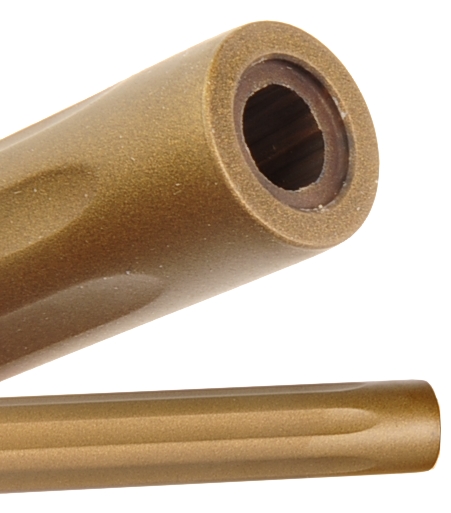 The BAR's hammer-forged barrel has a sporter contour, fluted for light weight and improved cooling, which terminates in a target crown. The chamber is chrome plated. The Burnt Bronze Cerakote finish that covers all metallic surfaces provides greater protection from the elements and wear than bluing or stainless steel.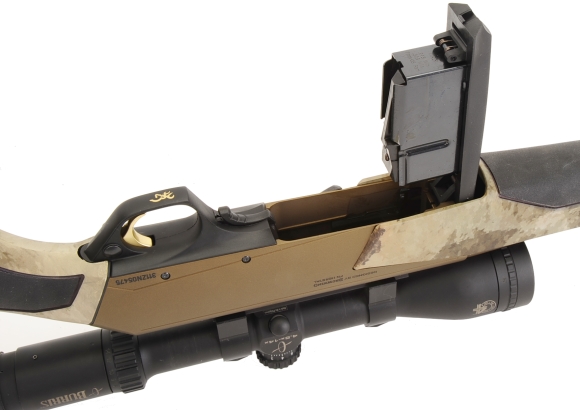 The trigger housing and hinged floor plate are constructed of durable, all weather polymer. The magazine box and follower are steel and is removable, however, loading with the box in place is an easier proposition. The floorplate is just forward of the trigger guard, in the shape of a… trigger.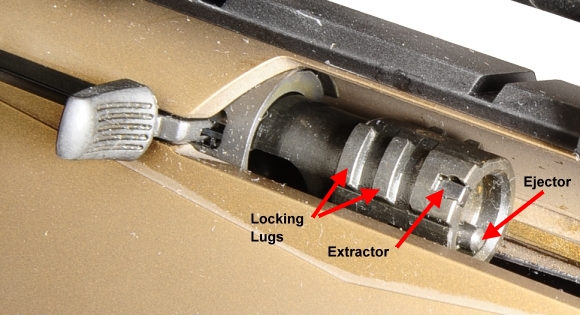 Welcome to Dustfest 2019! Oil, backwoods Maine shop… it was bound to happen. In any event, the BAR bolt head rotates and interlocks locks with lugs in the rifles barrel extension. The bolt face is recessed to provide additional case head support. The ejector is spring loaded and uniformly boots empties out of the ejector port. The bolt head locking lugs are located radially in three rows, 120° apart; two rows of two lugs and one row of three for a total of seven. The BAR's Bolt action strength permits permits chambering for high pressure magnum cartridges.
The short stroke gas system hiding under the BAR's forearm is straight forward. Below, top with bolt in battery, inertia piece is forward under load by the action spring. The gas piston is seated in the gas cylinder. When fired, below lower image, the gas piston is driven out, smacks the inertia piece and drives it aft by overpowering the action spring. The bolt unlocks and is driven full rearward, before returning and stripping a cartridge from the magazine, driving it home into the chamber and causing the bolt head to move into battery and rotating into the locked position. At the conclusion, the assembly will again look like the below, upper image.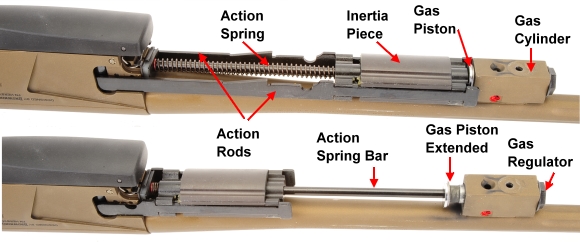 The gas system is not adjustable. It is set at the factory, with one from a selection of gas regulators at the front of the gas cylinder is installed based on cartridge. Where does the excess gas go? The interior of the forearm is protected with a metal heat shield and the top of the forearm that hugs the barrel has two relief slots that vent the gas bleed. There was no factory or handload run through the BAR that didn't function reliably in the subject rifle, so the system is quite tolerant.
Control layout is clean and appropriately placed. Of course, with the forearm in place, the bolt lock is covered with the exception of its operating handle.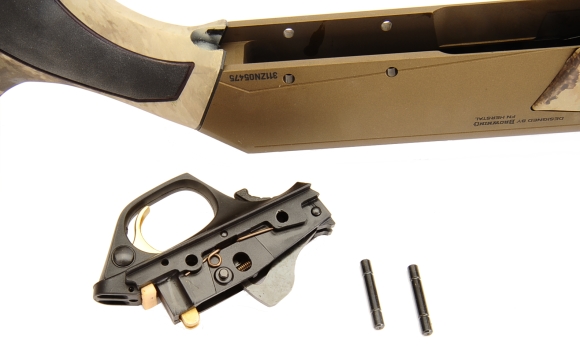 Trigger group removal is straight forward; press out pins, lift out trigger. I suspect the more difficult task would be finding a legitimate reason to remove it as it stay clean in use.
The Browning BAR has a relatively long length of pull at 14 3/8″, which doesn't feel overly long when shooting. The drop at the comb is 5/8″, the drop at the heel is 1 1/8″. What does that mean? It depends on the shooter. For my purposes, mounting a scope with a 30mm tube on a low rail, with low rings, cleared the objective bell and plopped the eyepiece centered on my eye, with my check resting on the stock's comb. The BAR does come with 5 shims that locate the buttstock in a neutral position, comb 1/16″ up, 1/16″ down and cast off and cast on by 1/8″. Shims can not be used in multiples.
Yes, I did put it back together and subsequently shot the BAR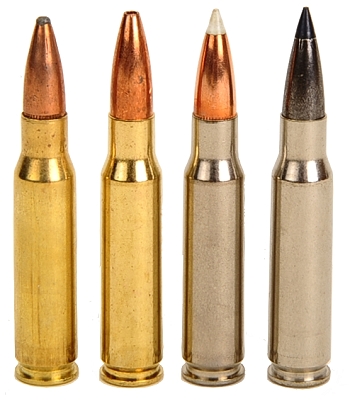 Ammunition
Bullet Type
Bullet
Weight
Grains
Rated
FPS
24″ BBL
Actual
FPS
22″BBL
100 YD
3 Shot
Group "
Remington Core-Lokt
Soft Point Jacketed Lead

150
2820
2760
1.1
Federal Power Shok
Hollow Point All Copper
150
2820
2735
0.9
Federal Big Game
Poly Tip Jacketed Lead
165
2700
2552
0.9
Federal Edge/TLR
Poly Tip Jacketed Lead
175
2600
2530
1.6
In live fire, there were a couple of anomalies.  The first being the substantial drop in velocity between rated and actual with Federal Big Game 165 grain ammunition , which was disproportionate to the delta with other ammunition. I went back and checked results with this ammunition and other 308 Winchester chambered firearm with the same and differing barrel lengths and found pretty much the same result. I think this is a Federal issue and not a Browning rifle issue.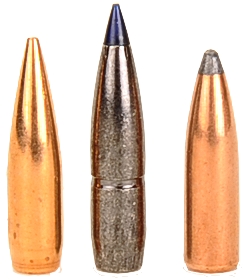 The second anomaly was the shot-to-shot point of impact spread with Federal Edge TLR. The same ammunition shot an exceptional 0.3″ group in a Winchester XPR with a 20″ barrel and with the same 1:12″ twist, although Winchester has since changed the XPR twist rate of this rifle to 1:10″ to accommodate… stabilize newer, longer bullet designs.
Left to right: 175 grain Berger VLD 1.297″ long, 175 grain Federal Edge TLR 1.461″ and 180 grain Sierra Pro-Hunter 1.210″. Mostly conjecture, but I would guess the Federal Edge TLR was just a poor choice for this rifle, which didn't seem to appreciate the Edge's exceptionally long bullet length, low velocity and low rotational speed.
Federal, and others, offer alternatives in 180 grain weight or lighter but with significantly higher velocity. They can cover 500 yards of ballistics as well as the Edge and they will reliably group near or sub MOA in the Browning BAR. An excellent performer is the Hornady 165 grain SST Superformance, but I ran out of time so it didn't make the arts and charts. Rated 2840 fps MV, it recorded 2822 fps and it outperforms the 175 grain Federal even out at 500 yards. Preliminary 3 shot 100 yard group size was 0.8″.
What do I think? What do I think?
Browning BAR Mark III – Hell's Canyon Speed

Manufactured
Belgium/Portugal
Item #
031064218
Type
Gas Operated Auto Loader

Caliber
308 Winchester

Mag Capacity
4
Barrel
22″ Fluted

Rifling
1:12″
Weight

6 Lbs 10 Oz
Overall Length
44 1/8″
Stock
Composite A-TACS AU

Receiver Material

Aluminum Alloy

Barrel Material

Alloy Steel

Metallic Parts Finish

Burnt Bronze Cerakote
Length of Pull
14 3/8″
Drop at comb*
5/8″

Drop at heel*
1 1/8"
Sights
None
Scope
Drilled and Tapped

Trigger
3 Lbs 12 Oz.

Safety
Cross Bolt

MSRP
$1,599.99

* Adjustable with included shims
The Browning BAR is the only Browning firearm that is manufactured in Belgium and assembled in Portugal. The rifle reflects quality of fit and finish and careful handling during assembly, throughout.
The BAR is hand filling, but light and well balanced. I know, it sounds like I'm judging beer, however, I think this is a… personality unique to the BAR. Usually, lighter rifles have skinny forearms, cheek mugging combs and narrow pistol grips. The BAR is hand filling, forearm and grip for a very secure hold and the comb height and roll is spot on for scope alignment, support and comfort.
The rifle has a very natural point and it tracks an imaginary moving target well. I did not want to mention the unscathed, rapidly moving squirrels I actually use for the assessment for fear of being accused of traumatizing a tree rat. Recoil with the 308 Winchester cartridge is moderate at most and the BAR has an excellent recoil pad. For some reason, the barrel seems to remain mostly nose down, making follow on shots doable. The over molded grip surfaces provide serious traction even in wet weather, which was most of the recent weather in Maine.
I wasn't sure about the Burnt Bronze Cerakote finish. Was it too… avant-garde for an old guy like me? Would the other kids laugh at me? I finally decided that the color was muted… subdued and looked nice and that it was the name that bugged me. I don't think you can burn bronze without it turning black, but then I guess you can't burn umber, either.
Trigger.. Huh… The trigger has minimal pretravel and pull was light in the context of a rifle that would be used for hunting at 3 3/4 lbs. There is no noticeable overtravel but, yes, there is a modest amount of creep. Or, I could have an overly sensitive trigger finger. For me, I believe it is the nature of semi auto rifles that almost always have long hammer travel and use an exaggerated hook arrangement to engage the sear. It is the kind of creep you only feel when you are dragging trigger pull in slow motion, checking for creep, but never when you are actually shooting. Can the creep be removed? Sure.
Good firearm, good quality and reliable function; all things we've come to expect from Browning.