When the Ruger PC Carbine was reintroduced a pistol caliber carbine in December 2017 and Ruger aptly dubbed it… the PC Carbine, I was shocked, amazed and awestruck. In fact, I distinctly remember thought bubbling, "Huh? Wait.. What?". Now there are fifteen models and they are popping up like Tribbles. The PC Carbines are all well made, function reliably and are a manifestation of thoughtful e

ngineering. The PC Carbine is fun to shoot and both 9mm Luger and 40 S&W ammo are relatively inexpensive in factory or handloaded form.
Truth be told, when introduced, the PC Carbine's looks and system origins caused me to dub them a firearm platypus; a unification of high functioning systems that might, in some ways, lack aesthetic synergy. That began to change substantially when Ruger offered configurations with free-float handguards and then finished the job with this chassis system version. The platypus has evolved into a pit bull or, at the very least, a honey badger with significant attitude. There is more. The Ruger PC Carbine clearly is the nucleus of a highly configurable system, with growing support from both Ruger and third party suppliers of parts and accessories.
Overview
Ruger PC Chassis Carbine


Company
Ruger
Point of Manufacturer
Newport, NH

Model #

19122
Type of Action
Dead Blow = Blowback

Caliber
9mm Luger

Magazine Capacity
*17
Magazine Type
RugerSR9 / Glock

Barrel Length

16.12″ 1/2″- 28 Muzzle threads

Barrel Material
Chrome-Moly

Barrel Finish
Black Oxide
Rifling Twist Rate
1:10″ RH 6 Groove

Receiver Material
7075-T6 Aluminum
Receiver Finish

Type III Hard Coat
Handguard

M-Lok Free-Float

Handguard Material

Anodized Aluminum

Stock

Chassis System

Chassis Material
Glass Filled Polymer

Buttstock Type
Magpul MOE, Aluminum Mount

Length of Pull
10.5″ – 13.75″
Comb Above Bore ℄

0.5″

Heel Above Bore ℄

0.5″

Sight Accommodation

Picatinny Rail
Aux Sight Mount

Picatinny Rail

Trigger Type
10/22 Derivative

Weight – Actual

7.3 Lbs

Overall Length
32.25 – 35.50″
Safety
Cross Bolt

MSRP

$799.00
A not so quick walk-around
I think we get most of the salient controls and hardware in the above shot. The cross bolt safety is positive in actuation and it is easy to read its status. The charging handle, shipped right side, can be installed for either left or right side operation. The magazine release is supplied installed on the left side, but can be swapped to the right side. Removal of the front takedown screw and one rear top takedown screw allows the chassis to be removed.  As a takedown firearm locking the bolt back, depressing the barrel locking lever and rotating the barrel/handguard assembly counterclockwise breaks the gun down.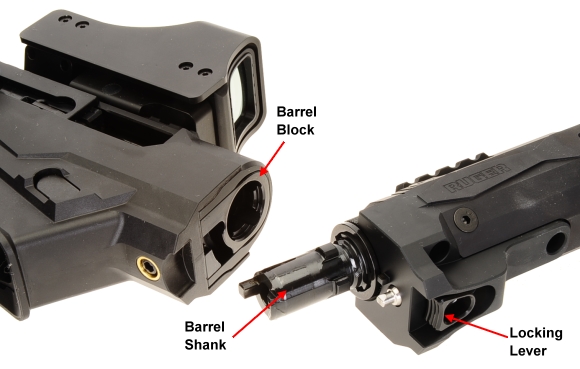 While it is easy to removed the barrel from the action, the lock up is tight. An adjustment knob on the barrel assures the union will remain tight and precise with heavy use and over long periods of time.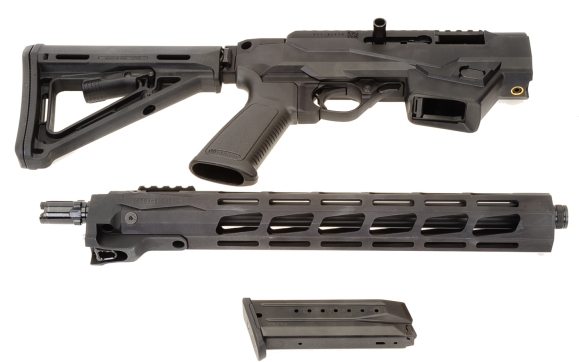 Being able to collapse the stock and break down into major components with each less than 17″ long make the PC Carbine a firearm that is easy to bring along backpacking or traveling.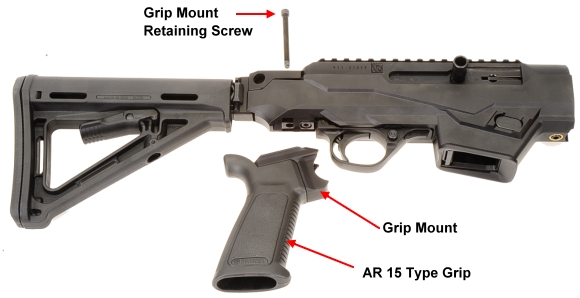 A single top screw passes through the chassis and secures the grip mount with the mount adapting AR-15 type grips to the PC Carbine.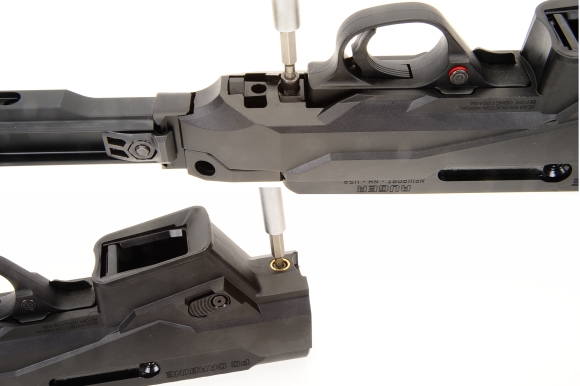 Loosening front and rear takedown screws permits the chassis and Magpul MOE stock from the carbine's receiver, and the stock detached from the chassis.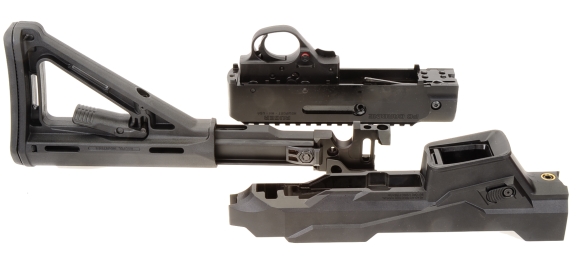 The Ruger PC Carbine manual provides full details and illustration for detail stripping.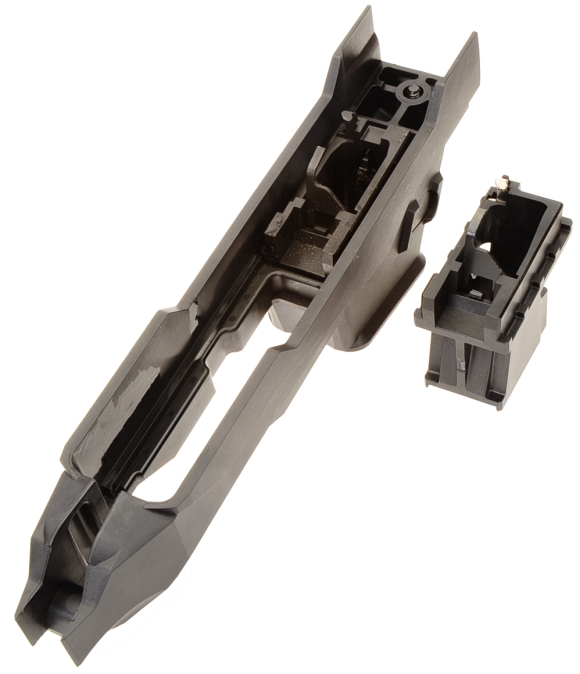 With the chassis removed, interchangeable magazine wells can be swapped. As shipped, the Ruger SR9 is installed and the Glock adapter is packed in the box. A third adapter is available from Ruger that takes Ruger American Pistol magazines.
Reversible control considerations…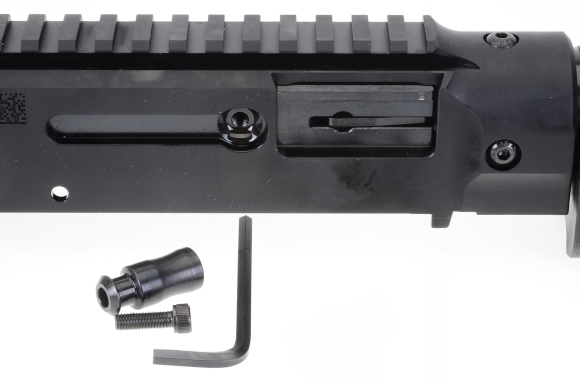 The charging handle is easily swapped from right to left side of the receiver by removing one cap screw. The charging handle cap screw is torqued to 65 in-lbs and it is suggested torque is verified every 1,000 rounds. The magazine release swaps sides in a similar fashion.
Since we're poking around in here…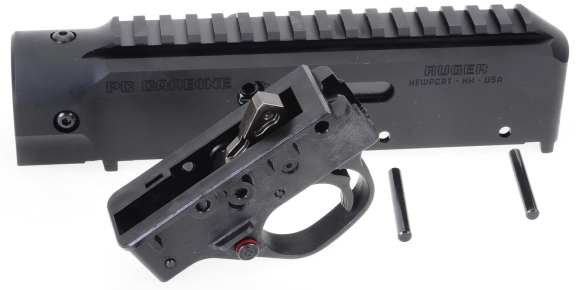 The trigger guard assembly is removed for cleaning and maintenance by pushing out the two trigger guard retaining pins. The manuals used the term "drift" but they are lightly held and solidly retained by the stock when assembled. Trigger pull measured a crisp 4 Lbs 9 Oz.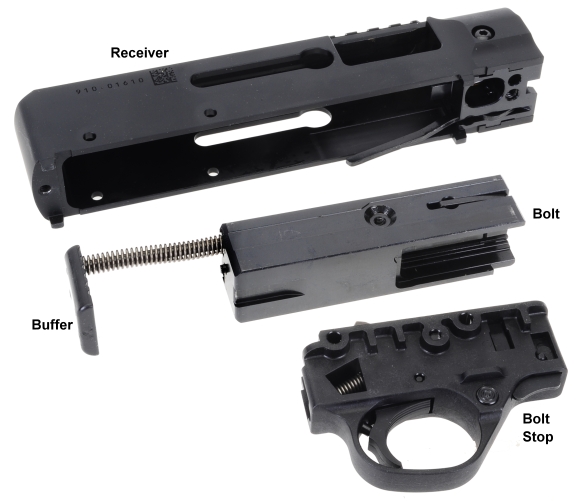 Disassembly is straight forward. With the trigger guard assembly removed, the bolt is removed from the receiver by tugging upward on the buffer. Note on handling: Care should be taken not to depress the bolt stop with the trigger guard on its side as this may cause the bolt stop retaining pin to fall out, the bolt stop to drop down and a small spring to magically appear, roll off the bench and fall into a large box full of scopes. The spring will eventually be identified as the bolt stop spring and reinstalled after an hour of searching through scope cubbies. Certainly not my experience , but it could happen.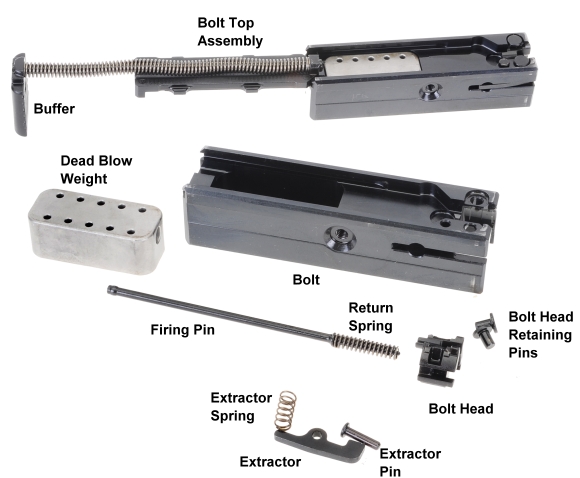 The Ruger PC Carbine is easy to clean and service, the manual provides exceptional step by step detail. The use of a 9.4 ounce tungsten weight recessed into the bolt body reduces required buffer spring rates and greatly dampens recoil. In fact, only a post baby boomer would think the PC Carbine has recoil… and perhaps some fancy lad engineers.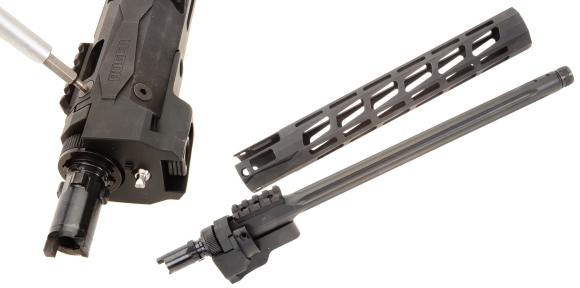 Four cap screws are removed at the base of the handguard, a little wiggling… the handguard, and it pulls forward and off. Underneath is a nifty fluted barrel, capped with with a 1/2″x28 threads and a thread protector that can facilitate the use of many types of muzzle devices. Vestigial traces of a front sight, in the form of mount holes, can easily find a useful purpose.
Yes, I did shoot the PC Carbine. Thank you for asking…

In retrospect, a great deal more ammunition was consumed than planned. I don't know why, other than the testing was completed, I was still having fun, so… The Ruger P C Carbine was shot with and without a silencer in place with the effects of suppression noted on the results table. Targets were placed at 50 yards, shot from a bench  with a scope mounted on the carbine.
9mm Luger Ammunition

Bullet


Type


Bullet




Weight




Grains

Rated FPS
4″ BBL


Actual

FPS
16.12″ BBL
Open


50 Yard


5 Shot


Group"

Actual FPS


16.2″ BBL
Supp

50 Yard
5 Shot
Group"
American Eagle Syntech

TSJ


115

1130

1271

1.5

1280

1.9

Remington HTP +P

JHP


115

1255

1403

2.4

1395

2.4


American Eagle Subsonic

FMJ

124

1030

1063

1.2

1096

1.6


Remington UMC

FMJ


124

1100

1217

2.4

1180

2.1

Remington Ultimate Defense

BJHP


124

1100

1273

2.2

1259

1.7

Black Hills +P

JHP

124

1200

1365


1.8

1351

2.0

Grizzly +P

JHP

147

1120

1181


2.0

1193

2.3

After careful scientific consideration I can say, with confidence, that there is no correlation between barrel length and velocity, other than to say there is definitely some velocity, short or long barrel. I can also say the same for velocity and accuracy, open barrel versus suppressed. After careful consideration, I decided not to spend an additional week analyzing cause and effect and arriving at a half-ass conclusion that would be useful to no one. So what are you saying, Joe? I don't know, let me think for a minute.
Conclusions
Fundamentally, the Ruger PC Carbine is more than accurate enough for useful applications. For defensive use or small game hunting, the group size is well within critical target sizes and the carbine, through ammunition selection or handloading, could be coaxed to better. Try drawing and shooting a typical 9mm auto loader pistol at a 50 yard target and the benefits of the PC Carbine become obvious.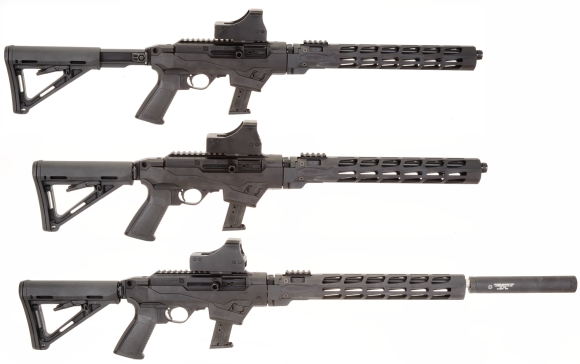 Shooting the Ruger PC Carbine, it was easy to adjust length of pull to make any reasonable shooting position comfortable, from "John Wayne stand up and shoot" to sitting in a "Hope I don't roll over and embarrass myself" position. The red dot I mounted had a way too big brush guard and would not find its way onto the PC Carbine if pressed into day to day service. This sight's saving grace, and the reason it was used, is its reticle type, color selection and brightness which was great from the bench. The PC Carbine could use something more compact and lower mounting that would naturally get between the eye and the target with the shooter's face resting on the carbine's comb.
State and local accommodations
Ruger, understanding that some potential customers live in states that… well, never mind. In any event, there are currently three models of the Ruger PC Carbine; Model Number:19122 (The subject carbine), Model: 19124 with a 10 round magazine, Model: Model 19126 with 10 round magazine, a fixed stock and an unthreaded muzzle. Regardless the configuration, I have no doubt this is an excellent personal security product, but it is also a great recreational firearm and just an incredible amount of fun to shoot.