10/16/2019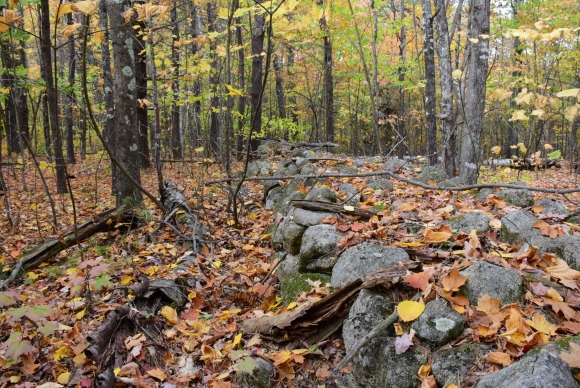 Maine is beautiful in the fall, the temperatures are cool and the air is clean. So here I am, an old man sitting on this stone fence, with the sun struggling to find its way through the trees, fall leaves underfoot, eating a sandwich, and listening to David Allan Coe's "'59 Cadillac '57 Chevrolet" and "When I Was a Young Man" on my iPhone. Songs certainly not reflective of my life, but I had some friends…

The Remington Model Seven, as a woods rifle…
Remington Model Seven Threaded


Manufactured

Ilion, NY


Brand

Remington

Order #


85922

Type

Bolt Action 90° Lift


Caliber

308 Winchester


Capacity

4+1

Barrel

16.5″ Carbon Steel 5/8×24 Threads


Rifling

1:10″ Twist


Nominal Weight

6.0 lbs

Overall Length

34.25″


Stock

Synthetic Kuiu Vias Camo

Metal Finish

Blued/Anodized


Length of Pull

13 3/8″


Drop at comb

1 1/4″


Drop at heel

1 1/2″

Sights

None

Scope Mount

Rail & Receiver D & T


Trigger Pull

3.0 – 5.0 Adjustable


Safety

Two Position Thumb

MSRP


$795
Okay, who the heck is Kuiu Vias and why is his camo on this rifle? Other than an island in the Alexander Archipelago in southeastern Alaska, Kuiu is a prodigious designer and direct retailer of high performance mountain hunting gear and apparel. They are also the source of the camo pattern displayed on the subject Model Seven.
The Kuiu camouflage approach is a high contrast, micro pattern that breaks up an object's profile at a longer distance. That object could be any type of gear or clothing… like a rifle stock. I'd guess it is a good deal more effective than a traditional foliage imitating pattern, that holds tone and color to the outer edges, forming a hard line. More importantly, it looks good and it certainly wouldn't divulge a hunter's position, unless he is sitting in a tree blind with a heater and watching Netflix on his iPad.
The Model Seven Threaded distinguishes itself from the other six configurations of Remington Model Sevens with its truncated 16.5″ barrel, flared and 5/8×24 threaded muzzle and preinstalled Picatinny rail. Other Model Seven rifles have non-threaded 20 "barrels, with the exception of one that has an 18.5" barrel and metallic sights.
The Model Seven is available in 308 Winchester as one of ten, short action cartridges ranging from the diminutive 223 Remington to the thumping 300 WSM; chamber selections vary with configuration. I used a semicolon there because it just felt like the right thing to do.
Something to be said for longevity of design
The Model 700, parent of the Model Seven, has been in production since 1962. The Model Seven has been in production since 1983, utilizing the smallest of Remington's actions. Introduced in 1963 as the core of the Remington XP-100 bolt action pistol, the pistol remained in production for thirty-five years, earning a solid reputation for accuracy and reliability.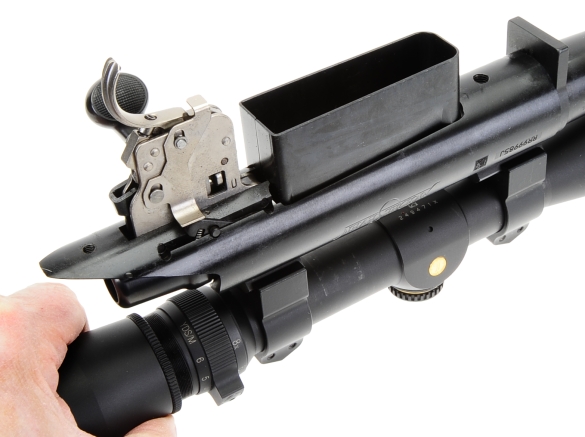 Above, the Model Seven follows the Model 700 with cylindrical receiver, X Mark Pro adjustable trigger and stout recoil lug sandwiched between barrel and front of the receiver. The receiver ring, bolt body and lug diameters for the Model 700 and Model Seven are the same. The Seven action measures 5.25″ long, one half inch shorter than the Model 700 short action and the Seven's bolt stroke is 4.50″ compared to the Model 700 bolt short action's 5.00″. Scope base fastener threads are 8-40 for both and barrel shank threads, for those who can't leave well enough alone, are 1.062″ x 16 tpi, the same as the Model 700.
The Remington Model Seven, like the Model 700, is a push feed action; the bolt face picks up a cartridge rim from the magazine and the receiver and barrel shape guide the round home. No long extractor, no rotating bolt inside a fixed extractor. No miss feeds, no bumpy feeds and fewer parts to fail.
The benefit of more than two lugs, large diameter body bolt, compared to a two lug bolt, is predominately theoretical. The maximum strength of a column is at its smallest diameter and most of the newer generation fat bolt guns are a much smaller diameter just behind the bolt head. Additionally, it is the combination of bolt lugs and lug seats in the action that take the hit on bolt thrust. Hoop stress generated by pressure acting outwardly are contained by, within the Remington's scheme of things, a recessed bolt face, supported by the barrel shank, and the barrel shank supported by the rifle's receiver. The often mentioned by Remington as three rings of steel.
Measuring the surface area of a two lug Remington and other more lugged bolts and there is rarely an increase in surface area with smaller lugs of a great numbers. A 90° bolt handle lift compared to a 60° offers no real increase in speed unless a person is participating in an international open and close bolt competition. In the hands of a hunter, the difference is moot. In terms of scope eyepiece clearance, reducing bolt lift by 30° will not permit a lower slung scope. Most scopes with an oversize eyepiece also have a large objective bell which will prohibit lowering scopes long before the bolt handle bumps the eyepiece.
Times have changed…
I've built a number of rifles on the Model 700 and Model Seven actions; lightweight firing pins, slide extractors, trued lugs and seats, squared bolt faces, squared receiver faces, three position swing safeties, premium barrels, hand cut chambers, carefully bed wood stocks, careful selection of aluminum backbone composite stocks, refined aftermarket triggers. It all  looked great, felt great and it was satisfying work. A couple dozen years ago, those refinements on a factory gun capable of 1.2″ groups at 100 yards would shoot under 0.5″ groups with good ammo.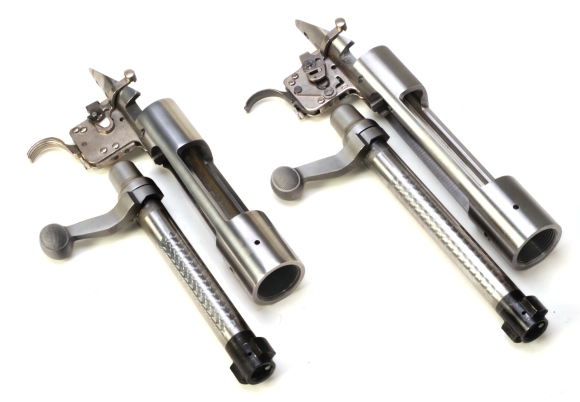 Fortunately, with extensive use of computers for process and machine control, along with quality assembly, have made factory rifles so precise they can shoot as good as most customs right out of the box. This is certainly the case with the Remington Model Seven. So time needs not be spent on fiddling with solutions to non-existent problems and great effort can be invested in handloadeding ammunition and shooting. There is always room for custom work, but now is mostly for improved aesthetics or convenience of use.
No GI Joe magazines…
The Model Seven has not surrendered to the 30 round detachable magazine bolt action crowd. The internal magazine, in 308 Win, holds four rounds + one in the chamber. For people who hunt and don't anticipate a firefight with deer, elk or moose, four rounds represents about twice as much capacity as needed. The trigger guard and floorplate are fashioned from aluminum. The magazine box and follower… yes, and spring, are steel pieces. The assembly folds up flat against the underside of the stock and will not get in the way.
Appurtenances… From My Weekly Reader
The Kuiu Vias Camo Model Seven Threaded is shipped with a Picatinny, or as a buddy used to say "Piccadilly" rail installed. It is a thoughtful addition and, because it is secured to standard Model Seven scope base locations, it can be swapped out with standard scope bases if desired. The benefit of the rail is that it permits the use of other optical and optoelectrical sighting systems, along with a lot more latitude for ring placement to accommodate a wide range of scope tube lengths. Below, the Model Seven with rail in place for the sake of illustration. During this project, the scope was mounted on low profile Warne two piece bases and low steel rings.
When bullet weights go up for the 308 Winchester, and firearm weight decreases, recoil increases. No, not "Good golly!" recoil, but more "This is really annoying" recoil. The Remington SuperCell recoil pad softens the blow on the back end and the threaded muzzle offers the same potential as the front end with jet effect, secondary recoil, reduction. The flare aft of the threads provides a backstop and support when using a silencer or brake. Both brake and silencer were tried with the subject rifle and recoil was reduced dramatically. Suppressed, the short barrel bark was also significantly reduced even with supersonic ammunition.
Performance out of the box…

The three groups above were shot with Federal ammunition. Not a promotion of the brand, it was just handy. I've shot this ammo, from the same lot, in concert with several other firearm projects. The Remington Model Seven did a better job with the 175 grain Federal than the others, which I might attribute to its 1:10″ twist.
Ammunition
Bullet Type
Bullet
Weight
Grains
Rated
FPS
24″ BBL
Actual
FPS
22″BBL

Actual




FPS


20″ BBL

Actual
FPS
16.5″ BBL

100 YD
3 Shot
Group"
Federal Power Shok
Hollow Point All Copper
150
2820
2862
2790

2636

0.5
Federal Big Game
Poly Tip Jacketed Lead
165
2700
2629
2563

2506

0.7
Federal Edge/TLR
Poly Tip Jacketed Lead
175
2600
2605
2567

2462

0.6
Velocity definitely takes a hit with the short barrel, but that may not be meaningful. Just spit balling here, but I doubt a 16.5″ barrel rifle would be taken 500 yard pronghorn hunting. Inside 200 yards, in a state with deer, moose, black bear, or hogs, I doubt the short barrel velocity difference would be a deficiency. From the Real Guns Ballistic Calculator…
175 Grain Federal

Near-Zero  Yards


22

Mid Range Yards


119

Far-Zero Yards


211

Max Ordinate Inches


+3.0

Point Blank Yards

225
Best Zero : Range 0 – 200 yards

Yards

0

50

100

150

200

Velocity – fps

2462

2382

2305

2228

2153

Energy – ft.-lbs.

2355

2205

2063

1929

1801

Momentum – lbs-sec

62

60

58

56

54

Path – in.

-1.50

1.46

2.88

2.67

0.70
Even working with the heaviest bullet and lowest velocity, the short 16.5″ barrel Remington Model Seven Threaded is point blank out to 225 yards with a 3″ maximum ordinate with arriving with 1800 ft-lbs of muzzle energy. That level of performance increases progressively as bullet weight drops to 165 grains and 150 grains. Accuracy in all cases is excellent. Pretty good performance out of a lightweight and very compact firearm.
Epilogue…

The Remington Model Seven Threaded went on to burn up a lot more ammunition without a hiccup. No problems chambering, firing or extracting and ejecting. The scope hung on tight, holding zero and accuracy stayed the same or better. Terrific trigger; light, crisp, zero over travel. Safety was positive in position and fairly quiet in operation. Very nice little rifle.