11/06/2019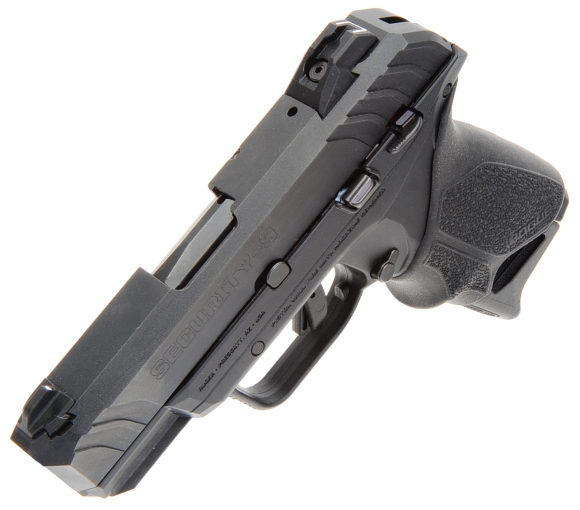 Always wanted to be a photographer. Never had the time, as necessities tend to move life's focus in unexpected ways. Photography is a way of expressing how we see form. The challenge comes in representing what we see with fidelity. Subsequently, I try to keep photos simple… stark, so that the subject stands on its own. No supporting cast of objects to reflect application, no rotating disco ball, saddle blankets, combat boots, or fog machine, unless they are packaged with the product.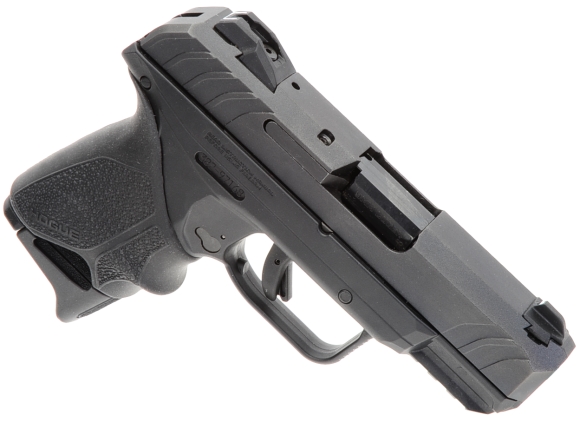 Firearms are often present interesting form; excellent examples of form following function, presented in an aesthetically pleasing way. Ruger makes more than their fair share of this type of product.The Ruger Security-9 product line has been with us since December of 2017. Introduced with the tag line "Secure, Simple and Affordable", it has proven to be just that while evolving into fifteen single stack, double stack, full size and compact configurations carrying the same theme. The subject pistol is as defined as:
Ruger Security-9 Compact


Model Number

3829
Manufacturer
Ruger
Point of Origin
Prescott, AZ
Type
Tilting Barrel/Locked Breech SA

Caliber
9mm Luger

Magazine Capacity
10
Barrel
3.42″
Rifling
1:10″
Overall Length
6.52″
Overall Height
4.35″
Overall Width
1.02″
Weight
22.5 Oz.
Sight Radius
5.0″
Trigger Pull – Actual
5 Lbs 9 Oz.

Rear Sight
Low Profile – White Outline

Front Sight
White Dot

Barrel Material
Alloy Steel

Slide Material
Through Hardened Alloy Steel

Slide Finish
Blued
Frame Material
Polymer Over Aluminum Chassis

Grip
Hogue Sleeve

Thumb Safety
Yes
Magazine Disconnect
No
Loaded Chamber Indicator
Yes
MSRP
$399
There is a lot of verbiage in the Ruger manual describing the Ruger Security-9's operation. Paraphrasing a bit, the Security-9 is a tilting barrel, single action pistol that fires from a locked breech. The pistol's hammer is concealed within the slide, a blocking inner trigger safety inhibits unintentional discharge, a thumb safety blocks the pistol hammer's forward movement.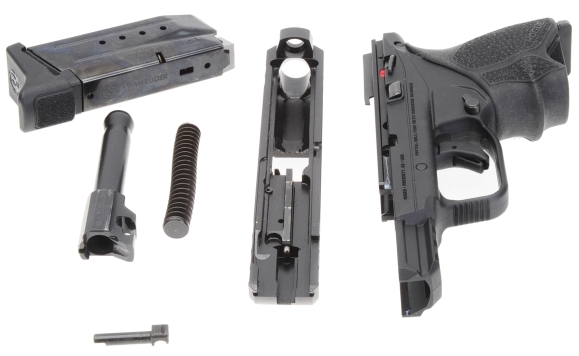 Disassembly requires no tools, just a verified empty gun without magazine and the removal of the central takedown pin. The barrel is ramped for positive feed, the slide is bushingless. The single flat stock recoil spring is captive. The combination of Hogue® Grip Sleeve and extended magazine floorplate provide adequate purchase for control.
The grip frame is made of glass filled nylon which encloses a hard anodized aluminum chassis.  Below, the trigger guard is large enough for most fat fingers and the front is squared and grooved for a non-slip grabbing surface. I am not sure what the Internet currently thinks of using this surface these days as opinions come and go every fifteen minutes. For me, its use if consistent with the double dipping, modified Weaver, half reverse grip I employ. Yes, I just made that up and yes, I am making fun of the martial trend training that has made so many people moderately wealthy.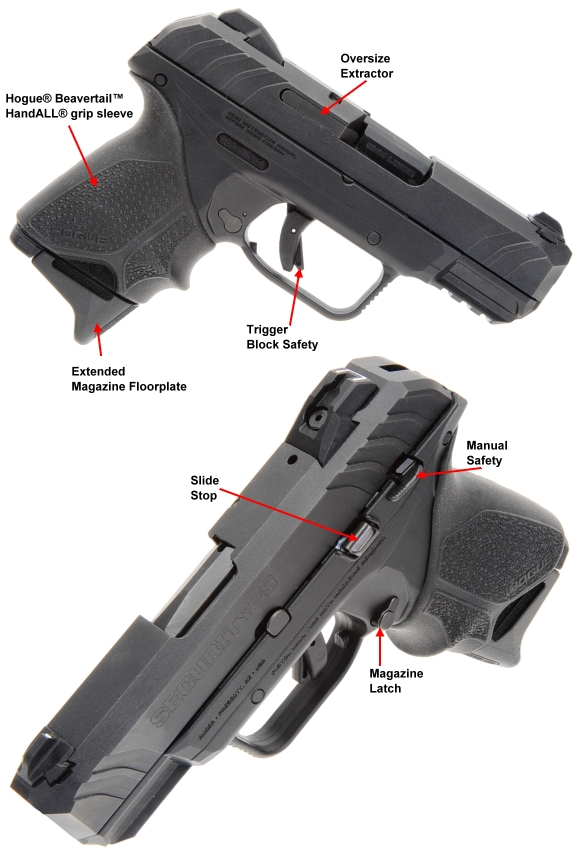 Controls are where you would expect to find them. Yes, of course on the pistol, but more so where auto pistol experience since the discovery of fire has taught us to reach for them. The slide stop is a nub, but then it is only used manually to lock open the slide… for some reason other than routine handling and use. I was at first concerned about the size and far rearward location of the manual safety that prevents thumbing it on, but then I realized I was reaching my thumb knuckle too far forward and under the pivot point. So a little proficiency training solved that problem. While the manual safety is positively located on or off, taking the safety off was just an easy thumb swipe downward and that is the important motion when pressed into service.
The top side is clean with low profile, snag free sights; white dot front, white outline rear, both laterally drift adjustable. Sight radius is 5 1/8″. A loaded chamber check port on the barrel tang allows just that. The blued allow steel slide is through hardened, not just surface hardened for dimensional stability and high wear resistance.

Ruger lists the Security-9 slide width as 1.02″, which checks. However, the sleeved grip measures 1.535″ which isn't meaningful for open carry, but does figure in for concealment. For me, the added gripping surface fills the hand and makes shooting the pistol accurately much easier and without the unpleasant experience that accompanies some of the subcompact nines. For shooter who prefer greater concealment of shooting comfort, the sleeve can be removed, which sheds 0.420″ in width, bringing grip width not much more than slide width.
The sights are very good; easy to pick up against most background and able to shoot pomegranate size groups as we will see a little later on. They are especially useful when the front sight is raised level with the top ears of the rear sight. Who the heck took that picture!!…!.
For malcontents, the Ruger Store and others offers the same type sight in black, yellow and orange outline. Also offered are Tritium night sights, fiber optic, FastFire II mounts and sights, and rail mounted Tactical Light.
Two, ten round, made in U.S.A. Ruger magazines are included with the Ruger Security-9. One has the extended floorplate, one is flat and a spare flat floorplate is included for folks who don't want to use the extended piece.
The Ruger is a 9mm Luger and 9mm Luger +P firearm. Specifically excluded is +P+ ammunition, which actually doesn't exist outside of a concept. Ammunition loaded to a non-existent, over pressure specification is never a good thing for a manufacturer to embrace. Don't take this as a lecture. I'm actually just trying to find enough words so the paragraph will break even with the bottom of the image.
Shooting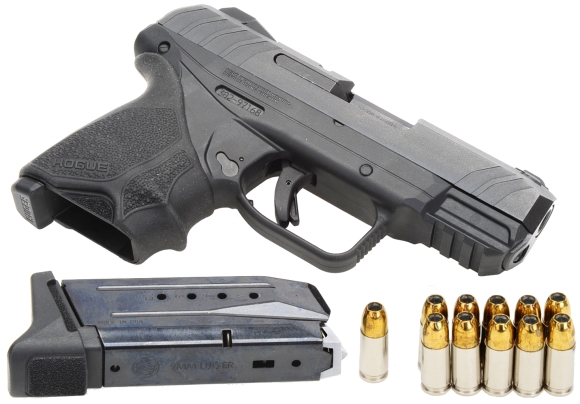 I think, based on the picture above, we can conclude that the Ruger Security-9 can hold ten rounds in its magazine and one in the chamber. The combination of trigger safety and manual safety make this a reasonable condition and the concealed hammer will not raise public ire associated with carrying a cocked and locked 1911 type. That said, Ruger's manual indicates that, if the pistol is not to be used immediately, the pistol should be carried empty chamber.
9mm Luger Ammunition
Bullet
Type

Bullet
Weight
Grains
Rated
FPS 4″
Actual FPS
3.42″ Barrel
American Eagle Syntech

TSJ

115
1130
1062
IMI Systems

JHP

115

1150

1126

Remington HTP +P

JHP

115
1255
1016
Remington Ultimate Defense

BJHP

124
1100
1081
Speer Gold Dot +P

GDHP

124

1220

1098

Velocity was good for a short barrel gun with the greatest loss from standard velocity coming from +P loads. Could be powder selection in those factory loads. Slow powder that boosts velocity from persistence of burn and high average pressure often does not have the quickest pressure rise, but I am just spitballing that might be the issue. Based on bullet construction and application, I don't think the +P velocity loss is meaningful, but I don't believe I would waste my money on +P ammunition with this or any other short barrel 9mm Luger chambered pistol.
Accuracy, repeatability was very good for both the pistol and me. Seven yards, five shots in a playing card size target and that was after two cups of coffee. It is probably the most comfortable compact pistol I have shot for some time. The Hogue Sleeve is hand filling for medium and large hands and anyone else who can't pick up a basketball from the top with one hand. Recoil, report, muzzle blast, and muzzle rise are modest and it is an easy gun to master.
There is probably a bigger point. The Ruger Security-9 compact, like most Ruger firearms, is built like a tank, made with exceptional manufacturing control, assembled with American pride and backed by Ruger's "We'll fix anything" warranty. Still, it is value priced at $399 Manufacturers Suggested Retail Price but, on the average, $50 less at discount retailers. In setting the quality this high and the price this low, budget shoppers are not stuck with buying an imported piece of junk, built like loose rocks in a box with rubber band springs, which will disassemble itself when most needed.