11/21/2019
Thanksgiving is fast approaching. Close enough to start a refrigerator thaw on the turkey and to appreciate a bit of weather warm up that will have the snow off the ground by the time the day arrives. It will be a day with close friends, relaxed and focusing on how good life has been and how blessed we are to live in this great nation and to have the peace of mind and independent life we have been afforded. Next up will be the Christmas tree…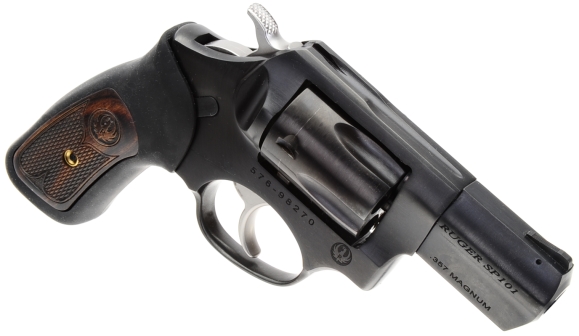 Ruger SP101



Manufactured
Newport, NH

Model Number
15702
Type Action
Double / Single
Caliber
357 Magnum

Capacity
5
Construction
Alloy Steel

Grips
Soft Synthetic

Trigger Pull DA / SA
11 Lbs 8 Oz / 5 Lbs 9 Oz

Barrel Length
2.25″
Rifling
1:16″ RH

Rear Sight
Integral
Front Sight
Black Ramp

Type Safety
None
Overall Length
7.20″
Overall Height
4.55″
Width At Cylinder
1.35″
Weight
26.0 Oz.
MSRP
$719
The small frame Ruger SP101 snub nose revolver is a fit for home defense or concealed and/or open carry, with anticipated shooting distances inside ten yards +/-. Yes, people can and do use it for many other circumstances, but those I have indicated reflects the applications I would service with this firearm.
My 357 Mag GP100 is an easy 25 yard bullseye gun, 50 yards with silhouette targets, an increase in effective range I would attribute to a larger grip, longer sight radius and fiber optic sights. But this model SP101 is easier to conceal, lighter to carry and ideal for the earlier referenced applications.
The Ruger SP101 snub nose 357 magnum resides at the intersection of pragmatism and aestheticism; to the south is the is the Ruger LCR and to the north is the… Well, Ruger doesn't make a north, they only make firearms with utility and aesthetically pleasing firearms with utility. North would be home to a firearm with superfluous embellishments, but without significant improvement in performance.

The Ruger 357 magnum LCR is one third lighter than the SP101 and the LCR has a significantly better double action trigger. The LCR would be called aesthetically pleasing, but only at a convention for American mechanical engineers. As for the SP101, there are three tests for defining aesthetically pleasing firearm form: subject it to Plato's Divided Line, subject it to Aristotle's Golden Ratio, and/or hand it to a friend and see if they say "Cool" and attempt to borrow it without commitment to return.
Still built like a Ruger tank albeit a smaller tank
Even the snub nose version of the SP101 has a triple lock cylinder as defined above. The front latch interlocks with a slot in the revolver's frame when the cylinder is closed and does not pull back from the slot until the crane latch is depressed and pushed the cylinder pin lock forward.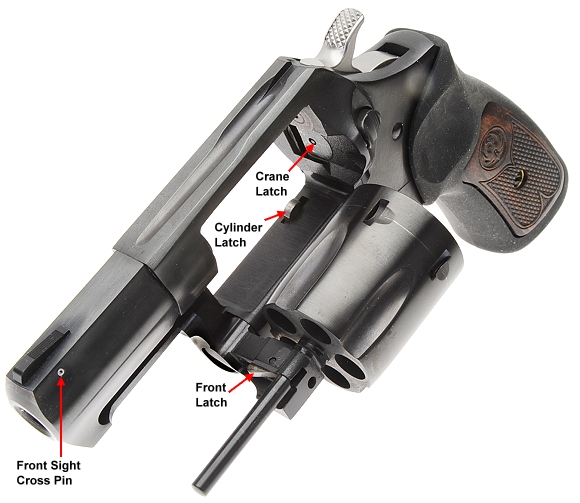 The pinned front sight stays put, even under some quick and nifty recoil. The cylinder it tapered at the front end, the rear sight is integral to the frame and the front sight is shallow and ramped to avoid snagging on clothes or holder. The frame may be of the small variety, but it is beefy are are the interior and exterior chamber walls.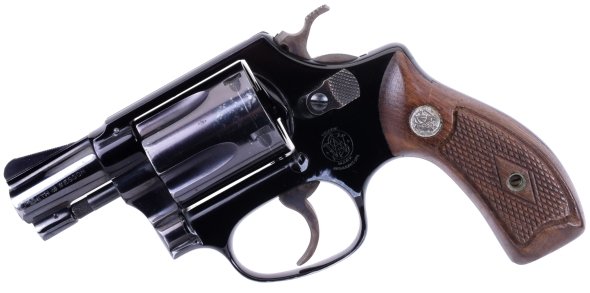 An old J frame friend of mine, a S&W Model 37 is a good illustration of the difference between the Ruger SP101 and a typical small frame revolver. The S&W does have two things I would like to see in the SP101, a tool steel or forged hammer and trigger rather than MIM pieces. Yes, I am aware that MIM parts are durable and close tolerance and widely employed in the manufacturer of quality production firearms, but I just don't care for vertical parting lines down the center of my gun's hammer or hollow back triggers. See "aestheticism" in prior text and "through hardened" not in prior text.


Compact in length and only 1.350″ at the widest part of the cylinder, the SP101 offers enough irregularity in form to aid concealment. All steel, but still not heavy, there is enough heft to steady shots. The hammer is narrow…ish at 0.310″, but its little MIM corners are smoothed and rounded to provide purchase without snagging. Of course the hammer is not necessary because everyone practices shooting double action. Right? I don't get why anyone would buy a double action revolver and then predominately shoot single action, except, perhaps in the case of vestigial fingers.
If you have men's small or women's medium and the SP101's grip is large enough to park all fingers comfortably. Large women's hands, women 7″ – 7.5″ and men's medium 8.5″ – 9.5″ will leave the pinky finger curled at the bottom of the grip. Larger hands would make for a two finger hold with the pinky curled under the grip and possibly an issue with finger clearance behind the trigger guard.The SP101 has a peg grip frame and aftermarket grip production has been brisk with many styles and sizes available to accommodate just about anyone.
My hands are at the top of medium and I found the factory grips more than adequate with pinky tucked under. Good control, good recoil absorption, good natural sight alignment, regardless ammunition selected. Usually I get my middle finger smacked under small gun / 357 Mag recoil, but not the case here.  Even muzzle rise was moderate and there was no range fatigue that often sets in with compact firearms with not so compact cartridges.
Two hand hold was very good; steady, balanced and with good sight alignment. It did look a bit like a ball of hands around the small grip, but it worked well. Not sure why I am whining about grip size and hands. The first order of business with a short barrel, compact revolver is concealment, so no big surprise regarding fit.
357 Mag and short barrels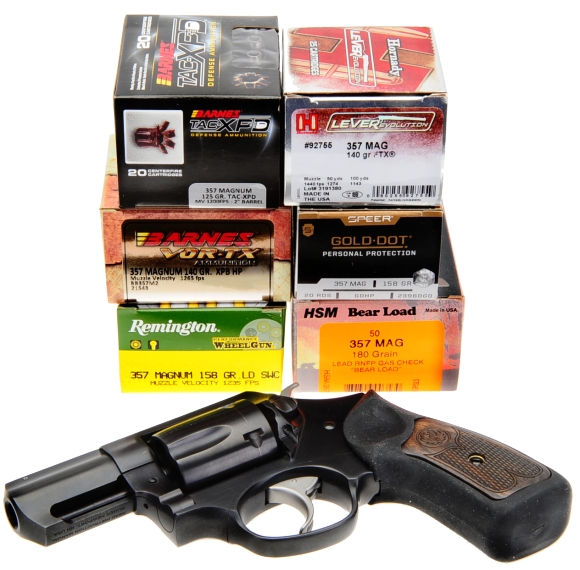 Any of the ammunition pictured above and listed below was capable of putting five shots into a playing card (3.5″x2.5″) at ten yards with the use of any steadying surface. Mostly getting my extended arms against an edge of a doorway. I am sure the revolver could do better, but I don't care as this meets any criteria I would have with a compact revolver.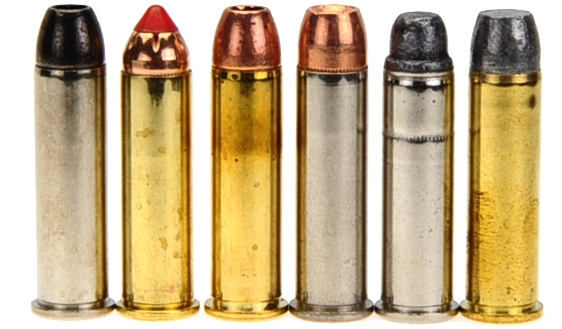 357 Magnum


Bullet


Type


Bullet




Weight




Grains

Rated
FPS
Recorded
FPS

Barnes TAC-XPD

HP


125

1200

1210

Hornady LeverEvolution

FTX

140

1440

1234

Barnes Vor-TX

HP


140

1265

1216

Speer Gold Dot

HP


158

1235

1002

Remington Wheel Gun

SWC

158

1235


1103

HSM Bear Load

LFP

180

1200

954

Why the disparity in rated fps versus recorded fps? A SAAMI 357 Magnum test barrel can be a 10″ solid barrel or a 5.643″ vented barrel where selection makes a huge difference in rated velocity. Additionally, a number of ammunition manufacturers load for short barrel revolvers and rate their ammunition within those applications, some rate them with a typical hunting handgun barrel length. As an example, Barnes-TAC-XPD is rated with a 2″ barrel revolver, the Hornady load is rated with an 8″ vented barrel even though it bears the LeverEvolution label. Any of the loads would be very effective in a self defense situation with the HSM slow but with serious penetration.
Is it a firearm you would pick?
Who knows? I've seen excellent approaches to selecting a firearm, I've seen some that defy the laws of gravity. I like the combination because it is a quality design and quality assembly. The cartridge in this revolver provides an excellent balance of power and control. Would I pick it for medium and big game hunting? No, I would not select it for any type of hunting, but I would carry it on my belt as a defensive firearm in the woods in a state with black bear and moose.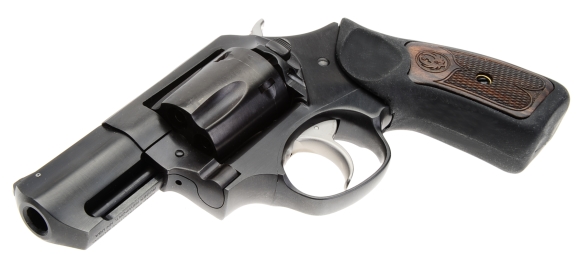 Would I carry it concealed while going about my business? You bet. What about the five shot cylinder versus seventeen rounds from an autoloader? The revolver can be carried with greater discretion, five rounds is enough for a proficient handgunner to marshal a defense… as interactions with persistent multiple assailants mostly happens in the movies. Typical good looking, reliably functioning, solidly performing Ruger firearm.