11/25/2019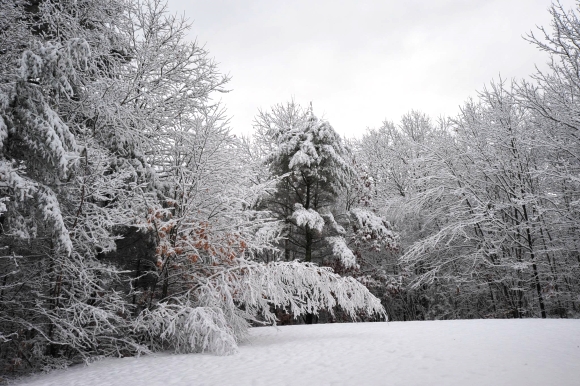 Pete sat with his elbow on the breakfast table, his chin resting in his left hand, sipping from a cup of black coffee, and waiting for the last remnants of sleep to leave him. His wife across the table, smiled, extended a hand to his, squeezed gently and asked, "Are you sure you want to do this?". In truth, he did not know the answer to that question. Looking over his wife's shoulder and through the window beyond, he could see the snow had stopped falling and the sun was rising to clear skies, but there were three inches of new snow on the ground. The National Weather Service forecast temperatures in the low teens with winds gusting to fifteen knots. He reached out and patted her hand, "Yes, I do want to do this. Don't worry, everything will be fine".
This was the first time, in a very long time, he would hunt deer alone. Each year his group had grown smaller; aging, poor health and retirement to Florida had all taken their toll. A lot to think about. Nothing to think about. He and his wife spent a good deal of time outdoors clearing brush, tending a vegetable garden, repairing and maintaining home, equipment and vehicles. Hunting was just one more part of their lives.
Dressed for the cold in a mismatched combination of parka, snow pants, long johns, gloves, waterproof boots and a bright orange vest, he kissed his wife goodbye and gave her a hug before heading over to the workshop across the driveway to pick up the rest of his gear. She smiled, "Be careful. Love you". He smiled back and patted her cheek, "Don't worry. I'll be back by late afternoon". The trek across the driveway to the shop offered a preview of what the day would bring. The snow at his feet was fine and dry, blowing in swirls and small drifts ahead of the gusting, chilling wind, but he knew his clothing and boots would keep him warm and dry with the assistance of some of nature's cover while posting. Physical exertion would keep him warm while moving.
The rifle
Ruger 77/357

Manufacturer

Sturm, Ruger & Co. Inc

Model

7405

Type

Bolt Action

Caliber

357 Magnum

Mag Capacity

5

Barrel Length

18.5″

Rifling

1:16″ 8 Groove RH

Weight

5 lbs 8 oz.

Overall Length

38.5"

Stock

Black Synthetic

Hardware

Brushed Stainless

Length of Pull

13.5″

Drop at comb

0.5″

Drop at heel

1.0″

Sights

Adjustable Metallic


Scope

Ruger Integral Base

Trigger Pull

4 lbs. 9 oz. Non-Adj

Safety

3 Position Thumb Safety

MSRP

$999
Inside the shop, Pete worked his way through possible rifle selections. Some of his old favorites had only seen range time in recent years, some of the bigger calibers had been sold or given away; better in the hands of a generation that would put them to work then collecting dust in a safe.
The decision came down to one of three rifles, a lever action Marlin Guide Gun in 45-70, a bolt action Remington Model 700 Mountain SS in 7mm-08 Rem and the one he finally selected, a Ruger Model 77/357 in 357 Mag. The Ruger was the lightest of the three possibilities; 1 1/2 lbs less than the Marlin, 1 lb less than the lightweight mountain rifle.
The Remington was a bit more than 4″ longer than the Ruger, while the Marlin was 1 1/2″ shorter. His stock of ammunition for the Marlin was all heavy 45-70, power not needed for this hunt. The Remington was in a perfect chamber, but it was scoped for longer than anticipated shooting distances and Pete wanted to go with metallic sights in this hunting environment.
Pete picked up a little carbine, popped out the rotary magazine, removed the bolt and checked the rifle's bore. The Ruger 77/357 with 18.5″ barrel weighted just 5.5 lbs and balanced just forward of the trigger guard. A clean cloth with tooth wiped the natural stainless steel barrel and receiver and black synthetic stock clean.

The rings that were supplied with the rifle mount directly to the receiver top and could have been used to mount a moderate magnification scope, but at the 50 to 75 yard shooting distances Pete anticipated, the scope would just be something else to worry about on snow covered paths through thick brush.

The Ruger's folding leaf rear sight is adjustable for elevation with vertical graduation resolution of 1″ @ 25 yards and drift adjustable for windage. The front sight presents a flat brass bead face on a narrow blade. Pete preferred the factory metallic sights over a scope, red dot, peep sight or any other system that would clutter the rifle or slow its ability to acquire a moving target. The factory sights don't lack  precision as the leaf aperture and brass bead are small, but the pairing lacks contrast.
The rifle definitely deserves a good set of adjustable fiber optic sights that would not get lost against a woodland backdrop. Seeing as how Ruger put so much innovative engineering into the New Hampshire made rifle, both design and process, it didn't seem that big of a job for them to upgrade the sights. Maybe offer a small peep or ghost sight that mounted at the rear scope ring location? Maybe a fiber optic set that replaced the factory sights at the standard locations? Maybe just a fiber optic front sight?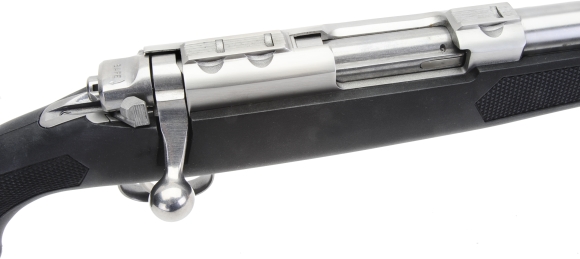 With the magazine out, he cycled the bolt and worked the three position safety; safety on – bolt locked, safety on – bolt can be opened, safety off – fire, leaving the rifle empty and uncocked. He liked the way the rifle felt in his hands… heft, but not heavy, hand filling, but slender. Good stock geometry.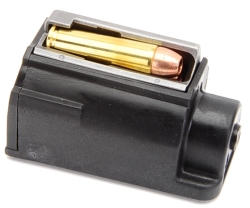 The rotary magazine fits flush with the underside of the rifle. The magazine release protrudes below rifle bottom, but it is located back far enough that it is out of the way of hands from any shooting position, but it is still handy enough to easily remove a magazine.
The rotary magazine loads five rimmed 357 magnum rounds easily and feeds them from the center for a smooth closing bolt stroke. In fact, this was one of the reasons the Ruger was chosen over the Marlin and Remington alternatives; feed, extraction and ejection were rock solid reliable and the rifles throw was fluid.
Pete always brought two extra magazines when he planned to be out for the day, either loaded with the same types of ammo or sometimes different types of ammo he might find useful under the hunting circumstances.
Ammunition
Pete pulled two boxes of factory 357 Magnum ammunition from the cabinet over his work bench. One for the Ruger 77/357 and the other for the revolver he would carry in the pocket of his parka. The Ruger SP101 2.25″ barrel would be loaded with Barnes 125 grain TAC-XPD. Of the six types of ammunition he had tested for expansion, penetration and accuracy with the short barrel revolver, TAC-XPD delivered the best overall performance.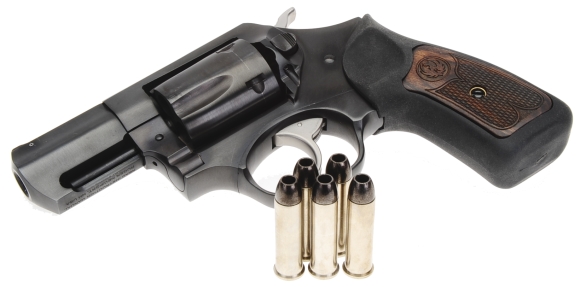 The 77/357 would be loaded with Hornady LeverEvolution 140 grain because the ammunition had proven itself on deer and larger feral hogs. In a pinch, he could have used any of the others with the exceptions of the TAC-XPD and Speer Gold Dot, which he considered too fragile for medium size game.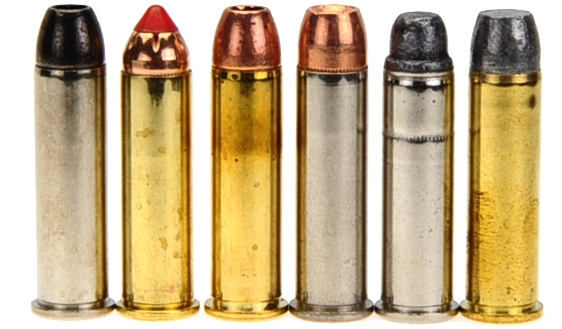 357 Magnum


Bullet


Type


Bullet




Weight




Grains

Rated
FPS
Recorded
FPS
2.25″ BBL


Recorded


FPS
18.5″ BBL

Barnes TAC-XPD

HP


125

1200

1210

1971

Hornady LeverEvolution

FTX

140

1440

1234

1846

Barnes Vor-TX

HP


140

1265

1216

1828

Speer Gold Dot

HP


158

1235

1002

1813

Remington Wheel Gun

SWC

158

1235


1103

1741

HSM Bear Load

LFP

180

1200


954

1539

The 357 Magnum, in Pete's opinion, was a vastly underrated cartridge and yet another reason he avoided hunting with young guys. He grew tired of being told which new cartridge was the only one to choose and being offered scientific theory regarding tissue hydraulics, 800 yard trajectory, and the evils of large gun corporations. Pete's firearm and cartridge decision making was based on meat in the freezer and the fewest steps taken by game after being properly shot. What the 357 Magnum could do was open a good wound channel and penetrate deeply. Yes, the hunter had to be competent and shots needed to be placed in vital areas, but the cartridge could do its job.
He found the Ruger 77/357 to be an accurate rifle; not pistol accurate, not target rifle accurate, but more than accurate enough for present hunting circumstances. Above, a 3/4″ group left and 1″ group right, 5 shots at fifty yards with two types of 158 grain factory ammo, which are typical of the rifle's performance.
Departing
The little Ruger would not be a burden moving up and down the steep terrain and it wouldn't beat itself to death against brush and other obstructions. When it was time to take a shot, its length of pull would allow shouldering without getting snagged on winter clothing. Pulling the trigger, report would be modest, recoil virtually nonexistent and whatever it hit would fall.
Pete loaded the revolver and put it in a parka pocket. He loaded two Ruger 77/357 magazines and put them in another pocket. He ran his folding Buck knife over a honing stone and tested its edge. He put the knife and extra ammunition in a small backpack, joining a compact first aid kit, inexpensive light rain gear, an LED flashlight, a couple of large trash bags, rubber gloves, and a roll of duct tape. The beef jerky would go in a top pocket of his coat where it would be immediately accessible along with a cell phone.
He shouldered the pack and rifle, turned off the lights, locked up, and headed toward the trail into the woods out behind the shop. A big day ahead.