12/30/2019
Ruger LCP II 22LR


Model Number

13705
Manufacturer
Ruger
Point of Origin

Mayodan, North Carolina

Type
Blowback- SA

Caliber
22 Long Rifle

Magazine Capacity
10
Barrel
2.75″

Rifling
1:16″
Overall Length
5.20″
Overall Height
4.00″
Slide Width
0.81″
Weight
11.2 Oz.
Sight Radius
4.5″
Trigger Pull – Actual
4 Lbs 6 Oz.

Rear Sight
Low Profile – Integral

Front Sight
Low Profile – Integral

Barrel Material
Stainless Steel

Slide Material
Alloy Steel

Slide Finish
Blued
Frame Material
Glass Filled Nylon

Grips
Integral

Safety
Manual + Hammer Block

Magazine Disconnect
Yes
Loaded Chamber Indicator
No
MSRP
$349
The Ruger LCP II is the jellybean of firearms; it comes in many colors and configuration and firearm enthusiasts consume them like crazy. They are highly concealable, highly reliable, low in price, and supported by aftermarket suppliers for owners who want to personalize with holsters, magazines, laser sights, short pull triggers, tuned recoil springs, etc.
The introduction of the 22 Long Rifle version of the Ruger LCP II adds yet another dimension to the product. Form similarity with the LCP II 380 Automatic version makes the 22 LR version a good practice stand in with higher capacity, 10 rounds rather than 6, and with less costly ammunition.
The LCP II 22 LR also stands on its own with less recoil and easier slide actuation when chambering a first round. The 22 LR version has a manual safety and a simple blowback action rather than a lock breech, tilting barrel action. The 22 LR barrel tilts only as the slide cycles to reduce the angle from magazine to barrel ramp.
Carrying a pistol for self defense suggests a potential for a circumstance where a person's life is in peril. Determining which firearm and cartridge combination is appropriate is a personal decision but, for most, a reliable 22LR pistol has a place in self defense applications.
In my mind, there is no controversy to the issue of using a firearm chambered for the 22 LR rimfire. I would carry the LCP II as a backup, or a primary in some circumstances, because it is easy to conceal, easy to operate, easy to control and quite lethal close up with the right ammunition. My opinion.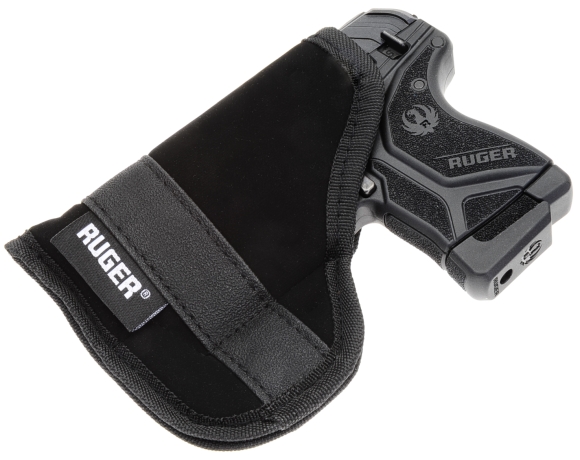 The Ruger LCP II 22LR is shipped with a nicely done pocket holster, a thoughtful accessory.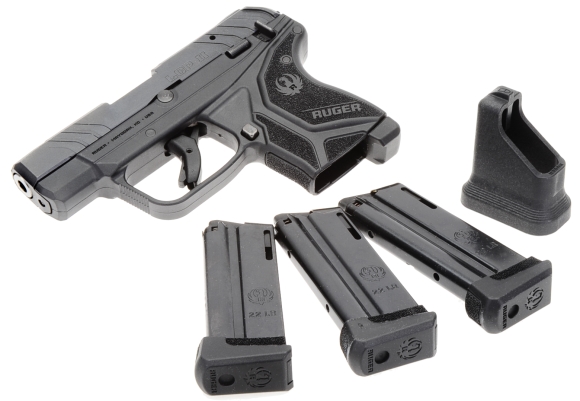 One magazine is included with the pistol, however, extras can be purchased in two packs from ShopRuger.Com. The 22 long rifle magazines do not have a load assist button, so a magazine loader is included to speed magazine loading; not necessary, but handy.
The slide is easy to rack, which Ruger attributes to a "Lite Rack" system which is comprised of refined slide gripping surfaces, cocking ears at slide end and a light recoil spring. The manual safety is push forward to fire.
The one piece, heavily stippled grip frame is made of glass filled nylon. The slide is fashioned from through-hardened steel. While the pistol is small, the controls are easy to actuate. Removing the take down pin is not hard, but it does require the assistance of a small prying tool… like a screwdriver.  The pistol is hammer fired. The hammer is inside the assembly, but visible from the back.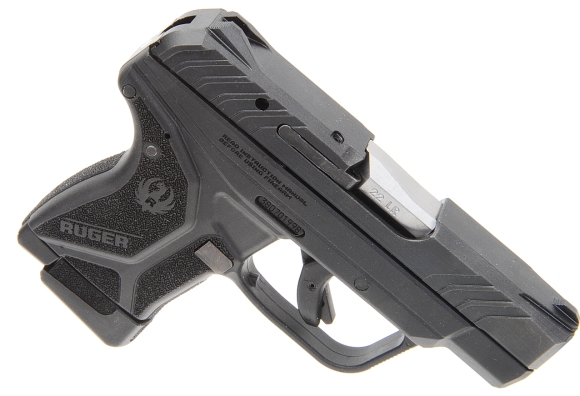 Rather than barrel motion being controlled by a camming surface on the barrel under lug, the top of the barrel surface above the chamber provides the cam profile; as the slide is driven back, it drives the rear of the barrel down.

At 3/4″ wide and 5″ and a bit long, the LCP II has enough surface to form a solid grip, but it is small enough to easily conceal. The sights are low and snag resistance and actually quite good for fixed sights. The barrel camming surface is more obvious in this picture.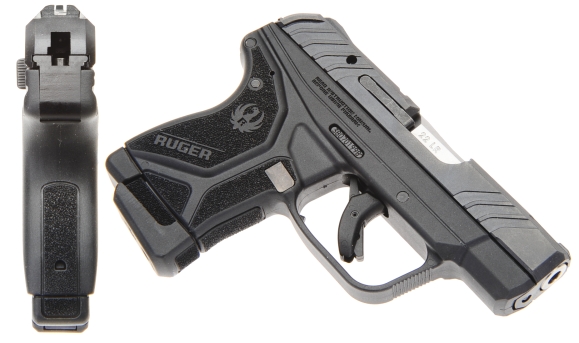 While the Ruger LCP II 22 LR is diminutive in size, the trigger guard loop is full size. The pistol is covered with gripping surfaces, either stippled, serrated or sculptured. The slide is easy to rack from either front or rear ribbed surfaces or from the subtle dog ears at the rear of the slide.
Performance as measured by feet per second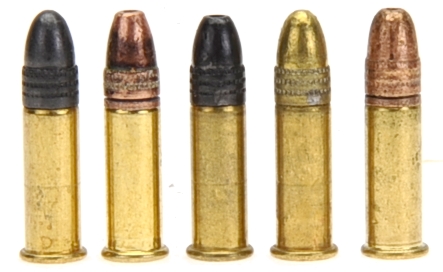 And here we have our participants, in order of height and from above left to right, and on the table top to bottom:
Ammunition

Bullet


Weight

Grs

Rated

FPS
24″

Barrel

Actual

FPS
2.75″

Barrel

Remington Thunderbolt

40

1,255

828

Federal Champion

36

1,280

933

Remington Cyclone

36

1,280

975

Remington Golden Bullet

40

1,255

937

Winchester Wildcat

40

1,255

876
Accuracy…
I was going to post my three hundred yard targets with ballistic tables, but I didn't want to show off. Instead I stuck with twenty five feet and a 3.5″ x 2.5″ playing card with geezer size face markings. I was doing really well for the first four shots, then I got to stressing about the coming fifth shot and it became a self fulfilling prophecy.
Which ammunition was the most accurate? All of them. Shooting a number of groups with each, essentially yielded the same or very similar results and that is good enough for close-in work. So any 22 LR ammunition will work as well? No, some standard velocity ammo, target ammo produced some failures to feed. Not much of a surprise as the LCP II 22 LR manual indicates that high velocity ammo gets the best functional reliability results.
As is the case with every other rimfire firearm, and all centerfire firearms for that matter, it is always best to try a few types/brands of ammo and shoot what functions best. With velocity and accuracy established, the next step was to determine penetration potential which called for exotic test equipment.
Penetration tests
I used to shoot into large quantities of ballistic gel and then study and analyze the condition of bullets and bullet paths in gel. No, not wound channels as it is impossible to wound a synthetic product with no internal organs or skeletal structure. I took a lot of measurements, took a lot of pictures, made some assumptions, none that were worth much as a practical matter, even if I dressed the blocks in denim and old sweatshirts.
On the advice of a very good heart surgeon, I stopped assuming that most medium size mammals are built like a gel block. The sternum, at its mid point in humans, averages 0.400″ to 0.600″ in thickness, which needs to be penetrated before any of that soft tissue on the other side is reachable.  So I began to preface gel testing with plywood testing.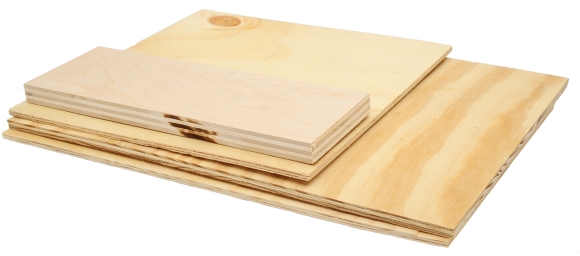 Birch hardwood plywood is rated with specific gravity of 0.700. Pine core plywood is rated as 0.610. Ballistic gel is 0.910 when simulating swine muscle tissue and swine bone specific gravity is 1.50. While the difference seems drastic, plywood specific gravity reflects oven dry weight with zero % moisture content. I store wood in our basement next to wood working machinery, and that area is kept at a constant 26% humidity. The moisture content puts the plywood at a density similar to ballistic gel.  In addition, the cross fiber nature of plywood and epoxy used in lamination  adds other resistance to penetrating force.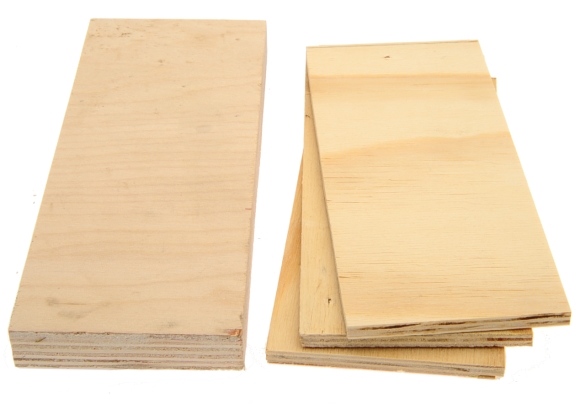 When I want to do preliminary screening, rather than spend $200 for a $10 block of synthetic ballistic gel, I make up test plywood panels. In the case of a 22 LR handgun, I use one 3/4″ thick section of hardwood plywood, backed by multiple layers of 1/4″ plywood. Penetration of the first 3/4″ layer is a pass/fail test. If a bullet won't pass through, the combination is unacceptable. Subsequent 1/4″ layers make it easier to measure smaller increments of penetration for bullets that make it through the 3/4″ layer. Bullets passing through all layers are deemed adequate.
Velocity, bullet weight and/or bullet types did not make the difference in penetration as some faster bullets and as heavy bullets barely made it through the 3/4″ hardwood plywood block. Yet out of the five ammunition types tested, despite the 2.75″ LCP II barrel and modest velocity, two blew through 1.5″ of plywood, did significant peripheral damage and kept right on going. Why? Magic is my guess. I am not suggesting that this is a test of lethality of a round and firearm, it is just information for the reader to process and analyze based on their personal experiences and understanding… of plywood.
Conclusion
The Ruger LCP II 22 LR is a made in the U.S.A.and a carefully assembled product, sold at an affordable price. Easy to rack, light trigger pull and no appreciable recoil, the LCP II 22 LR worked well as a plinker and it was fun to use for recreational target shooting. It's easy to conceal and its small size makes it a natural to carry in circumstances when other larger pistols might be left at home. Nice little pistol.