12/31/2019
Snow storm coming tomorrow afternoon. The weather has held up so far this winter so, with a little bundling up, there have been lots of good shooting days. Temperatures have dropped into the high teens on occasion, but the air is still and clear and offering good opportunities to function check firearms under less than ideal conditions. I can handle a day or two of clearing and shoveling a little Maine sunshine.
The Ruger 57 caught me by surprise; lots of precision and hunting rifles introduced by Ruger in a steady stream and then, "Hey, let's make a pistol chambered for the 5.7x28mm". Why not? I had real eggs for breakfast, the U.S. Congress has lost its mind and my wife still loves me despite my faults, flaws and comb-over cowlick… Life holds many surprises. So when really good things happen, don't question them, just accept and enjoy them.
Ruger-57


Model Number

16401
Manufacturer
Ruger
Point of Origin
Prescott, AZ
Type
Ruger Secure Action™

Caliber
5.7x28mm

Magazine Capacity
*20
Barrel Length

4.94″

Rifling
1:9″ RH 8 Groove

Overall Length
8.65″
Overall Height
5.60″
Slide Width
1.2″
Weight
24.5 Oz.
Sight Radius
7.5″
Trigger Pull – Actual
4 Lbs 10 Oz.

Rear Sight
Windage & Elevation Adjustable

Front Sight
Green Fiber Optic

Barrel Material
Alloy Steel – Black Nitride

Slide Material
Alloy Steel – Black Oxide

Grip Frame

Glass Filled Nylon
Frame Material
Polymer Over Aluminum Chassis

Integral Fire Control Chassis

CNC Machined – Anodized

Thumb Safety
Ambidextrous
Magazine Disconnect
No
Loaded Chamber Indicator
Yes
MSRP

$799.00

*16402 10 Round Magazine
A little elaboration
The Ruger 57 is an internally hammer fired, magazine fed, auto loading, recoil operated, centerfire handgun.  It utilizes a delayed blowback design in which the barrel and slide are held together by the recoil spring at the moment of firing. As the bullet moves down the barrel and exits, the barrel and slide move rearward at different speeds until the barrel reaches its stopping point. The recoiling slide disconnects the trigger bar from the sear.
The slide continues rearward, extracting and ejecting the spent cartridge case and cocks the pistol's internal hammer. At full rearward travel, the compressed recoil spring pushes the slide forward, strips a fresh cartridge from the pistol's magazine, chambers it and drives the barrel full forward. Releasing the trigger resets the pistol and makes it ready to fire.
Ruger 57 physical characteristics
The Ruger 57 is supplied with fully adjustable sights; the rear sight with serrated black face, the front a green fiber optic. The pistol's inherent accuracy and long sight radius put Ruger's adjustable sight selection to good use. Additionally, the slide top is drilled and tapped for reflex sight mounting. The slide has been scalloped, slotted and relieved to keep slide weight to a minimum while maintaining a robust structure.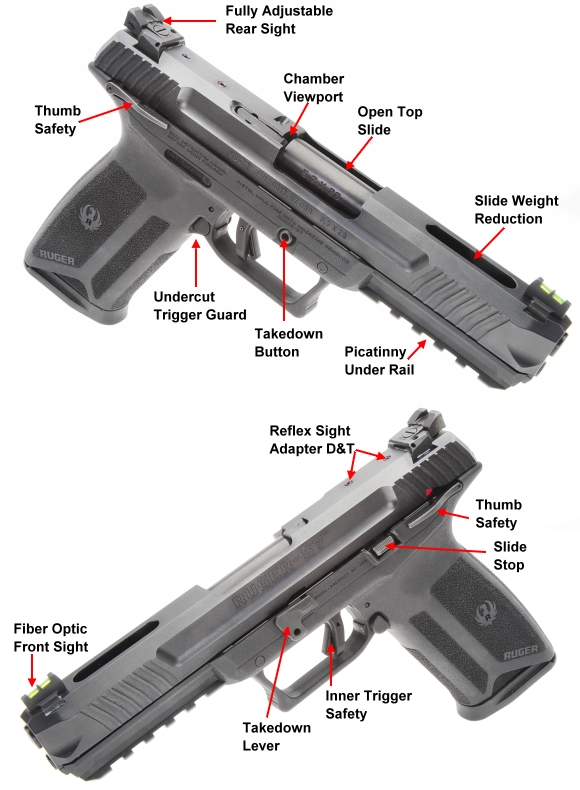 Reach to controls is very similar to a 1911 design, which makes shooting the Ruger 57 intuitive for anyone with 1911 experience. That applies to thumb safeties, trigger reach, magazine release, and slide stop. For as long as the cartridge is, 1.594″ overall length compared to 1.275″ for the 45 Automatic, it isn't felt when gripping the pistol. The Ruger 57 grip in cross section is 2.10″ x 1.10″ where a typical 1911 is 2.05″ x 1.34″ and the form does not compromise capacity.
Yes, that is a tiny 1911. The illustration is to show the Ruger 57's balance and distribution of mass. The 57's barrel is 0.1″ shorter than a full size 5″ 1911, but the overall length of the Ruger 57's slide assembly at 8.5″ is 1″ longer than a 1911 slide assembly as a result of the 5.7x28mm's longer cartridge accommodation.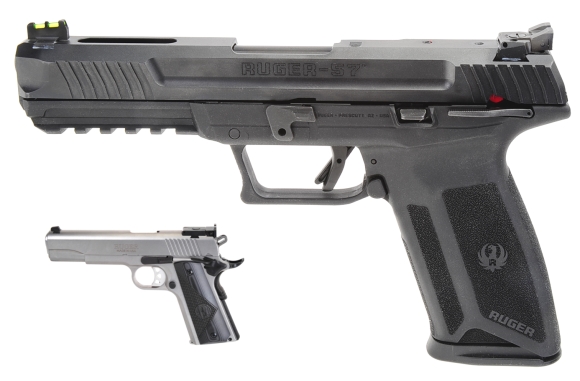 If someone were to place a 1911 on top of a Ruger 57, aligned at the muzzles, the grips would be in the same position. However, the Ruger 57's slide and grip frame would project 1″ farther back than the 1911, while the overall length is approximately the same. The Ruger 57 has a longer slide, but its beavertail support is integrated into the frame. The 1911 has a shorter slide and frame, but its beavertail extends back beyond its frame as part of its grip safety. The Ruger 57 approach result in a neutral balance, rather than the nose heavy balance of a 1911.
The subject Ruger 57 holds 20 rounds. Another version, as noted in the spec box, has a capacity of 10 rounds for firearm enthusiasts who live in one of THOSE states. Both pistol configurations are supplied with two magazines. The compact size of ammunition is illustrated by the twenty rounds in the palm of my hand. A couple hundred boxed rounds can be carried in a jacket pocket.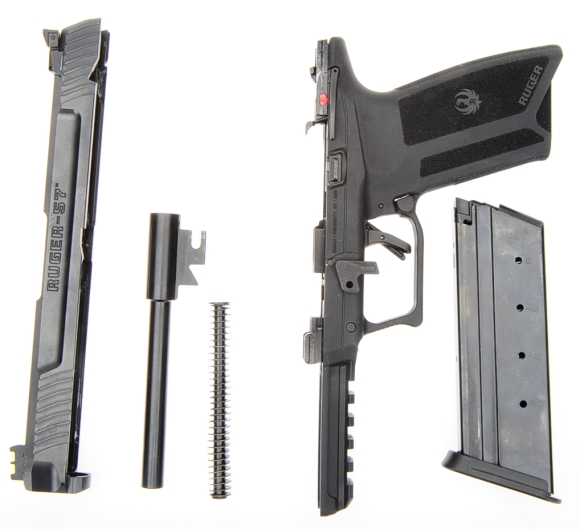 The Ruger 57 is an easy take down; magazine out, slide back chamber check, push in on takedown pin, pull slide back to release the slide stop, ease the slide forward while lifting the rear of the slide up and off the frame. Reassembly is as easy.
Below, the bottom side of the slide shows relieved area and a trapped, but visible firing pin and firing pin spring. While the grip frame is glass filled Nylon, the fire control components are mounted within a CNC machined and hard coated aluminum chassis secured within the grip frame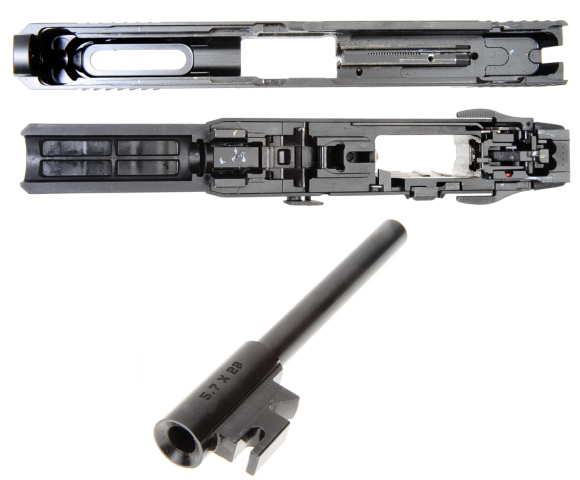 The action is a delayed blowback type with the recoil spring providing resistance. The barrel, casing and slide continue rearward when a round is discharged for approximately 0.090″. Then the barrel stops, no tilting, while the slide continues on to extract, eject, cock the hammer, then chambers a fresh round on rebound.

Ruger was smart to include an accommodation for reflex sights. The slide top is drilled and tapped to accept any of the five reflex optic mount plates available as accessories at ShopRuger.Com . At the moment, they are:
| | |
| --- | --- |
| Plate # | Sight |
| 1 | Vortex Venom & Vortex Viper, Burris FastFire 2 & 3 |
| 2 | Doctor /  Meopta /  MRDS(Ecotech) / Insight |
| 3 | Leupold/Redfield Delta point only. Deltapoint PRO will fit but weight is excessive |
| 4 | Trijicon |
| 5 | J-point, Shield, Shield RMS-c, SIG Romeo-0, Romeo-1 |
The reference to weight is important, particularly with lighter 27 grain ammunition. While velocity is very high, restricted by Newton's Third Law, the rearward force exerted on the slide is modest and the primary reason auto-loading firearms chambered for the 5.7x28mm round are blowback designs and not tilting barrel / locked breech designs. Subsequently, reciprocating pieces are light to assure reliability and care must be taken when adding weight to the slide.
I installed my old Burris FastFire II on the Ruger 57. Above, the Number 1 plate was installed by removing the two plug screws in the slide and securing the plate with the includes T15 Torx head screws torqued between 30 and 50 in-lbs. Then the FastFire mount screws secure the sight to the plate.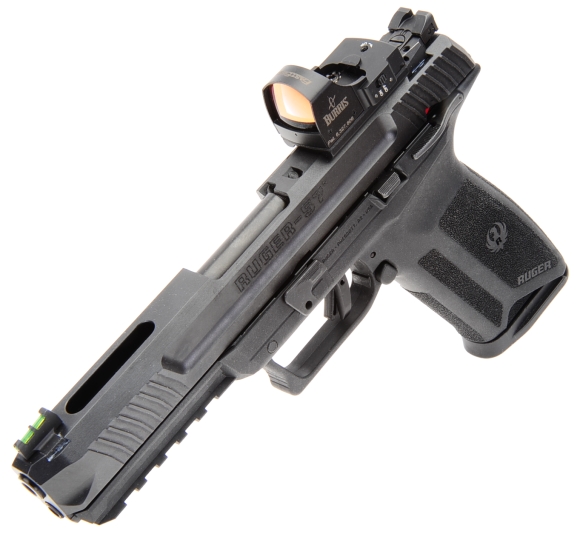 The Burris FastFire II weighs 0.9 oz. Ruger recommends a maximum sight weight of 1 ounce or less. There were no malfunctions with Federal 40 grain ammo and only one failure to feed with FN 27 grain ammunition. Outside of that anomaly, the pistol was easy to shoot, light in recoil, well balanced, and more shooting fun than I have had in some time. The factory target sights are excellent and hold adjustment, but the reflex sight adds a great deal of speed.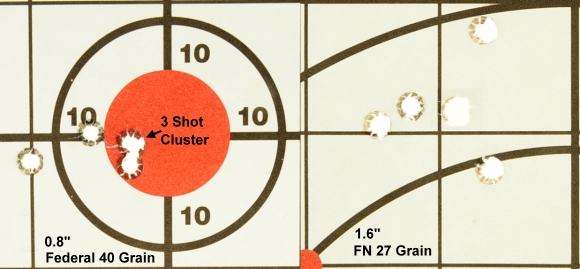 Twenty-five yard, five shot groups, measured center to center, farthest holes. Pistol was rested on shot filled bags for support with red dot sight in place. These groups are typical of what factory ammunition produced. The Federal 40 grain ammo was recorded over the chronograph at 1655 fps. The FN 27 grain ammo clocked 2159 fps. The 5.7x28mm is clearly a 50 yard plus gun for someone with better eyesight.
The 5.7x28mm
The 5.7x28mm has an interesting history of development and deployment. When you have a moment, Google the topic and you will find many versions of the same story, each altered slightly in an effort to create an air of originality. The fact that the 5.7x28mm was originally developed as a cartridge for military applications is less relevant than the fact it is a brass cartridge, with a conventional primer, modest powder charge, and bullet. Its specifications are controlled under the auspices of CIP, rather than SAAMI or NATO.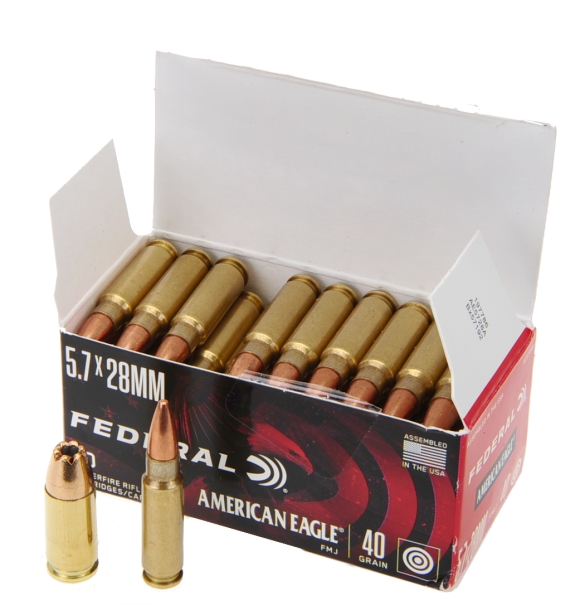 In context – above, the 5.7x28mm next to a 9mm Luger round, backed by a box of 50 5.7x28mm rounds. The 5.7x28mm has a case capacity of 13.85 grains of H2O,or about one half grain less than the 22 Hornet and about 50% more than the 22 Winchester Magnum Rimfire.  In the case of the Ruger 57, the combination definitely fills a unique place in terms of handgun ballistics.  The Ruger 57 offers high velocity, low recoil, low muzzle rise, accuracy, and lethality. In comparison to the 22 Winchester Magnum Rimfire, setting aside excessively long and mismatched spec test barrels, the differences are as they appear in the table below.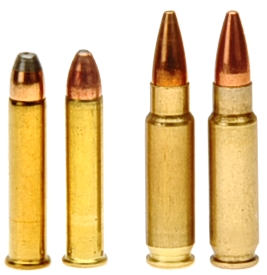 Cartridge

Brand

Bullet Grains

Rated




FPS

5.7x28mm




4.9″ Barrel




Recorded MV FPS

22 WMR




6.0″ Barrel




Recorded MV FPS

5.7x28mm

Federal American Eagle

40

2250

1655

–

22 WMR

CCI GamePoint

40

1875

–

1373

5.7x28mm

FN Herstal

27

2132

2159

–

22 WMR

Winchester Super X

28

2200

–

1586
In comparison to the 9mm Luger, recorded chronograph readings…
Cartridge

Brand

Bullet Grains

Rated




FPS

5.7x28mm




4.9″ Barrel




MV FPS

5.7x28mm
4.9″ Barrel
ME Ft-Lbs

9mm Luger




4.5″ Barrel




MV FPS

9mm Luger
4.5″ Barrel
ME Ft-Lbs


5.7x28mm

Federal AE

40

2250

1655

243


–

–

9mm Luger


Remington UD

124

1125

–

–

1111

340

5.7x28mm

FN Herstal

27

2132

2159

280


–

–

9mm Luger

Remington UMC


115

1145

–

–


1171

350

In comparison to the 9mm Luger in terms of trajectory at recorded velocity…
Best Zero Results – 40 Grain 5.7x28mm

Near-Zero – yds.

14

Mid Range – yds.

74

Far-Zero – yds.

129

Max Ordinate – in.

+3.0

Point Blank – yds.

137
Best Zero : Range 0 – 200 yards

Yards

0

50

100

150

200

Velocity – fps

1655

1475

1317

1188

1089

Energy – ft.-lbs.

243

193

154

125

105

Momentum – lbs-sec

9

8

8

7

6

Path – in.

-1.50

2.40

2.28

-2.85

-14.13

Drift – in.

0.00

0.00

0.00

0.00

0.00

Time Of Flight – sec.

0.00

0.10

0.20

0.32

0.46
Best Zero Results 124 Grain 9mm Luger

Near-Zero – yds.

10

Mid Range – yds.

53

Far-Zero – yds.

93

Max Ordinate – in.

+3.0

Point Blank – yds.

99
Best Zero : Range 0 – 200 yards

Yards

0

50

100

150

200

Velocity – fps

1111

1016

948

894

848

Energy – ft.-lbs.

340

284

247

220

198

Momentum – lbs-sec

20

18

17

16

15

Path – in.

-1.50

2.88

-1.15

-14.84

-39.40

Drift – in.

0.00

0.00

0.00

0.00

0.00

Time Of Flight – sec.

0.00

0.14

0.29

0.46

0.63
Best Zero Results 27 Grain 5.7x28mm

Near-Zero – yds.

17

Mid Range – yds.

86

Far-Zero – yds.

143

Max Ordinate – in.

+3.0

Point Blank – yds.

151
Best Zero : Range 0 – 200 yards

Yards

0

50

100

150

200

Velocity – fps

2159

1783

1458

1205

1043

Energy – ft.-lbs.

279

191

127

87

65

Momentum – lbs-sec

8

7

6

5

4

Path – in.

-1.50

1.97

2.66

-0.78

-10.21

Drift – in.

0.00

0.00

0.00

0.00

0.00

Time Of Flight – sec.

0.00

0.08

0.17

0.28

0.42
Best Zero Results 115 Grain 9mm Luger

Near-Zero – yds.

10

Mid Range – yds.

55

Far-Zero – yds.

96

Max Ordinate – in.

+3.0

Point Blank – yds.

103
Best Zero : Range 0 – 200 yards

Yards

0

50

100

150

200

Velocity – fps

1171

1064

989

931

883

Energy – ft.-lbs.

350

289

250

221

199

Momentum – lbs-sec

19

17

16

15

15

Path – in.

-1.50

2.82

-0.52

-12.74

-34.99

Drift – in.

0.00

0.00

0.00

0.00

0.00

Time Of Flight – sec.

0.00

0.13

0.28

0.44

0.60
In each example, best zero was determined by staying within a 6″ target for as great a distance as possible with a maximum +3″ ordinate. Maximum range was set at 200 yards to examine trajectory, however, the design specification sets a maximum effective range with a pistol at 55 yards, with a maximum range of 1,651 yards. In each case, the point blank range of the 5.7x28mm far exceeds the 9mm Luger.
Ammunition
There are three types of 5.7x28mm ammunition in general distribution. Prices run between $24 and $29 per box of 50 rounds. Ruger specifically prohibits the use of reloaded or re-manufactured ammunition in the Ruger 57, but with good reasons.
The low inertial force generated by a light 22 caliber bullet mandates the minimal resistance of a blow back action, light slide weight and minimal resistance to case extraction for reliable operation. The same principals apply to any auto loading firearm chambered for this cartridge. Unfortunately, the 5.7x28mm cartridge with its high operating pressure and only the slightest of body taper is not cooperative in that scheme of things. Subsequently, all 5.7x28mm factory ammunition receives a proprietary, low coefficient of friction polymer coating that aids extraction and assures reliable cycling of the firearm. Case cleaning techniques used when reloading, and the routine of processing brass through dies, would remove the poly coating and there is no workbench product to replace it. Below, the effects of sizer dies on the cartridge's poly coating as accumulated in a shell holder.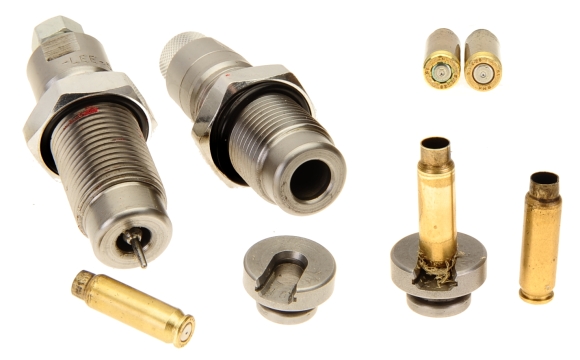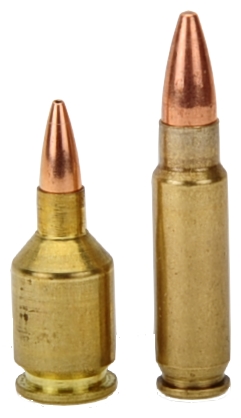 Above, a full length sizer and seater die set. General information – The 5.7x28mm headspaces on its shoulder and requires full length resizing to restore workable dimensions after being fired. Hornady #37 and Lee #15 shell holders cover both the 5.7x28mm and 25 Automatic. RCBS #45 and Redding #34 are dedicated 5.7x28mm shell holders. The 5.7x28mm cartridge takes a small rifle primer. FN ammunition has staked primers and requires primer pocket swaging before reloading. Federal ammunition primers are not swaged. Rims are quite fragile in a reloading press.
Personally, I would not reload the 5.7x28mm for use in any auto loading firearm. There is just nothing to gain, but a lot to lose, by handloading. Changing bullet weights and powder types, increasing or diminishing velocity and/or pressure would only serve to diminish reliability. So why do I have reloading dies and shell holder at the ready and why bring up the issue of reloading?
I like the idea of small caliber, moderate case capacity cartridges for single shot pistol application, particularly for recreational target shooting, pest control and varmint hunting. Pictured, left, the 5.7x28mm next to a 17-357 RG, the 357 SIG with shoulder pushed back and necked down to .17 caliber. At some point in time I will dig up a 5.7x28mm reamer and put together a single shot pistol project for Real Guns®, but only because I like to make things out of other things and satisfy my own curiosity about cartridge potential. When I want to have fun shooting, without a lot of tinkering, poking and prodding, I'll just take out the Ruger 57 and enjoy the day with factory ammunition.
Completing the Ruger 57 Package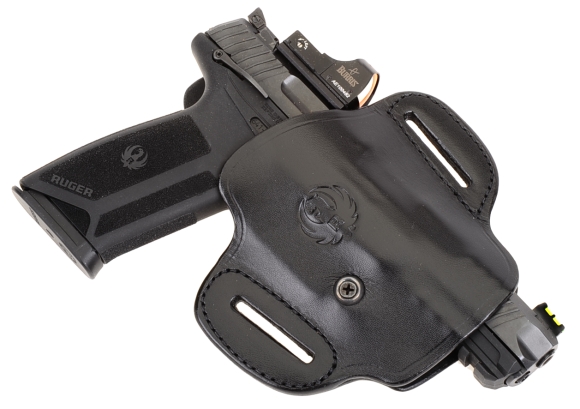 Sometimes when new firearms are introduced, necessary accessories are not. Fortunately, Ruger has covered a range of accessories for the Ruger 57 that are available at ShopRuger.Com and through local Ruger product retailers. Accessories include: holsters, magazines, magazine pouches, optic mounting plates, reflex sights, and rail-mount lights and lasers. The basic Model-57 is supplied with two magazines and a lockable hard case.
What can you do with a Ruger 57?
I keep wanting to draw an association with a mature firearm to help in the representation. I can't. The Ruger 57 is an original work. It certainly is not a derivative of the bulky FN Five-Seven with rhino horn front sight. It is not a 1911 with a nose heavy attitude. It is light, balanced and fast handling, with either open sights or red dot sight in place.
This Ruger 57 consumed many rounds of ammunition in recreational target shooting competition. It was shot for performance and reliability data collection.  It was holstered and carried in the surrounding woodland in areas where plinking is ideal. It was also used to dispatch some pest rodents trying to take up residency in places where they were uninvited, and with rather explosive results with 27 grain ammo.The full grip was comfortable shooting one or two handed. The sights, metallic and red dot, were steady on target thanks to the Ruger 57's good balance. Report was moderate, muzzle rise was not significant… a well behaved, high performance pistol. The Ruger 57 is an excellent handgun that brings a great deal of enjoyment to shooting.