12/27/2019
There have been some very dramatic changes in life in America and therefore, through societal osmosis, changes to all of us as individuals. Take lunch, as an example. Thirty years ago, lunch at Leo's Eat Well Delicatessen could have been thinly sliced pastrami from a steam table, piled high on hard crust dark rye and topped with spicy mustard. Maybe a dill on the side and maybe a bottle of Dr. Brown Cel-Ray soda. I would sit in a booth with a newspaper open on the table, take a bite of my sandwich and Leo would shout over the counter, "Try the cheesecake. Tell me what you think".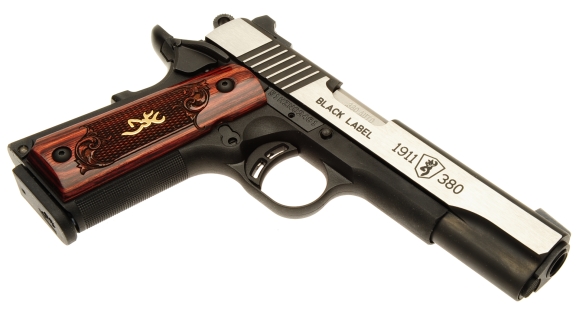 Today, lunch was at my desk, a few small cubes of Swiss cheese on an unfolded paper napkin with a matching number of unsalted almonds; 106 calories for the cheese and 78 calories for the almonds. Concluded with a bottle of room temperature water. I used to enjoy the relaxation and the ritual of lunch that partitioned my day, separating work from personal time. Now, it seems, lunch is part of a continuum of work and food has been reduced to essential fuel. So I am not sure where the break comes that helps me think through the details of what to say about the Browning 1911-380.
I like 1911 type 45 Automatic pistols, but they are generally too big for comfortable concealed carry. I like the 380 Automatic cartridge and the lethality of current factory ammunition, by I don't like micro compact pistols that are generally chambered for them. The Browning 1911-380 approach keeps the excellent geometry of the 1911, but scales it down to 85% of the original for easy carry and concealment, while providing greater than typical control and barrel length for the 380 Automatic cartridge.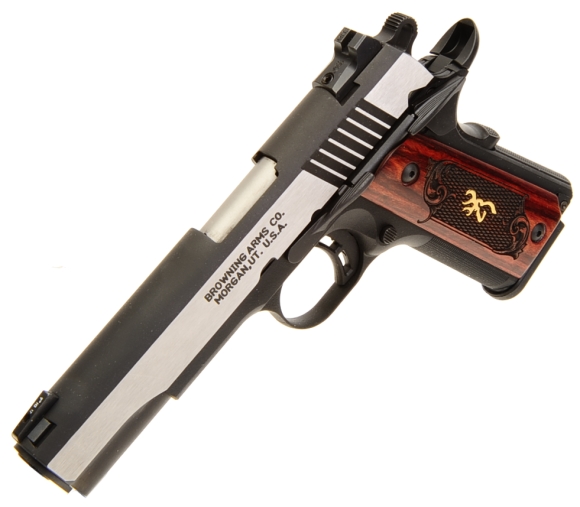 The Browning's 1911-380 Black Label Medallion Pro is not one of those ill mannered, oddly balanced, stubby pocket pistols that have permeated the market.The Browning 1911-380 provides enough grip length to provide purchase for stabilizing fingers, the external controls are properly placed to retain a 1911 feel and both slide stop and thumb safety are extended to permit operation without surrendering grip. The grip safety has a raised pad to assure compression and reliable release. Empty weight is just 18 ounces, the stainless steel slide width is a narrow 0.785″ and grip width is 1.065″.
Browning 1911-380 Black Label Medallion Pro

Manufactured
Morgan, Utah
Item Number
051904492
Type Action
Tilting Barrel, Locked Breech
Caliber
380 Automatic
Capacity
8+1
Slide Material
Alloy Steel
Frame Material
Poly Composite
Trigger Pull
5.8 Lbs.
Barrel Length
4.25″
Rifling
1:16″
Sights
Night Sights – Non-Adjustable

Sight Radius
5 3/8″
Type Safety
Thumb & Grip
Overall Length
7.50″
Overall Height
4.50″
Grip Thickness
1.065″
Weight
18.0 Ounces
MSRP
$879.99
A compilation of John Moses Browning designs
Browning's 9mm Browning Short (AKA 380 ACP, now 380 Automatic) first appeared in a prototype constructed between 1908 and 1910, which went on to become the FN Model 1910. The Model 1910 was a compact pocket pistol with a blowback action and widely accepted for military, law enforcement and civilian applications. Unlike the Model 1910, the Browning 1911-380 Automatic version is a linkless, tilting barrel, locked breech design, components of other early Browning designs, which make for greater strength and greater functional reliability.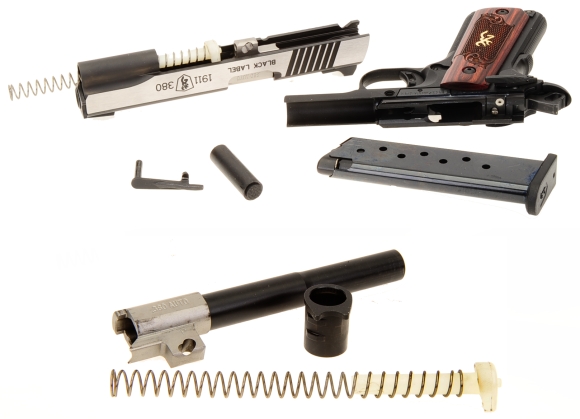 The 1911-380 does not have the radial lug slide/barrel lock up of a standard 1911 type pistol, but rather a a single locking lug that is integral to its barrel and so prevalent in modern autoloader designs. The lug pokes up through the pistol's ejection port and locks up against the slide in battery. It releases when the pistol is discharged and the rearward moving slide drives the chamber end of the barrel downward, unlocking the action.
Browning's 1911-380 Black Label Medallion Pro is constructed with a stainless steel slide and polymer frame with anodized aluminum sub frame that mounts fire control parts and frame rails. Take down is pretty much the same as a 1911, included the slide mounted barrel bushing. Other manufacturers have copied the external appearance, mostly in Colt Mustang size, but they are blowback designs. most with striker actions and without a barrel bushing. The difference in the approach show up clearly to the good in the Browning's reliability of function, quality of trigger and accuracy.
In the words of Jimmy Durante, "What elephant?"
Testimony to the 380 Automatic's popularity is the fact there are approximately 61 factory loads available. Context? Sure. Out of 52 current handgun cartridges in mainstream distribution, there are only six cartridges with a greater number of factory loads available: 9mm Luger 186, 45 Automatic 104, 38 Special 97, 40 S&W 89, 357 Magnum 69,  44 Remington Magnum 63. Trailing rounds: 45 Colt 59, 10mm Auto 56 and on and on… Cost wise, the cost per round ranges from 28¢ to G2 Research's mighty $1.82. However, most popular ammunition is under 40¢ per round.
Despite the 380 Automatic's success in firearms and service, again, military, law enforcement and civilian offensive and defensive application, mention of the cartridge often brings knee jerk raspberry responses. Odd visual. But if you break that political polling into owners of multiple firearms, owners of one firearm, and folks who want to some day own a firearm or owners of a firearm for less than fifteen minutes, the 380 Automatic fares much better.
The 9mm Browning Short,  or 380 Auto, or 380 ACP, 9mm Kurtz, or 9x17mm is always a subject of lively discussion, mostly born by a lack of understanding of its origins and intent. The 380 Auto was jointly developed by John Browning and J.W. Thomas of the United Metallic Cartridge Company, circa 1907 – 1908. The round was first chambered in the Colt Model 1908 and the F.N. Model 1910. The Colt was produced as a 1903 Model variation in 1908 and production for the FN Model 1910 began in 1912. At the time of its introduction, the 380 Auto round was considered as a step closer to other big bore auto loaders, advancing beyond the .25 and .32 caliber cartridges.
Neither the Colt nor the F.N. were intended to be last resort pocket pistol designs, but rather compact primary weapons. The FN Model 1910 was adopted for service by Belgium, Dutch, French, Syrian, Australian, Finland, Netherlands, Canada, and various African and South American governments for police and military applications. The last government contract was in 1974 when the Canadian government purchased Model 1910 pistols for senior officers stationed in Europe 1) 2).
Performance wise, chambered even in compact firearms, the 380 Auto vastly outperforms the 22 rimfire, 25 Auto, 32 Auto, and snub nose 38 Special as supported by field shooting reports. The extra length of the Browning Black Label 1911-380 barrel quantifiably advances the power of the 380 Auto well beyond that of a short barrel pistol.
Combination performance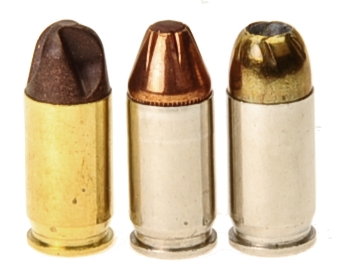 Caliber

Ammunition

Bullet
Weight
Grains
Rated
MV FPS
Recorded
MV FPS
1911-380

Gel
Penetration "

Expanded
Bullet
Diameter "

380 Auto
ARX Self Defense

56
1315
1413
11.5

0.355

380 Auto
Hornady Critical Defense

90
1000
1113
9.5

0.536

380 Auto
Remington Golden Saber

102
940
929
9.0

0.643

The SAAMI test barrel length called out for 380 Automatic velocity testing is 3.75″, the Browning's barrel length is 4.25″, which explains the boost in velocity over rated fps.
I am not a proponent of gel testing unless the goal is to defend yourself against a skeletonless gel block, facing head on and stationary and ten feet away. I do, however, use gel block to measure the lateral force properties of bullets claimed to produce such effect in soft tissue, such as the ARX bullet.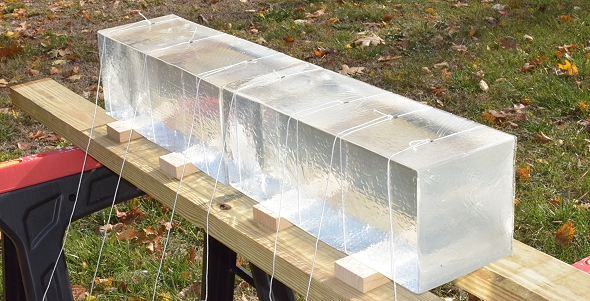 Above, two 16″x6″ ballistic gel blocks with strings and slip knots 4″ apart.
A black mark is placed at the knot, and then the distance the mark has moved from the knot after shooting indicates how much expansion in the gel block the bullet has caused. In the case of the ARX 380 Automatic load, penetration was 11″ and the gel block expanded 1/2″ outward, 2″ into the block.
By comparison, a FMJ load penetrated 20″ and resulted in no measurable lateral expansion. The expanding bullets will usually penetrate less than non-expanding bullets because resistance builds as the bullet's frontal area increases. The ARX penetrated more than the expanding bullets, but not by a great deal. The reason is that the composite poly/copper low density material has a higher muzzle velocity, but less inertia than a traditional lead core, jacketed bullet.
Overall

This Black Label 1911-380 is enjoyable to shoot, so maintaining proficiency would be easy. The night sights on the subject pistol, dot front and horizontal bar rear, contrast well against a target. Recoil, muzzle rise and report is modest. The little Browning has a very natural point and the longer barrel gives it a steady neutral to slightly nose heavy balance, depending on how may rounds remain in its magazine.There are at least eight IWB and OWB quality holsters available for the 1911-380 and the pistol is light on a belt and easy to conceal.
No problems were encountered with ammo. Full metal jacket, different hollow point ogive tapers and nose cavities all fed without a hitch. The pistol fed and cycled reliably, the slide always remained open on an empty magazine. The magazine was quick to change and easy to load. The grips are removable and interchangeable with grips from the Browning 1911-22. There are a number of accessory sets available on the Browning site. The rear sight is dovetail mounted and drift adjustable. The front is dovetail mounted also and there are both Browning and third party accessory sights readily available.  Probably one of the most useful 380 Automatic pistols I've worked with in some time.
1) Colt, and American Legend – R.L. Wilson
2) FN Pistols – Side Arms That Shaped History – Anthony Vanderlinden