01/10/2020

For me, Browning products have always been, metaphorically speaking, the Mercedes-Benz AMG of production firearms. While Browning has its custom shop and share of very  fancy grade limited production firearms, it is the typical Browning sold through gun shops around the world that impress me the most. They have a subtle, refined look and evolved function that make them standout. The X-Bolt Pro Tungsten is a good example.
Introduced in 2008, the Browning X-Bolt is the replacement for the Browning A-Bolt. Yes, I am aware of the AB3. However, my perspective is that the AB3 was intended to be a value priced product that would reach a market that wanted a Browning rifle, but perhaps not the typical Browning price tag. The X-Bolt occupies space in the firearm market that is more appropriate for traditional Browning price and performance.
Browning X-Bolt Pro Tungsten

Manufacturer

Miroku, Japan

Item #

035459227

Type
Bolt Action Tri-Lug 60º Lift
Caliber
7mm Remington Magnum

Mag Capacity
3
Barrel
26″ Stainless Steel – Cerakote

Receiver

Stainless Steel – Cerakote

Rifling
1:9.5″
Weight
6 Lbs 10 Oz
Overall Length
46 3/4″
Stock
 Carbon Fiber

Length of Pull
13 5/8″
Drop at comb
11/16″
Drop at heel
1/2″
Sights
Clean
Scope Mounting

X-Lock
Trigger
Feather Trigger Adjustable
Safety
Tang
MSRP
$2,219.99
The Browning X-Bolt Pro Tungsten was added to the line up in 2019. The introduction brought with it the performance and reliability features of the X-Bolt product, but also some other elements that make for a unique configuration.
Unlike the X-Bolt Long Range and Target series rifle, the Browning X-Bolt Pro Tungsten skips the heavy, adjustable comb stocks and heavier weight barrels that are optimal for the long range shooter, but cumbersome for the mobile hunter. The Pro Tungsten features a very light, but very strong, carbon fiber wrapped, compressed foam core stock, and a fluted and lightweight sporter contour barrel.
The Pro Tungsten's bolt features spiral fluting, a Cerakote finish and a poly bushing or button that minimizes lateral.
Anticipating less than idea climate and environmental hunting conditions, the Pro Tungsten's receiver and barrel are fashioned from high grade stainless steel and further protected with an attractive Cerakote finish for added corrosion and wear resistance.
The threaded muzzle brake significantly reduces felt recoil. A thread protector is included for folks who prefer to hunt without a brake. The barrel is another step toward precision accuracy. Each rifle is hand chambered, chambers are polished and button rifle bores are lapped for a smooth finish.
The overall Browning X-Bolt Pro Tungsten package
The overall tungsten gray color of the barreled action and stock blend in well with nature, without going to the "pattern of the week" camo treatment. In addition to looking good, all of it makes for an excellent non-slip surface. The barrel contour, in addition to fluting, is lightweight. The subject rifle's barrel tapers from 1.150″ at the receiver to a muzzle diameter of 0.610″.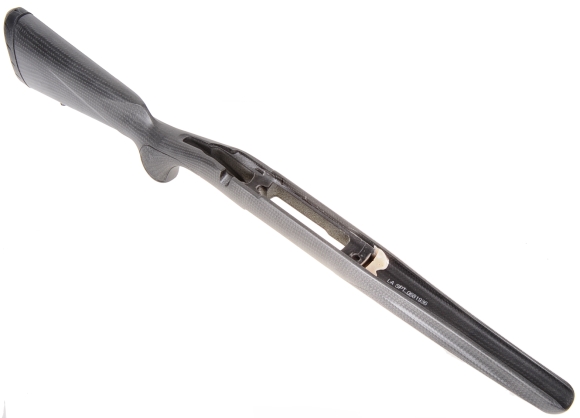 The stock is nicely done with a compressed foam core, wrapped in carbon fiber fabric. "Wrapped" meaning carbon fiber fabric, laid up over foam with high strength epoxy and then coated with more of the same and smoothed to a smooth outer surface. The result is a super strong stock that weighs only 1 lb 11 oz and is strong enough to use with even 300 Remington Ultra Magnum versions of the Pro Tungsten.

In addition to the already precise fit of the barreled action to the carbon fiber wrapped stock, the radiused bottom receiver and recoil lug are glass bedded to the stock for a fit that will endure heavy use. The barrel floats in the stock's barrel channel as another accuracy assuring feature.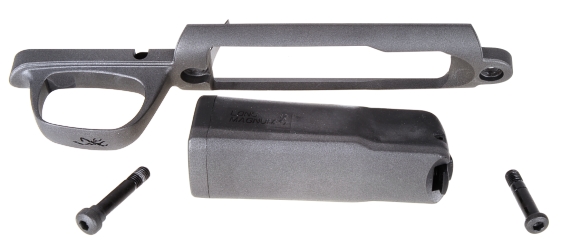 Bottom side, the trigger guard is aluminum. The detachable magazine is poly, but Cerakote covers both for a very uniform finish, texture and color.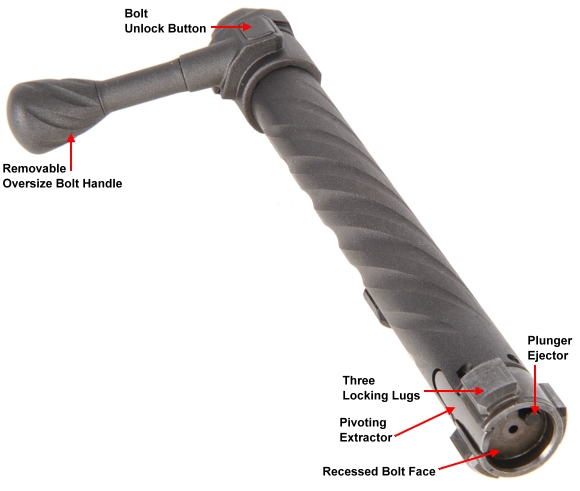 Not only is the bolt body fluted, so is the bolt handle for a non-slip surface. The three locking lugs set a 60° lift. The recessed bolt face provides improved case head support and better gas management in the event of a case head fracture or popped primer. Cerakote again provides an extra layer of protection.
Browning's Feather Trigger is an advancement over a conventional two lever trigger in a number of ways. The addition of an interim trigger sear connecting the trigger to main sear adds mechanical advantage, which reduces effort required to release the main sear. The trigger is in constant contact with the trigger sear, so take up is essentially non existent.
The sear release is vertical, which results in a clean release of the rifle's firing pin, reduced lock time and consistent primer strikes. Internal contact parts are polished and hard chrome finished, which reduces friction and pull effort and eliminates creep. The Feather Trigger is preset at the factory for a 3.5 lb pull, but is pull adjustable between 3 and 5 pounds.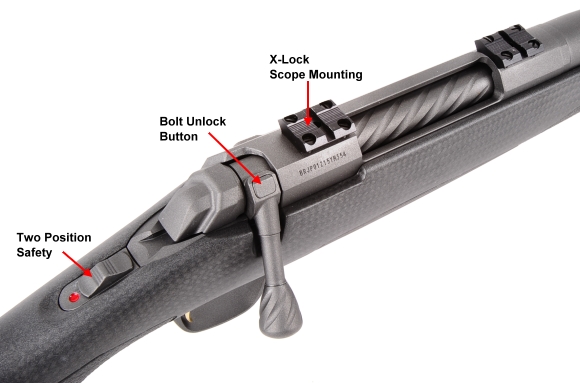 Some manufacturers are offering products with larger fastener mount sizes, moving from 6-48 to 8-40. Browning has taken a different tact by retaining the industry standard 6-48 size fastener, but placing them at each base corner, which better locates the base and doubles the fastener count. Browning offers one piece base/ring scope mounts that fasten directly to the X-Bolt's receiver. For the more frugal amongst us with an investment is a large collection of ring sizes and heights, Browning, Warne and Weaver make stand alone bases as pictured above for use with any Weaver mount type rings.
Recoil pads are often taken for granted, which is unfortunate, because at times a rifle thought to be an unpleasantly hard kicker, just has a… what's the word I am looking for here? Oh yeah, "crappy", a crappy recoil pad. The Browning Inflex recoil pad is a good one, as it is recoil absorbing and it directs the stock's comb downward and away from the shooter's face. Coupled with the carbon fiber wrapped stock and muzzle brake, Browning has produced a lightweight 7mm Rem Mag that does not beat up the shooter.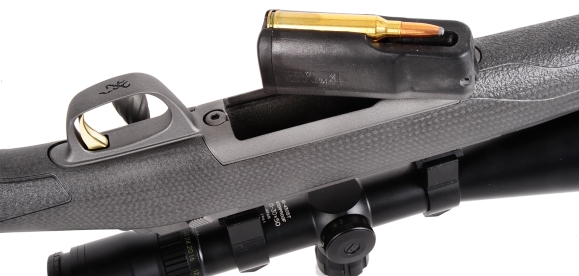 The Browning X-Bolt Pro Tungsten utilized Browning's polymer detachable magazine system. A rotary design, they center each round for bolt pickup. Subsequently, the bum-pity-bump felt with conventional staggered magazines is omitted. The magazines lock/unlock with crisp tactile feel, they stay put and they feed reliably. If misplacing a magazine is a concern, you can buy a spare and carry it on a string around your neck.
For a small brake, the one affixed to the Pro Tungsten is very effective. What percent? I don't know and the number would be meaningless to offer in terms of felt recoil without a common point of reference. From my perspective, felt recoil reduction was significant as I was able to spend the afternoon shooting without a sore shoulder with heavy 7mm mag loads and the brake installed report did not leave me with a ringing headache from venting gas pressure. However, if you are into cliches regarding brake blast, the brake is removable and a thread protector is provided.
The 7mm Remington Magnum Cartridge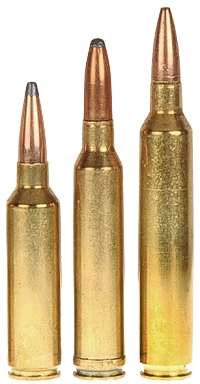 Three of many attempts at a 7mm Magnum, left to right: 7mm Winchester Short Magnum, 7mm Remington Magnum, 7mm Remington Ultra Magnum. If long term popularity and utility can be derived from available factory ammunition, in the same order as pictured: ten loads from three brands, sixty-seven loads from fourteen brands, seven loads from three brands. It doesn't much matter who pronounces a cartridge the leader or loser, as the consumer will determine the demand.
The Ultra Mag was going to be faster, the WSM was going to be shorter, but the 7mm Rem Mag seems to already be doing an adequate job, rendering the winds of change a brief breeze at most. For the most part, the 7mm-08 Rem, 280 Remington and similar can take care of most American hunting circumstances including deer, elk, moose and black bear. For people who don't like those 7mm choices, there are at least two other non-magnums with similar performance. So why the success of the 7mm Remington Magnum?
A 280 Remington 140 grain factory load can generate 2990 fps of muzzle velocity. The same bullet from the 7mm Remington Magnum can produce 3240 fps. Factory ammo for the 280 Remington tops out at 165 grain bullet weight @ 2,820 fps, where the 7mm Rem Mag can push the same bullet weight to 3030 fps with the same barrel length and factory ammunition. In fact, the 7mm Rem Mag can beat the 280 Remington's 165 grain velocity at 180 grain bullet weight.
Why is a couple of hundred feet per second gain in velocity of consequence? Kinetic energy increases at the square of the velocity. In the case of the 160 grain bullets, the 7mm Rem Mag tacks on an addition 15.5% kinetic energy or 436 ft-lbs. +3″ ordinate point blank range is extended by 25 yards. Higher retained velocity and energy allow a 180 grain 7mm Rem Mag bullet to out performs a 160 grain 280 Remington bullet from muzzle to 1,000 yards and beyond.
For folks who don't care for the 7mm Rem Mag cartridge… Creedmoorians, Noslerites, etc., the X-Bolt Pro Tungsten is also available in the following chambers:
| | | | |
| --- | --- | --- | --- |
| Cartridge | Barrel Length" | Weight | MSRP |
| 6.5 Creedmoor | 22 | 6 lbs 1 oz | $2,219.99 |
| 308 Win | 22 | 6 lbs 1 oz | $2,219.99 |
| 300 WSM | 23 | 6 lbs 5 oz | $2,269.99 |
| 270 Win | 22 | 6 lbs 6 oz | $2,219.99 |
| 30-06 Spfld | 22 | 6 lbs 5 oz | $2,219.99 |
| 7mm Rem Mag | 26 | 6 lbs 10 | $2,269.99 |
| 28 Nosler | 26 | 6 lbs 10 | $2,299.99 |
| 300 Win Mag | 26 | 6 lbs 9 oz | $2,269.99 |
| 6.5 PRC | 24 | 6 lbs 3 oz | $2,219.99 |
| 30 Nosler | 26 | 6 lbs 10 | $2,299.99 |
| 300 Rem UM | 26 | 6 lbs 10 | $2,269.99 |
How did the Browning X-Bolt Pro Tungsten perform?
The Browning X-Bolt Pro Tungsten was selected for a 7mm Rem Magnum handload project. It is a round I shoot and handload frequently and I felt the 26″ barrel would extract further potential from the 7mm Rem Mag cartridge. On a preliminary basis, and to that point, factory Winchester 175 grain Power Point rated at 2860 fps, recorded 2887 fps from a 24″ barrel gun and 3003 fps from the Browning. Quite a gain. Additionally, the Browning put up a 3/4″ 5 shot group with relatively inexpensive ammunition.
Carrying, the Pro Tungsten does not feel at all like a rifle with a 26″ barrel, nor does it feel like a 26″ barrel when tracking a moving target. In fact, the only place the 26″ barrel makes itself known is when measuring velocity over a chronograph. The rifles light weight makes it easy to shoot from an unsupported standing position. Recoil isn't bad at all, even with stout 175 grain loads. The gripping surfaces of the carbon fiber wrapped stock are non-slip and well placed. . Magazines went in and out without a hitch. The trigger is what all triggers should be, unnoticeable. Next up, handloading the Browning X-Bolt Pro Tungsten.