01/25/2020 – I was having one of those days at work that had me sitting behind a keyboard, singing my rendition of Frankie Lane's song "Lucky Old Sun". Then I felt guilty, because I have not done the kind of work that warrants that song for a long, long time. There is a big difference between long hours and lots of stress and doing the kind of physical labor that makes you old before your time.
In any event, somewhere between a contemplative day and feeling guilty, I decided I would become a rock and roll star. No, I have no illusions about the path to stardom being easy, but I figured I could begin by taking guitar lessons and eventually work toward a finding vocal coach. Sure, I'm old, but I've seen the Rolling Stones geriatric tour and, based on that look, I've got plenty of time.
The Smith & Wesson Performance Center® Model SW1911

If this were 2013, I would be writing about the introduction of the S&W Performance Center Model SW1911 and still doing pretty much what I usually do. But it isn't, so I can't hide behind New! New! New!. No, I am going to have to write something more substantial that begins with the fact this model is seven years old and still going strong, when we all know less than solid products do not persist.
For folks who know firearms, particularly 1911 type firearms, the value and type of hand massaging this model gets when it is assembled in the Performance Center will be evident. This is what a premium model 1911 looks like when it leaves the shop of a highly skilled gunsmith who specializes in building handguns for competitive shooters.
For Wiffleball92@facebook.com who will write "I can buy the same gun on Gun Blooper for $200. Made in Dipstick Iguana, 'cept it isn't stainless… doesn't have that extractor… the grips are balsa wood…. sights are plastic…" they will not read beyond the price tag and will have no idea why firearms cost that much and can still represent a value.
So if you like nice firearms, compete, believe that equipment reliability is a cornerstone self defense, etc. and can fit this type of product in your household budget, please read on.
S&W Performance Center®

Model SW1911




SKU

170343

Manufacturer
Smith and Wesson
Point of Origin
Springfield, MA
Type
Tilting Barrel, Locked Breech, SA
Caliber
45 Automatic

Magazine Capacity
8
Barrel
5.0″
Rifling
1:15″
Overall Length
8.7″
Overall Height
5.6″
Width
0.92″ Slide / 1.3″ Safeties

Weight
40.5 Oz.
Sight Radius
6.8″
Trigger Pull – Actual
4 Lbs. 11 Oz.
Rear Sight
Adjustable – Black

Front Sight
Post – Black

Barrel Material
SS – Armornite® Finish
Slide Material
Stainless Steel
Frame Material
Stainless Steel

Grip
G10 Custom Wood

Manual Safety
Ambidextrous Thumb

Magazine Disconnect
No
Loaded Chamber Indicator
Yes. Barrel Hood

MSRP
$1,589

S
Different as a 1911 and different as a Performance Center product

There are many firearms coming through the Smith & Wesson Performance Center Shop. The degree that these firearms differ from their production counterparts varies, ranging from mostly aesthetics to parts selection and fitting by a highly skilled machinist/assembler. The Performance Center SW1911 falls into the latter category with the PC SW1911 pistols some of the most highly refined.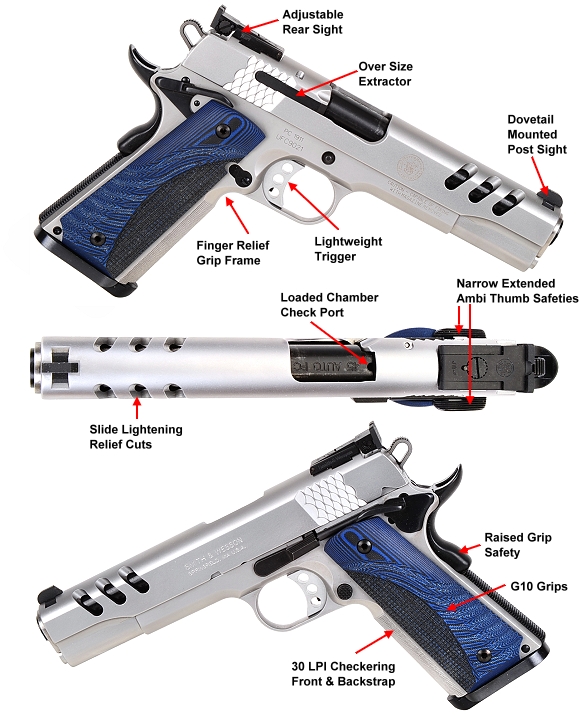 I know it isn't polite to point, but it seemed like an easy way to illustrate difference between the Smith & Wesson Performance Center SW1911 and a basic, generic 1911.
The SW1911's adjustable rear sight is a good one, meaning its increments of adjustment, elevation and windage, are small enough to be useful. The sight set is matte black to minimize glare and reflection. The face of the rear sight is serrated to further add to that objective and set back 3/4″ more than would be the case with a fixed sight, which adds the pistol's sight radius.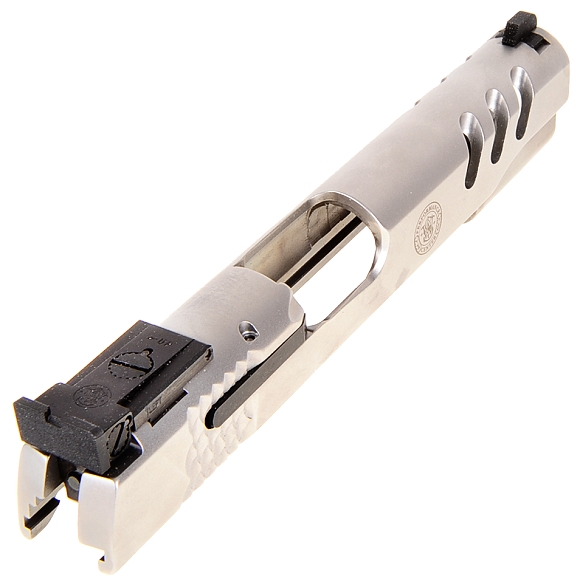 Where a generic 1911 design pistol has an extractor that resides on a drilled passage in the slide and its tension against a cartridge rim is set by bending the extractor, the S&W extractor is center pivoting on a roll pin and is spring loaded with a compression spring at its aft end. A little more assurance for case extraction. The SW1911 is a series 70 type action, so no firing pin safety plungers embedded in the slide.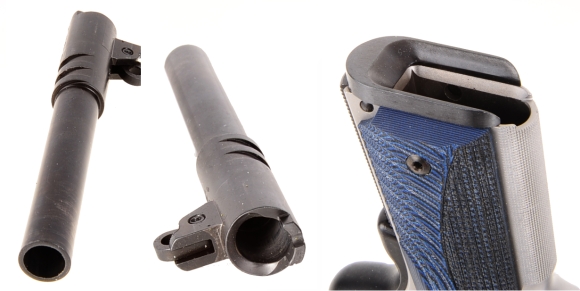 A few more less than obvious features. The Performance Center SW1911's barrel is precision crowned and throated. There was no ammunition, including stubby semi wad cutter target loads and very angular cast loads, even when mixed with other type of ammo in the same magazine. The supplied magazine well helps when changing out magazines under less than tranquil conditions.

From the rear – the grip safety "speed bump" assures grip safety release. The extended unbalanced ambidextrous safety pads favor right hand strong side actuation without providing extended surfaces hanging out on the right side of the pistol.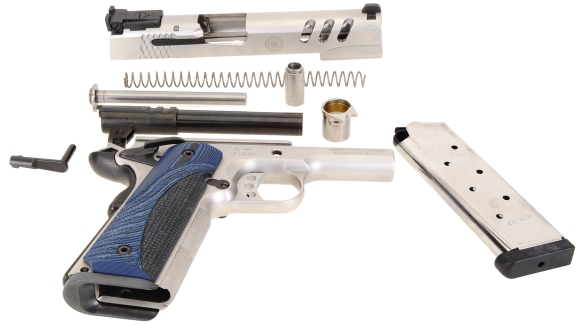 The part count is about the same as any other 1911, however, the Performance Center SW1911 has a full length guide rod and a hand fit spherical barrel bushing to tighten up groups and consistent performance. Very nice fit on the bushing with no sign of binding. The thing I can't put into a photo is a slick trigger job and hand fit of all trigger parts, the very short trigger travel and very positive overtravel stop.
The Smith & Wesson Performance Center SW1911 provides 1.5″ more barrel than my Colt Officer's Model. That difference manifests itself in the SW1911 with longer sight radius for increased accuracy, reduced recoil and higher velocity as indicated below. That little Colt has most of the bells and whistles as after market pieces and labor. The Colt cost approximately twice as much when completed. The S&W comes with a life time warranty. The Colt, post work, is warranted by…. me. I like them both, but my bank account favors the SW1911.
The 45 Automatic

Ah yes, the 45 Automatic had been deemed obsolete and replaced with any cartridge that uses the metric system within it nomenclature. Consequently, 45 Automatic shooters will be forced to select from 106 popular factory ammunition types, a composite of 24 brands. In terms of demand driven supply, the 45 Automatic is second only to the 9mm Luger in popular use of the 52 handgun cartridges in general distribution. Yes, sarcasm was the bedrock of my "obsolescence" reference and, no, the 45 Automatic's popularity will outlast all of us.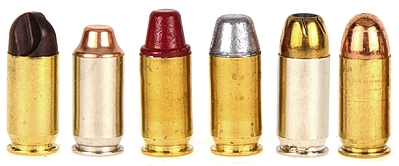 The data on the table below probably means more to me than it will to you, because half are handloads shot with some frequency, ambient temperature was a sun-shiny Maine 3°F and groups were shot from a Ransom rest… which is not as straight forward as people would like to believe… The Ransom rest part. An issue with grip adapters being installed indoors that shot loose in the cold outdoors during the settle in shots, but persistence paid off.
Ammunition
Bullet
Type
Bullet
Weight
Grains
Rated
FPS
Actual
5″
FPS
Actual
3.5″
FPS

5 Shot 5″ BBL
Group "
25 Yards


Inceptor ARX

Composite

114

1350

1392

1232

2.3

Handload

SWC

185

–

778

705

1.6

Handload

Cast

185

–

1102

1035

1.8

Handload

Cast

225

–

981

926


 2.1

Remington UHD

BJHP

230

875

732

723


 1.7

Federal AE

FMJ

230

850

787

791


 2.0
Based on prior lot performance of the Remington Ultra Home Defense and Federal American Eagle, I would attribute the low muzzle velocity to the low ambient temperature. I made no effort to maintain a more reasonable temperature for ammunition and firearm by warming indoors and shooting short sequences outdoors; it gets cold in Maine and many other places, so simulating the Florida Keys didn't seem reasonable and I did not want to disturb the Ransom rest.
Generally speaking, the trend was for higher muzzle velocity ammunition to gain significantly more of a head of steam in the 5″ barrel Smith & Wesson Performance Center, compared to the 3.5″ Officer's Model. Low velocity, heavy bullet ammunition tended not to differ in a major way. In one case the 5″ was slower by a few feet per second.
Final impressions
The S&W Performance Center SW1911 offered a good excuse to burn up a good deal of ammo. Recoil was moderate, as was muzzle rise. The grip width provided a comfortable handful of easily controllable pistol. My personal preference is for fiber optic sights as they are easier to see and track over a dark background, but I did well with the excellent adjustable sights that came with the pistol. The Performance Center SW1911 was rock solid reliable, cycling anything and everything it was fed.
Smith & Wesson lists this specific configuration of the Performance Center SW1911pistol for competition shooting, enthusiast and state compliance. I assume it is not specifically also listed for self defense or concealed carry because of the target sights and size. Even so, its reliability and accuracy would make it a terrific defensive firearm for home or open carry while hunting or walking trails. Very nice pistol.